(pics by andy garside / dan read / and the shit ones by neil crud)
http://i1304.photobucket.com/albums/s538/link2wales/HHawkline_zps711576c5.jpg
Oddly enough, the last train home (the mad train home) was empty apart from a couple of waifs, a couple of strays and a smashed Jeremy Kyle reject bragging about his time at Her Majesty's Pleasure (he was from Holyhead so won't be able to read this).


So having NEVER before boarded this train in a state of sobriety it was a whole new enlightening and eye opening experience. Add to this, the fact it was almost empty on a Friday night from Chester and you'd be forgiven into assuming The Compass tonight would also have been sparsely populated.
Wrong!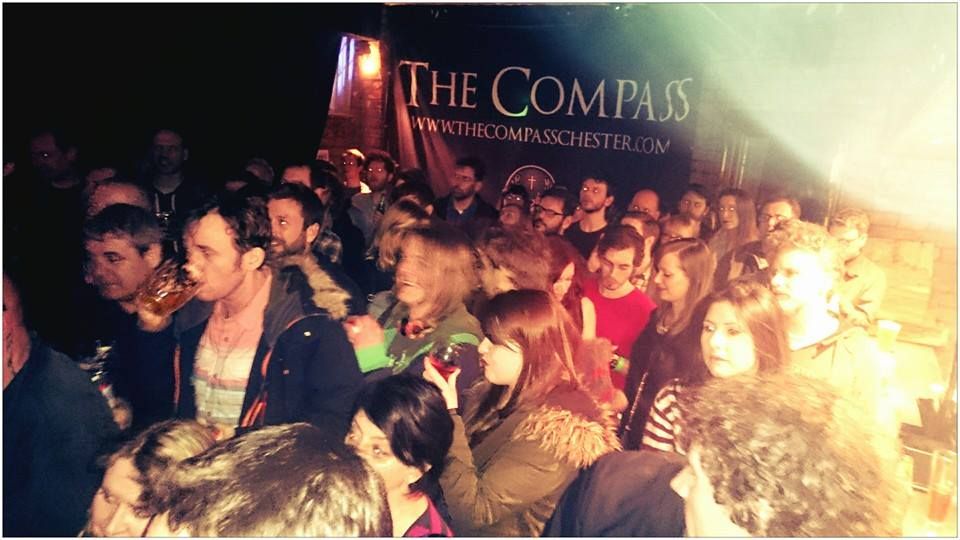 Playing text-tennis with Y Niwl's Alun TanLan who was up in Newcastle on tour with Gruff Rhys; he suggested the audience would be, myself and five weirdos. Well, Steve Sync, Andy Fatman, Mic, Tim and Elephant Al were present, but so were a whole lot more misfits as The Compass was pretty cosy.
Whilst the train experience may have enlightened our sober souls (sobriety is a BIG thing in our world – as in not drinking hell dry), H Hawkline beat Arriva Trains to it and lit up our lives with 40 minutes of disjointed dislocated dishevelled [Guto Pryce] discursive discotheque music that was so delightfully strange and so wickedly twisted.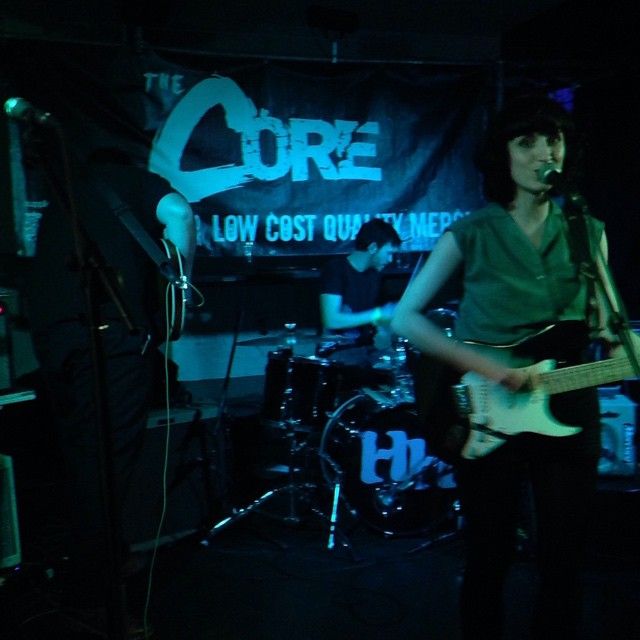 At least four of my fellow weirdos knew nothing of H Hawkline before tonight, with the draw of three EXCELLENT support bands in the shape of Wobbly Hearts, Mexican Walking Fish and Baby Brave being enough to drag them from their various caves between Blacon and Bangor. At least four of those weirdos were caressing their newly purchased H Hawkline LPs on the journey home. They, like the many who are now latching onto this quirky-go-lucky off the wall style, are once bitten and never shy to get bit again. They are taken in by it hawk, line and sinker (boom!).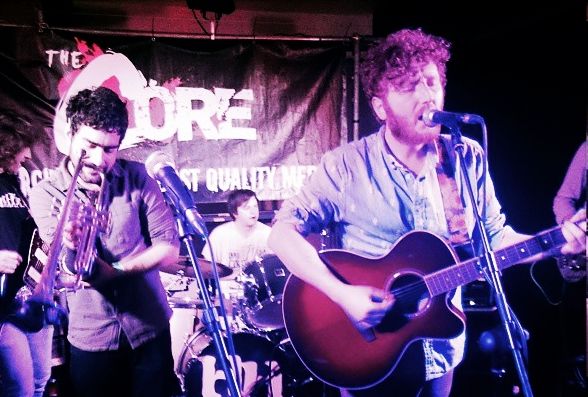 The support bands have been relentlessly covered within these pages and yet again did not fail to greatly impress. From Wobbly Hearts' soft beginnings and manic endings, Mexican Walking Fish and their westward spaghetti beauty and Baby Brave riding into Chester on a king's horse and leaving having played the avant Wrists live for the first time.

There's a crystal clear sound and people hanging off the rafters to get a good view. H Hawkline is basically Huw, over here from his now-home in California, with an assembled team from that Welsh pool of temporary musicians available talent in the shape of Steve Black (Sweet Baboo), Guto Pryce (Super Furry Animals, Gulp) and thirsty Andy.
Quick off the mark to beat down any would be hecklers, Huw used his TV presentation experience to woo us between songs and a Punch 'n' Judy set full of short sharp-witted ditties to knock us for five and a half.
Built from Prestatyn to Cardiff to LA, we are gifted with tunes that have been licked off the back of Syd Barrett's lysergic frog. The set hops, skips and jumps like a fairground ride, and you get off that ride and immediately run to get back in the queue for another go; simply because it's great fun… Even the murdered Roy Orbison cover at the end…
The new album 'In The Condition Of Pink' is out now on Heavenly Records… You know what to do…