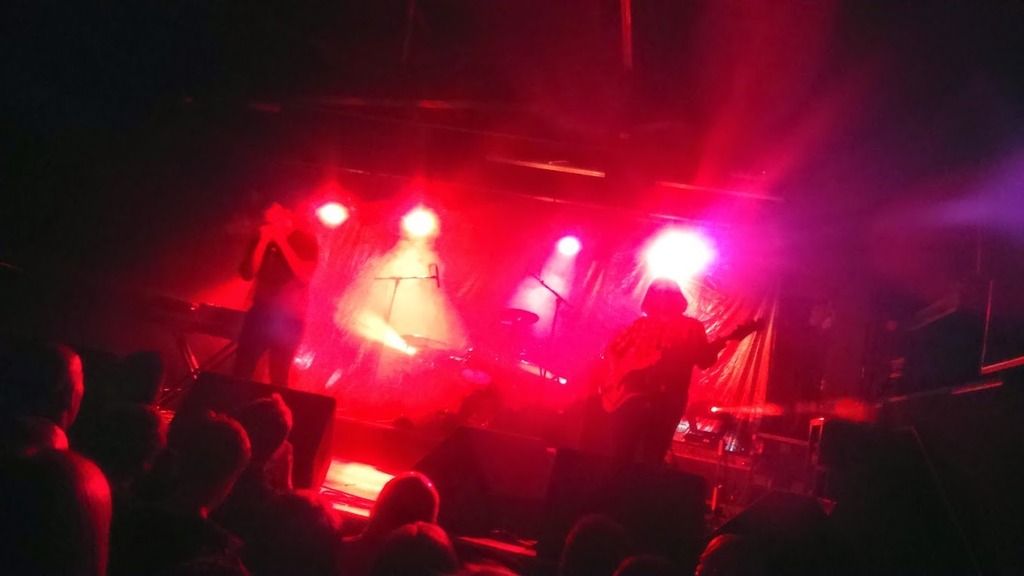 OK, let's cut to the chase… The majority of people would not have been here tonight had it not been for that David Letterman Show appearance a year ago. It's safe to say I would not have been here either as I had never heard of Future Islands. 
Before that video went viral (currently racking 3.8m views on YouTube) this band from North Carolina were plugging away on the US small circuits, releasing three comparatively low-key albums and a hat full of singles… Then BOOM! 4AD Records signed them up, they appear on American network TV, release an excellent synth-pop album (called Singles) and here we are now… In a venue booked prior to that appearance and it sold out months ago…
There were no second thoughts for myself, this was going to be a one off chance to see this band in such a cosy environment and I was going. So driving for almost three hours each way, plus those twenty eight miles of Z-Bends on the Snake Pass had to be done.

Chiffon were flown in from Baltimore to make their UK debut. It was a mixed bag of extremely loud jungle-dub-step-electronica from the duo, that didn't sit too easily with a 'gig-going' crowd; albeit a polite crowd. Maybe in a club after eating blue smarties it would've been ok.

They may be a long way from the tall grass of home, but Future Islands opened their front door and invited us in for a couple of hours… The perfect hosts,
'We've written a monstrous set for you tonight Sheffield,' said Samuel Herring, apologising for their non-appearance last year when the vocalist had a throat infection.
The fact that the rest of the band go about their business workmanlike, in a complete professional manner; no ego, hardly an acknowledgement to the crowd allows Herring to command the stage.
That's not entirely true… He commands the venue, the entire crowd, each and everyone of you. You are all engaged by this complete showman who lives and breathes every word he sings. Jello Biafra springs to mind but with that crazy dancing… It's laughable yet inspired… There's nothing fake here, the performance is compelling and from the heart.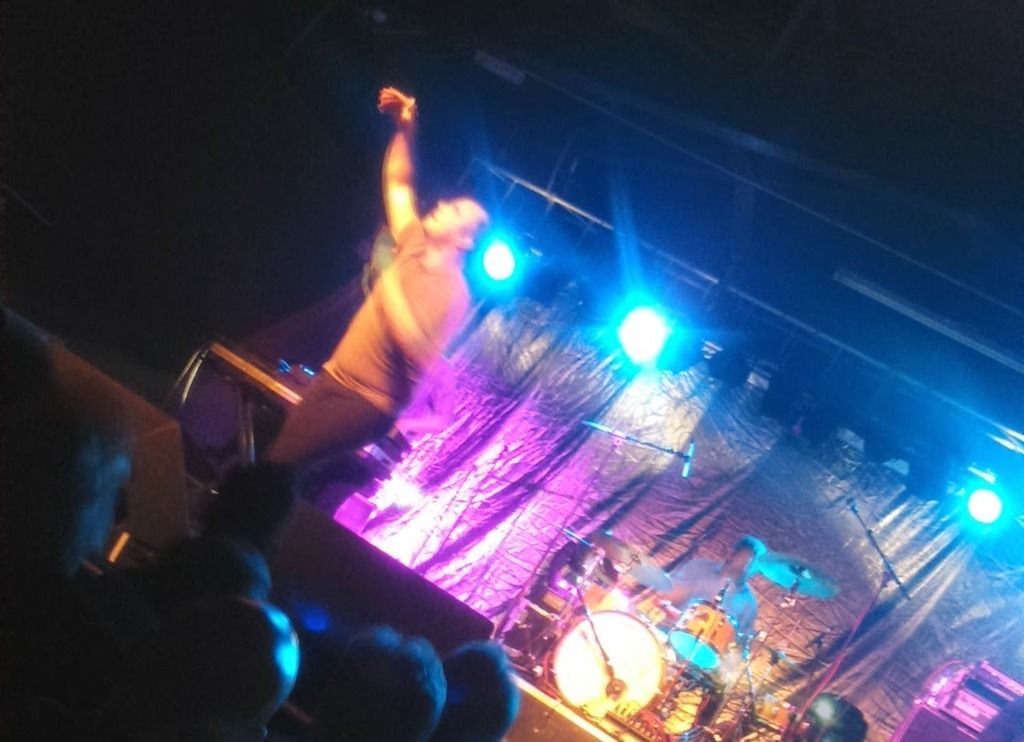 Although relying heavily on the latest album 'Singles' which, if you've not got GET! We are also treated to their sweat dripping back catalogue, including an early B-side and a couple of new tracks without titles as of yet.
Not afraid to mix the unknown with the known, the soft with the hard, it's an almost perfect set.
Of course Seasons (Waiting On You) received the biggest cheer of the night, and it'll no doubt become their Come Up And See Me (Make Me Smile) in years to come.
When I first saw that video, I watched it again, and again, and again (ad infinitum). To those I urged to watch it, they also did the same… Hooked… Those who 'get it' fully understand the performance… Those who don't simply go back to their sanitised Top 40 or their Aerosmith CDs, and it's entertaining to read the comments on the video on how divided peoples' opinions are.
There are many bands who would have gone on the Letterman Show with the same intentions but completely lost it… Herring knows how to rush to that cliff edge without jumping off. He is completely absurd and yet makes perfect sense… Perfect Sense…
Synth-pop was a pet-hate of mine as a kid. Hanging out at the school disco waiting for a token Sham 69 song amid the plethora of Depeche Duran League stuff that the girls would dance to… Future Islands have taken it, removed the frilly shirts and pomp and made it their own.
Watch the video – the gig was like this… Compelling.
Also.. here's a recording from the night of their new single The Chase

And another new song The Haunted