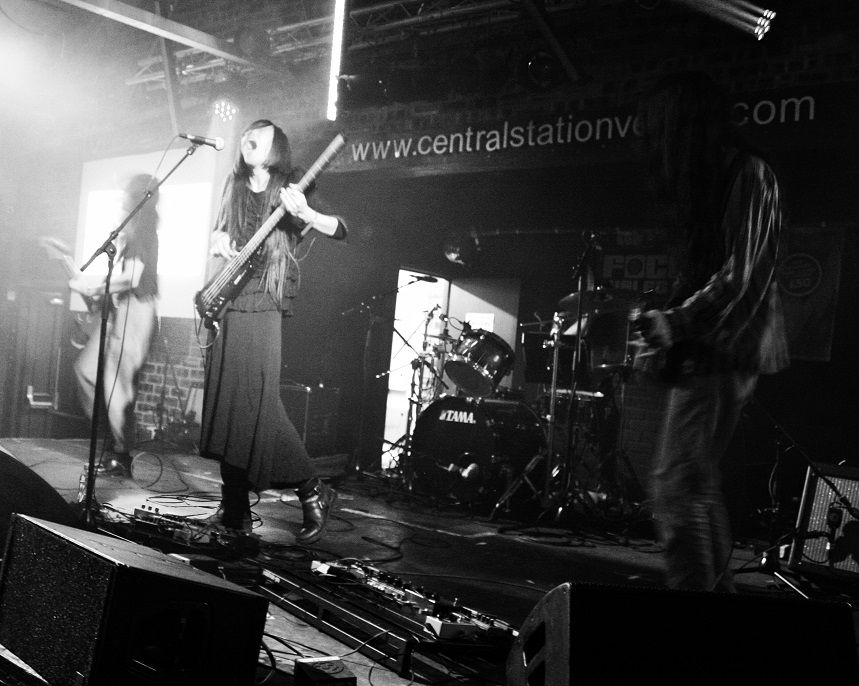 If they said my time was up and took me to the great gig in the sky, I'd be insisting that Bo Ningen come with me to sonic heaven… Mind blowingly phenomenal…
This style of psychodelic nu-psyche acid-punk music is very much in now, and long may it continue… Bo Ningen take it to another subsonic level – 'Good evening, we are Bo Ningen, Let's Go Fuckin' Mental..!… (They didn't really say that, but they did..!)
Singer / bassist Taigen Kawabe is sporting a lovely long dress and more hair than an afternoon at a Timotei advert casting studio. You do double take for a second or two, 'Is he or isn't she?' He is. And he is also the focal point, gurning, shrieking, mime artistry and one note bass playing; but by fuck can he play that one note!
Taigen is flanked by Yuki Tsujii (guitar) and Kohhei Matsuda (guitar) who spend the hour charging down the back alleys of psychedelic sounds that most of us can only dream of producing…
All this is backed by Monchan Monna, who batters the drums and really came to the fore in the final and relentless song. It had to be fifteen, maybe twenty minutes long, a huge beast of a number, pulsing and throbbing at a frightening pace, dragging you screaming through space and time. This is not a space and time you'd be familiar with, this is a fucked up space and time where you meet yourself coming the other way in animal form. I'd get married just to have these play the wedding… Or die (it's the same thing ha ha!)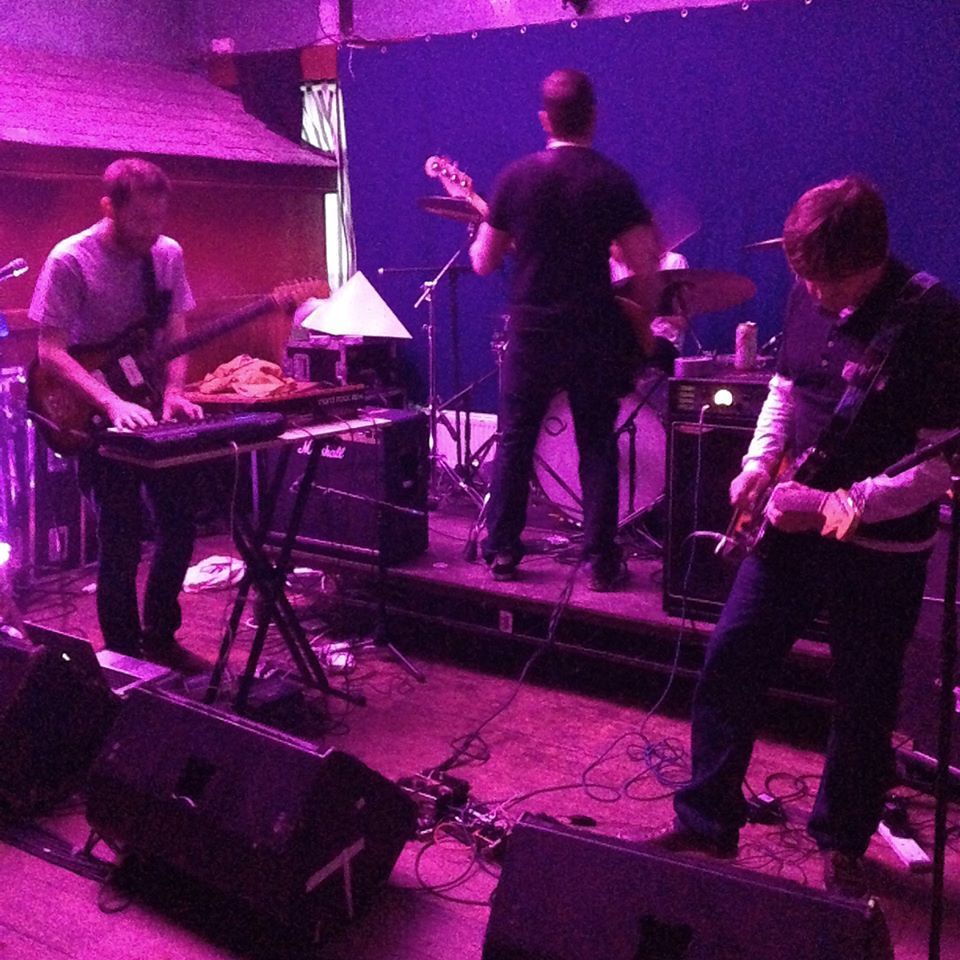 Before that and ending in similar psyche fashion were Wrexham's Baron La Croix whose final minutes I caught as they cruised through the chords to please a huge crowd. So big I couldn't get near enough to grab a decent pic. Thanks to Andy Garside for taking the one above.
Talking of whom, Andy was caught behind the bass and moustache of Mechanical Owl earlier this afternoon.
http://i1304.photobucket.com/albums/s538/link2wales/Mechanical%20Owl_zpsdcbkmvqu.jpg
Now;  remember the disappointment you had when you initially heard the Stone Roses second album? I couldn't play it for weeks when it came out, then someone suggested I listened to it on it's own merits, and dismiss what came before it. I now love that album.
Naively, I was excited to see both Mechanical Owl (above) and Zefur Wolves (below)  on the basis of their recent and absolutely stunningly outstanding albums, both released this year.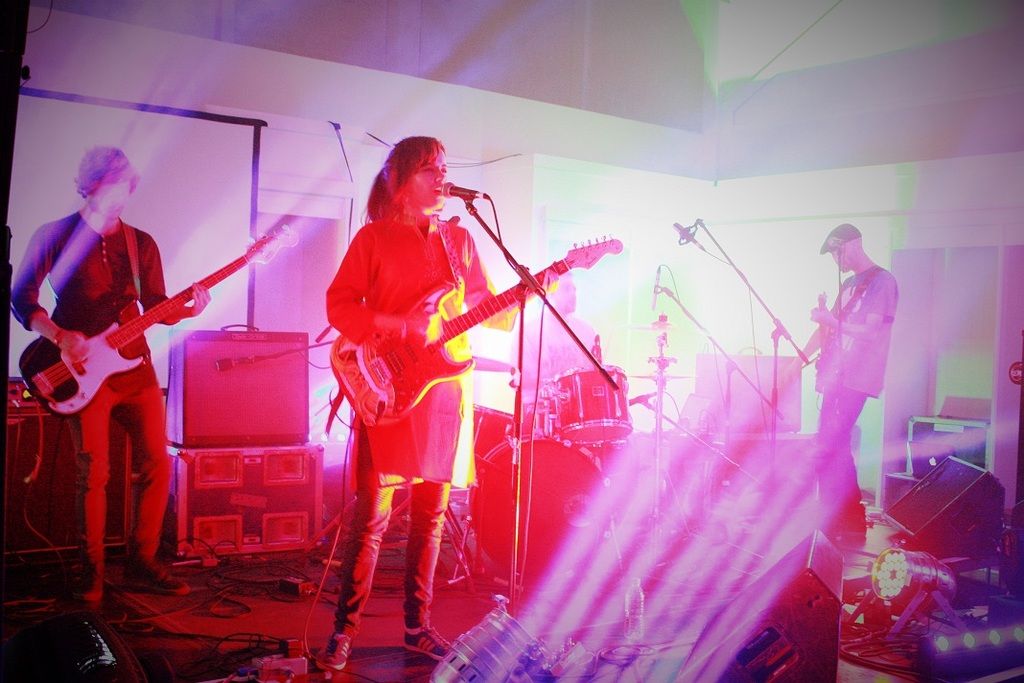 Neil you fool! Both those albums ('Winter Songs' and 'Zefur Wolves') are dripping in pure production. A production most bands will never get anywhere near when they plonk their tracks down onto tape; and for many there's no need for it. These two bands however made a rod for my own back with such exquisite releases.
So yeah, I was initially disappointed when I saw the opening songs by both Zefur Wolves and Mechanical Owl. I soon came to my senses and slapped my ruddy cheeks and enjoyed the bare, stripped down versions of the material; cool vibes being played in a cool atmosphere by ultra cool musicians.
Had I done it the other way round and seen the bands then bought the albums (like in the good old days) it would have then been a moment of extra wonderment on playing them.
I played them anyway when I got home – and so should you too…
If I had a pound for every time someone this week said, 'I hear you're camping!' I'd be six quid richer..
So I do a bit of camping from time to time… I can handle it… Also, not drinking led to being able to save on not only alcohol bills but also taxi fares; although I do hear that Carlsberg shares have shot down as a result.
Doing Focus Wales stone cold sober did mean there'll be no photos of us partaking in the drunken debauchery of last year but at least I can remember the bands and won't be making up the reviews!
Modern King (pic above) opened up the floodgates of the fourth and final day of this damn fine festival with that great guitar playing and that to-the-point drumming of those damn fine songs.
Funny (sad) how some people wouldn't dream of seeing a band they've never heard of before. Actually it's ludicrous that they don't, considering humans have long craved discovery and exploration.
Modern King's ace single Mata Hari comes on cassette and in a neat cigarette box style sleeve and a run of 36… Thirty six! How ace is that..!! They played out their set with a decent tune that had shades of Come Together (Beatles) to it, with a blasting chorus.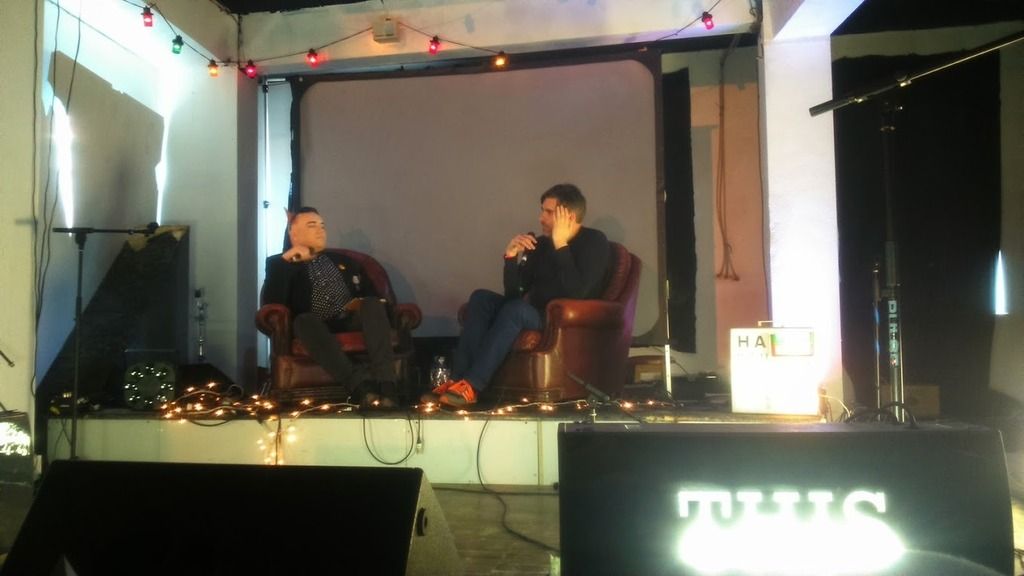 We managed to scrape some time together to sit down (for once) and watch BAFTA Award winner and Manics film maker Kieran Evans in conversation with Manics biographer and journalist Simon Price. Some interesting and insightful tales of yore about stuff… I never knew Manic Street Preachers once supported Cheetah Chrome Motherfuckers! The topic was mainly based around the film 'Culture, Alienation, Boredom and Despair' which was aired straight after.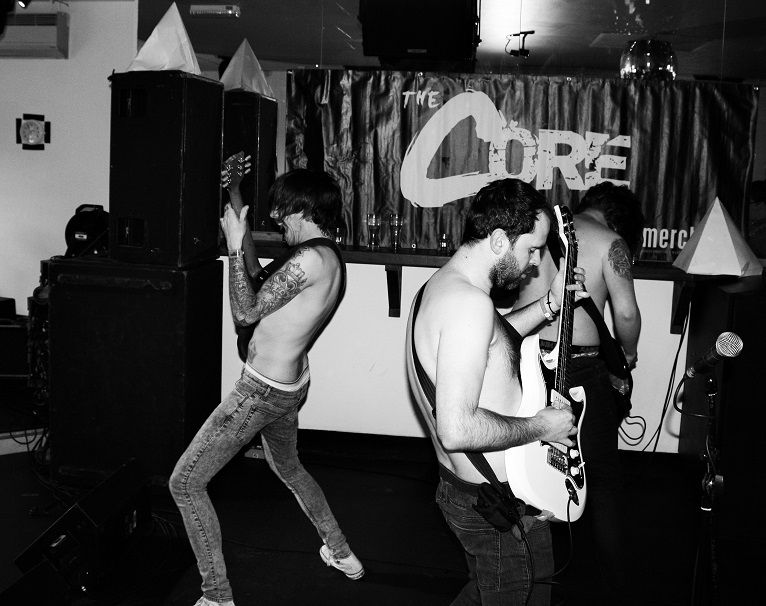 Falls as expected, ripped South apart – I say, as expected because I knew what was coming… There were many here who didn't, and the look on their faces was as much as entertaining as the show! And boy can these nutters play! Also had the added bonus of two of the band running downstairs into the street and stopping traffic while still playing… Ace.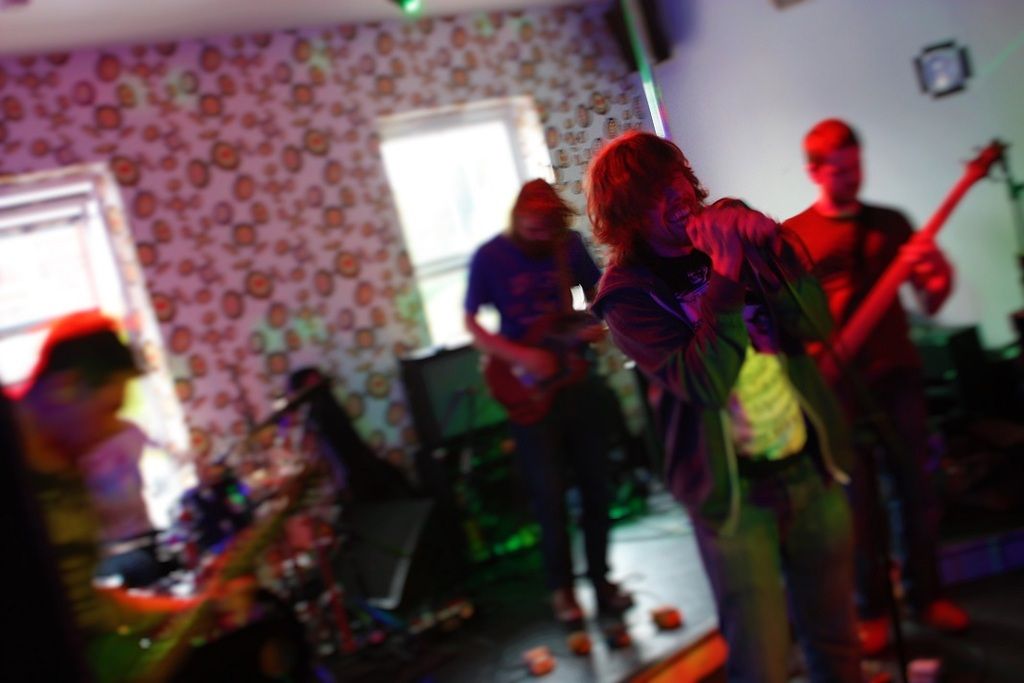 You have to feel for any band that has to follow Falls, and the Festival Gods dished that lousy hand to South Wales' Dead Shed Jokers. By all accounts they had a shit journey up across the mountains and only got here in the nick of time only to see an exodus from the venue as they began setting up (local heart throbs Baby Brave were clashing).
Things like this can make or break a band… You travel all that way; expectations are high, only to perform to a handful of people, and to top it all your bass guitar kept cutting out – been there and done that…
Needless to say the show must go on, and they certainly made the most of their slot with a superb performance of their repertoire.
We had to pay our respects to Mr Phormula who was again accompanied by Dybl-L at Saith Seren.. They may as well sang 'Jump around, jump up, jump up and jump down' for that is what this great crowd were doing. The venue was bursting at the seams, the mortar was shaking loose from the bricks, tiles were rattling off the roof, the mice were throwing themselves on the traps… A great party atmosphere and some ace human beatbox shit going down too…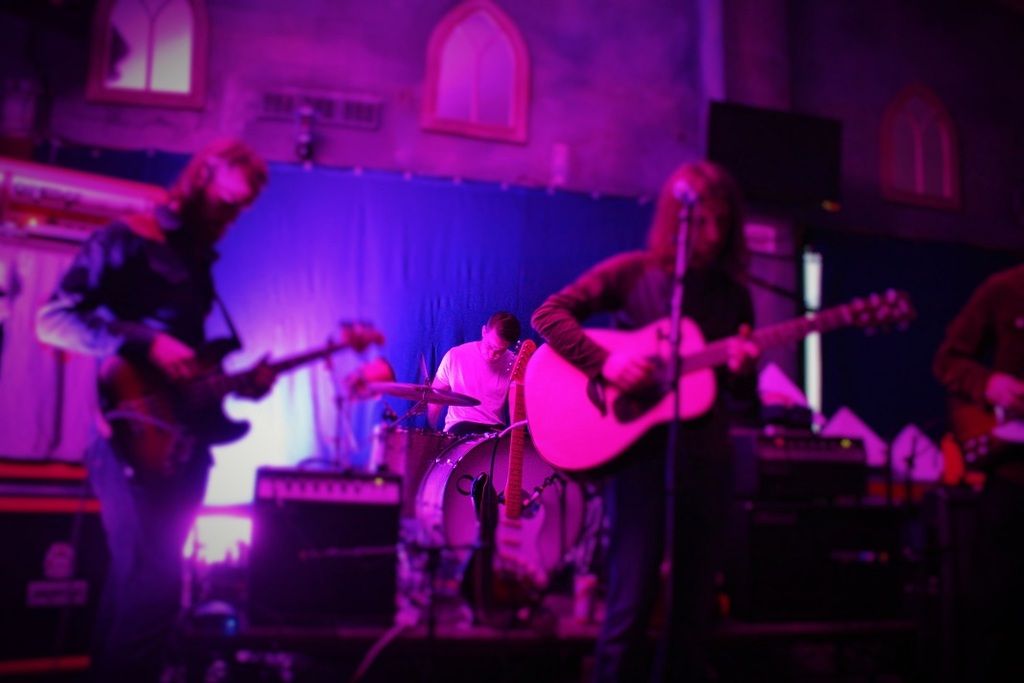 The Revolutionary Spirit were of course here by demand and of course delivered their kaleidoscopic dream weaving set… Remembering games and daisy chains and laughs, lending a nostalgic ear to a time when summer was eternal and denim was the choice of cloth. I made a mental note to order a big block, a bong and invite them round to play in my back garden…
That was it basically – my festival! It was over far too soon… Have the post-Focus blues now… 150+ artists and I only managed a select few; that is the beauty of this festival, and those reading this may well have had a completely different festival to me, seeing completely different bands… Next year I'm going to try and see as many bands I've never heard of as possible; safe in the knowledge that if they've been booked to play a quality festival, then they're a quality band…
See you there…