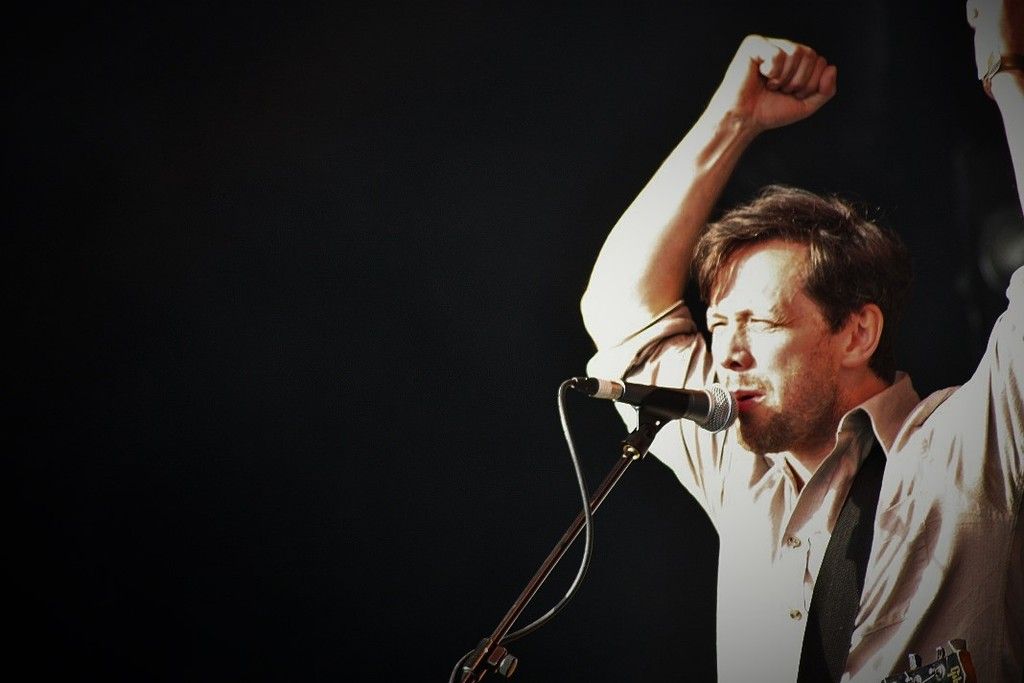 Eight years in and this was my first Bearded Theory festival, and what a great little event it is… So good, I'm at pains to tell you about it… Wanna keep it as our little secret… Not too big like some overblown corporate driven shite. Still humble enough to cater for you and not their pockets.
So I am gonna tell you about it, but in no particular order, so expect to be bounced from Thursday to Sunday and back again via the toilets (all will be revealed!).
It has a feel good factor to it… Folky-punky-crusty-dancey-dubby-heads are all catered for, including the disabled, and there's loads of kids running about and plenty of entertainment laid on to keep the little blighters occupied. The very fact parents (and I guess some grandparents) feel comfortable enough to bring toddlers along speaks volumes for the kind of set up they have here in Derbyshire.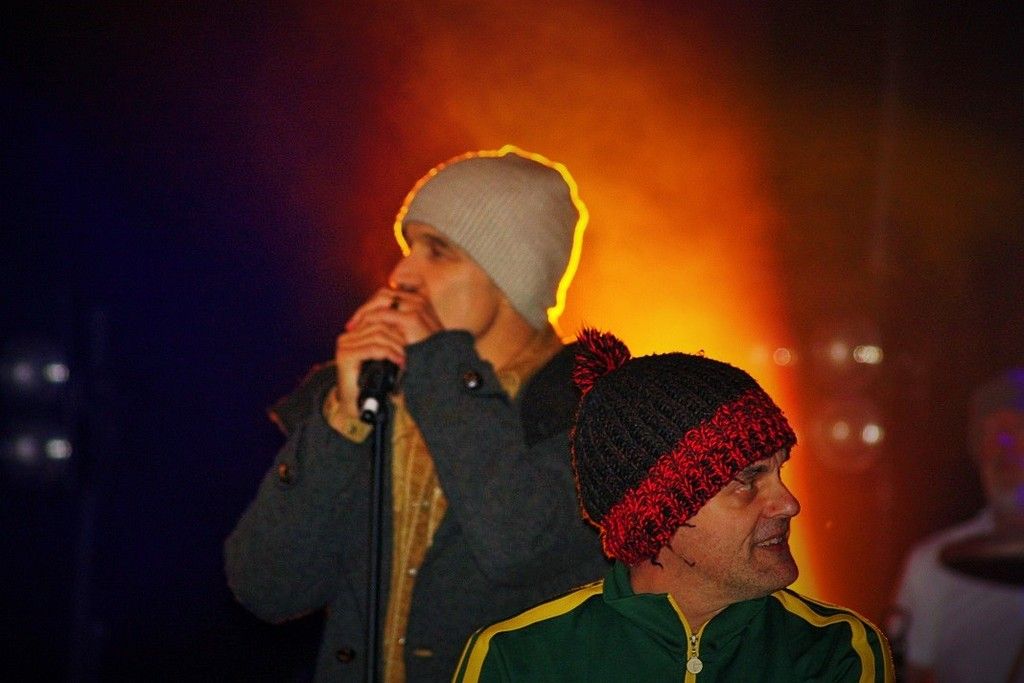 James (pic above) closed as headliners on the main stage on Sunday night; the fourth and final night of this excellent event. We had to choose between these indie legends or the ambient dance-dub of Banco De Gaia on at the same time (sorry Toby, but we'll catch you next time).
James, like British Sea Power (top pic) have in the past been easy to label as 'indie' – whereas on the strength of seeing both their sets this weekend, that term does them a disservice.
While Oasis always sounded like Oasis, both James and British Sea Power portray a musical eminence, and while it would have been easy to rattle off hit after hit (particularly for James), both proved they can grip an audience with displays of sonic omnipotence. Remarkable and humbling.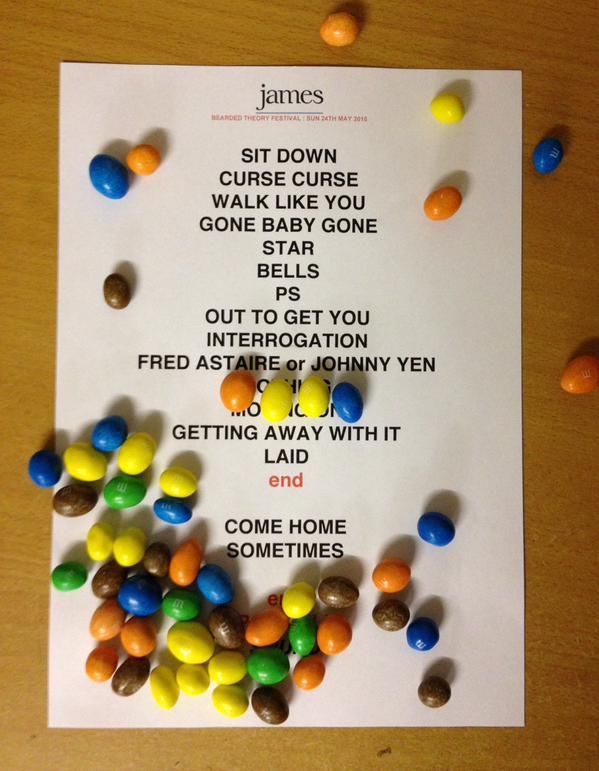 James' set was beset with on stage technical problems; they couldn't hear themselves (it still sounded great up front), and you could envisage prima donna bands driven on their own egos walking off stage, but not James… It was professional, slick and heart-warming, and the opener, Sit Down was by far the best known and also the weakest song in their set.
I got home, swept the tinnitus aside and sought out their 'Laid' album; I suggest you do too.
British Sea Power and myself seem to stalk each other, and admittedly, when I saw their name on the bill, I did look for an alternative act to watch instead – I've seen them that many times!
So glad I chose to soak up the sun and their sun-drenched 45 minutes, and I'd go as far as saying this was the best I've seen them… That lovely wash of sound from the six of them, and I only recognised Waving Flags amid a splendid display of colourful guitars, violins and keyboards culminating in a cool version of Hawkwind's Silver Machine.
Also dug out their soundtrack album 'From The Sea To The Land Beyond' just to reaffirm my musical eminence statement.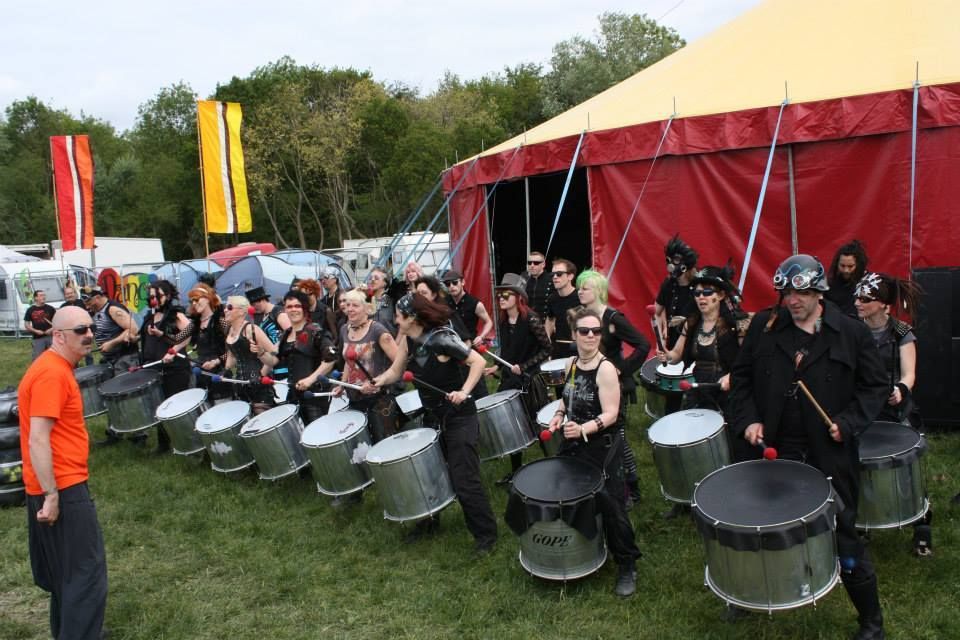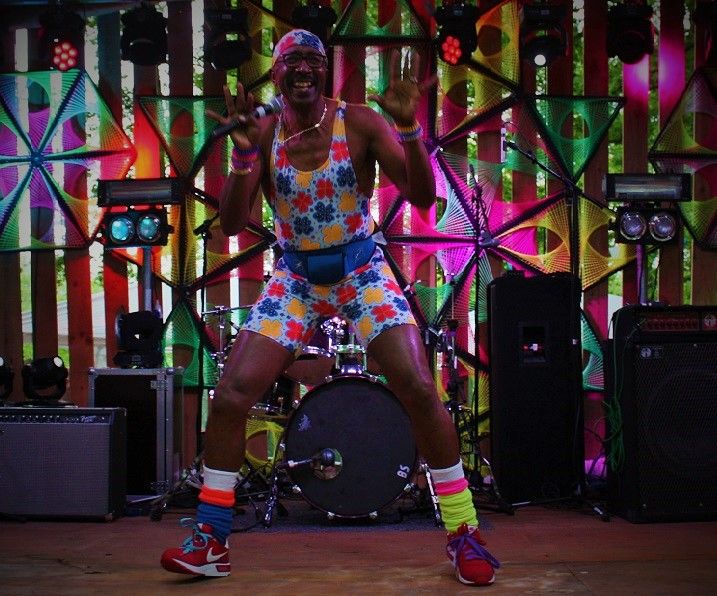 The main genre seems to be folk-punk. Lot's of crusties (without their doggies on a string), lots of punk t-shirts milling about, not so much the society's rejects they used to be, but most definitely not the one weekend a year ex-punks you see at Rebellion Festival.
Was good to spend a long overdue weekend with my sister Jane and her partner in grime Steve F – that font of musical knowledge. Topic of the festival for us was Musical Genres and sub-genres, with Steve on a quest to categorise his EU Mountain sized digital collection.
The question was raised as to why do we need genres? Very true, but they're essential for lazy bloggers like myself, and I'm pretty certain there'll be a few new ones invented by Sunday night…
It's a good cross-section with good entertainment aside to the bands laid on and appreciated across the four days. The very funny Bonsall Red Barrows, the sci-fi tribal tub thumping Drum Machine all Mad Maxed out in black leather and fishnets.
And for a bit of cardio-vascular cabaret in the morning, the mighty Mr Motivator. (Barrowcore / Tribal Line-Dance Drumming / Exerpop) !!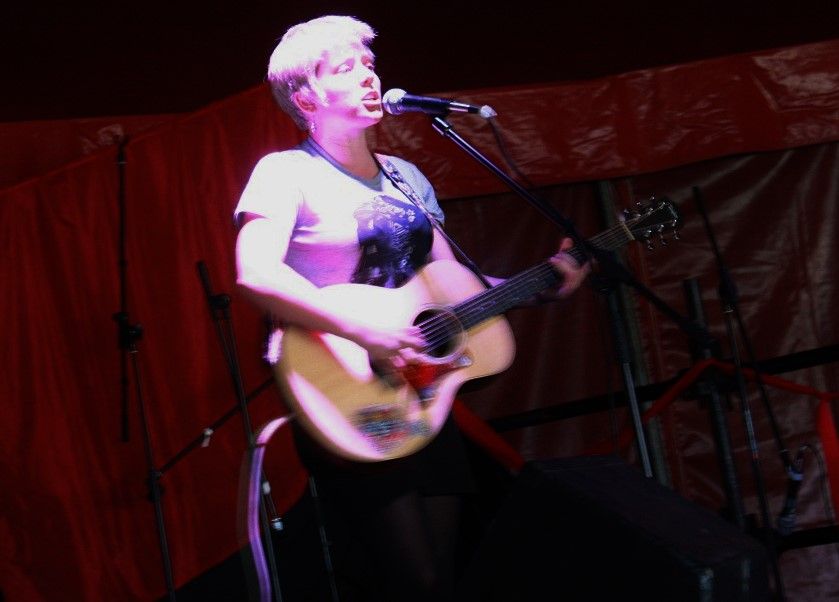 A smattering of deadbeats and the dispossessed gathered to see Welsh folk-punk songstress Efa Supertramp open Saturday's proceedings at the Something Else tent, which is aptly run on solar power (as we all are actually!).
I recently reviewed her new album, from which all today's fine songs came from. Her lyrics come from fighting for what she believes in, making a difference, kicking against the pricks. Being a strong voice in a corporate world of greed, a world of celebrity need, of advertising revenue, where people are a disposable commodity rather than human beings. Powerful enough to make you clench your fists and sweet enough to bring a tear to your eye… I wholly recommend you get hold of her bilingual album 'Rhyddid Yw Y Freuddwyd'
I postponed the alcohol ban for the weekend in order to clear my cupboards of JD, Hobgoblin and red wine (any excuse). My liver wasn't too enamoured with the idea and I promised to hop back on the wagon by Sunday.
By way of compensation, I took my liver along to see ex-Strangler great Hugh Cornwell. Being too young to have caught The Stranglers when they really were Certificate X, this was a big box to tick, to see the actual voice; the man himself.
Not to rest entirely on the laurels that adorn the sleeve of 'No More Heroes', Hugh and his excellent bassist and drummer alternated his current crop of songs with that famous back catalogue. Those songs mainly came from the pledge album 'Totem And Taboo' which was produced by Steve Albini, and they stood the test with an appreciative crowd, mixing God Is A Woman, Stuck In Daily Mail Land with the likes of Straighten Out, Peaches and Get A Grip.
The simple, yet skilled guitaring did lack the intensity you'd expect if it was backed with Dave Greenfield's keyboards, but it all went with the vibe of this sunny afternoon.
I seem to be in the minority here, but I never got The Mission. They always struck me as watered down Goth, Sisters of Mercy without bollocks or Strawberry Switchblade with a bit more bollocks, and after Friday night's rousing finale, I still don't get it.
History will argue the formula obviously worked to earn them two Top Ten albums (when the charts actually mattered), but for me it was all a little too throwaway.
And when Wayne Hussey announced it was his birthday next week and miserably failed in trying to get the crowd to sing him Happy Birthday I knew it was time to turn-foot and seek deliverance with Zion Train.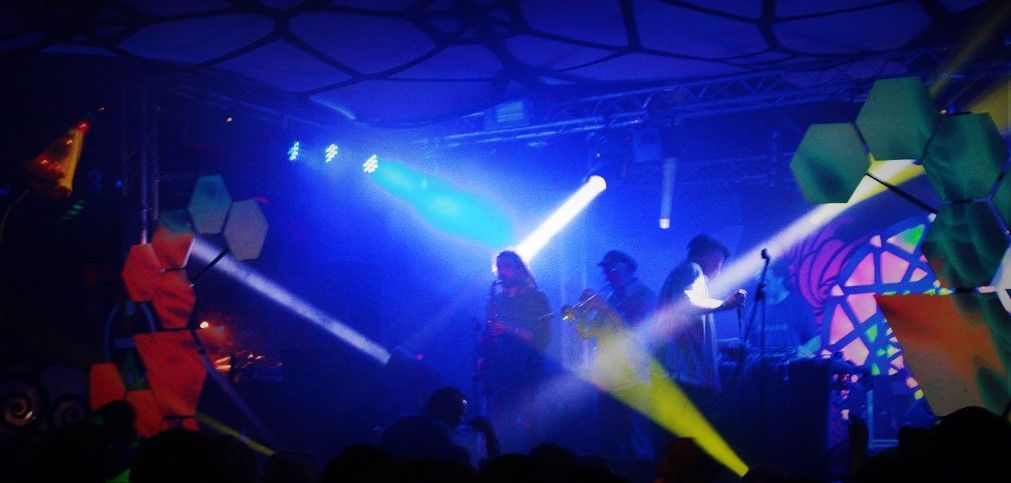 Maybe I wasn't in the minority! The Magical Sounds tent was rammed!
As is with a lot of these dub-dance-trance acts, Zion Train are now basically Neil Perch surrounded by a couple of Apple Macs and FX units. He's thrown in a couple of brass players, which works really well and vocalist (Dubdadda?) who did the trick, but didn't engage the audience as much as Molara used to. The 'C'mon Bearded Theory I can't heeeaaar yooou!' after every song did wear thin, there again, we're not here for polite conversation.
However, it was ace from start to finish! Speed dub-reggae!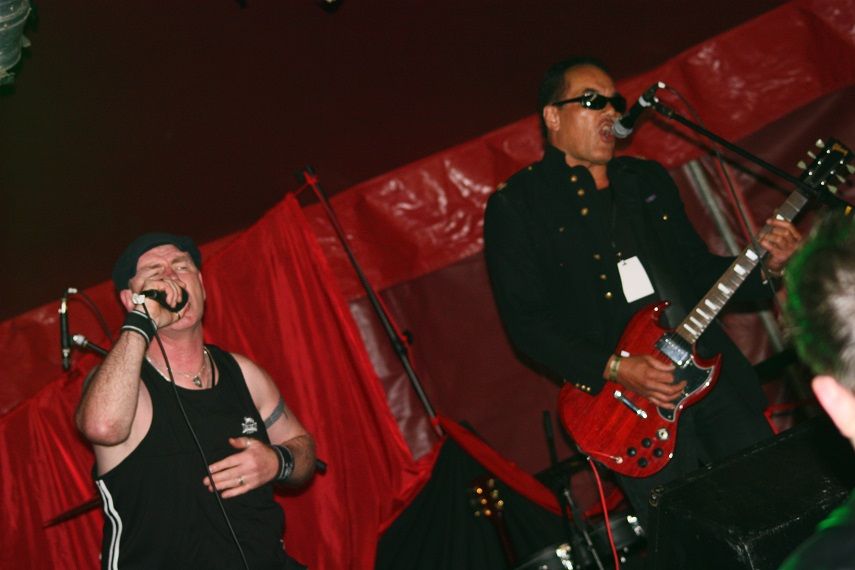 Was good to have a decent bit of second wave balls to the wall punk rock courtesy of Demob. Those 1981 singles Anti Police and absolute classic No Room For You nestled proudly in my record collection until that evil EBay took them away from me. It was a gutsy performance and good fun too, with an ace singalong tribute song to Charlie Harper. They quite rightly tell us to love our country but hate our government, and speaking to them later in the day, they tell me they have so much more to fight against now that the country has decided to go right wing.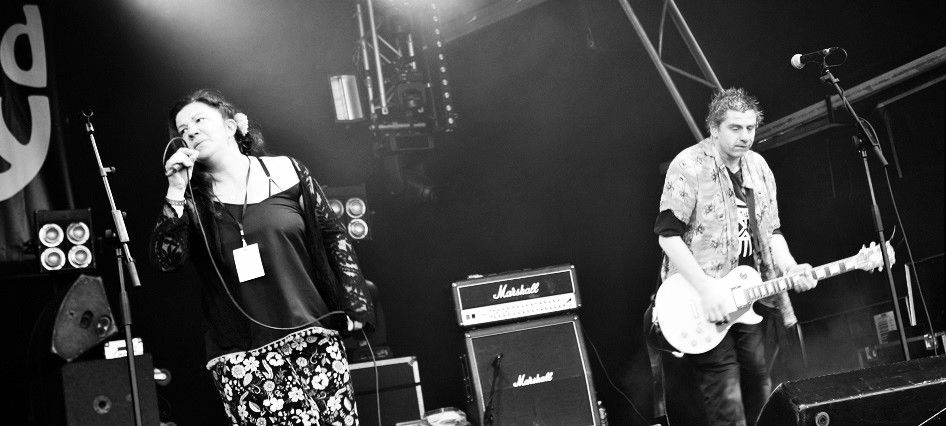 When it comes to street-politics, there's no one better placed to tell you the wrongs and rights than Back To The Planet. And they treated a large early Sunday afternoon crowd to a cool brand of ska-funk-dub. The message is 'there's plenty to give out free, waste food and empty houses and grounds that are out of bounds to us pawns.'
I didn't think I'd enjoy it… I'm glad I was proved wrong… And, as the rumour has it, the guitarist did attempt to climb the gantry!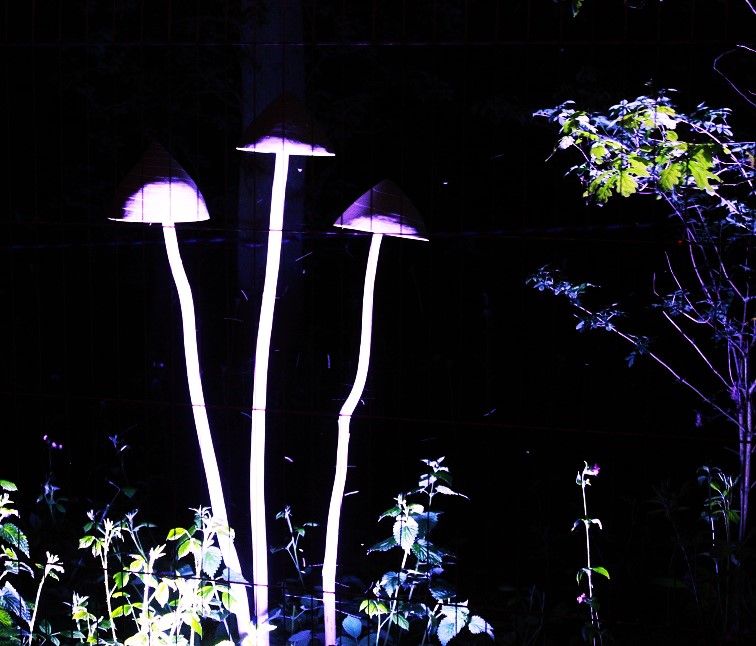 Earlier, I had woken up at 6am… It was after a third night on a hard tent floor in a field… I trudged down for a quick game of toilet roulette and grabbed a mug of bleak coffee to kick start the caffeine receptors for Round 4.
The bogs were actually OK by festival standards and I envisaged the future, where you could go for a dump, pull the handle and step out as Hendrix is starting his set in the Isle of Wight… Time Toilets! Stone Roses at Spike Island, Pulp at Glastonbury, Hawkwind at Stonehenge… Expect to see me on Dragons Den next year…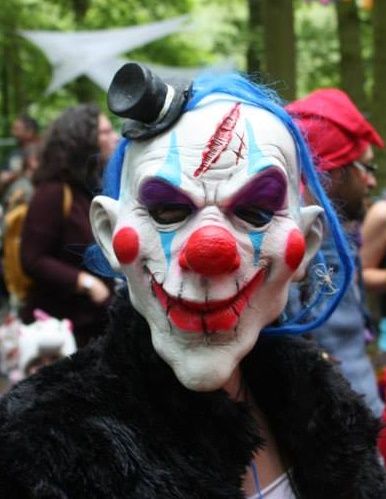 Most people by Sunday had teeth like a Cornish plumber, hair like naughty Miranda and faces like boiled meat. And those who saw Eat Static until 3am this morning were also still wired to the mains. It was a raucous 90 minute set of banging psy-trance. Merv Pelper up there on his own twiddling his knobs in a reptoid suit.
He looked a bit like a bingo caller perched on his podium… That's it! Psy-trance Bingo… A new genre… Everyone could mark off their bingo cards as they're raving… Someone shouts 'House!' and they all say, 'No, it's trance…'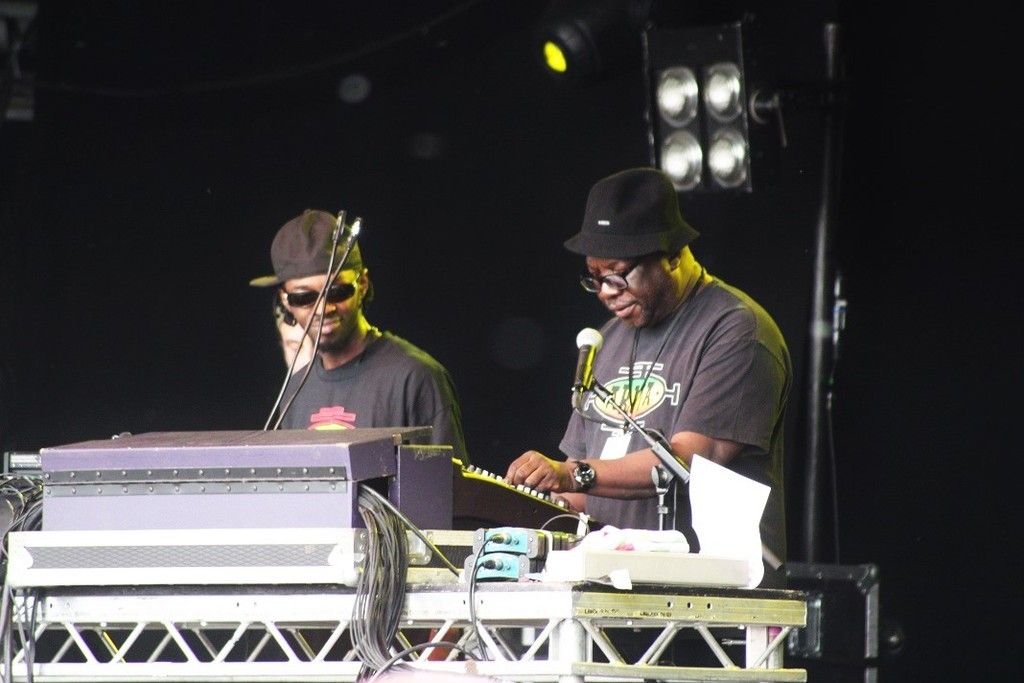 The legend that is The Mad Professor ensured there was a heavy heavy dub sound going down on the main stage. The sun scrapes through the clouds to shine and everyone, and I mean EVERYONE is chilled.
My teenage days of going on a Sunday to my grandparents house to listen to Steve Barker's On The Wire show on BBC Radio Lancs came flooding back. For it was only there I could get a decent signal for the station (being in North Wales), and it was he who introduced me to the Mad Professor and other On-U Sound dub stuff.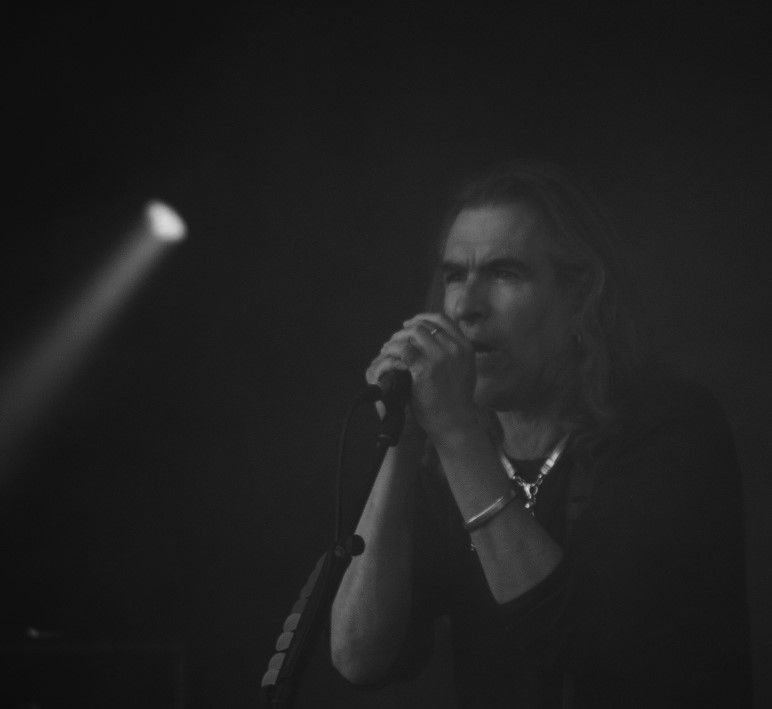 Early on Saturday evening, we reacquainted ourselves with New Model Army.
They are not a band as such… They are a religion. To those who bought into this cult, they know every word written in the NMA Bible. Outsiders don't feel welcome; outsiders don't get it.
'Folk-punk.' Steve F said as we genre-lised each band… Electronic folk-punk maybe?
It was my third NMA experience spanning more years than I'm brave enough to remember. The first being at Bangor Uni back in their heyday – that was an explosive performance.
Today's sermon according to Justin Sullivan was a little more sedate; whether sincere or just taking the cash I am not one to judge as I always had that teenage niggle about this band as Conflict released the album 'Only Stupid Bastards Help EMI' as a direct attack at New Model Army and their affiliated record label.
This threw the anarchist cat amongst the crusty pigeons and kind of divided an already eclectic movement… Time toilet your way back to the present and apartheid has been destroyed, EMI dissolved and New Model Army (and Conflict) still soldier on…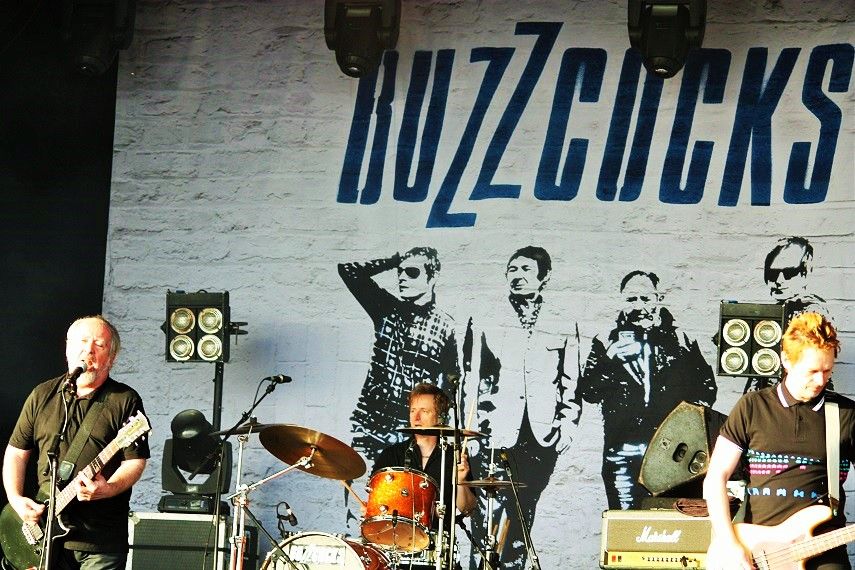 Music aside, my sister was so disappointed by Buzzcocks as she was expecting to see Pete Shelley as that fine homo-sapien of the early eighties. She instead closed her eyes and enjoyed a machine gun like volley through their endless hit singles with not a pause for breath… Boredom, Flash Cars, I Don't Mind, Autonomy, People Are Strange Machines, Whatever Happened To?, Some Kinda Wonderful, Chainstore, Noise Annoys, It's Not You, You Say You Don't Love Me, Promises, Love You More, What Do I Get, Harmony In My Head, Ever Fallen In Love, Orgasm Addict.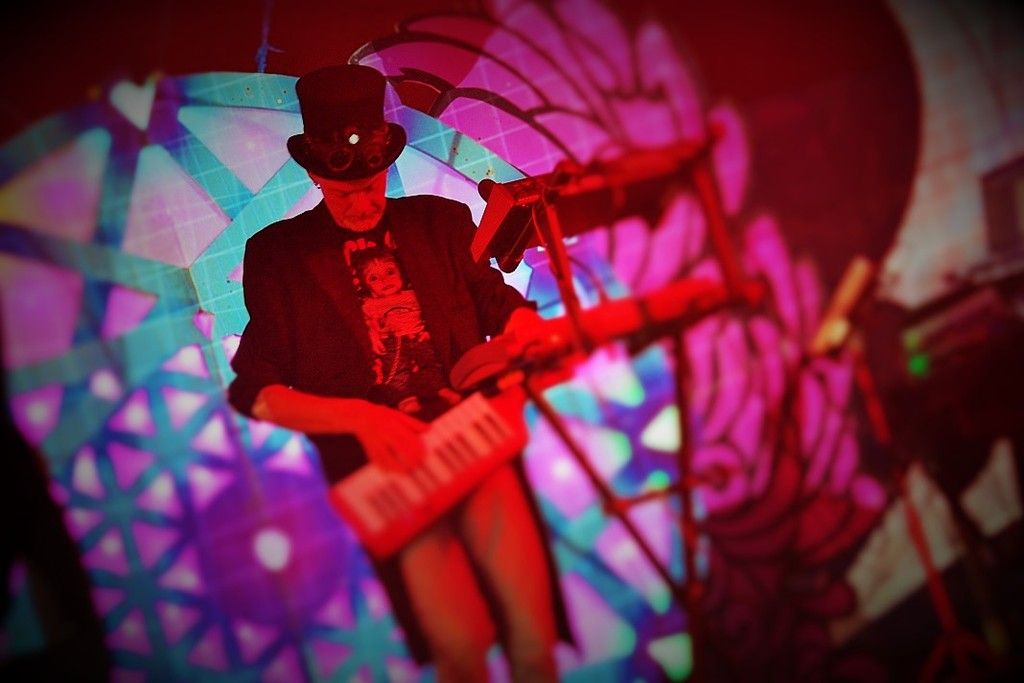 Like I said, what a fantastic festival – what a brilliant an eclectic line up – Pigbag  who are far more than just being papa's one trick pony, with their orchestral jazz-ska-dub, that was so ace – please don't end..!
Dr Trippy with his dub-reggae-Dreadzoned dance and Eastfield with their very very popular steam-punk –  (all pictured above).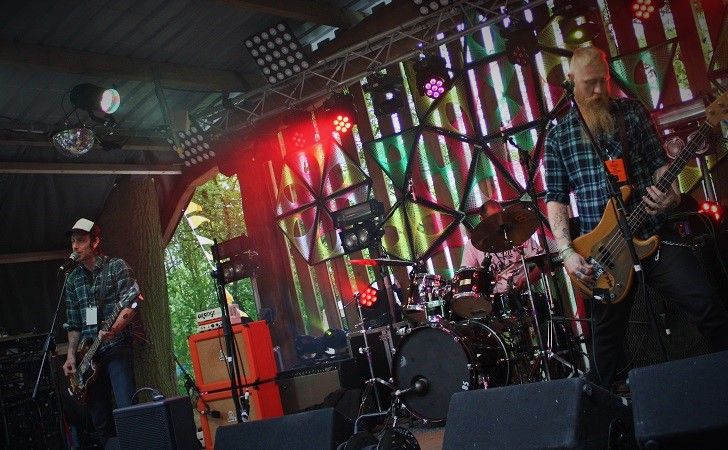 Oh, and Super Fast Girlie Show… also playing in The Woodland; an ace trippy kind of area in a err.. woodland.
These woolybacks are a drummer and two chicken-lickin-mother-fuckin' bass guitarists, all hooves and cucumbers and an incendiary set that was like being assassinated by anti-aircraft missiles while the Americans laughed from space.
I came out of the Time Toilet as they sang 'This is not the 1980s' – thanks for the info… 🙂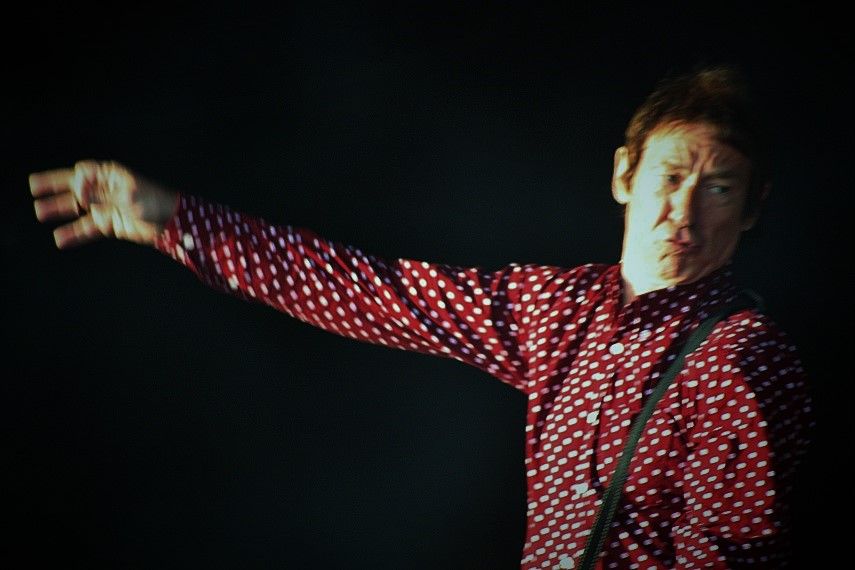 Yep, definitely another one for next year's calendar… from the crusty Rod, Jane & Freddy style of 3 Daft Monkeys on Thursday night, to the hilarious un-PC story telling-you-like-it-is Captain Hotknives to The Beat crying tears from a clown to Alabama 3 crowd baiting… Bearded Theory is a superb event…