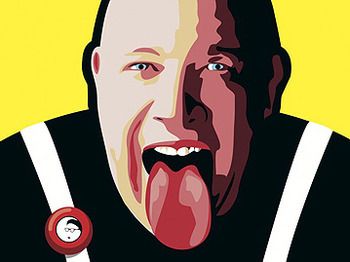 (
Reviewed by Steve Sync
)
Never been a fan of Sunday night gigs. Obviously it's more convenient for a travelling band and the venues than the fans. With the weekend's parties and hangovers settling down nicely by Sunday teatime, you're reluctantly prised from your sofa to stand up for a few hours! The opposite of what your body wants to do really but sometimes, these out of the ordinary activities pay off.
I saw Bad Manners for the first time last year at Leeds Mod & Ska Festival when me and the Synclets were on our summer hols road trip. Our paths had surprisingly never crossed before then, considering the band's almost never ending live schedule over the years and the fact that I'd been buying their music since 1980!
As a 10 year old in 1979, the 2Tone ska movement blew me away to the point of obsession. These cool new bands like The Specials, Madness, and The Beat were playing what I considered at that time "new music" even though most of these bands were heavily influenced and covering the original 60's Prince Buster ska songs.
All my pocket money was spent on these bands building up a healthy record collection which I still have to this day. No ska record collection is complete without Bad Manners though. When you look further than the odd few jokey silly songs in their repertoire, you also uncover some very well written ska classics so tonight was not to be missed.
You've never had more opportunity to go and see these old ska bands live these days with all of the above mentioned touring at least once a year. I know some don't have all of the original members but I would still recommend taking a chance on any of them.
I had no chance of seeing these bands in their heyday as I was much too young (no pun) but I've more than made up for it over the last 15 years. My chauffeur for the evening was once again Roger Subway who was also equally into the ska scene as I was back in the day. We were laughing that we both managed to miss Madness playing Rhyl Events Arena last month due to holidays etc, and if you travelled back in time 35 years to tell us we missed that, we'd have never believed you!!
I didn't know what to expect at the venue tonight. Tickets appeared to still be on sale so I hoped they'd draw a decent crowd. I took my daughter to see The Beat in the Tivoli in Buckley about 3 years ago and they played to about 30 people on a cold Tues night! No embarrassing turnouts tonight though! We got to the venue at around 8pm and it was packed already! We had to fight through the crowds to the bar!
No support act tonight, a ska DJ set of just about every ska track ever written got played to the ever expanding mass of sweaty party people singing and shouting along. This was a party whether you liked it or not. Everyone had come to re-live their musical pasts and embraced the nights entertainment wholeheartedly. The drink flowed, the classics kept on coming, this place was bouncing and stiflingly hot and Bad Manners hadn't even started yet!
To a chorus of "You Fat Bastard" the band took to the stage at 9.30 pm and kicked off with their instrumental intro which immediately got the whole room moving. It's hard to stay still when that ska rhythm hits you and the whole room worked and moved with it. Dub Bass, skanking guitar, luscious keys and the rich horn section give this band dimension, not forgetting the very recognisable harmonica on every song too.
It's a warm, feel good vibe with a sprinkling of craziness to boot! The man himself Buster Bloodvessel walked on and filled the room as well as the stage as he announced "This…..Is……Ska!"
We were then taken on a 100 minute rhythmic journey through their extensive back catalogue featuring the classic sing-along "My Girl Lollipop", the love story that is "Lorraine", and the very soulful "Walking In The Sunshine". In the middle of their set, they played the old Frankie Valli cover "Can't Take My Eyes Off You" which was a perfect song for the sweaty masses to chant along in the der, de…..der, de…. horn section bits.
The classics kept coming like "Just A Feeling", "Skinhead Girl", "Ne Ne Na Na Na Na Nu Nu", and "Special Brew" to name but a few. This party was refusing to settle or slow down. The energy and response the band were getting increased as the temperature got higher. The band members really looked like they were enjoying the atmosphere that Chester Live Rooms was giving them.
This really was a special night. Buster announced "I've just been told were coming back here in December" which excited the crowd even more! They couldn't end their set without playing the very well known "Lip Up Fatty" which delighted everyone in attendance and they finished on the "Can Can" which was another shout along classic which put the icing on the cake!
Top night! I imagine I'll be itching for another fix of this in December as well, even if that ones on a Sunday night!