First of all, apologies to Y Bandana – but whoever got the graveyard shift I was destined to miss. I did see them about 4 years ago and they were very good, and I'll no doubt catch them live over the festival season.
Monday night in Bangor. Wow! That's brave, when you consider a Friday night in Bangor is pretty shit.
Bucking the trend however is Hen Cob / Old Cob which, tonight at least was bustling.

Anglesey's Fleur De Lys have enough spunk for the partying crowd, where the female ratio far outweighed the male. They are pretty boys playing Welsh rock'n'roll (hogyn roc cymraeg), and (apart from two solos) they play it well.
Fleur De Lys plays their songs and the fraternity laps it up. The vocalist/guitarist milks the crowd, 'C'mon Bangor!' And you can almost see the TV camera swooping in across the stage as they play.


The scene is like something off Happy Days, it only needed the Fonz to show up to complete the set. I saw them a few months ago supporting that dark entity Mr Huw and tonight I'm recognising most of their songs after that one appearance. This means they're either extremely catchy, or cover versions I'm not that au fait with; or probably a bit of both. It did start getting all a bit High School Prom Night near the end for me, yes I know, I'm an old twat but they save my day with a new song that sounded very new wave.
Fleur De Lys will probably go far (Cardiff) and are having great fun doing it… Bet they get laid after every gig…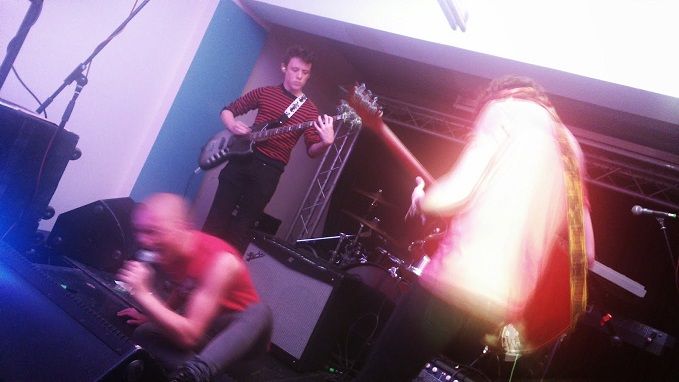 Enter Y Ffug – young semi-nationalist-anarchist-activist-upstarts from Crymych, which is a Welsh enclave in Pembrokeshire (Little England). Y Ffug are three dates into a tour with Y Bandana, and when the cat is away the mice will play, but it also means the cats can play when they're away too and Iolo's voice was fucked already, for which he kept apologising.. It did however give him a Strummer-esq husk to his vocals.
Their debut EP 'Cofiwch Dryweryn' came in for a bit of a constructive kicking when reviewed by Anhrefn's Rhys Mwyn last month, who in turn was subject to a bit of an online kicking himself. I bought the EP on account of seeing them tonight and will play it after writing this review… The argument Rhys was trying to put across was they needed a little guidance… And from what I saw tonight I can see what he means, but the plusses far far outweigh minor non-traits that can be ironed out.


Y Ffug's punk stuff (which is all but three of their set) sits well; yes it's raw, but it's tight. Iolo looks like a young Henry Rollins, he has a good stage presence and if he got angry I guess the comparison would be uncanny. Guitarist Billy Morley looked a right twat with his bandana [sic] on, but when you can play like he does he can look as twattish as he likes… He really is the guitar god, playing against the style of the rest of the band, and yet it works.
Ioan and Joey are the two quiet boys at the back, holding it all together, the unsung heroes, the engine room, ensuring all is in working order for the other two to let rip as they please.
It's a good spectacle, there's some great tunes (not sure sure about the dodgy jazz number though), rousing lyrics about burning your house down, and Y Ffug are a band who need to first break Wales, which they'll do very quickly as the Welsh media have a terrible habit of over exposing bands way before they're ready… And once they're ready they need to take the fight across the border with NO COMPROMISE, Anhrefn style….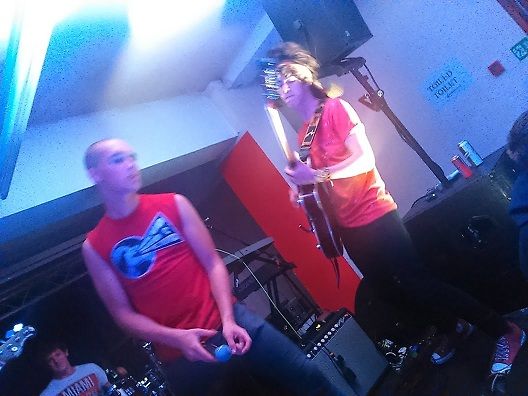 Y FFUG – soundcloud