The deadbeats and the dispossessed crawl out for a final Christmas Kick Off before the day our lord Jesus Christ was born to save us all from paedo-priests, crazed religious psychopaths and the human race in general (thank you Jesus – you're fired!).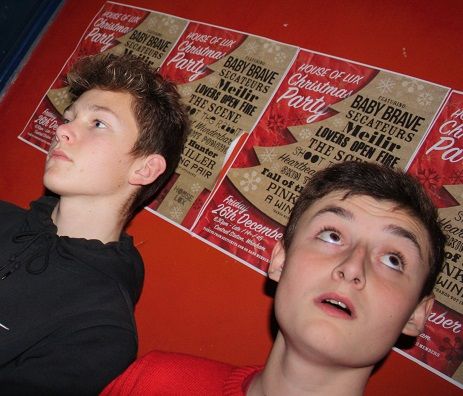 It was a line up of celebration, many bands I've seen and reviewed countless times, couple I've not see before and others I'd rather not see again, but that's what it's all about – If we lived in a world where we all liked the same stuff, it'd be as dull as this website!
Before we get to one of the highlights of the year in a year of highlights, as it was the season to be jolly, I thought it'd be good to prize my boy and my nephew from their consoles to experience a bit of culture. As you can see from the picture, they had a rip roaring time, which meant my chances of staying for Revolutionary Spirit and Baron La Croix were as limited as the bandwidth is gonna be in my house over Christmas.
Of the Revs (as those in the circles call them), the moustachio aficionado that is Andy Garside said, 'They were fantastic. Loved the theatrics of it with the violin bow on the guitar… nice. Just as much about the spaces between the noise with them. Lovely stuff indeed.' Andy also said of Baron, 'Perfect end to an ace night. Baron La Croix pushing all the boundaries of what's expected of a 'band' on stage. Incredibly powerful stuff.'
I believe Waltz and Doppleganger were also on the bill, and Half Avian didn't play.
Although Wrexham employ an Over-14s door policy for many of their gigs (unlike Chester, Rhyl, Bangor), I'd say there were only 5 or 6 qualifiers taking advantage amongst tonight's packed out venue. Times have changed, we know that, it's been well documented, I've been trolled (by one person) for moaning about it over the years. The fact is the majority of kids look up to gamers (fat Americans usually) as their heroes now instead of dead ones. YouTube is the new vinyl, Xbox is the new record player. RadBrad has taken Kurt Cobain's mantel and we're all fucked…
Who cares, we were all fucked anyway…
All I care is I saw Seazoo perform for the very first time (that's my first time; they popped my cherry) and how was it for you darling? …Electric…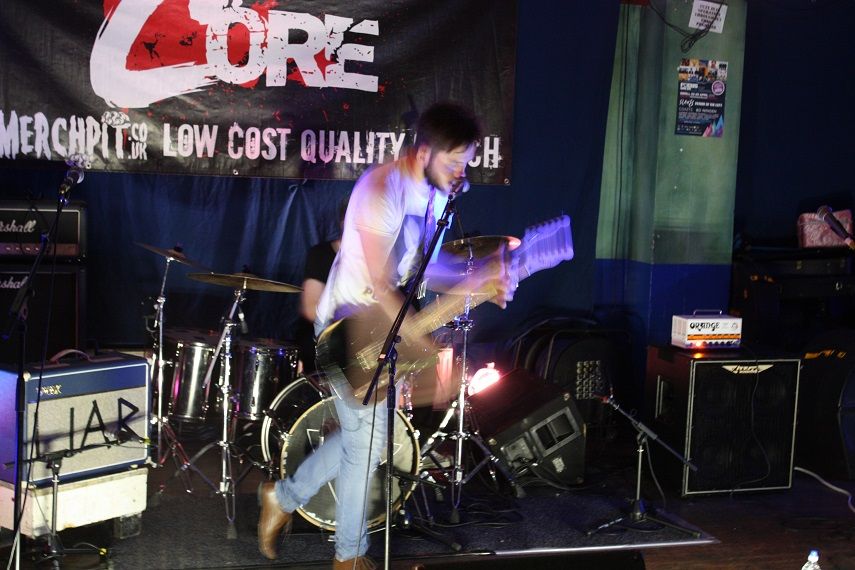 We walked in on Modern King, a two-piece who were part of The Riffs before splitting. The rest of The Riffs became Loé, who were on later playing technically executed trad-indie rock, with a great distinctive voice, loved by the majority, but not a cup of tea I drink. For me, seeing Modern King making a big noise with just guitar and drum and a pitch-shift pedal will have me pretending I'm 19 all my life. Nice big thick bass sound for the thumping riffs, good stuff and a step up from last time. (facebook)

It was a JD infused honour to see Blood Lips on my birthday last month, really enjoyed it, although the memory is very sketchy. Tonight, armed with a blackcurrant cordial I got to take it all in and keep it there. Tom Williams twatted the living fuck out of his drums and I almost broke a 'no-drummers-in-photos' policy Ha ha! (almost). Heartbeats is such a stomper of a tune, awash with feedback.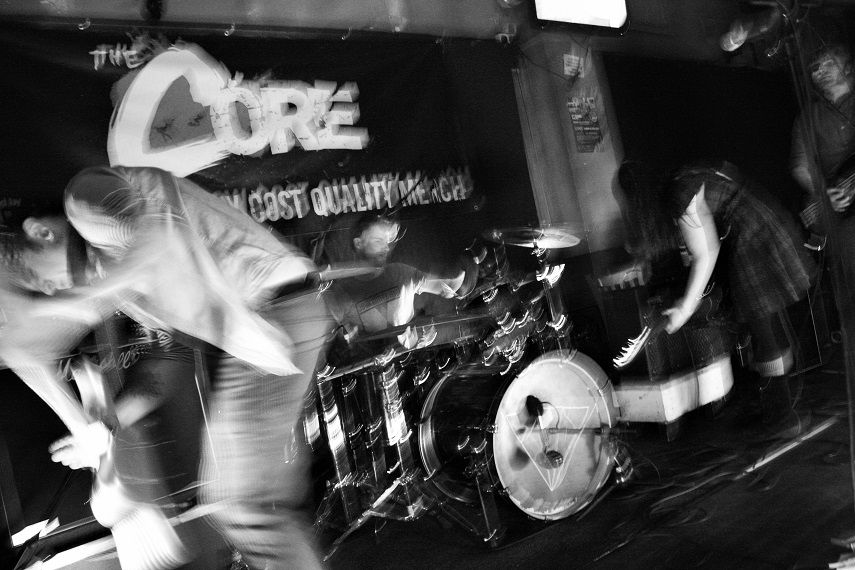 'We're gonna smash it tonight.' That's what Moz said earlier before Orient Machine's set. He wasn't kidding… Maybe hyped up for Christmas, frustrated by a ripped larynx or whatever, but Moz was on a mission to destroy his guitar… It somehow survived.
I've reviewed Orient Machine several times this year/last year and make no apologies – it was a smash 'n' grab set, excellent sound, and despite pulling his (and Jess') guitar leads out at least three times and crashing head first over the foldback monitors, the rest of the band held it together. I can just imagine the kicking Stokes, Jason or Jess would get had it been they who completely spazzed out ha ha!
It all added to a great spectacle with a finale of their forthcoming thunderous single Hecktor ending with the scene in the picture at the top of this page.

Talk about having my cake and rubbing it all over my face… Seazoo have been knocking on the doors for a couple of years now. Adored their EPs in a harmless poppy-go-lucky manner, absorbed all the hype of the luvvies falling over themselves, lathering the band with plaudits, and now finally seeing them perform live.
What can I say?
The musical river that flows through Wrexham has burst its banks again and we're flooded by crystal clear water, pure enough to bathe in, cool enough to drink. Seazoo shower us with enthusiasm, with smiles as wide as the Pontcysyllte Aqueduct, we're all bopping and we can't help ourselves. It's twee pop in Drop-D, screeching guitars flanged to fuck over toe-tapping, head-nodding, heart-warming riffs that build and build into a pinnacle of joy (thank you Jesus!!)