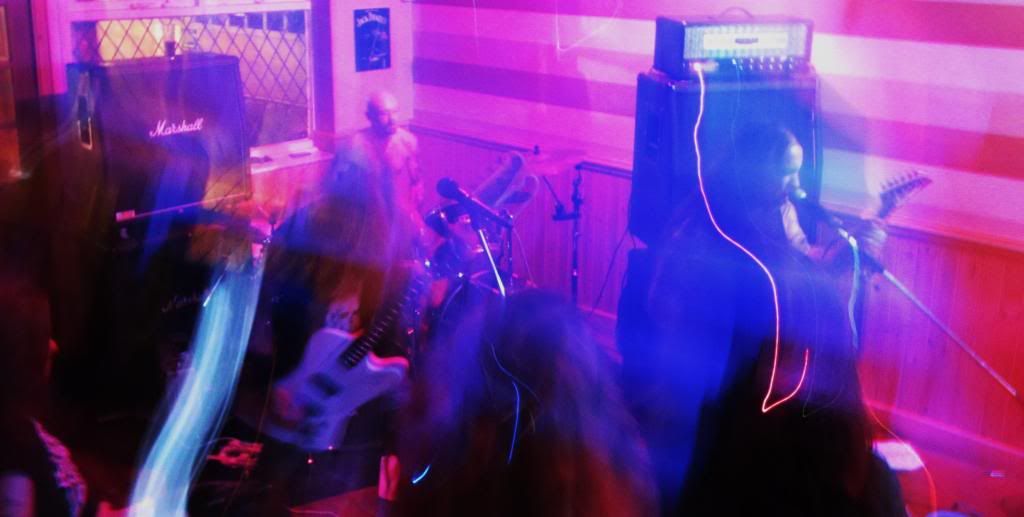 It was certainly an unexpected treat to get the South Walian death metal legends up in such an esteemed local environment as Rhyl, and the night continued to be full of surprises/chaos.  Fair play to Dirty Vultures Promotions for continuing to have the vision and balls in their bookings to bring them here on this short weekend tour, along with another couple of travelling bands.  Added to this was a couple of local acts, one of which was a bunch of part timers who had undoubtedly blagged their way on the bill due to playing with the headliners once before.
Still, it made for a good gathering of the clans and while things were being set up we diverted to 'spoons for a bit before returning around the alleged scheduled start time.  Except now we found that the venue had decided nothing was happening till after the rugby.  No problem, only one side supported here, and the right result could just add to the festivities.  Wales duly delivered, but then Desecration had decided they wanted to go on earlier while they were still capable so the whole line up was shuffled
First we had Sodomised Cadaver (above), also from dahn sarf (Wales), no prizes for guessing that they are firmly immured in the genre of the headliners.  Young band, but really solid and sharp technical death, with an amazingly gruff vocal from front man Ryan evidently not in need of the Marlboro/JD mix.  They were giving demos away free and the quality recording showed a lot of promise for these guys, things moving quickly.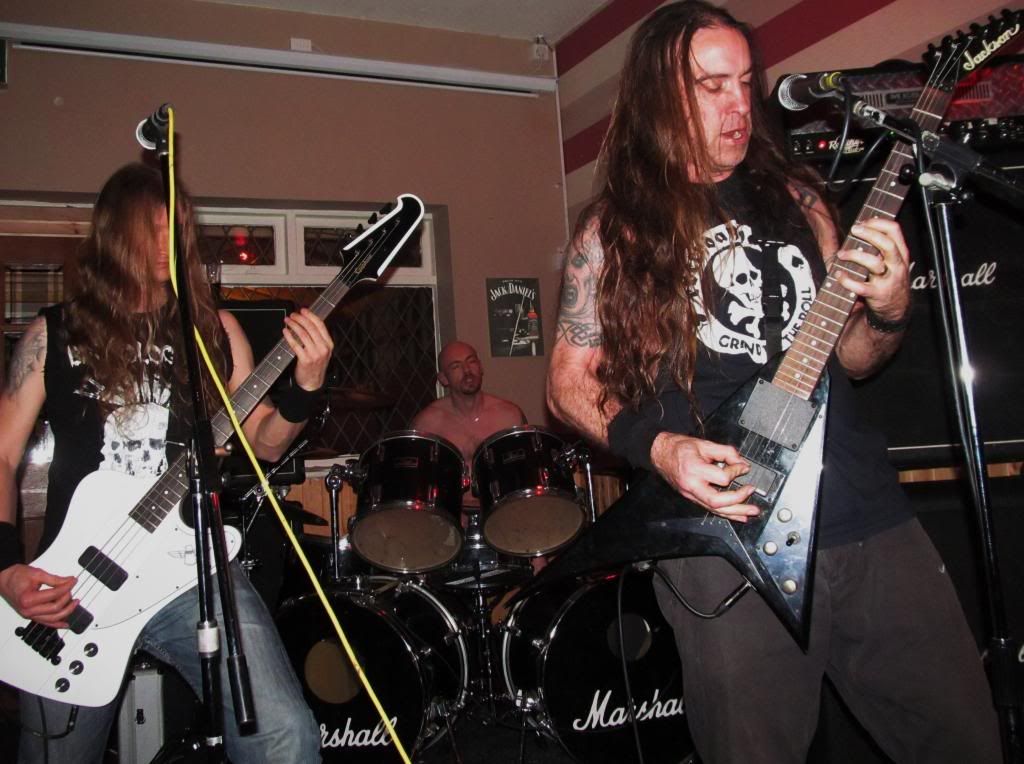 Straight to the main guys next (Desecration –  above and top).  A good handful of times I've seen them, whether to a thousand on a Bloodstock stage or the less than 50 here, the three piece always delivering a no nonsense and hard hitting onslaught of sickness.  I say no nonsense, front man Olly always has the banter, and it's all the more appealing that the band are down to earth  (you couldn't not be in Rhyl!).  Spectacular drumming from Mikey that you can appreciate in detail this close, and the whole sound is a really effective battering of riffs.  They come prepared as ever with lots of merch and I add another picture disc to my collection.
Beneath the Wake (below) , also from dahn sarf (Watford), provided a bit of contrast as their orientation was more to death core popular with some of the yout, dismissed by some of the old guard.  I guess they looked the part but without preconceptions I enjoyed a fair bit of their sludgy, screamo attack interspersed with staccato riffing, it was evident that they had a good bit of skill in their musicianship, could possibly have done with a bit more variety of structure in their set but they already have a decent EP release so its working for them.
Speaking of consuming professionals, should probably have followed Desecration's hint as I was not exactly focused when Merciless Savage came to play, around midnight.  With our current reliance on electronic backing (although moves are afoot to change this) it was a bit hard to follow what was going on soundwise with the arrangement here, but after a couple of songs we kind of got into our stride and the North Walian Blackened Death Thrash was well received, certainly sounding meaty through the huge stacks
That left hometime boys Psycodeth to close proceedings, if not the bar itself as people had rapidly dispersed.  Having seen them a couple of times previously I thought again they had upped their game a bit and certainly seemed to have refined their heavy thrash, sounding great through this system again and putting some energy into their delivery even if they had a shortest straw in terms of the line up changes.
So, good stuff all round, and pleasing to see extremity has an occasional home in Rhyl.  Not that it doesn't most nights…