What I do love about festivals is good weather, good company, good music and the morning after the night before vibe. That come down… The first band on… Now I've seen some amazing come-down bands… Faithless (probably the best) and Dogsflesh immediately spring to mind, and stamped onto that list are now Blackburn's Sky Valley Mistress.
Could have easily missed them, could have stayed in the tent and slept off  last nights Newcy Brown overdose. Instead I opted to get up early and wander around the Wirral morning sunshine long before any of the other buggers batted an eyelid.
Bringing the weary heads round with black coffee and orange juice we made our way to the main arena to start Saturday off with a bang. Good gutsy Zeppelin-esq rock and roll played with a maturity way beyond their tender years (apart from the fast song Fly which doesn't quite work at that speed).
Three black coffees and Sky Valley Mistress, who needs Berrucca? And all before lunch. Thumping drums, great bass guitar to match the great bassist, great guitar sound and a great voice. Great combination. It's bricklayer music… Songs are constructed rather than thrown together with some ace 'after-song' riffs bolted onto the end of some of the tunes. Very fucking good indeed… Check out their 'The Best Thing You've Never Heard EP'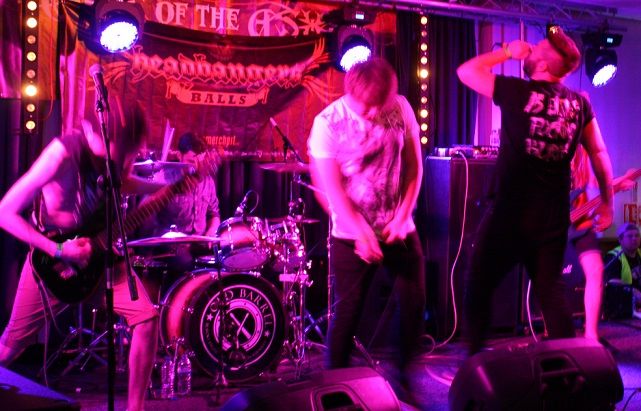 Opening the indoor Headbangers Balls Stage are Liverpool's Escape Arcadia – it's brash metal and they're shouty bastards with one of the dual vocalists looking like Barney from Napalm Death. Broken Commitments has a nice melodic guitar opener according to my notes!
What I didn't realise yesterday was there's a third stage here… The Core Takeover Stage, tucked away at the back of the complex, a nice intimate room, which is where I found Modern King, a two-piece outfit (the first of a few this weekend), who are only a two-piece due to the fact they can't find a bassist (bassists are all wankers anyway). Nice guitar sound, played some cool slow burning songs, atmospheric build ups. There was that obvious Black Keys-alike connection. The final tune had Nirvanic overtones – I'm sure I've used that one before but it describes it to a tee. 'I might not be here tomorrow…' Singalong everybody… We did..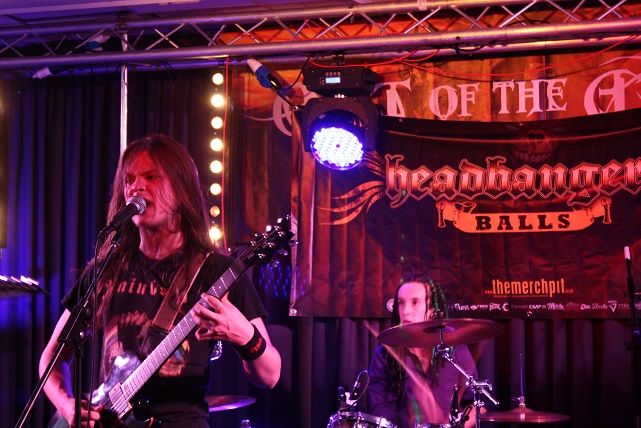 With strong scouse accents betraying their origins, the very young Reaper opened with Area 51, proper thrash metal – great vocals. When I say young, I mean criminally young… A bit messy here and there, and after committing the mortal sin of introducing the band they played Sixth Circle of Hell, the second song they ever wrote, again, a bit messy, but really good once it got going… Great fast beat and again that superb screaming vocal, reminiscent of Metallica, Slayer and Skid Row.
Checkmate has amphetamine fuelled fretwork before slamming into the verse and a speed-change chorus that left the bassist stranded. With two guitarists like this, Reaper have a great career ahead of them, whatever path they choose to take; it may be the Way of Shinobi.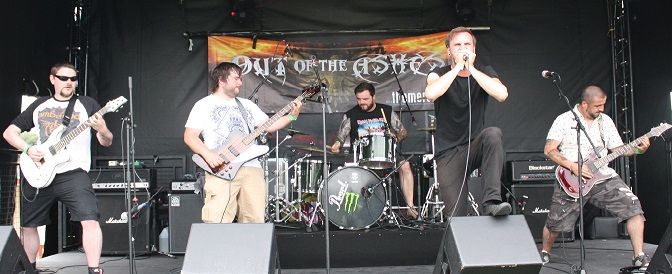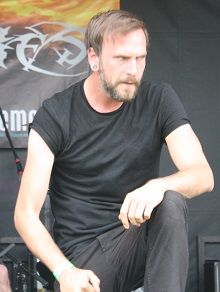 Deified (spelt the same backwards) hail from the epicentre of chavdom that is St Helens. They're on the main stage and they're in no mood for a chill out Saturday noon vibe – it's thrashed out, it's grindingly heavy stuff with a take no prisoners front-man in the form of Jamie. He's not happy, 'What have we become!' He screams… It's not a question, it's a statement. The rest of the band, despite looking like boys on holiday in Ibiza play so fast it's a blur… Good stuff… No, scrub that, it's fucking immense stuff… If you begged them to stop they'd play until your head imploded… My head has just imploded…


With Lloydy and Cristina now having joined us and caught up with us by smashing a bottle of rum between them, we got to Daybroke as they played Killing Time. Due to some band or other dropping out, these Dutch rockers were making their second appearance of the afternoon having just played the indoor stage.  They sounded very much like local legends Mansun. Also a refreshing change from all the thrash metal grindcore going on.
Nice to see a proper bass guitar (Sidewinder) played by a solid rock bass guitarist; none of this fancy bullshit; proving you only need one string and five frets! There were two floor toms too to add meat to these fine bones, used to great effect on the song Take Me Higher  with a Smack My Bitch Up type beat.
I caught a couple of songs by the very flamboyant Bad Touch travelling from Norwich in that very fine tour van of theirs. They were a gift of rousing rock and roll a la Thin Lizzy, which can only be a good thing. Leaving the rest of my drunk buddies to lap up this particular lyin' 'n' losin' party I made my excuses and headed to the Core Take Over Stage for a date with Bangor's I Fight Lions who, despite being like strippers at a christening played to their usual very high indie standards. Maybe trying to chug it up a bit more due to their hardcore setting as sinews were appearing in singer Hywel's neck.
They played their version of ABBA's Money Money Money and I reckon next time they need to change one particular line to this… 'In my dreams I have to go, To Las Vegas or Llandudno.'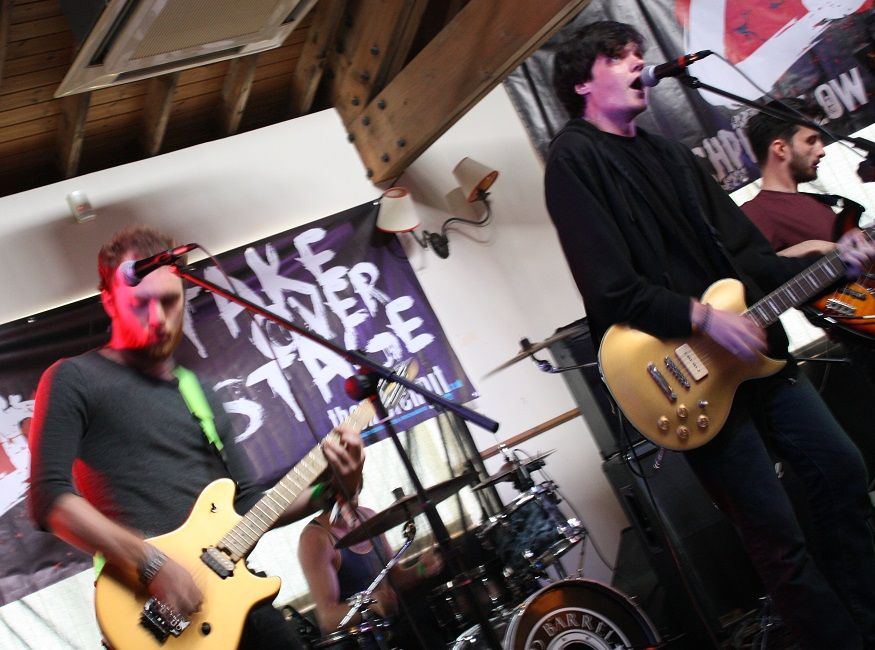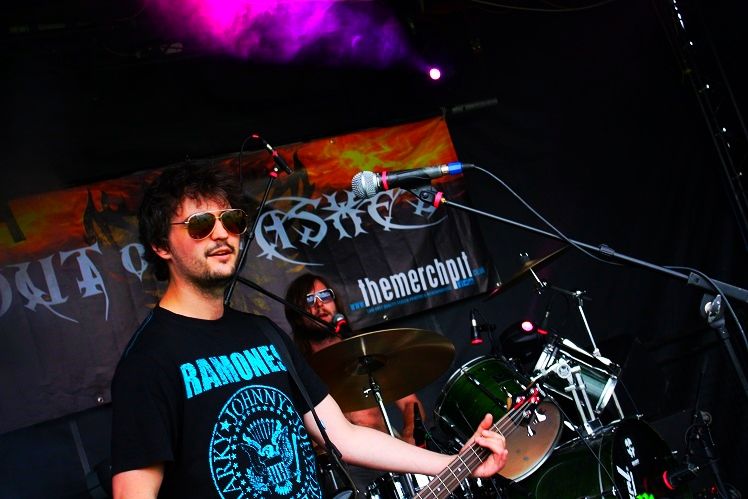 'This song is called Spunk. Can you guess what it's about?' Suggested the next act on the main outdoor stage. Saltwater Injection, a two-piece pair of bastards who are so local they probably walked here from their cesspit hovel on some run down industrial estate in Ellesmere Port. They played it Sonic Deftone Youth dirty, which is how it should be played, by making a fucking racket.
Buy, was a song about having to buy things, while  Cameron is A Cunt is about David Cameron being a cunt… and we ALL knew the words!
Their set went down as well as the liquid we consumed… We were drunk on cider and saltwater… Great combination.
You hang around all day waiting for a two-piece band and then two arrive at once! Racking it up another notch are Manchester's very excellent Hyena Kill. These guys (Steven and Lorna) don't fuck about… They punch you right between the eyes, leaving you dazed, confused and In Blood. It's a big noise and better structured than those other two piecers before them. Lots of instrumentalisms going on… Hyena Kill absolutely smashed it…
I quickly checked out Chester's Brazen Swagger on the Core Stage, baring in mind my mind was now being fed to bears and my notebook was becoming more a blotting paper exercise rather than anything coherent. I do recall them playing good trad rock stuff very well and enjoying themselves.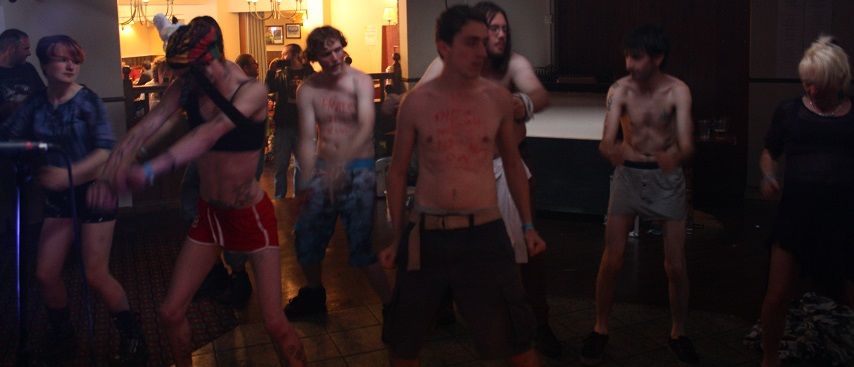 The 24 Hour Party People did a bit of Hey Macarena between bands… These dudes partied hard ALL WEEKEND… Endless entertainment as they had endless fun…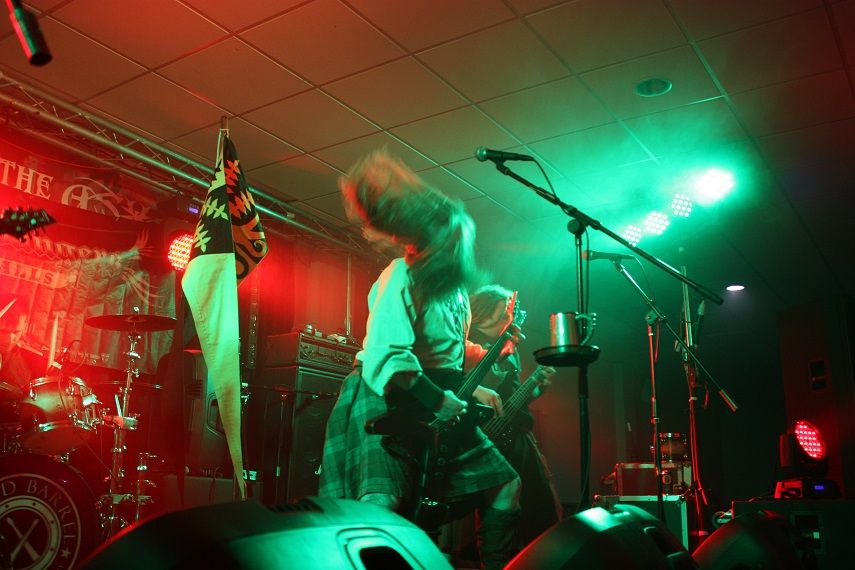 With goblets of ale being served by wenches as legs of beasts were spit roast on roaring fires and pagan crucifixions and sacrifices were aplenty, those Celtic forefathers Haerken from err… Birmingham, performed their ritual on the Headbangers Balls stage.
I'm pretty certain they were singing in some ancient druid language, but I was so sloshed on ye olde cyder by now that my ears were probably hallucinating. My photos proved that the kilts, huge beards and warriors galore were in fact very real. It was great loud guttural stuff made of medieval torture and black death coughs from rats the size of cows. Ace!
Waltz from Wrexham were gracing the Core Stage, they were firmly embedded in the indie genre and it was a bit of a shell shock to see them after being in the 14th Century with Haerken! It was good atmospheric stuff, nice psychedelic use of guitars and a top class drummer who smashed the living daylights out of that kit. Very passionate singer who had a Gallagher swagger and a face you wanted to punch, which is I guess how he sets is stall out in the first place.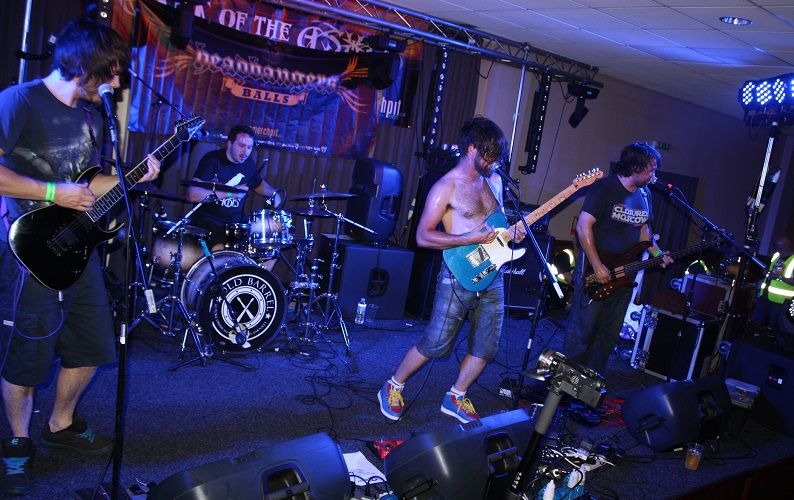 Zebedy were in fine sweaty bare chested form, as you'd expect, and like last time I saw them, it's great to see them play a time restricted set as you get the best bits!!

Tussk from Staffordshire were immense and only saw them due to the Outdoor Stage getting thundered and rained off… Plenty of thunder in here… Like a very fast Deadlight Spiral, progressive metal without the wanky bits… No nonsense prog metal if you like. Whole lotta beardage going on and a screaming singer jumping in the crowd. 'Armafuckingeddon.' Yep… That'll do for me…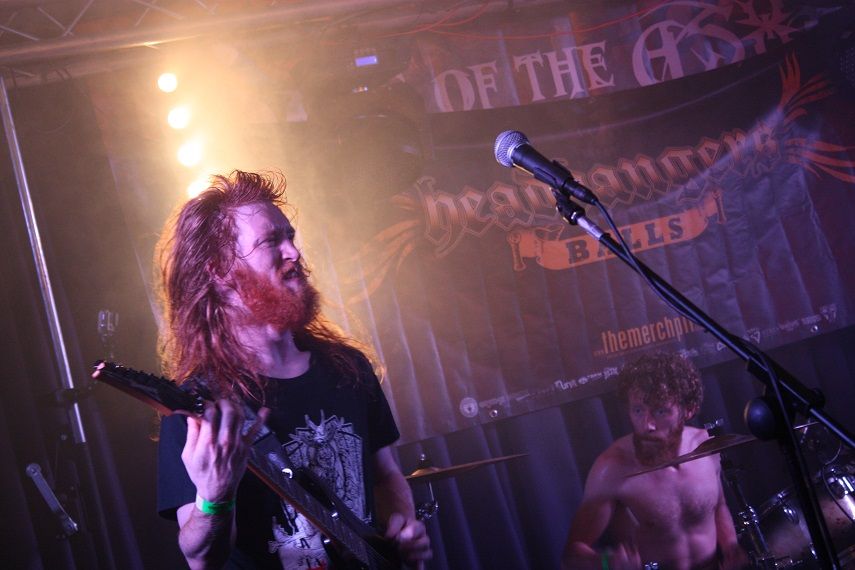 Saturday night from here on just descended into a blur of beautiful noise… Even a sleep on a table… My notes said, 'Reign of Fury– they're good but the Guinness is better,' which is probably not true, but that kinda sums up my state of mind by now… Take a look at the band below, I have a series of ace pictures of them and absolutely no recollection of their set or who they are… It's not big and it's not grown up… OK, I am big, but I'll never grow up… See you tomorrow…