Once again, I sold my soul to rock'n'roll…
It was supposed to be a double festival weekend… I was all set to do Wakestock on Friday and Out of The Ashes from Saturday afternoon onwards, but the God of Logistics set me down on the wrong side of the world on Friday afternoon and there was simply no way I was travelling the length of the westbound A55 on a glorious weekend (anyone who's tried it will know exactly what I mean).
So with Out Of The Ashes Festival in Ellesmere Port already in full swing and being a mere hop, skip and a jump from where I was, it would be rude not to participate.
The weather was booked well in advance to guarantee no mudbath, and despite being a nascent festival, the meticulous planning, professionalism and forethought put in by promoter Dan Read and his team was evident for all to see. Me, I wouldn't organise a gig in a village pub… Too stressful, so how on earth Dan can keep his head when organising something on this scale is beyond me…
Twelve months of planning, thousands of hours of graft, aggro off the family, but, as he said after the event, 'And then it goes better than planned….so yeah I'll treat myself tonight.'  Full marks and an apple off teacher…
Unpacking the car we could hear the dulcet sounds of Holyhead's Inferno, so we opted to unpack the beers and enjoy their final three songs; sounding exquisite as one would expect.
Myself, Tim and Michael camped up next to my brother Isaac and his contingent, Isaac Birchall (for that is his name) had the honour of opening this fine festival earlier this afternoon. Once the tents were fully erect we legged it down to catch Lantern as the fuckers said, 'Thank you and goodnight!' Wankers!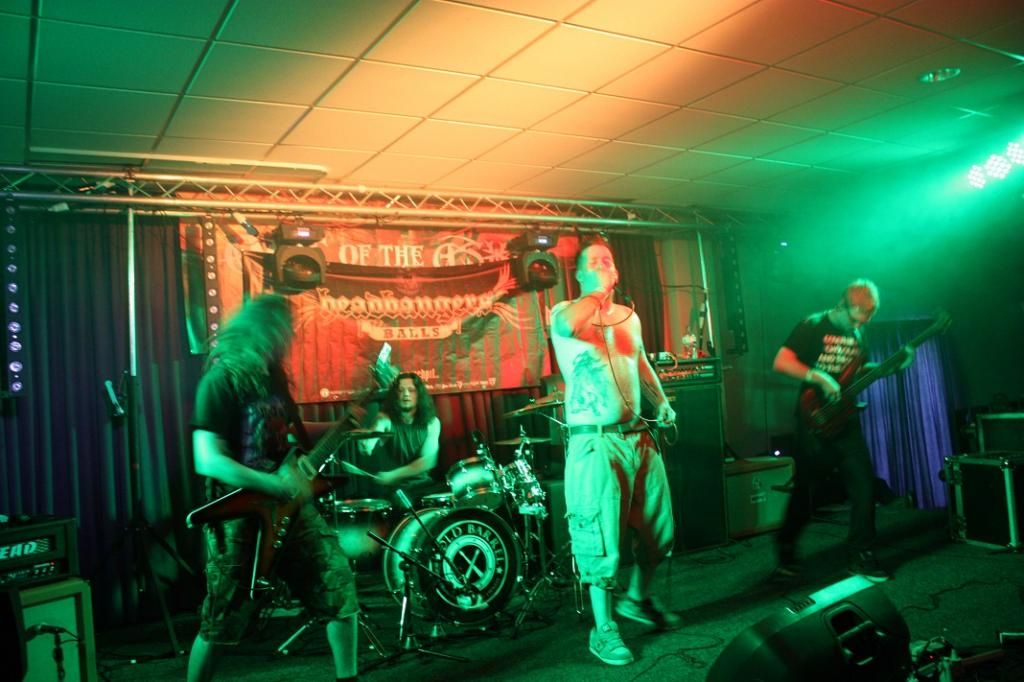 Checked out Children Lost in Time or CLIT for short on the indoor stage. It was decent dearthly stuff of dreaded deeds and tortured souls, breaking the gates of hell. Once I had put the fact that most bands here will have fifteen-string bass guitars to bed I knew I would enjoy the event. CLIT from Nuneaton played a bit of taking us to a Gay Bar, it was all good and Marc's vocals did add plenty of bottom end ha!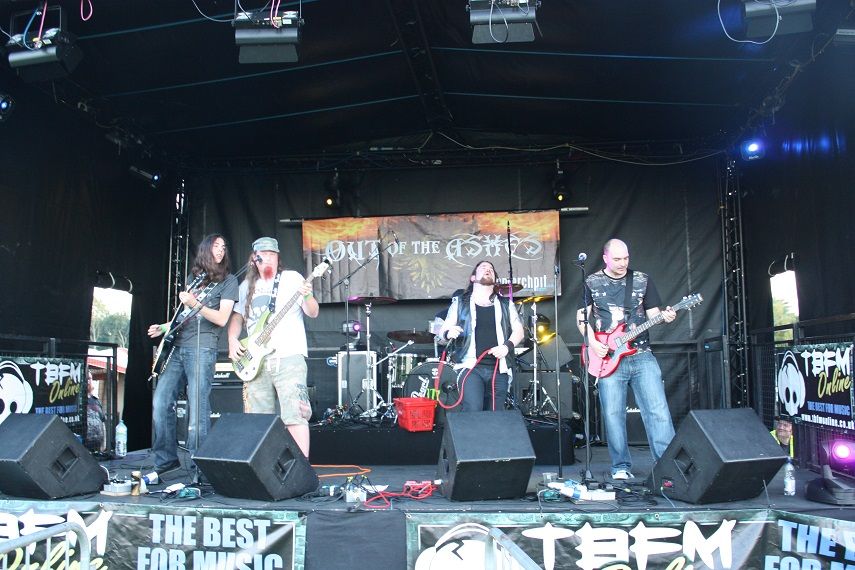 Hailing from the Wirral (posh scousers), Savage Outlaw, play it old school heavy metal like some twisted romeos stinking of whisky and sin with Biff-style vocals. The outdoor stage was a great set up and it was a shame that had the attendance increased threefold then this event would have gone from excellent to fucking brilliant.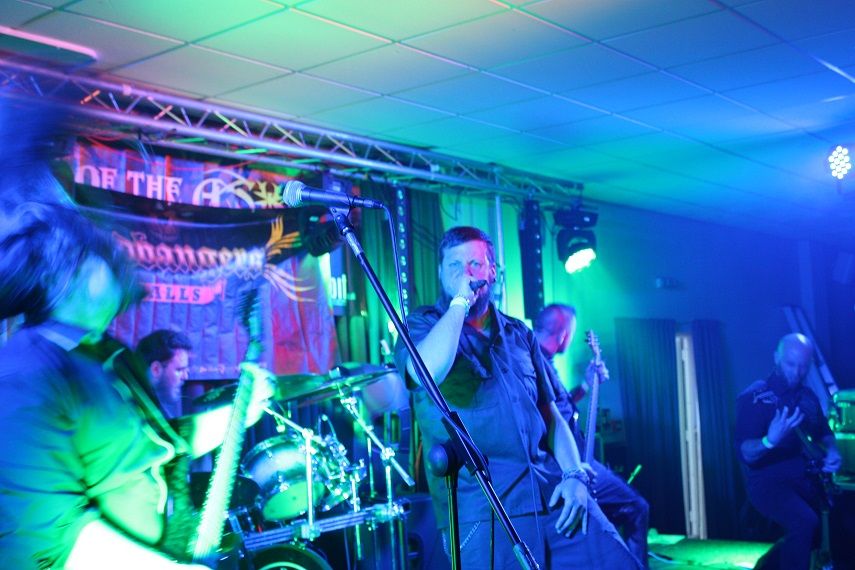 The tireless Bethan Hughes had introduced me to Sa-da-Ko last year through her networking. She was here this weekend with an army of minions dishing out flyers, forever promoting. Having really liked what I heard on their 'Now That's What I Call Music 666' mini LP, I really liked what I saw here at Out of The Ashes.
Uniform black shirts, loud and very proud. Lots of twiddly shit (as you'd expect), double bass drum (as you'd expect), but they are also stomptastic, they boom boomed and they shook the room as lead shouter Jim, commanded the stage. My notes have Filthlicker – 'this is good shit…!' It certainly was – it was raging good shit.
Wrexham's Defy All Reason probably caught me at the wrong time (a few pints past beer o'clock) as I had drawn a flowery tie rather than write anything down! But Isaac was quick to point out that they were ace, so I'll take his word on that one. I do recall lots of 'Let's scream and shout and raise the roof,' stuff going on.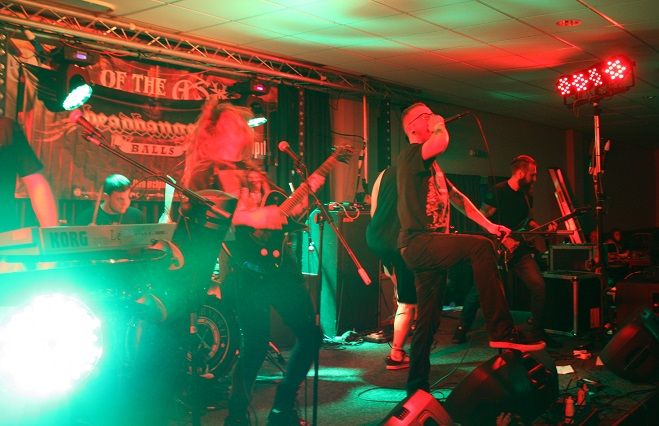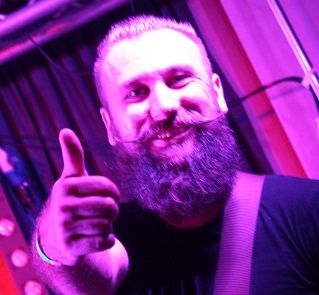 I gathered my limbs with a vegan thai curry and headed back indoors for more noise. The wonderfully named Morgue Orgy from outer space had invaded the stage. Six of the Yorkshire buggers making a right racket intertwined with some cool keyboardage that broke up what would have been a barrage of bricks landing on your face. There was plenty going on in the songs to make this not only visually  entertaining, but also a musical force to be reckoned with. And so thought the packed out room as bodies, limbs, sweat and beers were flung from floor to ceiling in an orgy of morgue proportions as the sonic assault relentlessly hammered on.

Collapse picked up the gauntlet and ran and ran with it. More of a Devil Driver charge, 1000 mph with the pigs in pursuit before doing a handbrake turn and smash them head on. There's no stopping, no remorse, no forgiveness, and that was just the Newcastle Brown – Collapse were brilliant too ha ha…