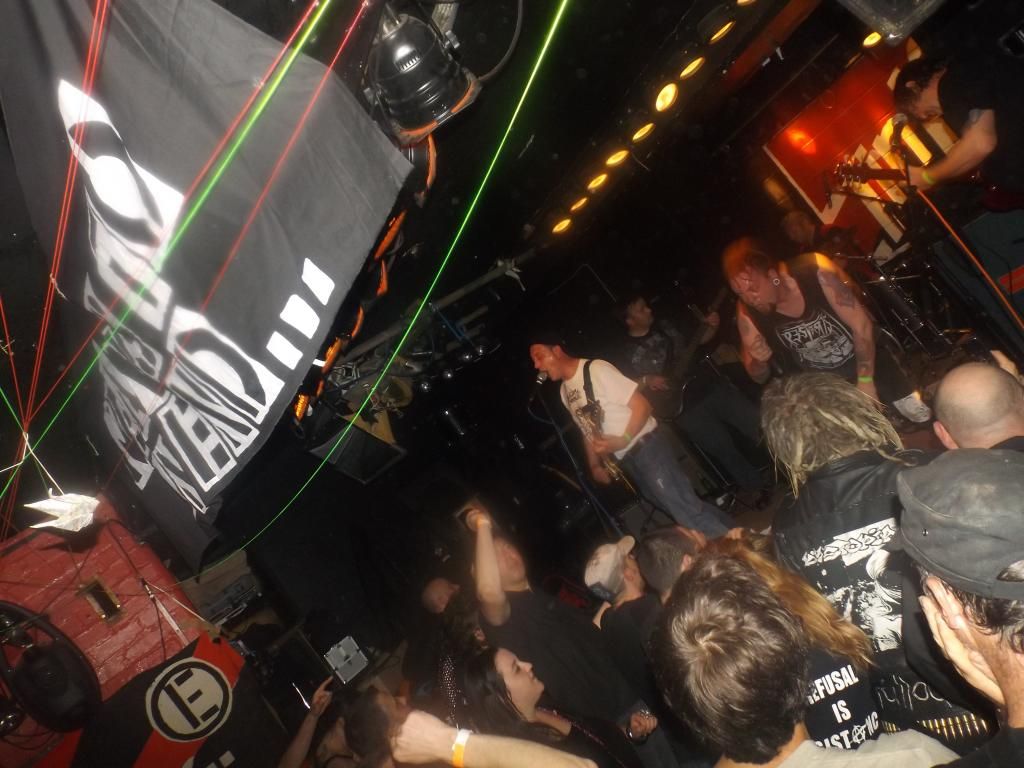 Celebrating its 10th anniversary in style, I have only been to this supreme underground DIY punk get together on and off over the years but a concerted effort seemed suitable for this one so me and Ste went up in good time on Friday to get there for the start.  Good time meaning we had ciders in the car, homebrew  wine in the hotel, and quality ales at The Sparrow before arriving with the other keen folks for the opening band of the evening.  Not just the drink but felt warm inside to return to the 1 in 12, such a great collective space, blessed with much quality refreshments here too. 
They were a last minute fill in for the unfortunately missing Skiplickers but still made a good fist of getting things warmed up with some pretty driving melodic punk. Split Veins (below) had come up from London (where they had gathered from all over the world apparently), the three-piece providing some pretty interesting distortion drenched punk, nice and raw, reminded me a bit of hearing Filthy Charity in Europe this summer.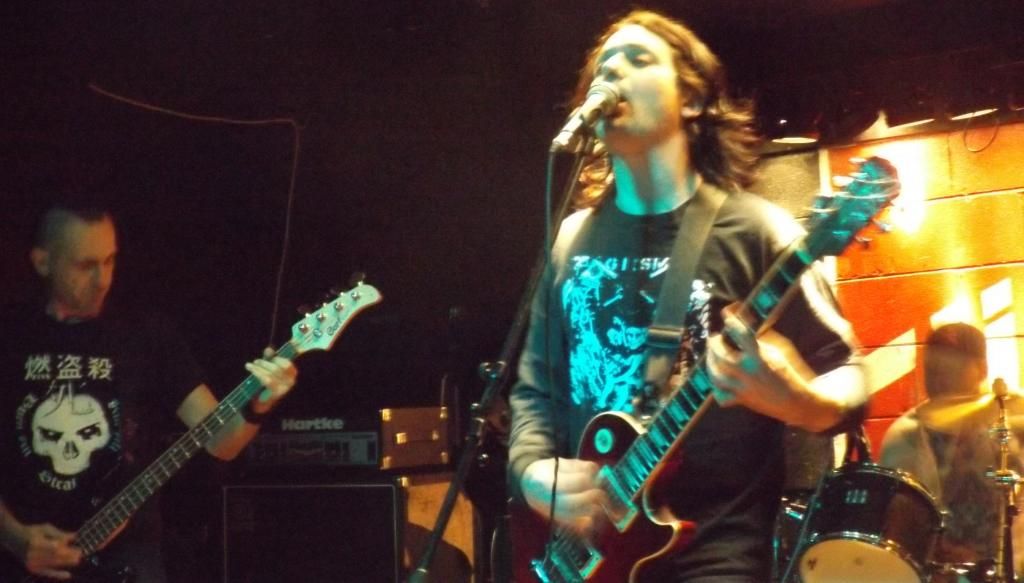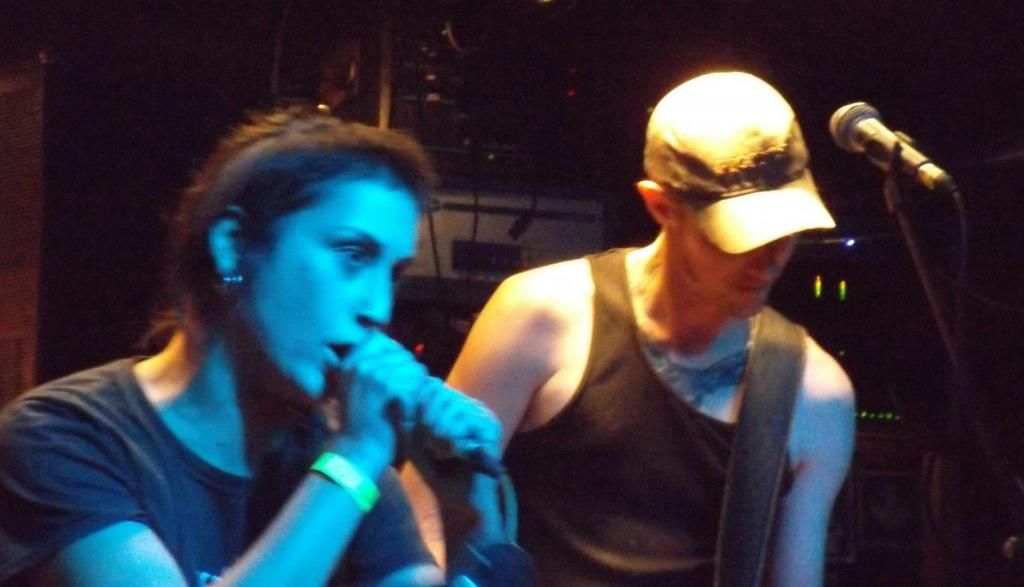 Speaking of which next we had the first of the welcome immigrant bands, Irsinn (above) from Switzerland.  Pretty aggressive but positive filthy crust hardcore, vocal exchanges were pretty powerful too.  Some heavy, progressive crust next from Okus over from Ireland for a one-off, really up my street, mixing charging heaviness with drawn out doomier atmospheres.  Shame it was the last gig for the bassist but hope she and them carry on in their separate ways.  Last of the night were the Finn's Kieltolaki, who delivered the short and sharp raw onslaught that the hardcore from their country is renowned for, great blasting fun.  The singer nicely bullied me into buying a couple of 7"s which weren't even their band but was also of the pleasingly high standard anyway.  Left the karaoke to others to stagger back to hotel via a food stop that we kind of forgot to sort earlier, despite repeated visits to the vegan café upstairs at the venue (it wasn't open tonight), a wine nightcap and "El Topo" on the TV to melt our minds all the further.
okus
kieltolaki
The morning brought a mission to the shop to buy new pants (don't ask) and the arrival of El to lead us back astray on the party ways.  Breakfast in Spoons and then arsing around in the Centenary Square before we got some culture down our necks in the form of a visit to the National Media Museum.  A lot of fun and interest, we attracted the interest of the security personnel on every floor for some reason, and that was despite us resisting the urge to kick out the kids hogging the limelight in the "Blue-screen" studio.  We want a go!  Further waterholes were visited on our migration back to the club for the earlier evening start of today's session, and then we were into the thick of it again.
Omnacht were pretty noisy midpaced hardcore, attention grabbing by a supremely angry looking front man (above), who had a bit of a Black Flag era Rollins about him.  Vertigo, from Barcelona, brought an interesting does of melody to proceedings, as the Slayer t-shirt wearing mainman could have passed off Misfits melodies easily, and my Basque friend here was also excitingly surprised to hear the bassist lead a song in her home tongue.  After a long set up we were next steam-rollered by some epic stench-core by the Ipswich (and beyond!)  legends Deviated Instinct (below).  They are very much a focused force to be reckoned with now that they are back gigging again, and the dark and heavy Amebix vibes are a pleasure to hear, with excellent new material aired too.
In crazy contrast next the relentless rocking vibes of Lecherous Gaze (above) from the States.  I'm not sure if it was deliberately tongue in cheek but it was just so retro garage rawk, stylised, like the Ramones had returned.  Good grooves but extra hilarity with the singer falling arse over tit off stage at one point, and at another ending up at the bar at the back for a pint while the band played on.  Back to the serious with Una Bestia Incontrolable (below), also over from Barcelona for a one-off and with Vertigos frontman now putting in a second shift on drums.  They turned out to be quite a highlight for me, as not only was their hardcore punk pretty heavy and intensely delivered, but they also had some interesting sounds and structures going on that hooked my ear.  Unfortunately they hadn't been able to bring any merch with them but I will hunt it down!
A surprise bonus that was leaked a day or two before was the first gig back in decades for local early '80's hardcore legends Anti-System (top).  Before this announcement they had already been brought to my attention by the old-schoolers I'd been hanging out with in Liverpool, and there was definitely a buzz of anticipation in the packed venue.  Understandable took them a little to get into their stride but then you could really appreciate the bite of their fast riffing, bounding rhythms and political venom.  Great stuff, and hopefully a positive reaction to encourage them to do more.  To close the night, more even older school with The Mob (below), from the West Country.  They had also had best part of a 30 year break since their origin and heyday but are held in high regard and the three piece commanded attention with a more melodic and anthemic approach, all the better to appreciate the cutting lyrics on the themes remaining relevant today. An excellent, almost poignant end to the evening and we've had our fill.  There's another "warm-down" evening gig in Leeds tomorrow but we head back to the West.
Never fails to be a great celebration, and hopefully 11 years will be just as special.