(review n pix by Chris Combi)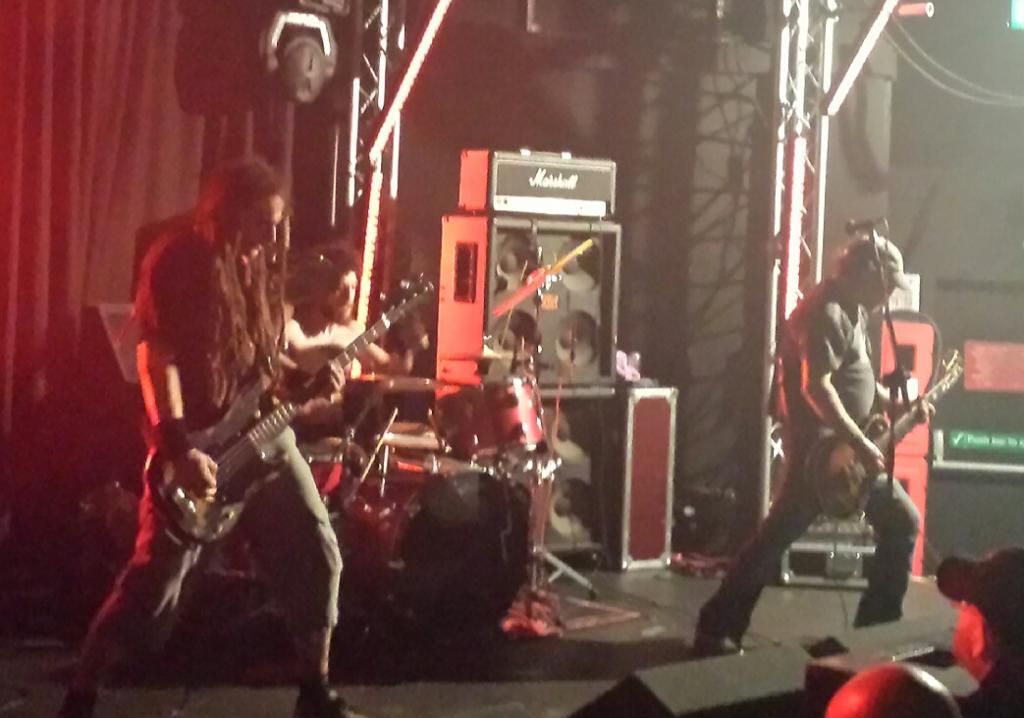 The Live Rooms in Chester seems to have erupted with a plethora of great acts all of a sudden. Not that I'm complaining: far from it, in fact. Having a venue this close to north Wales means a great deal of us now have a much more accessible place to watch great bands; and, on the 28th of August, four of us North Walians decided to briefly invade England and watch ourselves three bands, all for the ticket price of about £10. Freaking bargain.

These three bands in question all bring the heavy to the Live Rooms: West Virginia's Karma to Burn headlining the bill, supported by tour buddies Desert Storm and local act Bad Earth. If you were wanting a nice, quiet evening of rest and relaxation, this was entirely the wrong place for you. For us lot, this night was exactly the right cure for riff deficiency.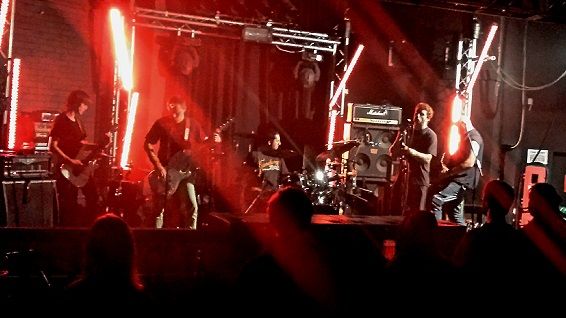 First up on the night (and freshly escaped from the madhouse) was Denbigh's BAD EARTH. This quintet brought fuzz, ferocity and fun straight from the get-go, with a bassist that had not just ants, but an entire ecosystem in his pants, judging by his manic movements. In addition to this was the offspring of Kirk Windstein playing guitar in such a way that would make his Crowbar-fronting pappy proud. I asked this fine gentleman whether or not they had a demo at all, and he let me know that this was only their third real gig(!). I have to say, with a killer set and a simply sensational track called 'Cruel God', I'm sure these guys will have no problem tearing up the local and (hopefully) national music landscape.
Following on from this amazing act was Oxford's Desert Storm, yet another quintet with whiskey-soaked riffs and chest-thumpingly hard drums. When vocalist Matt Ryan stepped behind the mic, I wondered just what this guy would bring to the already pulse-pounding volume that his bandmates were slamming out. Then he sang.
Ladies and gentlemen: Matt Ryan isn't human. He is a human/didgeridoo hybrid, his voice is so crazily toned. In all seriousness, you have to check this band out: they sound like Clutch, Down, a hurricane given voice. They deserve your time, no doubt about it.
Finally, we have the main event. Karma to Burn is a simple band: three members, no vocals, no bullshit. For these guys, the riff is their god, and the stage is their church, and tonight we join with these men in praise of their Almighty. And they preach the mighty word of Riff to the unwashed masses: the four of us stood in awe as their music tore the roof off of the Live Rooms. Without a vocalist, Karma to Burn have to make sure their sound tells the story. And it does: a mightier tale is very rarely told by any other band out there. These guys have a sound so huge it eats up trucks and shits out Transformers. Don't believe me? Check out their latest album 'Arch Stanton' and get back to me.
This was a night where nobody left the venue without a smile on their faces. Each band played with honesty, passion and uncompromising confidence. I would like to thank each band in turn for putting on such amazing performances, and also to the Live Rooms for making such awesome gigs happen. We can't wait to head over and rock out again.