The usual mad March hair fest on our doorstep, bringing in some international acts with a whole load of UK underground stuff.   Rooted firmly and relatively "safe" in the heart of the metal genre, the appeal is not spectacular but free tickets again means our arms are easily twisted.  There did seem to be less of those enticements available this year, and the perceivably weaker overall lineup and perhaps the general financial situation meant that the "sold-out" festival seemed somewhat quieter than previous editions.  Still, fun is what you make it so suitable charged on homemade wines and whiskey and Polish lager we dived in for the bands.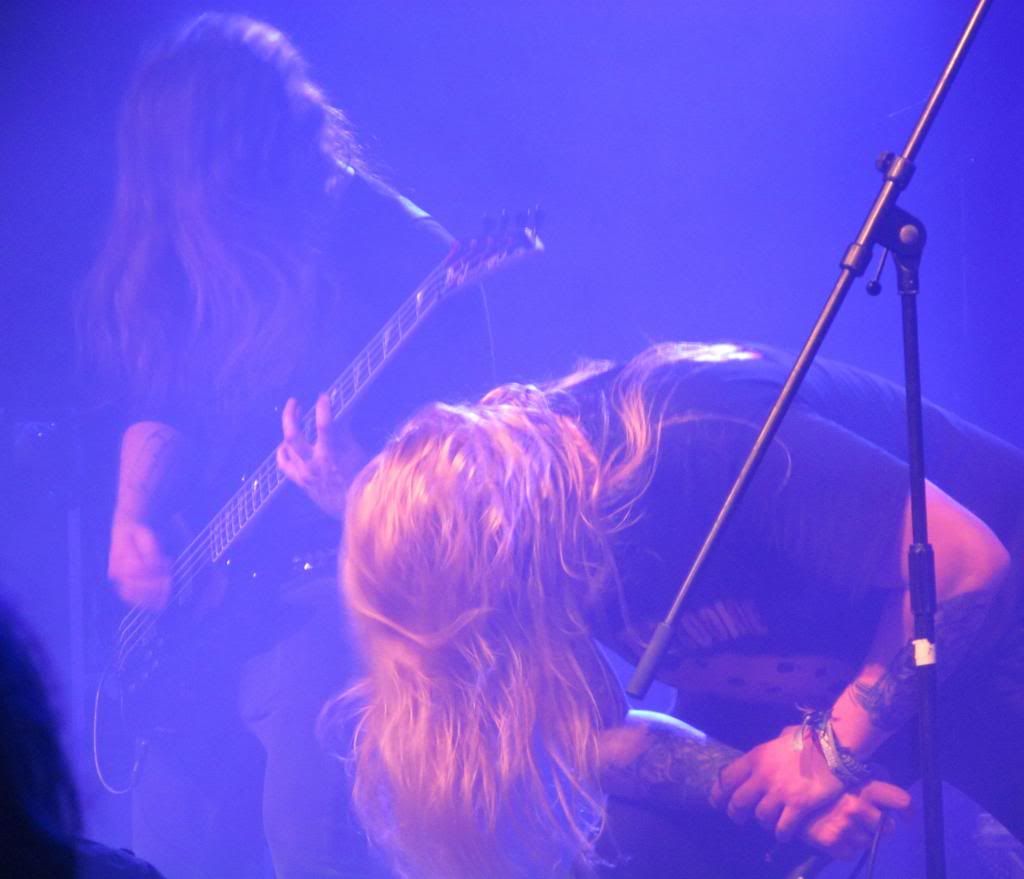 First for us was the UK thrashers Shrapnel (above), opening up the main stage.  Raised as I was on this speedy approach, I am always at least open-minded enough to see if newer bands can make a good (banging) fist of injecting some life in the genre without just being the same old same old.  And to be fair, they do make a good go of it, a particular highlight being  a cover of Slayer's "War Ensemble".   Not much to keep the interest for a bit before head to the far too bright second stage to give Darkane a bit of a chance, but it's pretty much as expected in terms of melodic, clean cut, modern metal.  To polished for me.  A whole lot more filth from Dead Existence next, with some lumbering sludge and feral howls from the frontman, before the non-appearance of Black Moth Means the second appearance of the day for The Bastard Sons.  A good opportunity grabbed, and some pleasing southern drawled metal that goes well with the bourbon in smoothing the vibes.  Back to the main stage for a an expected early highlight of the evening with Enthroned (below).  The Belgian black metallers have some old school credentials despite a much changed lineup to this incarnation, but I haven't seen them before or even heard much.  Which made the satisfaction of a sharp and atmospheric  onslaught of relentless darkness all the more pleasing.  Thunderously heavy but with musical skills to add some layers of texture to their sound, and a good stage presence, they were the pick of the day for me.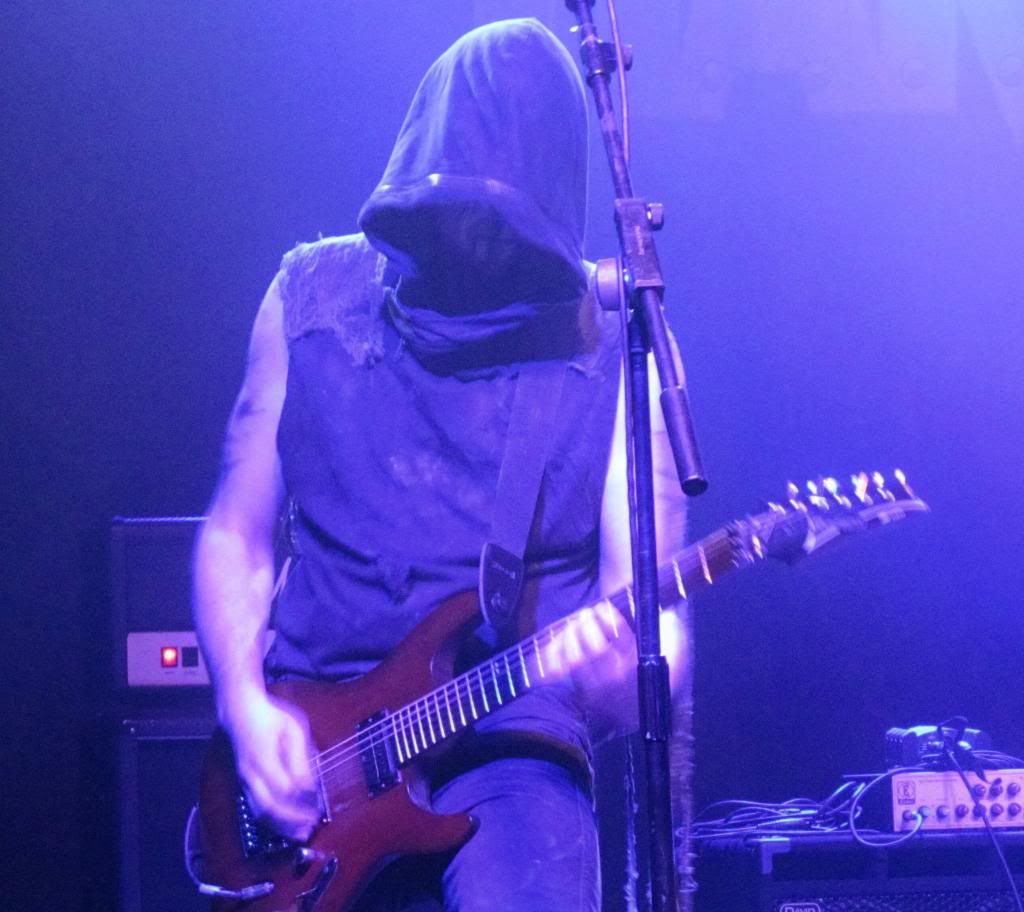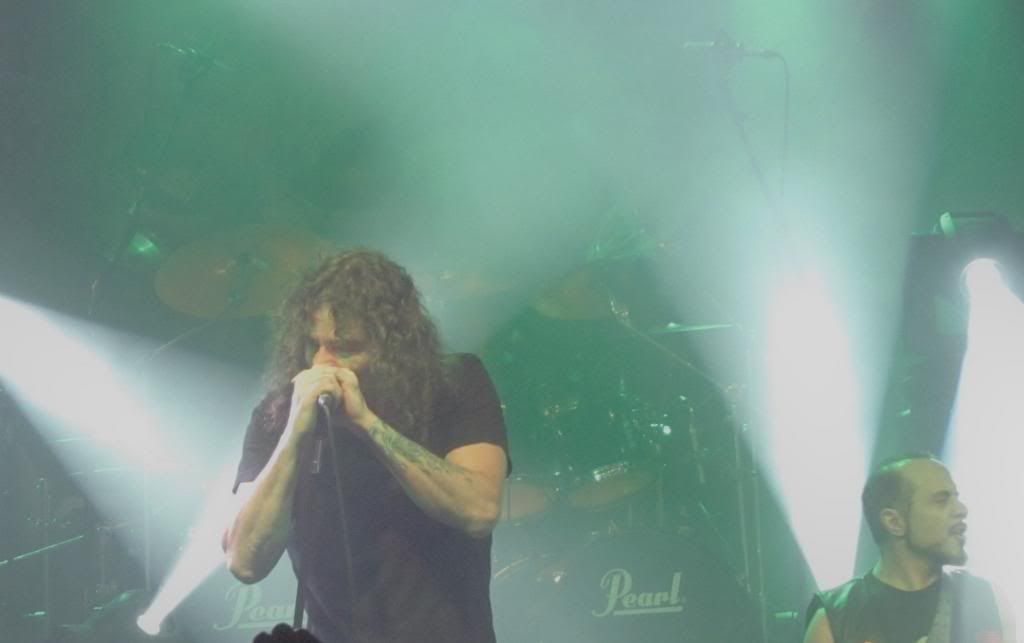 A further break for sustenance and then back for the nominal headliners, legendary US thrashers Overkill (above).  Again, a first for me and a pleasure to experience the relentless aggressive riffing that is a trademark of their sound.   But I was never overly into them back in the day due to Bobby's vocals being a bit of an acquired taste and that hadn't changed this time around, good but not great to me.  End of the night is back to the second stage where first we have Feed the Rhino, who deliver a really enjoyable set of pummelling hardcore tinged metal, full of energy and well received all round. To close something completely different with some fresh faced Icelandic kids of The Vintage Caravan producing some amazing uptempo and wild retro- hard rocking that is just the thing needed to keep the spirits up (or down) at this time of the morning.  Stagger off into the night to have the usual lost cross country obstacle race before returning to the start and setting off the right way.
Painfully bright morning where just the thing to get your head straight is being spun around til eyes fall out on foolishly handily placed playground equipment before heading in for the equal insanity of Oaf.  Just a bass and drums two-piece doing a mad mix of comedy songs, like a sludgey Lawnmower Deth.  Loads of hilarious banter, smiles and low flying blow-up seagulls all round, and with a gloriously distorted phat bass tone that certainly sets the day off well for me.  Closely followed up by some really impressive death-ened metal from Derision (above) from Wigan-way.  Really tight and ferocious stuff but with an ear for hooks in the structure too, a cover of Sabbath's "Children of the Grave" goes down well too.  More rests and reunions before I return to an initially pretty empty second stage for Throne, up from London.  No worries, their strangely hypnotic doom is captivating and enjoyable in an Electric Wizard fashion, with a laid back lady drummer, and more people are certainly drawn in to the vibe worship before long.  Pop over to the main stage to see the accessible metal of Breed 77, evidently refreshed after their no-show in Chester on Thursday, there's a good turnout for them but I have timed it badly as there's some dreary ballad going on so have no inclination for more.  Instead Desert Storm over at the other venue, giving us some hybrid funky/stoner mix that is surprisingly engaging.  They wear their hearts on their sleeves, or at least their influences on their chests and you can definitely hear the Karma to Burn and Clutch coming through.
Early evening brings death, in the form of Sweden's Unleashed (above).  Hadn't seen them since the early 90's in Manchester when perhaps they were still in Entombed's shadow but tonight they are simply glorious and on top of their game.  It's a full-on, heads down and thrashing celebration of definitive Swe-death, not without melody but centred on fantastic filthy riffing.  Frontman Jonny works the crowd well, and as the song says, it's a "Death Metal Victory".  A brief break for to get a flavour of Druganaut, which was decent enough in a raw sludgey way, with some grooves to bang along to before returning to the main stage for Corrosion of Conformity (below), over from the US.  Seen them a couple of times since their recent re-incarnation, and as I'd previously described them as a jam band they seem to have taken it to another level tonight.  It's a big mash up of stoner grooves, noodling and aggressive punk or sludge with Mike Dean seeming in his own little (bong) bubble as he croons the choons.  Enjoyable as it can be, all the chopping and changing means it's a bit hard to get into the flow for me of enfeebled brain tonight, I have enjoyed them more previously.
The same could be said for final headliners, German thrash legends Kreator (top and below).   Their early stuff had a raw appeal and some of that like "Riot of Violence" gets an airing, as does a lot of their newer, sharper material from recent releases like "Phantom Antichrist".  While the sound may have needed upping a little, peaks of my enjoyment are generally offset by it all being a bit samey set-wise from other recent times I have seen them.  Satisfying without being spectacular.  To finish our evening there's Avatar, who manage to overcome some of my concerns of them being a Marilyn Manson image over substance band by delivering some heavier punchy rhythms, and Primitai who are very metal, and who doesn't love a cover of Scorpions "Rock you like a Hurricane" at this time of the morning?  I return home as the crow flies, which usually means up in the air somewhere.
All in all a lot of fun, for free, take it as it is.  The atmoshphere with many friends there is always great fun, and the event is firmly grounded in the "type" of music i like, but I remain spoiled by other events elsewhere.  I like the Hammered bit though.