(review by Dewi Llwyd, pics by Gareth Smith)

In my old-school festival days, 11:30 on a Saturday morning would be about the time I'd be thinking of going to bed, but this crazy start time saw Georgia Ruth kicking off Saturday's proceedings on the main stage. A word here by the way to compliment the Green Man approach to the Welsh language. There's loads of Welsh signage around the place not least the massive DYN GWYRDD logos on the main stage. Crew T Shirts proudly declare Arglwydd Camreolaeth (lord of misrule) on the back, and the festival programme devotes two pages to an entertaining English-Welsh Phrasebook – my favourite phrases for conversation being "That War on Drugs records is the nuts" and "I'm a love pirate and I'm here for your booty -ARRR!". It's a shame that over the weekend I don't hear a lot of Welsh being spoken but then again I live in Gwynedd and probably have a high benchmark to compare it with. A bit more surprising is the scarcity of Valleys accents given the proximity of the site to those communities.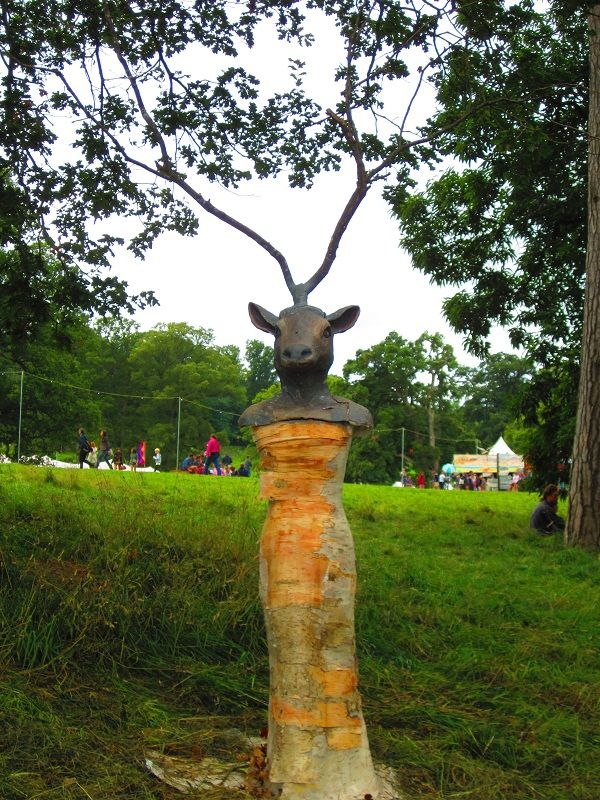 I warmly approve the fact that all the Welsh language bands here are scheduled onto the stages like any other band would be. I think this is much healthier than being sidelined into a Ghetto-Cymraeg stage like other festivals we could mention (think Portmeirion). Having said that, it was disappointing that both Georgia Ruth and 9Bach were given such early start times on the main stage which meant that most punters would be thinking about getting up, brunching and chilling  rather than going to watch a band at the time they walked onstage. I was however pleasantly surprised by how many people actually did turn up, but both artists deserved better.
For many of these reasons I miss the first tune but am there for the rest of Georgia Ruth's short set. She is supremely confident onstage and has a great line in audience banter which makes you warm to her immediately. Make no mistake, last year's brilliant album is no accident; she's a major talent alternating between a silver harp, electric piano and beautiful singing. Accompanied by her regular band (who also double up as Cowbois Rhos Botwnnog) this is a well oiled machine who play with subtlety and restraint. Their musical rapport is evident although I wish the boys would smile a bit more; I'm sure they were enjoying themselves much more than they showed.
"Week of Pines" is thrown away midset and described "as the only tune we play you can dance to". I do a bit of festival swaying and interpretive dance to signify that this was my favourite song released last year. They make a pretty good job of it, although I missed the sparseness of David Wrench's fabulous Neu! inspired production. Dismissing the band for her last tune and armed only with piano and voice, Ms Ruth plays a song she's never played live before, on the main stage of a major festival. Go Georgia!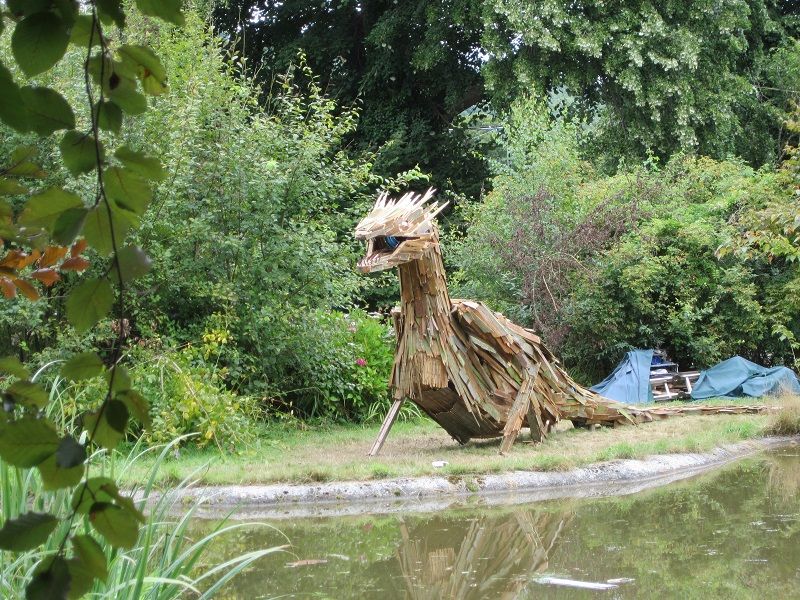 The Krautrock-Cymraeg theme continues later that day when Sen Segur play the Greenman Rising stage hidden in the ornate gardens reached by straddling streams lakes and bypassing a friendly dragon. The audience stubbornly sits on the outer rim of the Saddlespan Stage, leaving a big gap between band and crowd but they gamely start up, opening with a motorik driving rhythm which grabs the attention. Boasting a five man line up with strong vocals their take on psych rock  starts to impress. Mixing a few old songs like "lemoned cymylog" with tunes from their forthcoming new album, this is a band which has come on in leaps and bounds and is developing nicely.
Mid set some bucolic flower children have leapt up for a boogie and even spontaneously start circle dancing – it's all becoming a bit Wicker Man down the front. I loved the vocal harmonies and my only wish was that the band rocked out a bit more with their three guitar line up. Having said that, the last tune sounded satisfactorily like Hawkwind which got old stagers like myself and my mate Gaz nodding our heads approvingly.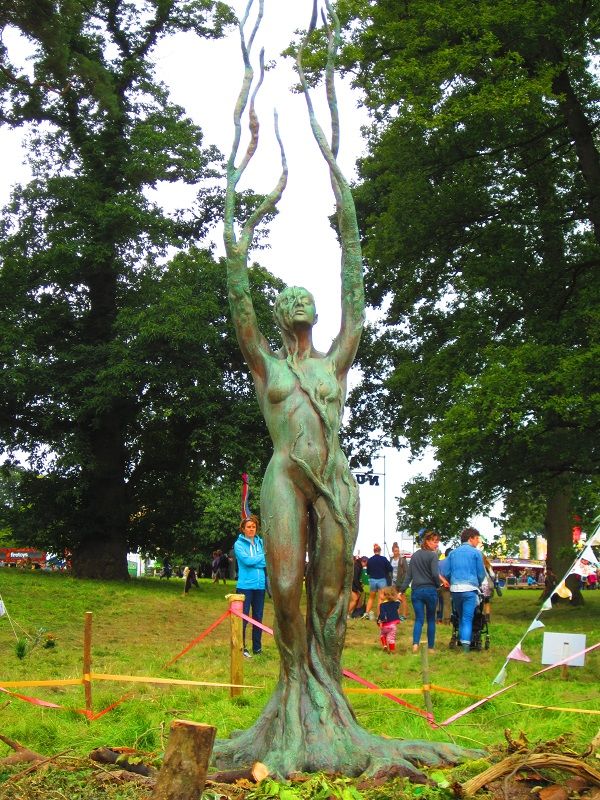 Radio Wales were broadcasting live from the site on Saturday featuring live sessions and links from  stalwarts Adam Walton and Bethan Elfyn, two DJs who deserve much respect for the way they constantly champion new Welsh music. They made a good double act and it was fascinating to see them multi-tasking; what they are doing looks simple, but I know from experience that it isn't and they pull it off brilliantly. The setting hardly compares with the corporation's lavish backstage at Glastonbury setup, they are sandwiched into a noisy spot between the Far Out Stage and Cinema Tent  and have to make do with a broadcast car and a corporate white pagoda that's seen better days. Despite this H Hawkline plays a lovely acoustic number followed by American songwriter Jeffrey Lewis whose angsty and amusing take on old age is well received by the crowd which has gathered to watch. I make a mental note to go and watch his set later on.
When I asked my social media pals for recommendations of bands to go and see at the festival, none split the jury more than Fat White Family. Ectogram's Alan Holmes telling me not to miss them while another view was that they were "Opportunist Brixton coke heads with a pile of Country Teasers albums but no ideas of their own".
Unfortunately I lunched out the start time of their set (hey it was Saturday night) but the people streaming out of their tent after they finish have dazed happy faces and I was told in no uncertain terms that they were "fucking full on" and "brilliant".

Having  been impressed by Jeffrey Lewis earlier  I sauntered off to watch his set in the Walled Garden with his band, the intriguingly entitled The Jrams featuring a female drummer and bassist. I'm really impressed with this guy- words tumble out of his mouth at high speed  with dazzling eloquence – his sharp observations on life from the mundane to the highly political make you both laugh and think, which is a great combination. Out of all the new music I've been introduced to over the weekend he's the one I'm most likely to seek out on my return home and his question "What would Pussy Riot do?" is a brilliant way to approach difficult decisions in life. A great find.
Meeting up with an old friend meant that the rest of Saturday night became less about the bands and more about being sociable and going on festival missions. We hear the roar of the crowd and The War on Drugs in the distance as we drink in the sights and smells of the festival at night; and yes, we end up talking bollocks to people we don't know while sitting on haybales. We find that the courtyard bar is a fine place to watch the world go by and take in huge bubble wheel projections on the stable doors while busking musicians fire up their instruments. The bar there has 99 different real ales and ciders on sale which is great until you realise it means there's usually at least 99 people there waiting to be served before you. We venture into the belly of the eponymous Green Man structure built for burning on the last night of the festival- it's become a tradition over the weekend that festival goers write wishes and hang them inside the man – they range from the everyday to the predictable wishes for world peace, and even the highly specific if slightly embittered – "please send Sarah home by taxi and make sure she can't pay her fare".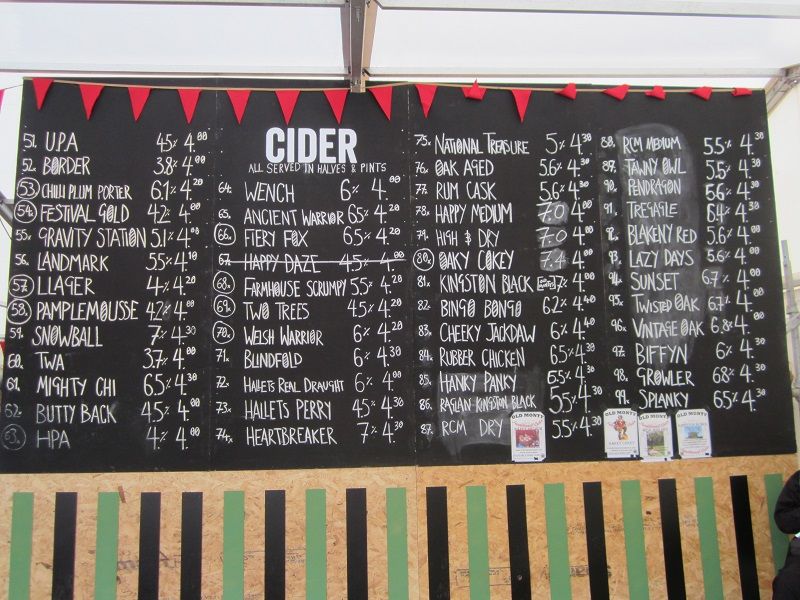 During our festival stumbling we come across one the best things we saw all weekend- an unassuming caravan in a darkly lit corner reveals itself to be a most wonderous lair of shimmering light and great conversation. The inside of the caravan is decorated like an art deco shell with constantly changing soothing lights and colours – this is the Tripsy Caravan – the brainchild of Llanfairfechain ex pat Gez Hughes and his partner in festival installation the top-hatted Jared Pegler. Having survived its festival initiation in Boomtown a week earlier, this lovely space was  one of the best kept secrets of Green Man 2014. It even awakens a childhood memory in me of the final scene in the original Doctor Doolittle film where he ends up in the giant snail. In the Odeon Cinema in Wrexham that was as exotic as life got – and now all those years later here I was experiencing something pretty close – result.