(review by Dewi Llwyd, pics by Gareth Smith)

I always set out to festivals with the best of intentions – I WILL eat healthily, I won't stay up late EVERY night, I WON'T spend all my  money and I WILL see this long list of bands I've written down- you know the sort of thing?
Green Man was no exception, but between meeting old friends, programming clashes, excessive ale / cava consumption and a length distance between tent and car meant the plot was pretty much lost from Friday lunchtime onwards. No bad thing probably but the line up itself had presented a major challenge; I pride myself as someone who knows a fair bit about music  – not necessarily a "happening dude" but reasonably up to date. How wrong I was; at least two thirds of the bill was totally unknown to me and band names seemed to be random words swimming on the pages of the programme (reasonable value at £6 with an accompanying  portable round yer neck version thrown in). My plan was to go and watch the bands I knew or had vaguely heard of and otherwise bimble around, stringently applying the rule of three- if I wasn't feeling the love after 3 tunes I'd move on.

Getting myself to the aptly named Mountain stage was a great introduction to the festival site and how lovely to hear DJ Huw Stephens playing the sonorous voice of Gwynedd's very own folk genius Chris Jones over the PA and sounding fantastic in bright sunshine. The stage is set beautifully in a natural amphitheatre with two massive terraces sprawling as far as the eye can see. Bags of room and great sight-lines for everyone whether standing down the front or chilling out at the back with picnic blankets, deckchairs and baby buggies. Very civilised indeed, a great sound and with two video screens you're not going to miss much even at the back. Short person heaven I can assure you.
The first act I saw were Tunng, a band I've always liked the idea of rather more than any of the actual music I've heard. I'll always salute a band with someone brave enough to wear a white suit to a festival, but despite  interesting use of samples and some nice harmonies they fail to grab me and I traipse on up the hill to see the last few minutes of Plank's set in the Far Out tent- ballsy and thrashy for sure and they probably needed more than their allotted ¾ hours to really map out their sonic vision- I'd certainly check them out again if I got the chance.

Just nearby was the Chai Wallahs tent which rapidly became a second home during the course of the weekend. Catering for the dancier bassier fare with a great chill out space and bar this was a place with consistently the best atmosphere and bands- indeed as the day wore on I found it increasingly hard to move from here. I caught  The Hot Sprocket described to me as an "arse-kickin' band from Ireland with elements of the Stones and Them which got the crowd really jumping"- pretty much what I saw then.
A further walkabout got me visiting the aptly named Denture Disco for a boogie- the DJ booth inlaid into a set of giant illuminated teeth and packing a fair punch. Dental as anything and 10 out of 10 for the vision and impressive production. Musically it was pretty much a drum n bass sandwich whenever I was passing which is fine for some but I couldn't eat a whole one.
A quick stroll to the Walled Garden Stage revealed a lovely space to listen to music and sup a pint. I loved the way the sound bounced off the walls and ended up staying to watch a band called Adult Jazz – much better than their awful name suggested, maybe a little earnest in their delivery but certainly doing something interesting and different. It's a tribute to them that I don't really know how to describe their music– you certainly won't be humming their choruses  but then again that's very Green Man.
I saw Daughter supporting Sigur Ros last year and hadn't been that impressed but their music in the distance drew me back to the Mountain stage to watch their set. Admittedly the superb light show helped. I liked the way the band seemed genuinely touched that so many people had come to watch them  The music was a bit doomy – bowing electric guitar is so Jónsi these days- but singer Elena Tonra offers a feminine counterpoint to all that blokey moping around and they do have some songs behind the wall of noise. Great to see  North Wales's finest bubble emporium Dr Zigs doing what they do best floating giant bubbles above the heads of the crowd as Daughter played. Great work guys!
Fans of crowd surfing front men would have had a field day watching the end of Mac Demarco's set as he may well have set a world record in the distance travelled, reaching the Far Out tent poles half way back before jumping back into the crowd. All very Bono-esque but at detriment to the music if you ask me. There's a definite buzz in the air as a DJ starts pumping the tunes before Caribou arrive to huge acclaim. I thought the DJ better than the main attraction and much as I love techno I have a theory that eventually it all ends up sounding either like I Feel Love or Floyd's On the Run. When indeed this eventually happens I beat a retreat back to Chai Wallahs. People are loving the Caribous though it must be said.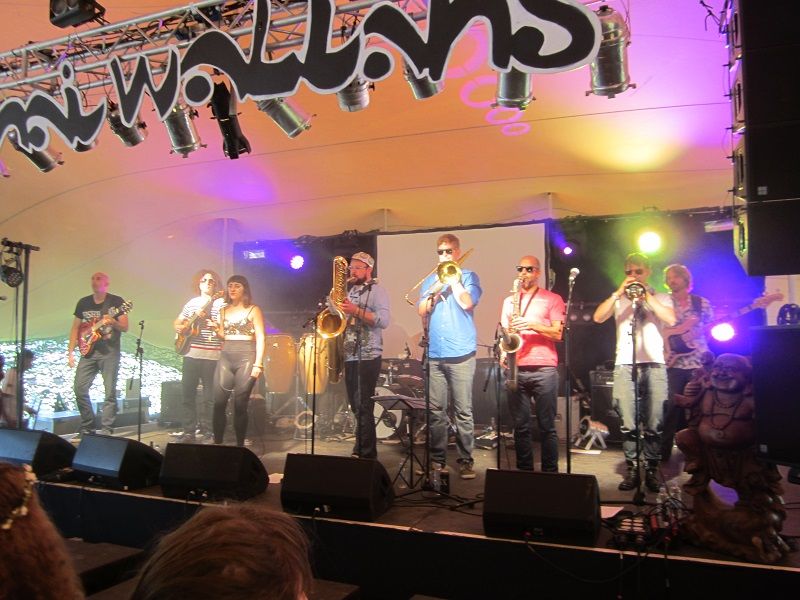 If there's a theme running through most of the bands I see at Wallahs on the Friday it's brass… fantastic horn sections seem de rigeur. The Bristol Afrobeat Project do just what they say on the tin although sadly not with Bristle accents – featuring a 12 piece line up with a fearsome bass saxophone and great vocals from Marie Lister who's powerful voice asserts her presence on the crowded stage. Smerin's Anti Social Club provide dubby basslines and some familiar melodies as they cook up a stew of funk reggae and ska. Occasionally they were a bit jarring as they switched genres and instrumental passages mid song but they're a well oiled groove machine- and there can be no complaints as they mash up the Dr Who theme reggae style to massive effect with some great ELP style Moog interludes too.

As a mere 8 piece Babyhead are tiddly by comparison but easily the best band I've seen all day.
Bright suits bright attitude and bright horns- tight as the proverbial gnats chuff-  a diminutive bearded singer is dwarfed by his colleagues but he more than makes up with a ballsy performance, rapid word delivery and at times frankly surreal monologues and choruses. Their reggae ska and hip hop fusion leads to dance floor mayhem which gets the whole tent jumping. As a long time aficionado of trombone solos I'm delighted to see the whole band stop to highlight one and I'm approaching trombone heaven as he takes on the trumpet player  in a full blown instrumental solo soundclash  …it's a score draw and when they all kick back into the song at that exact moment they are quite possibly the greatest band in the world.
The ensuing DJ pushes my Swing-o-meter needle into the red I beat a hasty retreat. Knackered but entertained it was time for bed…Boing!