(review n pix by Denise Baker-McClearn)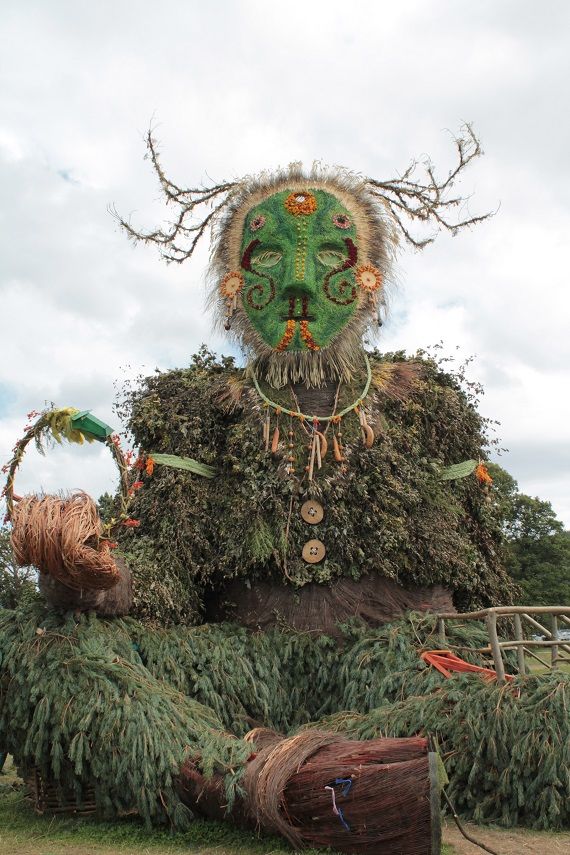 Have you ever visited a place and immediately felt as if something special is about to happen or somewhere that gives you an overwhelming feeling of peace and absolute contentment, as if you were 'meant' to be there? This is how I feel at the Green Man Festival.
The setting is the beautiful Glanusk Estate in the Brecon Beacons, which for most of the year sits quietly and serenely nestled between the twin peaks of Sugar Loaf and Table Top Mountain. In August, it comes to life when the Green Manners roll into town bringing their own special musical magic that touches everyone, young, old and all those BBC 6 music listeners in-between.
I am fortunate enough to be a regular crewmember and this was my fourth year working at the festival. I spend a month 'on site' watching the estate transform from a tranquil park to a bustling vibrant festival, and then return once more to its natural state. Just as it is a beautiful festival to attend as a 'punter' it is beautiful to work. My job is to cook for the crew and production team both before and after the festival. Fifteen long hard days but in between I, get to have a whole heap of fun.
The crew are pretty much one big, happy if slightly dysfunctional family, and to me that family vibe permeates through the whole festival. This year was an extra special one for me because my sister and family joined me from Australia (who I had not seen for four years), plus my brother and wife and other friends from Germany, which made for a very happy band of revellers. Since they were camped in the Settlement (family camping) on one side of the site and my van and I were luxuriously plugged into the electric in the crew camping area (complete with full size fridge and fan heater).  I did rather a lot of walking, but the plus side was that we had a slap up meal on the BBQ every evening, because I was able to fill my fridge with delights such as steak, sausages, bacon, chicken and loads of salad. Once a chef always a chef!

With five kids of varying ages in tow we spent a fair amount of time entertaining them, although it's probably fair to say we all regressed to a kid like state throwing ourselves into hoola hooping classes with No Fit State circus, mammoth Diablo sessions and wobbly tight rope walking. We were face painted, glitter bombed (courtesy of my friend Shelley at Fairylove) and fleeced of our hard-earned cash by our offspring. Add to this a whole load of sequins, fur and feathers and our weekend veered from the sublime to the utterly ridiculous.
Kid's activities did not distract from the mission to see good music. I probably missed as much as I saw but what I saw made up for the disappointments.  We began proceedings on Thursday evening with a bit of Pictish Trail who are always entertaining, followed by the Waterboys. Way back when they were big the Waterboy's 'Whole of the Moon' was a drunken anthem my sister and I belted out together. When she left the UK, the song kept us united. We sang it (again drunkenly) at her leaving party so their appearance at the Green Man provided a fitting, serendipitous and emotional reunion after four years apart. The crowd around us looked on bemused as we hugged and cried through that song.  As we left later, somewhat embarrassed, staggering like a pair of half cut idiots we knew it was going to be an eventful, tear jerking, fun weekend.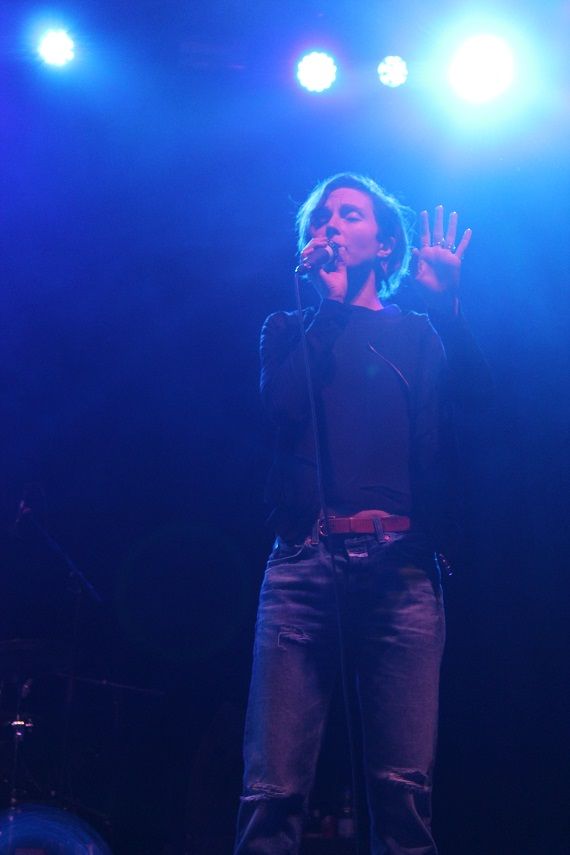 My Friday highlights after escaping the endless rounds of visits to Fairy love, Fire Toys and the kid's field were Polica who gave a stunning performance at the Far Out stage. Polica are a band I have come to love over the past year and their album Shulamith one of my current favourites. Singer Channy Leaneagh's (pic above) soaring vocals filled the tent while the synth heavy dance beats got the crowd moving.
Later, after a bit more rum and a few failed attempts at hula-hooping we wandered off to watch Daughter, my 11 year old son's 'must see' band. He and his mates promptly rushed to the front of the stage while I attempted to secure a comfortable spot in the press pit. A little drunk I managed to encounter a less than accommodating security man who correctly pointed out I didn't have the right press credentials about my person and threatened to have me ejected from the festival. Disgruntled and attempting not to be my usual argumentative self I wandered off back to my group to watch their polished, airy alt-folk performance although for me their music faded into the background and didn't really grab me enough to be very memorable. This may just be because we were such vocal group of revellers, but I do often wonder why the Green Man chooses such low-key acts to headline.
Later, once we had tucked the kids up in bed, a few of us headed off for a late night dance to The 2 Bears DJ set at Far Out After Dark.  We drank far too much at the almost all night End Up bar, and attempted a very tired sway to some Drum and Bass in the Denture Disco (which has become something of a festival favourite).

As a new day dawned and we nursed sore heads we headed out to the Green Man rising stage to watch should-have-been competition winners Memory Clinic (above) followed by Sen Segur before scooting off to the Walled Garden for H.Hawkline (2nd pic from top) and later East India Youth. I spent much of the evening at the main stage bar, where we caught The War on Drugs followed by half of Mercury Rev, another trippy laid-back performance, before the kids got tired/bored and we returned to camp. Again a few ventured out for a late night dance, this time our destination was Chai Wallahs and an unexpected performance by Babyhead, up and coming Bristol dub, rock steady, hip hop pioneers who always crank the crowd to a higher level. Much more my thing than Mercury Rev I danced until my feet hurt, and then I danced a bit more. I gave up at 3am and sought my bed.
Determined not to miss a thing I was up early to soak up some sunshine while listening to the gentle folk of Martha Tilston at Chai Wallahs followed by St David's based band the Valleyers in the Walled Garden.  Singer Nayfe Slusjan has one of those voices that make the hairs on the back of your neck stand on end. I loved his former band (Chailo Sim) and with his new band, his folk tinged vocals remain as strong as ever.
Chai Wallahs was base camp for Sunday although I did occasionally wander off to check out other bands. I caught a little Anna Calvi with my mate who disparagingly pointed out my predilection for wailing female vocalists. He was not impressed and so dragged me reluctantly back to our base camp. I totally missed First Aid Kit (very disappointingly) but did catch Alexis Taylor, Hot Chip front man (pic below), who played a gentle downbeat set of solo material and Hot Chip numbers. Another distinctive voice, he drifted through a repertoire of songs musing on life, the universe and getting old. A chilled but memorable performance, this was one of my highlights. Back in Chai Wallahs, we watched The Melodic followed later by a stomping performance by Talisman, Bristol reggae veterans. Much dancing ensued.

As Sunday night ended, the traditional Green Man burning approached. Privileged this year to be offered a front row seat by the immensely talented Pirate Technics crew (builders and burners extraordinaire) we took our hay bale seats and prepared for the spectacle. Always a little sad, it marks the end of a stunning weekend, one I never want to end year after year. As the flames crept up and the fireworks began, it was clear this had been one festival to remember.
I didn't get to see everything I wanted to see, but I never do. I spend lots of time just ambling around taking it all in and that is part of the pleasure. There is no rushing from here to there, no stressing over who's on at what time, it's a place of gentle discovery where you can stumble across a hidden gem or discover something knew any moment, a place to let the kids run free, kick back, relax and just enjoy the magic that is the Green Man.
Denise Baker-McClearn