Almost Fatal Anti-Valentines –
Red Rum, Aklash, Bong Cauldron, Nomad,
Emissaries of Syn, All Consumed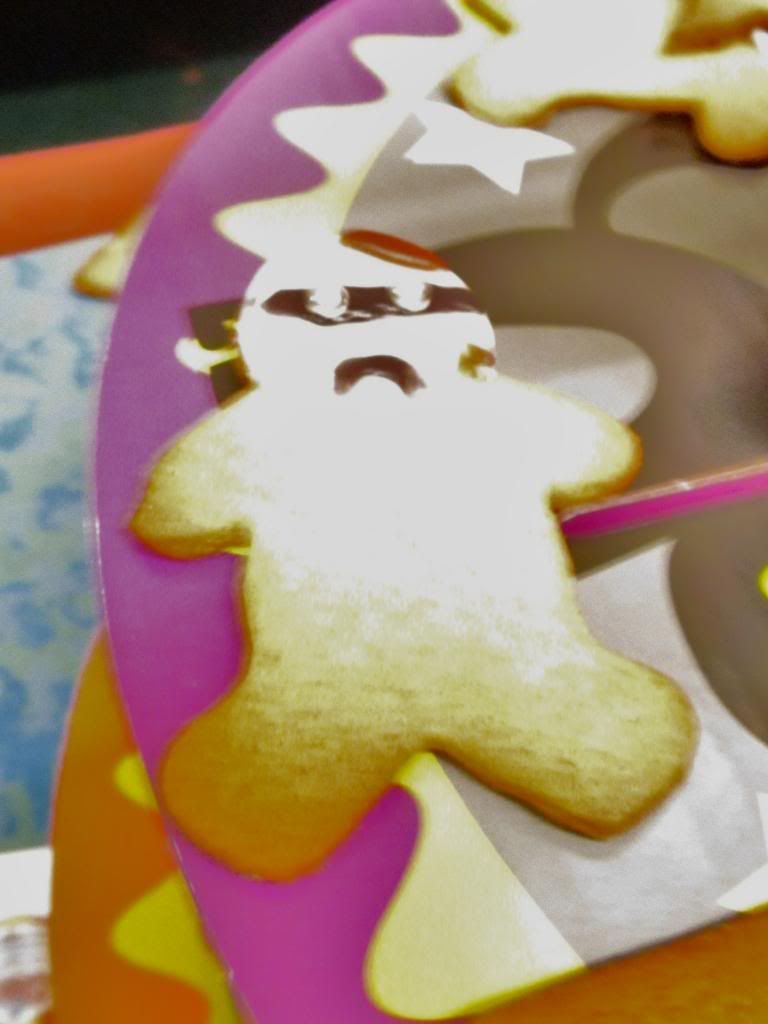 The last and only time I went to Barrow it was to look at them building some inland submarines, I hadn't felt much incentive since to return to this particular end of the world.  However, it has a rising scene being established through the promotion of Emissaries' local guitarist Matt so us being on a bill (on merit, before any dispersions are cast 😉 ) with an interesting line-up meant the roadtrip was on.   Took a bit longer than expected due to early season caravanners crashed on the M6, but was soon remembering the picturesque South lakes scenery (and inland lighthouses…)  before eventually arriving at the somewhat less scenic town.   We had a warm welcome at the big pub venue that would also be our abode, surveyed the somewhat… cosy live space and squeezed in a quick practice. (our second, for our second gig!)
With six bands on it needed an early start and people were still arriving when Preston's All Consumed  (below) started the wrecking ball rolling.  At least with the tight playing space it gives a good gathering up front.   I know some of these guys of old, and though this a relatively new project from them it gets into its stride from the off.   Superbly heavy death metal vibes, but with a real urgent chugging pace, puts me in mind of Asphyx or Sinister.  Plenty of variety in their structure keeps the impact high.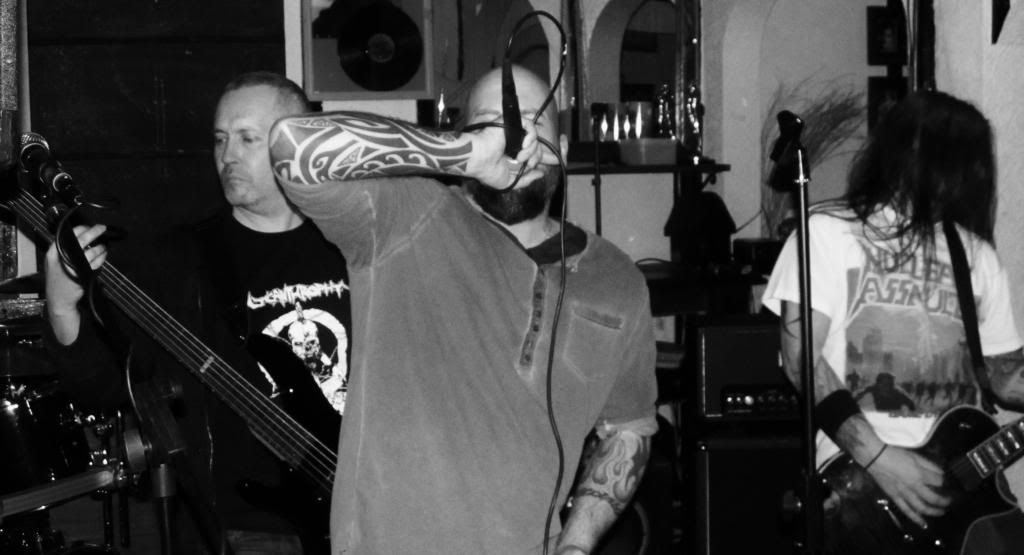 Emissaries battered through our grind'n'roll set with our usual nihilism to tuning and timing, but we had fun and it seemed others did too.  Nice meaty sound through the pa, think the sound man was concerned that the feedback wasn't meant to be there.  It was nice to have a chant in support of gay sex too, given it's apparent responsibility for the apocalyptic weather.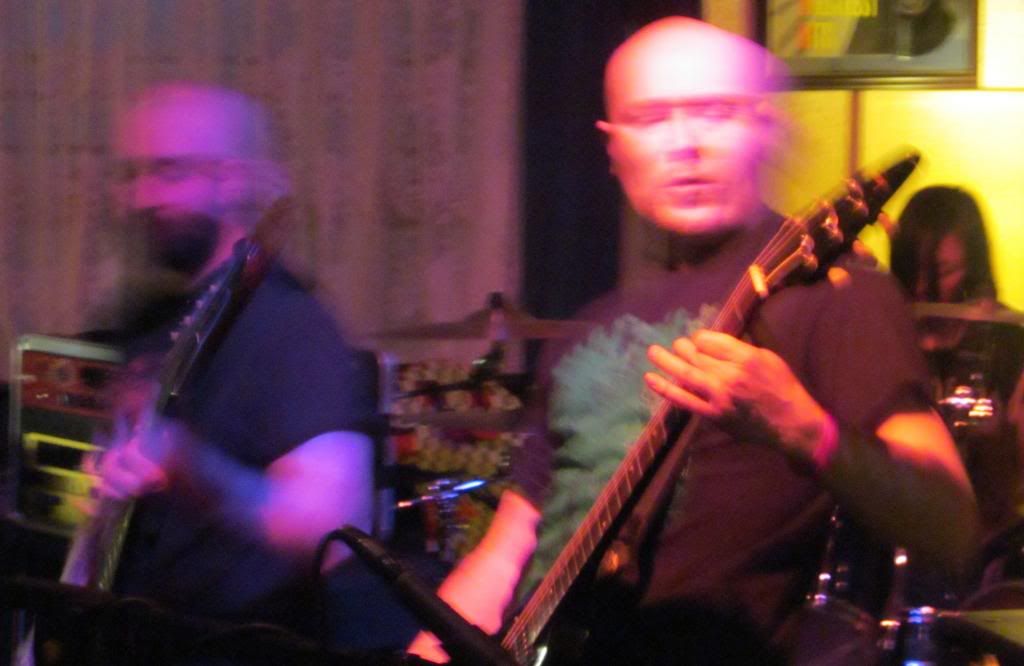 Nomad (above), up from Manchester, were another band that I think had not been going particularly long. First they started almost instrumental fashion with some well worked stoner/doom grooves (powered along by the enthusiastic lady drummer) before the vocalist joined in.  His style was much more harsh/blackened and I wasn't sure at first if they married well, but the rhythm of the songs locked into you and it was pretty enjoyable.
Something more familiar next with Bong Cauldron (above) over from Leeds.  Seen these a couple of times but there was a bit of worry tonight wasn't going to happen with all sorts of bass tech problems.  Eventually sorted the three piece unleash their huge distorted doom vibes with the classic "Tree Wizard" (my day job by the way), though they soon disappear in an appropriate cloud of smoke from the machine.  As usual, they have an excellent mix of pace and sounds, great tones from their effects set up and enthusiastic delivery on stage (there's no stage).  The 12 minute closer could easily be 3 separate songs instead of one long sludgey jam but it doesn't matter, it's all good.
Shift of style next with the progressive black metal of Aklash (below).  Probably a bit jetlagged still given their epic trek up from Reading, initially their sound mix is not as strong as the wall of noise of their predecessors, needing more rhythm guitar in my opinion.  The mix does give clarity though to appreciate the lead guitars harmonies and the deft bass, and it is very obvious they have put a lot into crafting their song structures.  The lyrical content seems to relate to heathen traditions, perhaps at odds with the front mans cultured moustache, but they are confident in their approach and create a good atmosphere.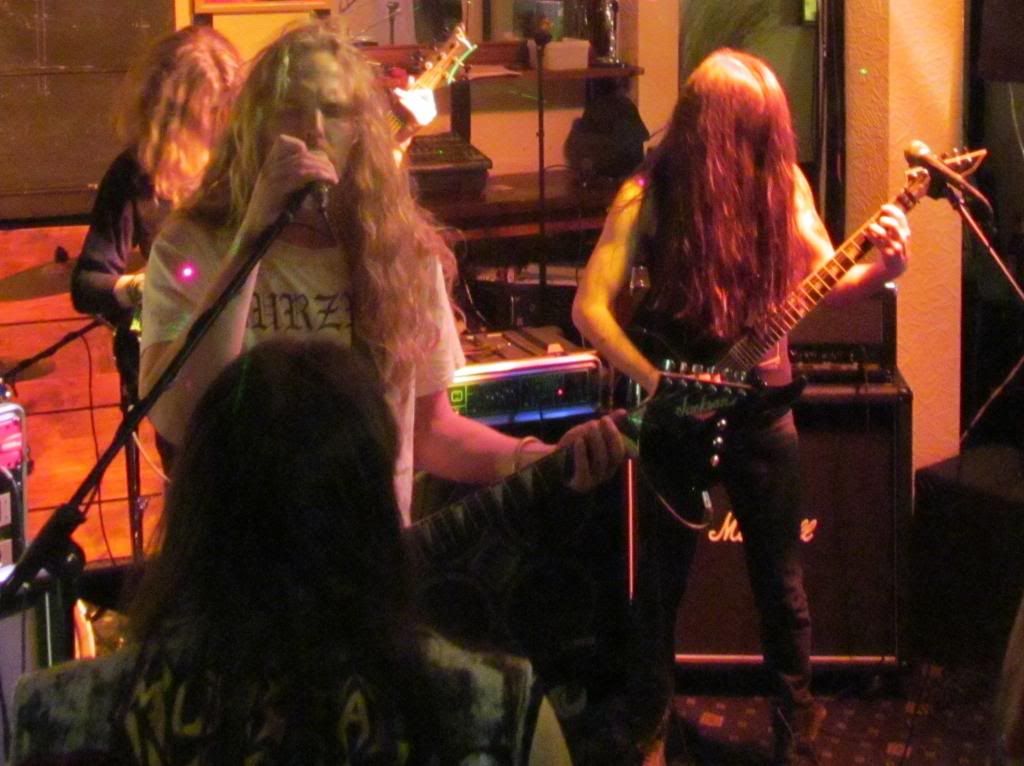 After a free food break (cooked dinner and corpse painted gingerbread men) the shift is to full on party mode with the pirate metal of Red Rum from Nottingham.  With Alestorm setting the scene for this subgenre some time ago I was not sure how much variety/interest could be achieved in such narrow constraints but these guys make a fine raised  fist of it.(Apparently this band is part of their degree course on Heavy Metal!).  With the Trevor Peres-alike guitarist starting on a mandolin it's all very folk metal time, and the keyboardist tucked away at the back keeps the ship surging on with some incredible speedy skills.  They mix up a lot of styles into their general approach, almost death heavy at times, but keep in mind the importance of fine hooks and chanted shanty choruses and it certainly gets plenty of jigging underway, with a lot of new pirate crew in the crowd certainly satisfied.
There is an after party / lock-in till early morning, we drink them dry of Trooper and Hobgoblin, thoroughly enjoyable evening all round.  Monthly events featuring similarly eclectic bills are forthcoming, leading up to the first Almost Fatal Fest in July with the likes of Desecration and Avenger.  As a resident of somewhere where promoters and venues struggle to make things happen and then sustain them it is great to see things working up here, long may it continue.