'Doll Circus? Who the fuck are they…?' Asked Sion Sebon as we clashed supermarket trolleys. The former Anhrefn front man can be excused however as Pentraeth's Doll Circus are very new to the local scene, with this being only their sixth gig.
Not new to the scene is leading light Jamie Davies, who rasped his vocal chords for Sona for the best part of the last decade. They, like most bands, finally released an album,  'Really Good With Cages' in the summer of 2010, and then it all went quiet.
Sona's Achilles Heal was Jamie's vocals – on some songs they were great, others sounded strained, some were downright awful…
So what happened? Has being a karate kid and football manager done something? Has he had elocution lessons? Has he been gargling sweet mellow water? Jamie's voice within the confines of Doll Circus is only second to the outstanding songs they've written.
This was a drive-by gig review.. After the shenanigans of a four day festival last week I had to bow to parental duties.. So I put duck tape over the boy's mouth, cable tied his wrists and ankles and shoved him under the stairs for forty minutes. After a quick hand-brake turn into Upper Bangor, taking out a group of drunk students in the process, I'm poised ready to watch their set.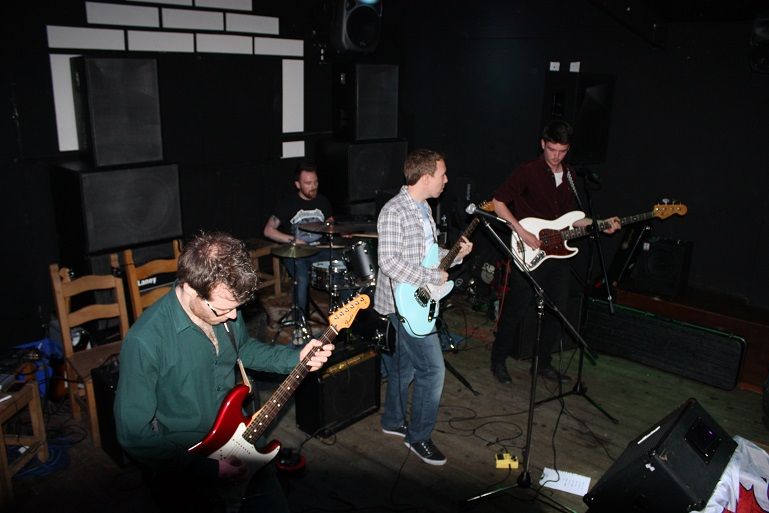 Rascals has had a much needed makeover… Upstairs (that place where students fear to tread) is now called The Loft and they've taken Mick Jagger's advice, and painted it black.. Looks great – now all it needs is a little stage for the bands.
There's a good crowd here, buoyed by the fact that Memory Clinic, Lucy Was A Decoy and Leep are also on the bill (all of whom are excellent and I must catch someday soon).
Doll Circus open up with Brain On Fire – it's a modern day classic… I'm not kiddin' and no offence Jamie but I can barely remember a Sona song, but here I am the very next day humming along to it from memory… So what happened? What the hell is happening? This is too much to explain, this is too much for my brain…
The formula is easy I guess… Assemble chords into a sequence that is pleasing to the ear worm… It works! It's a good set up, a slick bassist by the name of Jake Rutter, who actually broke a string (that takes some doing on the bass). A drummer (Doug Jones) who was enjoying every second of the performance, and a guitarist, William James who was not afraid to grunge it up a bit.
The tunes I hadn't heard sat well with the three I had… Well written, well played.. Play Nice,  like Brain On Fire is another exemplary piece of song writing… In Pairs is I guess, in their opinion the bands' strongest song as they ended the set with it, although it does ride close to being an articulated monkey tribute, however, it too immediately hooks and pulls you in.
Set list: Brain On Fire / Top Of The Hill / Bonnie Hunt / January Sunshine / Play Nice / Chemical Mindfreeze / Pips / Shakes / In Pairs.
Another favourite new band… Great stuff… (soundcloud)