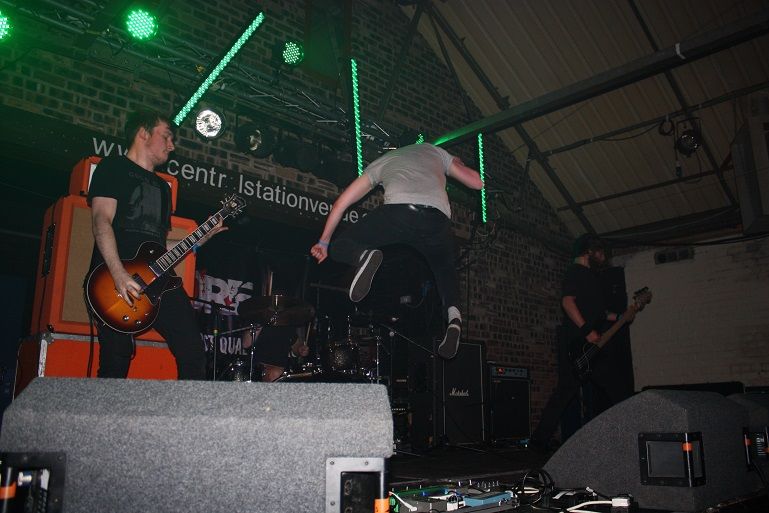 I wandered around the empty streets at 6pm on this Wednesday afternoon. All the shops are closed and the hundreds of death-by-kebab houses prepare for an evening of trade and tirade. The silence is broken by an endless charade of dumb boy racers with their loud exhausts, forever circling the town looking for prey to show off to.
With my observations of Wrexham done, I can now concentrate on why I'm here, what makes me tick and why I put body and soul into music… Writing this after Four Days and seeing a plethora of bands I know the answer… Music is the food of life… And the Focus Wales menu is simply dripping with top quality.
Band after act after band.. It was the gift that kept on giving. Jaw dropping excellence and I can only bow before Neal Thompson, Andy Jones and the rest of the Focus Wales team to what Louder Than War's John Robb described as one of the best line ups he'd ever seen.

Tonight is Wednesday; there's school tomorrow and this evening Focus Wales is limited to one venue and two stages courtesy of Central Station.
Recently signed to North Wales based Ear to Ear Records and opening this festival are Blood Lips on the main stage – it's a simple opening song, slow-loud-slow-loud, with the drummer singing, it doesn't quite cut through as you can't really hear him. The vocal duties are relinquished to the guitarists here on and things start hotting up. Screaming psychedelic guitars with chunky riffs and tub thumping drumming as photographers (who outnumber the punters this early on) buzz about and jostle each other for position. Without a bassist, Blood Lips use a pitch-shifter on a guitar, which is a nice touch as bassists are wankers (Ha!).
Death Grip is sung by Adam and is more up tempo and brutal than what came before. Not much online as yet from this band apart from a demo on YouTube with a good cut up video.
And now for something completely different – a sugar plum pixie fairy, a rabbit in a suit and a star-spangled rave gymnast (you couldn't make this up) – as the Focus Wales website states; 'Wrexham based Mizkai delivers Hi-speed, Lo-fi 8bit hardcore tracks. Tired of polished modern production, Mizkai stepped back in time and dusted off her Gameboys to create 8-bit soundscapes reminiscent of a childhood sugar induced coma crossover with a 90's hardcore vibe.'
I would've simply put; 'Fuckin' bonkers!' – Rave on loop delivered through Gameboys by Mizkai while Donnie fuckin' Darko headbangs on the dancefloor, soon to be joined by a shape throwing girl in turbo luminescence doing the splits and all sorts… What a spectacle, and completely chucking my 'This is probably gonna be a wishy-washy Indie Festival' preconception clean though the window.
Ikea hardcore! Twenty minutes would've been enough though… Or more drugs…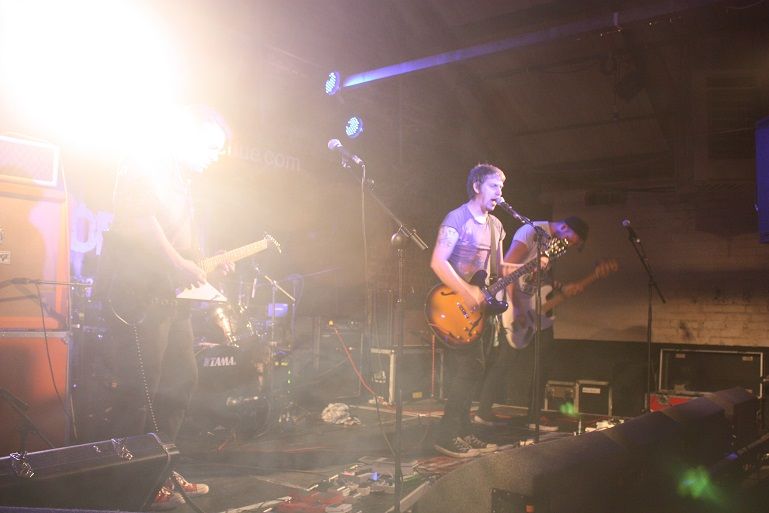 As soon as the last blip has bleeped, The Undivided kick off on the #1 stage with their Abergavenny fuelled rock anthems, full of guitar energy. Every song was anthemic and they felt they really needed to kick some Wrexham ass!
'Come on Wrexham for fucks sake!' – It's hard to motivate people on a Wednesday when they've got another three nights to go, this is a marathon not a sprint ha ha!
Shades of Kings of Leon and a heavy U2 sprang to mind, and good to see a band enjoy what they're doing. (website)

Mike Payne and Matt Stenning are Half Avian, they were once in Mechanical Owl, they are also absolutely sublime, and this early on I was beginning to feel spoiled. It's soundscaping lo-fi keyboard lounge music, but good; really good. Massive Attack-esq in places, Laurie Anderson's O Superman in others with synthed vocals. I didn't think I'd like them. I love being proved wrong. Their complicated simplicity and atmospheric acid daze was adorable, and Andy Garside (for he is in the know) said, 'They just get better and better.'
To get here to see all these wonderful new bands, I left work at 5pm and raced for 50 miles through the rush hour traffic to get here… I picked up my wristband from The Lovely Sarah (for that is her name) at The Hub and nodded to familiar faces… It was all very sober and you know that in four days' time you'll be rolling round on the floor hugging each other. With an hour to kill before the first band I stepped into my curry house of choice and left with a madras and rice. I ate it in my car, carefully using a tiny chippy fork as a utensil… This is how we rock… This is how we roll…

Having travelled a damn sight further than me, and having to navigate all those horrible z-bends designed to keep the Mancs in Manchester, were Sheffield's Steel Trees. My biggest failing (or one of many…) is I'm too pre-conceptive when it comes to bands. I'll see a name and think, 'Steel Trees, that'll be shit.' – Wrong again… I love being wrong…
They open with more feedback than a feedback convention then slam into a grunged up junk feast with gruff vocals. The swagger of Clutch and the balls of an angry Monster Magnet and a guitar that bleeds. Love finding new bands and happily gave them two beer tokens for a copy their LP 'Attack Of The Stoner Zombie Killer Kids' – Ace! Catch 'em at the Out Of The Ashes Festival in Ellesmere Port in July.

There's no let up… Baby Brave jangle their happy-go-lucky indie-rock sound and the ever growing crowd lap it up. The edge is not only in the tunes (is that a Cameraman I see on guitar?) but also in Emmi Manteau's powerful and distinctive voice. It's catchy in a Franz Ferdinand kind of way, it's chirpy in a Shampoo kind of way, but most of all it's good fun.. This won't be the last you'll read about them (website).
Orient Machine, as regulars to this site will know all too well are on heavy rotation in my house, even the neighbours hum Flood Plains as they're putting out the bins.
Will that album ever come out? Will it be any good? Well, judging by the intense performance of mainly new stuff played tonight, it's gonna be a belter. You are presented with what is almost concept rock; hard and heavy, yet intricate without being prog, or over-indulgent and more energy than a tube of Berruca and a can of Red Bull.
'They were a bit whiny a couple of years ago, much heavier now,' said the doorman on good authority, I can't vouch for the former as I only discovered Orient Machine last year… It was that edge of on stage psychosis that drew me in coupled with outstanding songs. New single Amety is out on May 1st and is a real killer; as was this set.
I'm tired, it's getting late… I live 20 miles the other side of my work, meaning I've a 70 mile trip home and a 6:15am alarm call to look forward to… Bloodflower create a synth-pop sound and I'm drawn in… It's all a bit cozy on this small #2 stage for five band members and enough gear to put the Zooropa Tour to shame.
These South Walian boys are very much in the Depeche Mould, which was everything I hated when growing up being an angry punk in the New Romantic era. You mellow with age (apparently) and despite being proud to say I'll never own a Duran Duran album, Bloodflower are pretty good… Nice melodies, great voice and where a lot of bands of their ilk could have travelled lightly with a couple of synths and backing tracks. Bloodflower have guitars and drums too, so hats off to them. They can fuck off with the Bronski Beat cover though ha ha!!
If you're looking for spectrums and other ends of scales then look no further than the next act… After five long years I have finally popped my Bastions cherry… This is in fact quite a feat as Jamie Burne's previous ensemble Portrait of A Lifetime were virtually stalked by myself… Or was it the other way round?
The caged animal that is Jamie Burne is now a Trademark. Bastions converged from all corners of the country (via Holyhead) and are in town, unleash the dogs of war, the hades of hell, a column of Panzers and a fleet of ten tonne trucks. Deafening bass, screaming guitars, blasting drums and a set of asbestos lungs on fire… Bastions came, they killed and they conquered. It was a whirlwind of energy, a tsunami of sound, a spectacle of shock and awe…
That was my cue, I left Camera to the masses (and by all accounts it was a singalongadance-along festival of fun) – I crash landed in bed by 1.30am, tired, but smiled all through my sleep…