There's blanks in my life… How did we get to the camp site last night? What time did we leave? What did we do after seeing Islet? What is my mother's maiden name? When will I, will I be famous?
To help fill in the blanks on this cryptic crossword called post-alcohol life, Tim Griff and myself elected to take an hour's contemplation with our livers and walk into town for a Greasy Spoon breakfast because – This is how we rock… This is how we roll…

Hywel Pitts introduced his mobsters as a Snow Patrol B-side tribute band. I Fight Lions are the starters for ten at Beer o'clock. It's a joy to see live music played really well at 1.40 in the afternoon and we camped here at South for the duration of the bands that Dan Read's excellent Core Promotions could throw at us.
I was apprehensive about covering bands I've written plenty about in the last few months, and had planned on simply watching I Fight Lions take pleasure at seeing my discomfort of having the equilibrium of a jellyfish out of water, but they're so fuckin' catchy!
He may be the Pitts, but Hywel has a superb voice; that of a future crooner..! However, there's no need to apologise to ANYONE for singing in Welsh as the band shifted through their bilingual repertoire. They really rocked out, and sounded 'real' through a real PA driven by a real soundman. Structurally operatic with their original material and their one cover is a lesson to bands who tread down Bleedin' Obvious Street, IFL chose ABBA's Money Money Money and did it in their style. Best I've seen them… Musical monkeys at the top of their tree – excellent.

We found solace in seeing many burnt out faces to-ing and fro-ing with equipment. Both Bob Spectrum and Dave Morait shared the shadow of their former selves look of people who had partied one night too many with the prospect of another one tonight.
Fear not… Falls are in town… They didn't park their van, they ram raided South, assaulted the doormen and drank the place dry… Holy living fuck!
Yet again Focus Wales, with your hi-calibre bands you are spoiling us! The quality of bands across these four days is absolutely phenomenal – breathtaking at times – all killer and no filler.
You HAVE to see Falls – a wall of aural and visual power – it's a chimps tea party with blue smarties as they quite literally climb the walls, the bar, the PA system, the sound-desk, each other and the crowd! It was like Jumpin' Jacks Day Nursery for grown ups… It was such a spectacle, it was all hooves, harsh powder and cucumbers, and I barely recall the music (it was loud and lacked any compromise whatsoever).
I felt sorry for Bangor's Atlas Will Atone – how do they follow that..! They said something along those lines too. 'We've not played in a while,' explained singer Sion Foulkes, almost excusing themselves. No excuse necessary as it wasn't noticeable. What was obvious was a big improvement from when I last saw them almost a year ago. , particularly in Sion's vocals, whose uncanny resemblance to Spandau Ballet's Tony Hadley ends as soon as he opens his gob.
The track Deadweight was very heavy and Atlas showed good cohesion and great drumming!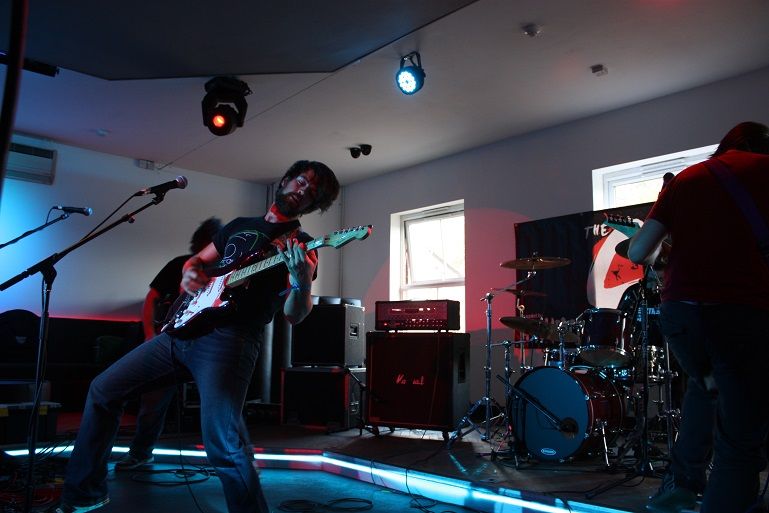 Zebedy are purists when it comes to contemporary prog-metal, right down to playing for two and a half hours! Which is why I love to see them do festivals where they're restricted to half an hour or so as they have to cram their best bits in! (Remember: All killer, no filler). From driving metal to being progged out and dreaming, they have so much material it's a new show every time I see them. Some songs have more parts than your Nain's 1000 piece jigsaw and Jonny plays that guitar as if it were a Playstation Guitar Hero one.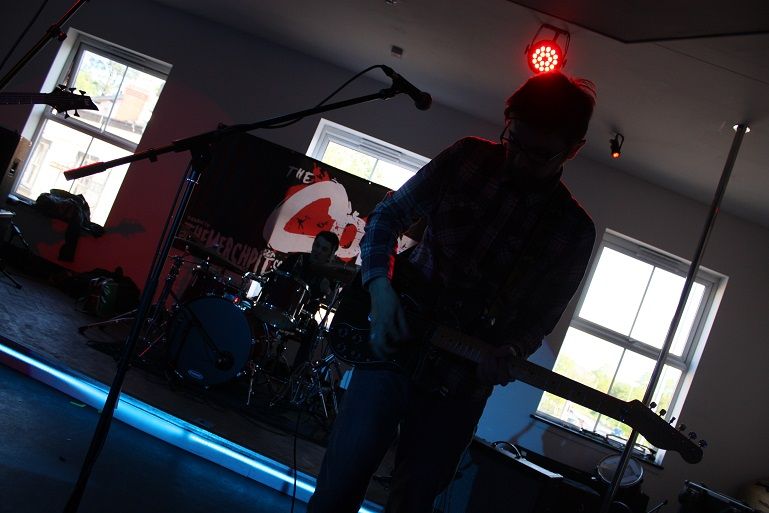 Tim and myself said in unison, 'Mmm… this beer is nice' as we were forced to draw another wad out of the cash machine and hand straight over the bar…
Nemonix are on next, and when he's not fronting Orient Machine, or drumming for We Are Animal, or playing in a covers band (that probably pays for everything else!), or doing the sound, or saving the Third World, you'll find Dave Morait (Moz), once a year sat on the stool for Nemonix… What do they put in the water in Wrexham? Where do they find the time to cram everything in…? We had a three song curfew for them before heading to Queen's Square, and what we saw was tight, hard and odd (in a good way). Shades of Husker Du…


To ensure the spice in our life had variety we caught up with Hedge Gods, who have double bass, will travel. They're like a porno site pop up (but less annoying). Chances are if it's sunny and you're in Chester, you'll see the Hedge Gods busking. If you're at Dave Prose's excellent Cavern Open Mic nights, you'll see the Hedge Gods, if you're at Rhyl Folk Club, you'll see the Hedge Gods, if you're in the cells on a drunk and disorderly charge, yes… you'll see the Hedge Gods…
Rather than being locked up though, I'd rather be sat in a field staring into the deep blue sky listening to this acid jazz funk folk fusion all day – they are dripping with talent and have created a festival scene of their very own.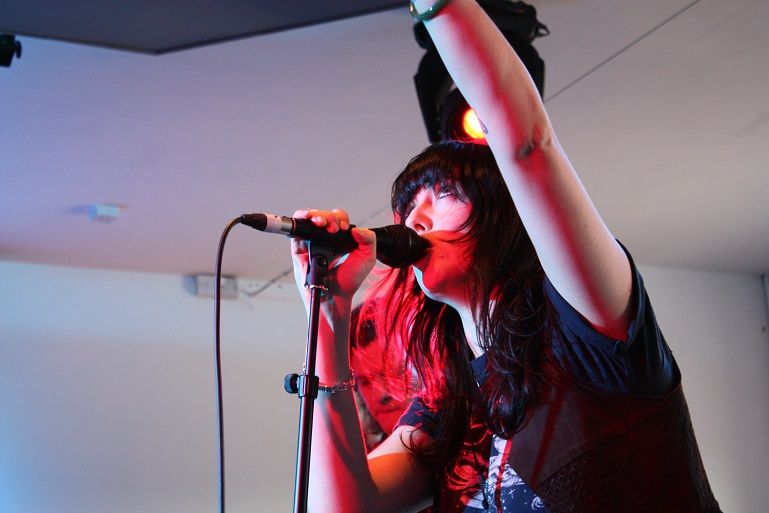 Phew… it's been a long day and it's only 6pm… We'd better pace ourselves or there'll be photos of me unconscious all over facebook…
Back at South and on the arse end of a long tour, Black Moth deliver their garagey Stoogey stoner goth rock smothered in good grooves… Love this kinda stuff, like a heavier faster Dazed and Confused with down tuned guitars, balls to the wall riffage driven by a tank.
They really get moving when they want to, like a hurricane, well crafted songs – Nothing boring here! Really fucking good – look out for a new album in September. Here try the Moth Pit for size.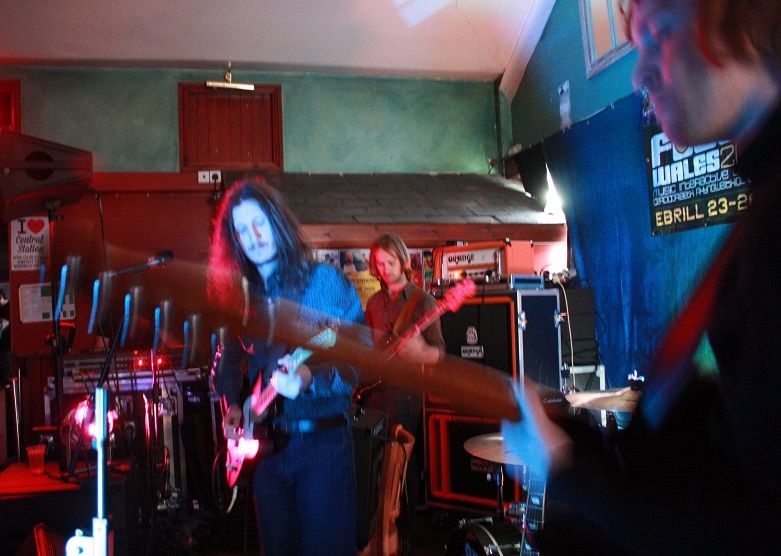 Been on the pop for two days now and I'm carrying a camera worth more than some of the cars I've owned. Which way do I point the thing…? Definitely shouldn't take it on a session with me… Took it once to The Dirty Weekend, and chucked it behind the drummer when Subhumans were on so I could go and do some girly moshing.
So I could be forgiven that after crawling up the stairs at Central Station, that I had somehow slipped back 40 years in time and witnessed the birth of true psychedelic rock right here in Wrexham… The Revolutionary Spirit is alive! And I lived and loved every minute of this set, I yearned to find a vinyl LP to buy off them just so I could sit crossed legged  at the front of the stage and roll a five-skinner to share with my new seventies buddies. It was a Voodoo Brian Jonestown Albatross Vibe. Did manage to find a 7″ single on sale, so only managed a three skinner ha! Love it… Fuckin' love it…
It's all coming thick and fast now – (Kidsmoke) local C86 Indie kids show us that they're good at what they do on the softer more melodic side of the genre. Probably one of the lighter guitar bands on the bill, and attracted plenty of interest.

Kashka from Canada prove you don't need a tour bus… They brought their equipment as hand luggage! Described as Folktronica, they presented us with a really sweet set oozing harmony across the crowd. All is good.



With news that BBC Radio Wales' 'secret guests' were in fact Colorama and they were on at 8pm and not 10pm as cited, we walked (probably diagonally by this hour) to Saith Seren, meeting up once again with Adam Walton who was being out presented by Lisa Gwylim.
Colorama's set was being (wisely) pre-recorded to go out live about an hour later. It was a chilled and polite affair (and too quiet) – but thankfully we had the opportunity to 'Listen Again' via the BBC iPlayer from the comfort of the Priory, and 'on air' the set came across with majesty… Subtle and charming.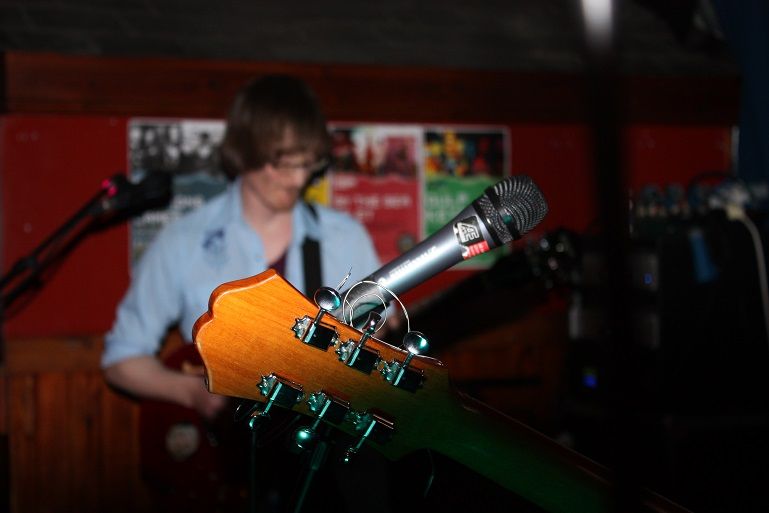 And back we trot to Central Station to catch Aberystwyth based psychedelic warlords Keys tuning up… I recall staggering over for a pre-gig photo, they seemed taken aback by this letching skinhead, and it's not the first time I've apologised to them, having boisterously cheered them on as if they were a football team last year at Telford's Warehouse in Chester!
My notes by now are an indecipherable scrawl, but in bold capital letters I wrote KEYS ROCK MY WORLD – and this, I recall is very true.. Their set was not the dreamy psychedelic get together we expected a la Fire Inside – this was far more Mk2 Ford Cortina in a smelly garage with the radio on full volume. They can't kill what they don't know and we got a hard edge to Keys and we loved it…

The last time I saw Guto Pryce, we were swapping leotards, balloons and spit in dressing rooms in godforsaken venues. I was in 4Q (we were shit), he was in U Thant (they were ace). A bit like those old days, I remember very little about Gulp apart from they are a pop band tinged with harmonics, a subtle hint of Furry influence (as you'd expect) and it is of no surprise that they are rattling plenty of cages at the moment.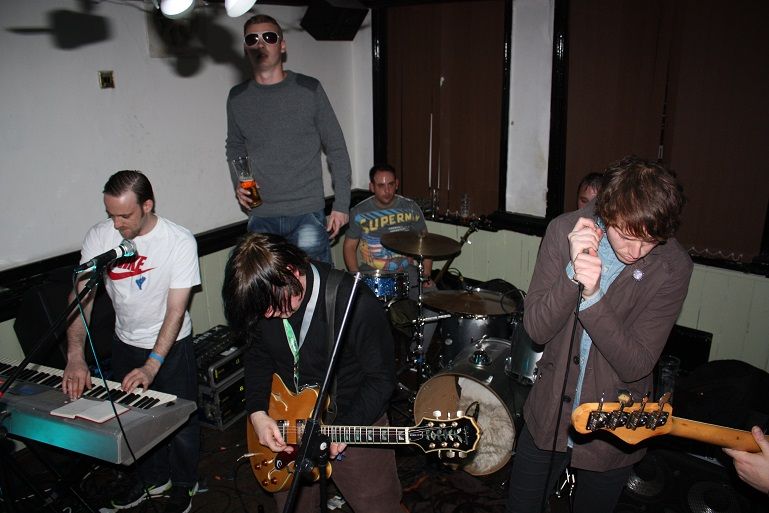 It's getting messy now… Eating curry off the pavement and crowd surfing in The Commercial as local hero Bob Spectrum takes off his promoter's cape and attacks his guitar in The Uninvited. The party is in full swing, it's a party atmosphere – you find it hard to move, only to move with the crowd as we drank, swayed, drank, sang, drank, laughed, drank and drank some more…  There's people gatecrashing the stage, they're uninvited, but nobody cares, we're all having a laugh and a giggle… Heavy keyboards over a good throbbing bass, heavy tunes, sometimes Doors-esq, sometimes an 80s feel, it was heavy light-hearted entertainment… This was great fun…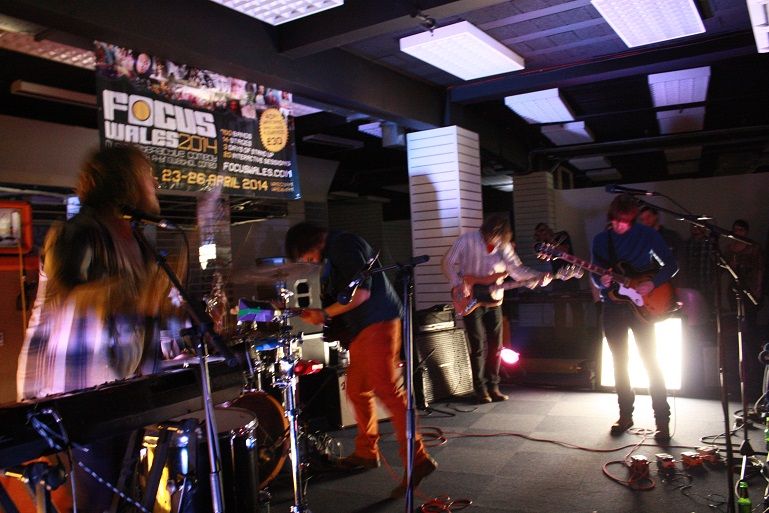 It's now midnight, the witching hour is upon us We Are Animal.
What a magnificent set to end a magnificent festival of music – a showcase for Wales to present to the world… We didn't want We Are Animal to stop playing. We didn't want Focus Wales to end… Their hypnotic melody-free tribal shoegaze for sex people was stunning.. Absolutely stunning… The whole week has been a gift that kept on giving, and for quality, the best line up I've EVER seen (and I don't say that lightly).
This week is the reason for doing what we do…
This week is why I have Post Traumatic Festival Syndrome…
This is why we get excited when the postman drops a new release onto our doormat…
This is why we spend our money travelling to seek out new bands and new civilisations…
This is why, against the tide, we'll stand there on our own while a band in a pub plays to just us…
This is why we spend hours, days, years writing blogs for nothing but sheer love…
This is why we sleep in fields…
This is why we rock…
This is why we roll…


(pic above by Brent Jones)