(Bubbles and bands at Festival No.6 – review n pix by Denise Baker-McClearn)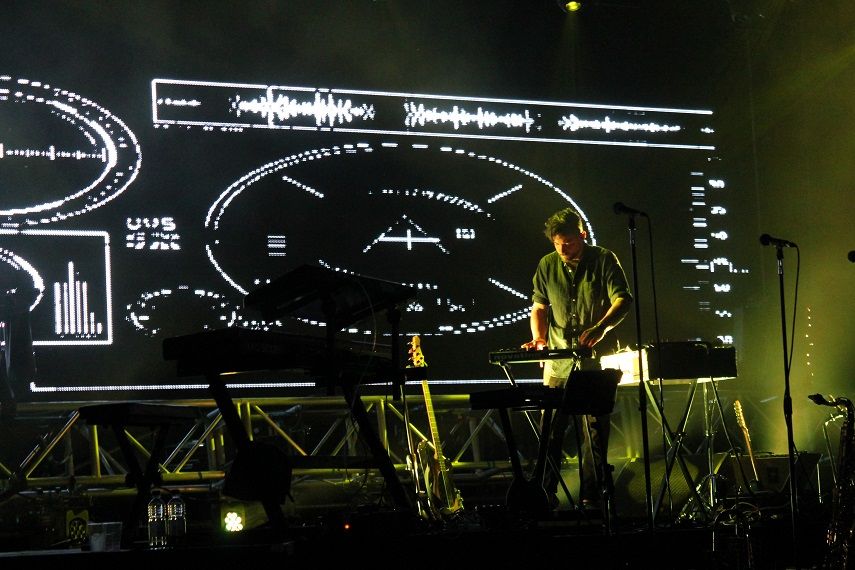 Much as I love a good moan, I hate to begin in this way because overall, we had a lovely weekend at Festival No.6, but everything about working for them is awkward. They are THE most difficult festival I have ever worked at, so that kind of puts a bit of a damper on what could be a way better event.

We all know Portmeirion is not an easy site to access. It is on hill, it is listed, it has narrow lanes and limited camping space but why they make getting onsite so difficult is beyond me. Everything from the nightmare of the park and ride, to the 3-hour delay in obtaining accreditation and vehicle passes. Once we finally arrived at the over full crew campsite (which closely resembled a shantytown), we found tents and vans rammed so closely together we could almost step from one straight into the next. Thank goodness for the lovely guy that took pity on us when we told him we had ten kids in our crew, and moved us to a more spacious spot away from the stinking toilets, postage stamp sized area we'd been 'allocated' and relentlessly noisy stewards tent. Traumatised and tired we made camp, by which time it was midnight, and instead of dinner we cracked open a bottle of Prosecco and ate our bodyweight in cheese and crackers before collapsing into bed about 1 am.
It is such a shame because Festival No. 6 has so much to give, so much potential to be a great event. The magical setting of Portmeirion alone has to be a major draw and then there are the mountains, the sea, the beach, the music and all the quirky, arty special bits in between, this is why I returned for a second year (last year the organisation was just as dire).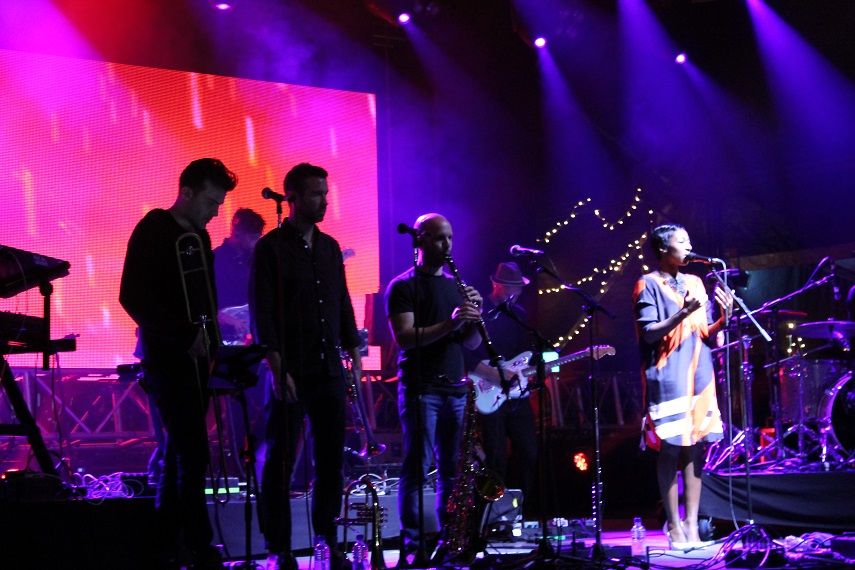 With a fresh start and a beautiful sunny morning, Friday looked good. The stunning view of Portmeirion estuary raised our spirits and suddenly all was right with the world, but before I'd even started cooking breakfast (I was working as unofficial 'crew caterer' for Dr Zigs giant bubbles) the organisers phoned to say our storage gazebo had to be moved as it was in a 'sponsored' area. We stalled having already had more than enough of their disorganisation, and by the time breakfast was over and we'd made our way to the piazza the festival gates were open and it was too late. We got away with it and as the bubbles began to drift over the piazza and we opened shop all the stress began to ease away. We danced, bubbled and enjoyed the atmosphere. After dinner it was time for some music at the main stage so off I wandered with a bucket of bubble mix to listen to a bit of Neneh Cherry and a bit of old skool. Her fun, energetic, set warmed everyone up for some full on dancing to Bonobo followed by London Grammar.
Bonobo (pic above) (producer Simon Green – main pic) mixed a mesmerising selection of chilled electronic beats with big dance tunes, interspersed with the gentle vocals of Szjerdene Fox. We danced, swayed and got carried away with the moment wondering if we were peaking too soon, could any other performance get better than this?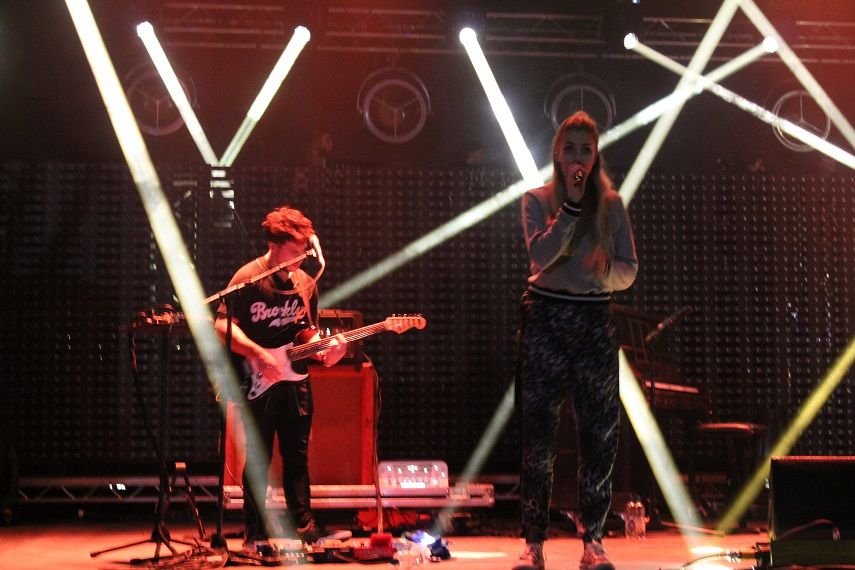 Staying glued to the front row barrier (my 11 year old refused point-blank to move) we awaited London Grammar. I love them (again my predilection for wailing female vocalists) but I had mixed feelings. Last year they played to a small crowd during the afternoon, I was going through a painful breakup at the time and their album 'If You Wait' became the soundtrack to that, played to death and with rather too many emotions attached to the songs. Over the past year, the band has soared to new heights and so this year they headlined the main stage. I have moved on in my life but as the opening bars of Hey Now began I knew it would make difficult listening. This aside their performance was polished, more mature and fuller than the previous year. The added string section created a bigger sound although they retain an endearing simplicity (the battered piano, understated stage setup and vocalist Hannah Reid's low key outfits… she needs nothing more than her voice so who cares if she wears sweatshirt and trainers). I hope they keep this quality, as they grow inevitably bigger.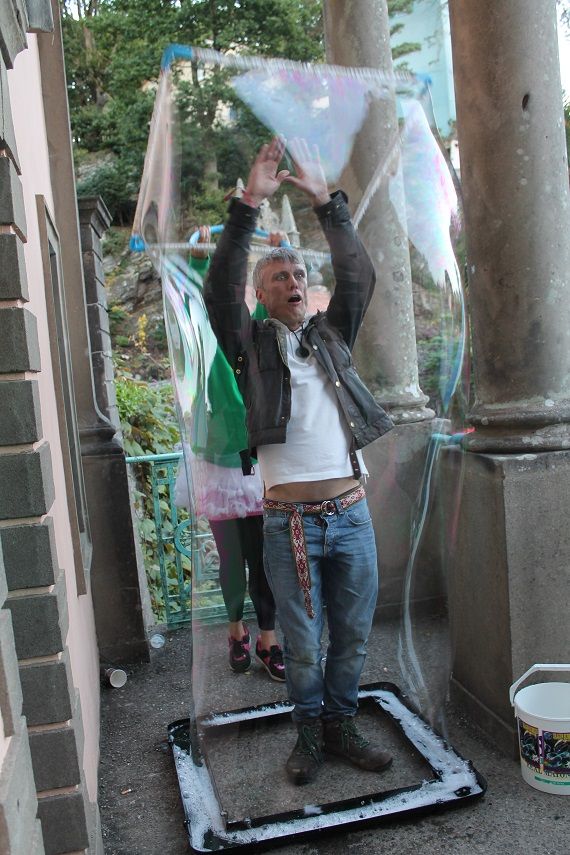 Over the weekend, we encountered all kinds of eccentric happenings, surreal, memorable and many of which we were at the centre of. Bubbles flew high over the Brythoniaid Male Voice Choir, the Saturday afternoon carnival, the paddle boarders in the estuary and the floating stage in the woods. DJ's at the Audio Farm stage tucked away in the woods entertained during the morning, banging out some great wake up tunes while later we even got Bez in a bubble for a Channel 4 documentary.
We wound up the afternoon with a big crew photograph before dinner, and a bit more music. Saturday night music highlights were inevitably Beck who pounded out his best-known songs 'Loser' and 'New Pollution' while the audience bobbed along in good voice. He gave a bounding energetic performance, and although I had been a bit half hearted about seeing him, I was truly glad I went along.
The night belonged to the Kraken Bar where a few of us danced the night away. At some point Bez took to the decks, although I'm sure by the time he came on my ability to pay any attention to his DJ'ing was as good as his skills at spinning discs.
Sunday began sleepily with a trip to the Town Hall to pull faces at my friend running the morning Welsh classes, and to catch a bit of Yucatan. Again, organisation appeared to be somewhat chaotic and they only played a few numbers before time was up. I'm glad I made it not just to listen to them but also to see the rather fragile state of my co-partiers from the night before.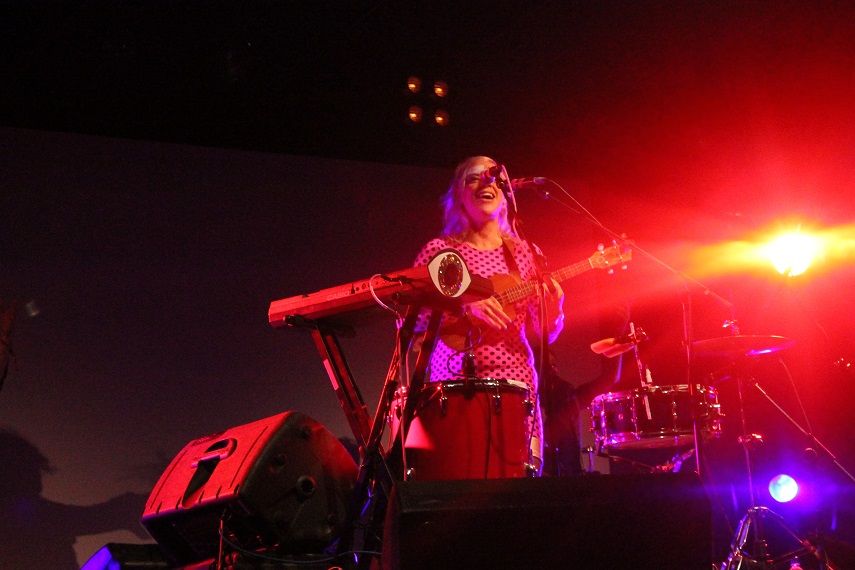 During my wanderings I caught snippets of various bands; Martha Reeves and the Vandellas, Peter Hook and Mercury music nominated East India Youth but the main attraction and evenings viewing was Kelis (just for the fun of singing and bubbling along to Milkshake) before the boy and I headed for more highbrow offerings in the form of TuneYards. Meryl Garbus (pic above) is something of a hero (yep, no need to say it, female vocalist AGAIN) but this was my 11 year olds must see. I watched them at Green Man on the main stage two years ago and their performance left an indelible memory. This time they played inside (The iStage) and their sound was so much bigger! They were, without doubt, THE band of the weekend, and I have no hesitation in saying that. Sequin festooned rammed at the front of the stage (the boy refuses to watch from a safe distance, he must be at the very front) we went mad! As we wandered back to the van ready to hit the road he looked at me wide eyed and said "I never realised they were going to be THAT good"…they blew him and me away.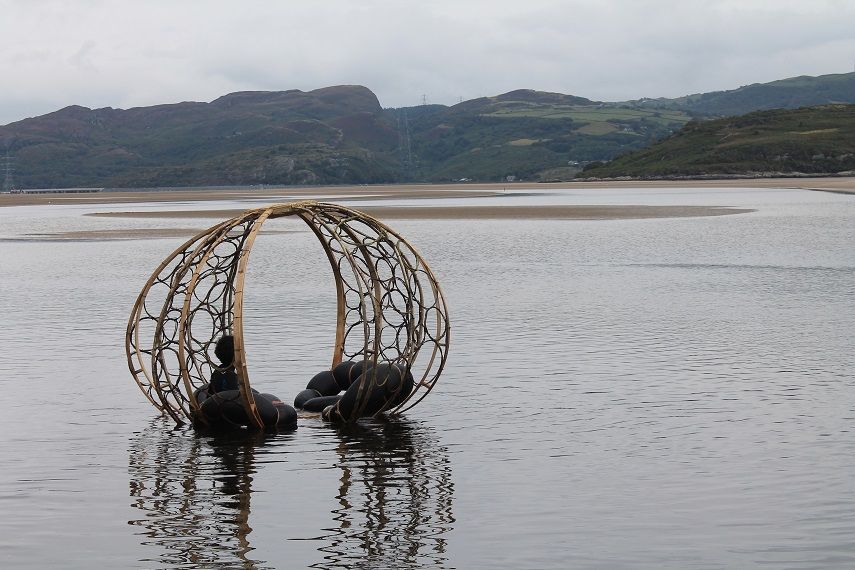 As the bubble crew went its separate ways, we all agreed it had been a truly amazing experience. There are so many things good about this festival but also many gripes. For all the corporate branding, sponsored this and that, Volvo chauffeurs and trendy hipsters little appears to go into providing a safe and comfortable festival site. The camping site is awful. One of the 'glamping' organisers complained that there was insufficient space for all their tents. These are tents people have paid hundreds of pounds to sleep in and because of this; the toilet and shower facilities were inadequate. One of the glamping organisers was even threatened. Normal campers have to contend with steep downhill slopes while those arriving in vehicles paid a high price to be rammed so close to their neighbours, there was no room to put up an awning or sit outside their vans.


With this, it seems likely that eventually people will get sick of paying a premium 'boutique' festival price, or the festival will try to grow too big too soon. You can only trade on a concept for so long however beautiful it may be. I just get the feeling that the organisers are so busy making sure it all looks OK on the face of it, they don't need to think about the infrastructure that precariously holds it all together. Add to that the hoops we (and ordinary campers) had to jump through, the constant wrist-band and bag checking on every gate and at one point we were so fed up we even complained that the wristbands were cheap and itchy!. Perhaps you can tell. We were just a little tired of the chaos.
It is hard not to let Festival No.6 get under your skin though, and that is in a good way. With glorious sunshine soothing our tempers, a wonderful team of friends and family, festival goers loving our bubbles we definitely relaxed and made the most of what turned out to be a fantastic weekend and despite it all we will probably return again next year.