Another day… another gig as my race towards Deaf City takes a handbrake turn and heads back to The Compass in Chester… A place I graced a mere five days earlier… This time I stick to a couple of pints of Dragons Breath (6% abv) and remain responsible with no danger of ordering a curry in order to simply stare blankly at it (which is exactly what happened on Friday night).
Prolific fellow gig goer MWJ provides the taxi for Steve Brute, Garry Denbigh Dog and myself for the swift saunter across the border. Tales of hardcore yore are swapped and we arrive at a worryingly empty venue…
The 8pm start is put back ten minutes; the line-up is jigged around, (Brute's BBR couldn't make the gig due to 'family shit'), and we're ushered upstairs as 'The first band is starting.'
That ten minutes made all the difference as punters began pouring in… It's a small venue; a great venue! With a great PA… This benefits new blocks on the kids Stand Silent, who are far from silent and I initially suggested (to myself) that they should've called themselves Stand Still. It's obvious this very young Ellesmere Port band are still honing their craft and it did take two or three songs to loosen up and get into their stride. Once the guitars started chugging they became more animated and got into it.
TechMetal is what they call it, drawing influences from many genres… Too many really and many musical clichés, like Skeletons, it's a good paced punk number, which doesn't really need the obligatory guttural growl as Andy Casson's normal raging voice is just fine.
Look forward to seeing them develop their sound, and was really good to see them stay for the other bands. Listen here – Horizons is really good.
The loss of BBR from the line-up was (for tonight anyway) everyone's gain as last minute replacements were Riggots, who hail from some shithole called Wigan. As is with the growing trend of two-piece bands, they have to try harder to make up for the lack of that extra  guitar (be it bass or a six-stringer). Riggots use two amps for the one guitar (a lead one and a bass one)… It's a big sound from a big band… Promoter, Tim described them as a cross between Black Flag and Elvis, yeah, with Terminator on the drums!
If they didn't come here with a point to prove, they most certainly left having proved it!
'Don't let anyone change you..!' Demanded drummer Rob during a very angry rant about being in an oppressive relationship before smashing fuck out of that kit!
It's fast and furious haaaardcooore! Fucking ace to be precise! The next song is called All Dressed Up To Get Bummed Down King Street By A Nobhead, it's full of filthy licks, like No Means No… as is Eh Ok – ace stuff.
Chorley Norman does sound like Black Flag! 'All hail Chorley Norman, God bless Chorley Norman.'
I've just had the living shit kicked out of me by Riggots, I can't wait to go back for more…
(Try for yourself)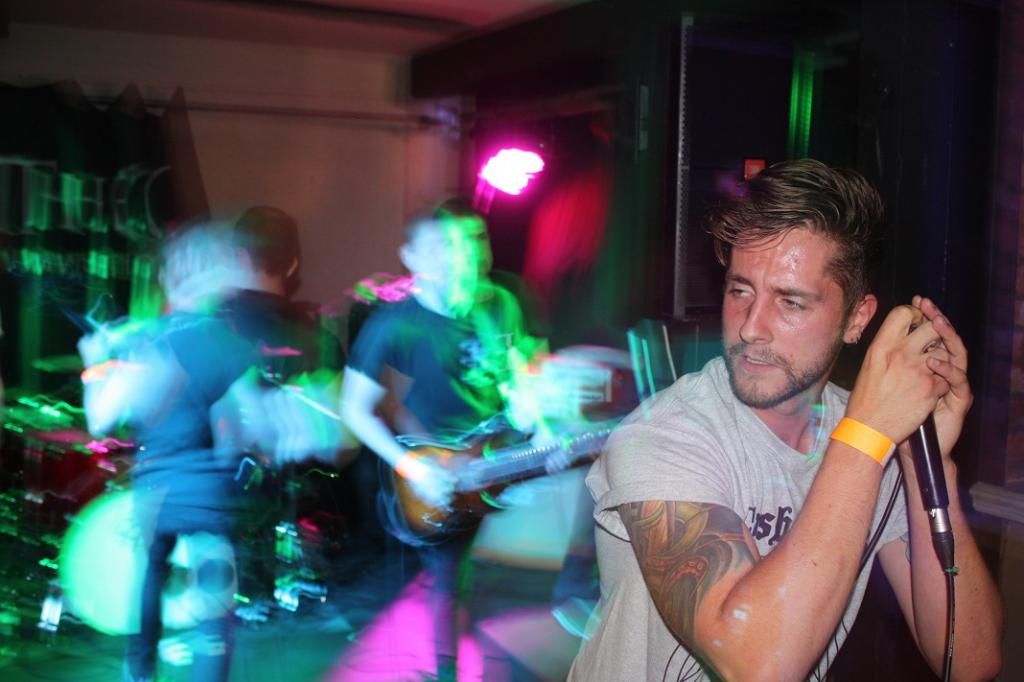 I love a band who know how to use guitar feedback and Artemis from that twee town of Basingstoke have it down to a fine art. They are distorted bass heaven in hardcore hell – just how it should be – leaping around the stage as if they're on a bouncy castle.
It is chaotic hardcore that occasionally strays into Bastions territory, with great time changes, often several in one song but without any threat of ever being prog! They are animated with vocalist Dan, maybe conscious of the Riggots smash and grab show, determined to take it to another level. (website)
On this Footloose Records Tour with Artemis are Crossburner from the land of endless roundabouts and fake football clubs – Milton Keynes.
Vocalist, Matt is most definitely number one in the visual charts, looking like something inbetween that Bonzo Dog, Viv Stanshall on ketamine and the purple elephant off Banana Splits!
This fucker is gonna have you before breakfast – fucking ace!
'Destroy everything!!' He bellows and all hell is let loose at 5000 bpm, in a crust, punk thrash blur. There's no connection… Matt doesn't connect with his audience… His audience connects with him!
Crossburner demand your attention, you ignore them at your peril… This is a seriously really really good band!!
(listen and learn)