(Taken from the book – This Patch of Land) (pics Andrew Tunnicliffe / public domain)
Another Rhyl punk band making noises in the early 1980s was Mercenary Skank, mention the name to Steve Allan Jones and he becomes very wistful, 'I really hoped this band would get somewhere. They had it all, good songs, a style, charisma. I saw them at the Greyhound in Fulham and they were fantastic. Fuck the stupid industry for missing them.'
They had met at school in 1981 and formed as The Disturbed, with their first rehearsal at the Inter Leisure function room (next to the long gone Golden Gate arcade).  The original line-up was Tudor Parry (guitar and vocals), Mark Jordan (guitar), Graham Bevins (bass) (later of Mal de Mer, PSST) and Chris Turner (drums) (later of Frightened By Strangers). Six, maybe twelve months of rehearsing didn't lead to any gigs and once school was out, Mark went to Kelsterton college in Deeside and met Tunkie and Scratch (real name, Mark Downing).

'It was a crazy time,' said Tudor, speaking from his home in Toronto before his untimely death in 2011. 'We used to support Seventeen. I quit, or was kicked out, I can't remember, although either is plausible. Of all the periods in my life that one was the one where I felt most alive. It was crazy and wonderful and silly and so creative and idealistic. I would love to know if the song No More Dancing had to do with the fact that we used to goad the audience into dancing; I think because it looked so silly playing to a room full of wall flowers. Mark Jordan was a fantastic guy and I am so sorry that we lost touch. I wish him well.'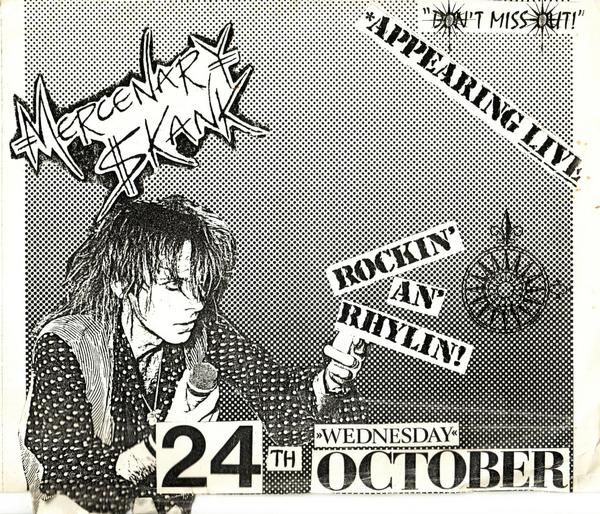 Inspired by the Clash, Mekons, SLF and the Ruts, they took their name from a Seventeen song. Graham Bevins recalls, 'Scratch came from Mostyn and was in a band previously; I forget the name, but their drummer didn't have a kit so they'd made a demo using pots and pans. I remember thinking it sounded great!' Mercenary Skank emerged around the same time as their counterparts Seventeen, 'They were singing lyrics about nothing in particular,' quaffed Graham. 'Don't quote me on this but I'm sure it was the fact they saw that we were doing protest type songs that the whole Alarm rebellious stance began.'
Andrew Tunnicliffe adds, 'I'd known Scratch since 1978 as we both went to Eric's in Liverpool regularly – he with the Rhyl set, I with the Holywell punks who later coalesced into The Grids. Later still he was in a band that supported The Interceptors a couple of times and through it all you could see he had vision and spirit.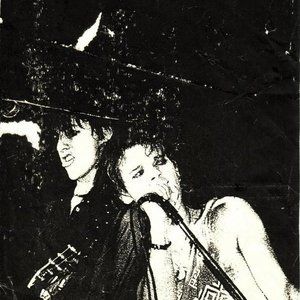 'I had disbanded Vicious Circle as they didn't want to move to London; a move I saw as essential to any progress. I found myself spending a lot of time with Mark Jordan as our girlfriends were sisters and his parents seemed to be away a lot! Scratch would come around and we'd talk music, eventually deciding to put something together involving a couple of their songs and some new stuff I'd been writing. We clicked, it sounded great but I wasn't willing to get fully involved unless we were going to commit to moving to London. We ultimately agreed and Mark recruited Graham and Mike with the same understanding. From there on in Scratch would give me lyrics and I would return with completed and arranged songs.'
Their first gig was supporting the newly formed Alarm (also making their live bow) at the Queens Hotel in Rhyl. Chris Turner had by now left and Mike Crees was behind the kit. 'It was 50p entry and Scratch played bass as well as me for those early shows,' Graham explains. 'I was kind of playing chords on the bass, while he played the notes. The Alarm rocked the place that night; they had decorated the stage with newspapers and were outstanding.'
An early follower of the Skank called Pete recalls, 'I first saw them play at the old Shoemaker [now Caskeys] back in mid '82, being dragged there, pissed by Moggie (Grids), and some bird called Janine [Skidmore]. Afterwards, I discovered they practiced in a huge room upstairs, for free, I think! We used to get free beer, as if you only had a tenner, the barmen would say pay me later, no wonder they went bust!' Pete continues, 'I left Prestatyn in 1975 and got into punk after seeing the Stranglers do Go Buddy Go on Top of The Pops. I came for a visit to my old town a few years later to see old schoolmates and I found Tudor was into punk, but didn't know he was musically inclined. Anyway, he was long gone when I first got to know Mercenary Skank, and was surprised when Mark Jordan told me he was in the original line-up.'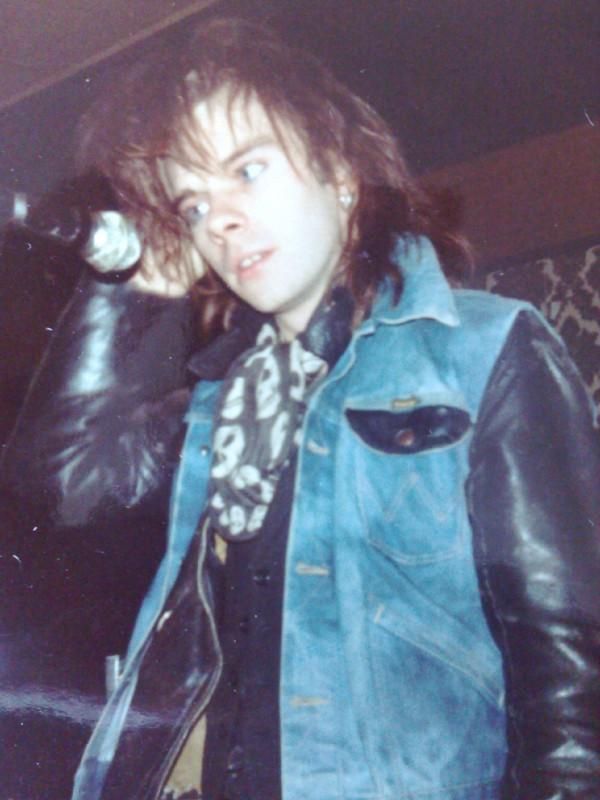 Pete remembers, 'I used to drag myself to The Shoemaker on Wednesday nights to see Mercenary Skank practice. I can't say I had a long conversation with any of them, except Bevins, and I feel, looking back, that they just tolerated me, due to my ultra shy persona. Fair play, they played a special gig for me for my 21st party! It was the talk of the underground for ages afterwards, perhaps due to the kindness of my late father, who loved the group! We'd hang out in Kaverns [record shop] a lot; who didn't! and if you remember the old Forte's cafe, us and The Alarm would be in there, and they were just about on the cusp of being huge. We sort of took the cafe over for a chat and a bite to eat.'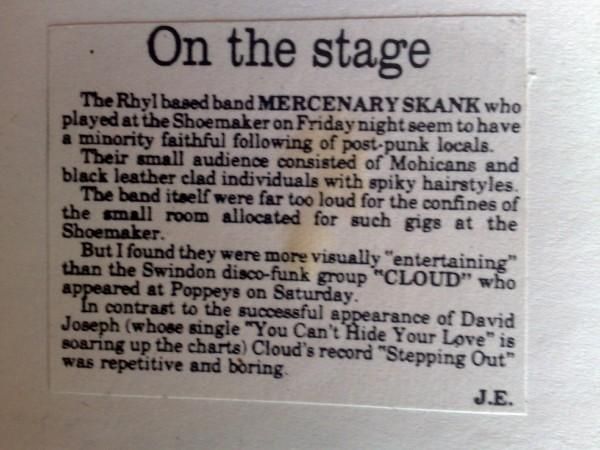 Jon Farrington was also around the fringes of the band, 'Bevins and company were Rhyl's bad boys; they had to be as they didn't have much finesse as to the playing side of things so they made up for it by having lots of attitude. They were famous for having a huge road sign with the words "When Red Light Shows Wait Here," this was at the time their best song. It must be said Skank were a very tight band as they rehearsed nearly every day at the Shoemaker and live were brilliant. We [The Covers] played most Friday's together at the Shoemaker on Vale Road, we played before the strippers came on.'
Psychobilly hard men The Meteors played The Dixieland in Colwyn Bay and Mercenary Skank provided the support and brought along their huge road sign stage prop, Graham takes up the story, 'We nicked it on the way back from a gig in Anglesey I recall. Scratch threw it into the audience and the promoter did his nut about it afterwards.'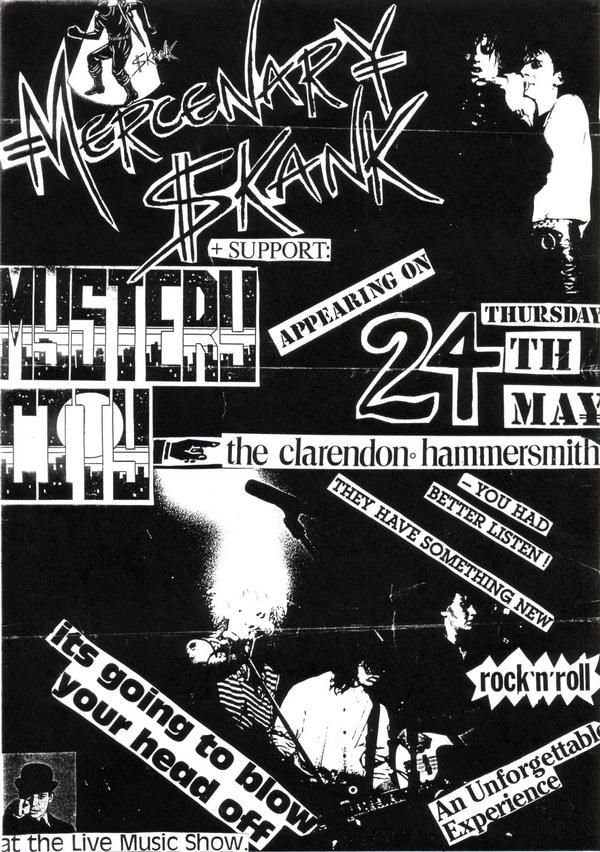 Steve Rastin recalls the band being threatened at that gig by someone with a sawn off shotgun, but Graham correctly remembered, 'A few Meteors fans had been following them around and were causing some trouble outside after the gig. We [Mercenary Skank] were packing our gear away when two of the Meteors burst out of the dressing room, one with a sawn off shotgun and the other with a Teflon coated baseball bat; they went to "sort" them out.  When they came back we were chatting with them about it. They never threatened us, they did ask us to carry on the tour with them but after that incident we declined. The guy with the baseball bat, I think it was the bassist, was proud of it and commented on the reason for it being Teflon coated was that the blood wiped off with no traces. What a nice guy!'

When Mercenary Skank did, as all ambitious bands do, move to London, the line up of Tunkie (guitar) (who had by now quit The Grids), Scratch (vocals) who worked at Kavern Records, Graham Bevin (bass), Mark Jordan (guitar), Mike Crees (drums), and Mark Perkins (saxophone) (also played in Open Channel D and Mystery Girls) shared two abodes. Graham and roadie, Neale Parry found a place in Streatham while the rest of the band moved into The Alarm's since vacated flat in Battersea. Graham laughed, 'The Alarm had left loads of copies of their Unsafe Building single in the flat, and one drunken night we made a pile of ashtrays out of them for a giggle. I could cry now knowing how much a copy will fetch on eBay!'
Neale Parry had been in a band in Rhyl heavily influenced by Comsat Angels called Project Blue with Kevin Sprostan and Dave Salt (later to be a roadie for Status Quo). Before this Neale was in a short-lived band called Shop, his brother Iwan said, 'They were experimental and would alternate who played what instrument from gig to gig. They once played to a packed pub on Anglesey, mainly due to the fact that they stopped for a pint a few miles from where they were due to play and told locals they were the Boomtown Rats who promptly spread the word that Bob Geldof and co were in town.' Iwan ran Pinhead Records from Bedford Street in Rhyl from June 2005 for two years, before plying his trade online.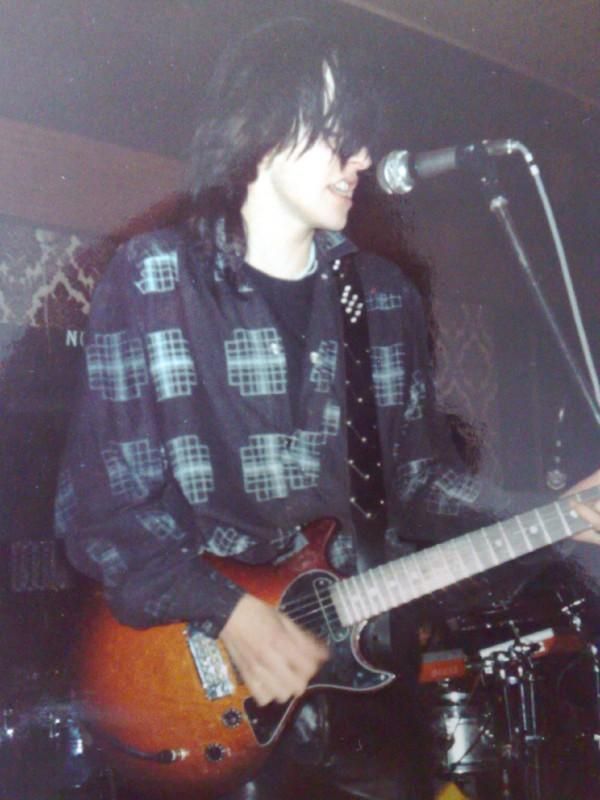 Another band to support Skank on a local level were The Cover featuring John Wray (guitar), Tim Stone (bass), and Jon Farrington (drums). They were named so because they played covers, mainly of The Jam (whose sartorial elegance they also copied) and The Who. Farrington now lives in Australia and says, 'It's amazing how many bands and good ones to boot have come out of Rhyl and the area over the years. I was part of the local band scene from the late seventies, playing such dives like the Orange Peel disco on the prom, the Palace Hotel on a mod weekender, and even the Bistro one Christmas with John Wray. I saw Harvest Moon and Frightened By Strangers at Hughie Shaw's place [The Gallery] in 1980, and I worked alongside Ocean Rane, Mercenary Skank, and the likes when we were all young and hungry. There was a lot of good natured rivalry in those days, simply due to lack of places to play, but going out in Rhyl on a Friday night and hooking up with all the musicians was great.' Jon would later turn up in the mid eighties in Le Venger and then One To One. 'Frightened By Strangers were Rhyl's golden boys that year due to the fact they were better musicians than anyone else, top of the bill were Harvest Moon who were plagued by technical problems and huge egos.'
Back in Rhyl (or London by now), plenty of gigs ensued as Mercenary Skank went all out to make their mark on the music scene. A demo was recorded for EMI, and A&M Records were showing a keen interest.
The band enlisted the managerial skills of Caroline Reed, but not all was fine and dandy. 'She was involved with Scratch and he seemed to get expenses out of the band's pool of money, while the rest of us had to dip in our own pockets,' said Graham. 'I blame her, or her inexperience for wrecking our chances of actually making it.'
A&M Records had nearly signed The Alarm, losing out to IRS, and didn't want to lose out on another North Wales band. 'Caroline was always evasive about the A&M deal during our weekly band meetings, the label's Mike McCormack was well into us. I only found out a couple of years after we split that Caroline was responsible for blowing any potential deal out of the water.'
If that wasn't enough for Graham, his anger built up, 'We were offered a £50,000 publishing deal with Zomba Music. A meeting with Roddy McKenna went so well, he offered us Radio One road show slots and studio time, and we thought that this was it, we're on our way. But Caroline went back the next day to Zomba to increase the deal. She left the meeting with no deal and us with no money.'
The band did get to release material, albeit on the indie label Criminal Damage. No More Dancing 12″ EP (No More Dancing / The Pull and The Push / Down Among The Deadmen / Dancing Dub) and after playing it on Radio One, John Peel (for some unknown reason) swore that it was the guitarist from The Quads on it!
The material was typical of the guitar bands of the early eighties, and although the vocal delivery was quite thin and weak, Scratch's good looks and stage presence earned Mercenary Skank plenty of plaudits. Sounds magazine ran a double page spread called 'New Hopefuls for 1984' in January that year. Bon Jovi were on one page with the Rhyl new wavers on the other.
Prestigious gigs at the Marquee and across the country gained them a large following and although the facts will state Mercenary Skank recorded a Peel Session, it was actually for the Janice Long show on Radio One and aired by another DJ. 'I don't remember his name, but he talked over the end of one of the songs. We were at our peak then, dare I say fantastic!' beamed a proud looking Graham. 'We were almost there,' he enthused, 'to the point of being recognised in the street. Looking back, we were musically shit live really, energetic enough, but the vocal wasn't very good. At the time we thought we were the dog's bollocks.'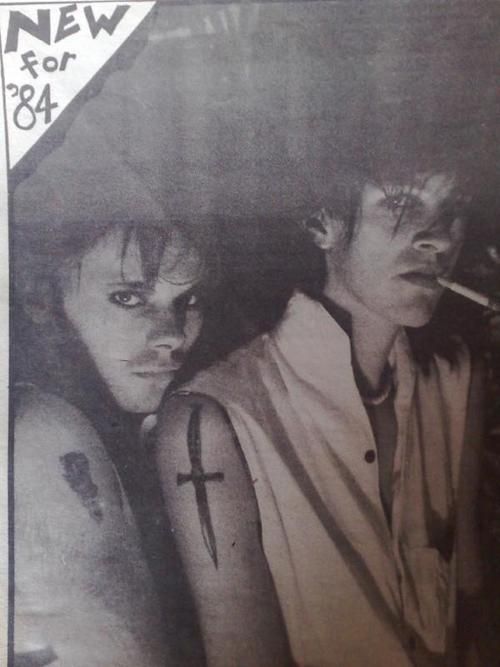 Cracks were appearing though. 'It went to Scratch and Tunkie's heads in the end. I knew things weren't well when I turned up at Grannies Studios to find Scratch pinned up against the wall by Mark. That was the beginning of the end.'
The divide remains to this day, Tunkie says, 'We'd [he and Scratch] been going it alone from day one. We were writing the songs and the songs were everything. Graham left the band four times between February and October. Mike three times, they were regularly late for rehearsals; they didn't care enough.
'We discussed getting reliable musicians all through 1984 but really decided on 4.10.84, the morning of the first recordings for the No More Dancing EP. I arrived to find some argument had resulted in Scratch hitting Mark, Graham was moaning as usual and I found Scratch at a nearby café. That was the point at which we decided but we weren't going to waste any more time with them. Should have done it a year previously.'
The record was released on 19th October 1984, we told the others we no longer wanted to work with them exactly three weeks later. We'd already lined up a new rhythm section and began rehearsing within days.'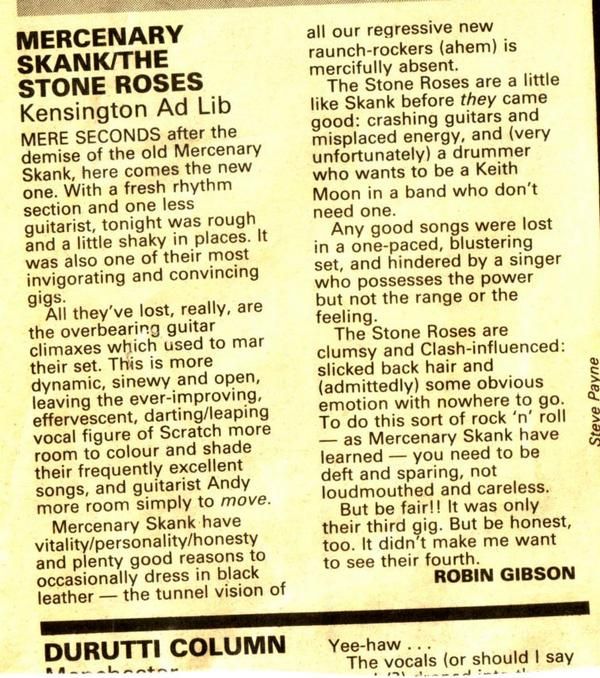 It certainly was the end for Graham Bevins, Mike Crees and Mark Jordan. During those three weeks they had heard rumours of the band's demise from outside sources and Scratch announced that Mercenary Skank had come to its natural conclusion; he really meant that he and Tunkie were carrying on without the other three.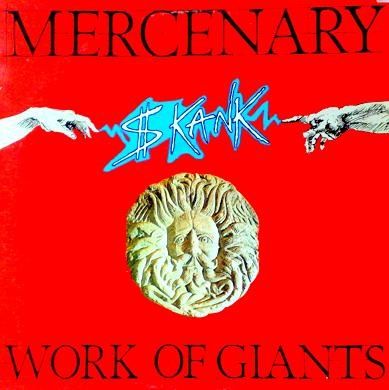 Scratch and Tunkie recruited new musicians, including Dogs D'Amour's bassist and they promoted the Work Of Giants 12″ EP (Somewhere / Endurance Highway / Willy Tears / Dub) on Backs Records (of Norwich). The release benefited from stronger songs, in particular the lead track, and a better production with Perkins' saxophone blending well in the track. Again, and perhaps significant to the band's eventual demise, the vocal delivery lacked any real distinction. Caroline Reed continued to manage them along with her other charges, the Stone Roses who supported Mercenary Skank in 1984/5.
Andrew Tunnicliffe's take on the Caroline situation is very different, 'She understood what we were about. She got us three single deals, got the second one noticed in the US, the TV coverage, the final BBC Radio 1 live performance, top gig slots; in hindsight I'm amazed she put so much faith in us, we were so chaotic and unpredictable. She was forever having to apologise for us.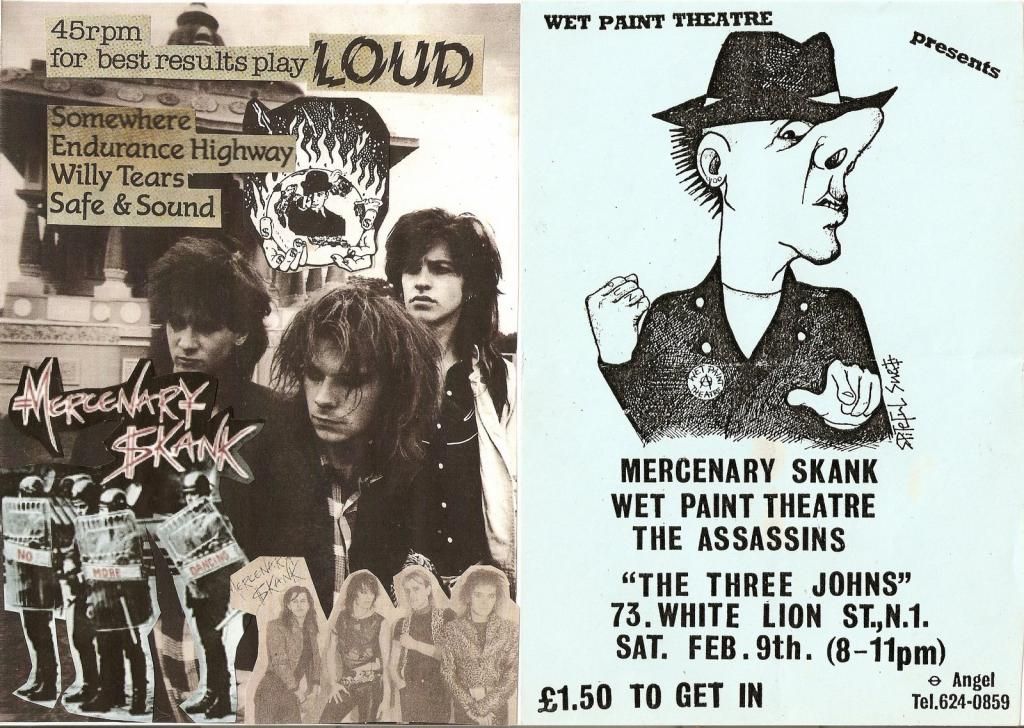 'The HTV performance was supposed to promote two songs from Work Of Giants but we sabotage this with deliberate chaos and were stopped after a shambolic version of Somewhere. At the Radio 1 Saturday Live session (this is the afternoon daytime show) we were expected to play the slick third single Ghosts but we made an awesome racket with guitars and early samplers while Scratch sang inflammatory lyrics about BBC coverage of South Africa and the Miner's strike. Caroline was told we would never play live on the BBC again. We were unmanageable.
'We were never going to get a major record deal because we were never going to play the game; Scratch and I knew what we were doing was real art, and Caroline knew it too.'
The third single was shelved for whatever reasons by the band and everything seemed to fall apart. 'After our final performance which was the Radio 1 session we felt we couldn't take it any further so we decided to stop. It wasn't a split it was a mutual decision' says Tunnicliffe, who went on to play in Hammersmith based Ironic High Style in the mid-80s and sold stall space on Camden Market. Scratch became an antique furniture restorer in Devon.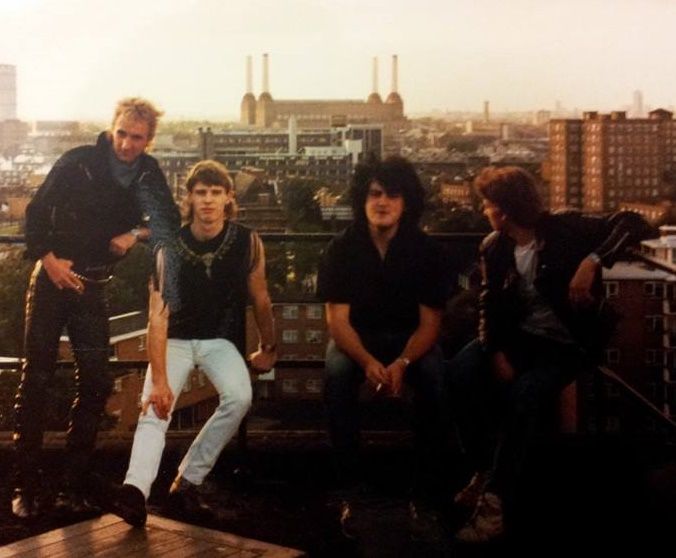 Having being ousted from the band Graham remained in London and got a new group together (pic above), 'I had a go at guitar and vocals with Steve from Swansea on bass and Jimmy Fitzgerald on guitar. We were rehearsed and ready to gig, but I dunno what my frame of mind was like and I decided to move back to North Wales. Probably because I was in too much debt.' Graham is now a web designer in Prestatyn and still dabbles in music, running a home studio for bands.