The exponential rise of the UK DIY festival continues at such a pace that we now have quality warm-up all-dayers linked to the already immense main events of the subsequent weekend.  With my own lunatic road tripping plans already sorted that include the Sunday of this years 'Kin Hell Fest the prospect of this prelude was almost a peaceful party in comparison.  Yet, with realism, a 12 hour drinking session in the face of a trusted selection of prime local and UK underground extremity and a special US import headliner in Eagle Twin was inevitably going to lead to a messy fun time and do the perfect job in reducing/enhancing the stamina for self-destruction in the rest of the summer's madness.
After establishing a base camp at a B&B close by it was a short and not so scenic walk up to the venue on the edge of the M621, industrial units converted smartly into studio practice rooms and an open room with stage.   This part was going to provide the second, smaller, stage for Kin Hell Fest but was still an excellent set-up and even at this early stage there was a good gathering of local regulars and some who had travelled further.  Unfortunately had missed opening band, the corpse painted  blackened deathsters Sathamel on their home turf but was soon swept along by the absolute battering delivered by Bludger.  A band that really lived up to their name, with an almost sludge-heavy riff to their hardcore and a bundle of energy thrown in to the performance.  Not shying away from political ends to their means, they even break out a megaphone at one point to emphasise their railing against the Nazi's/UKIP.
The two-piece death/grind action of Rectal Implosion next, far more fun than their name might suggest to the uninitiated.  Really sharp drumming and churning riffing combine for a meaty sound, with a good bit of party-time bounce when breaking down form intense blasting.  No rest given for drummer Warren, with a back to back set with another set of local cacophanists next, No Fucks Given (above).  The whole band have been or are involved in various other extreme bands and come together in a celebration of blistering tech-grind jazz-jizz, while still mixing in other crustier riffing or doomier atmospheric slower sections.  Not sure if it is a brief respite for festival organiser Paul on bass or maybe he's just a glutton for punishment!
A real shift down in gear for Gods of Hellfire (above) who are much more traditional in their approach to metal, but fair play their thundering doomy riffing is really solid with a good Danzigy lead vocal too.  There's a touch of Amon Amarth there for me, I am also amused by the bassist leaving through the back door while playing as he's fed up with interminable guitar solos too!
There's plenty of opportunity to have a chill out in the sun on the tarmac out in the yard, sure it will make a great social space for the main event with merch stalls and food, but for now have to feed the five thousand on my limited supply of jaffa cakes.  Time for fast again with Black Skies Burn from down Oxford way, who have a pretty raw grind/death attack and again inject a bit of humour in their performance, including top gurning action.  Bit of crossover thrash action into the mix and keeps the fun rolling along.
Off another tangent next with Cattle, inevitable with the musical ingredients of vocals, bass, and two drummers slotted together on the stage.  With the strong distorted bass grooves and the intricate subtleties of the building layers of rhythm, an easy reference to the likes of Nomeansno meets the Melvins.  The vocals are heavily effected and add to a swirling off-the-wall alternative experimental mood that is moreish.  Strict confines of precision with Scouse black metallers Ninkharsag next, who have proved in other recent live outings their skills in delivering an atmospheric onslaught of darkness.  To be fair there is a pleasing retro rawness to the tones of some of their riffing, but excellent musicians really add some depth to the structures of their songs, even if the pesky sun is still cutting through the smoke machine's attempts to bring the gloom at this time of the evening.
Another really familiar band next with Bong Cauldron (below), bathed in appropriate green smoke, but there's not semblance of that breeding boredom or indifference, they are more enjoyable each time.  With monstrous tones and shifts of rhythm through their chronic stoner doom there's always some new hook or groove in the three-piece's approach, and some of their longer standing songs are held as classics already.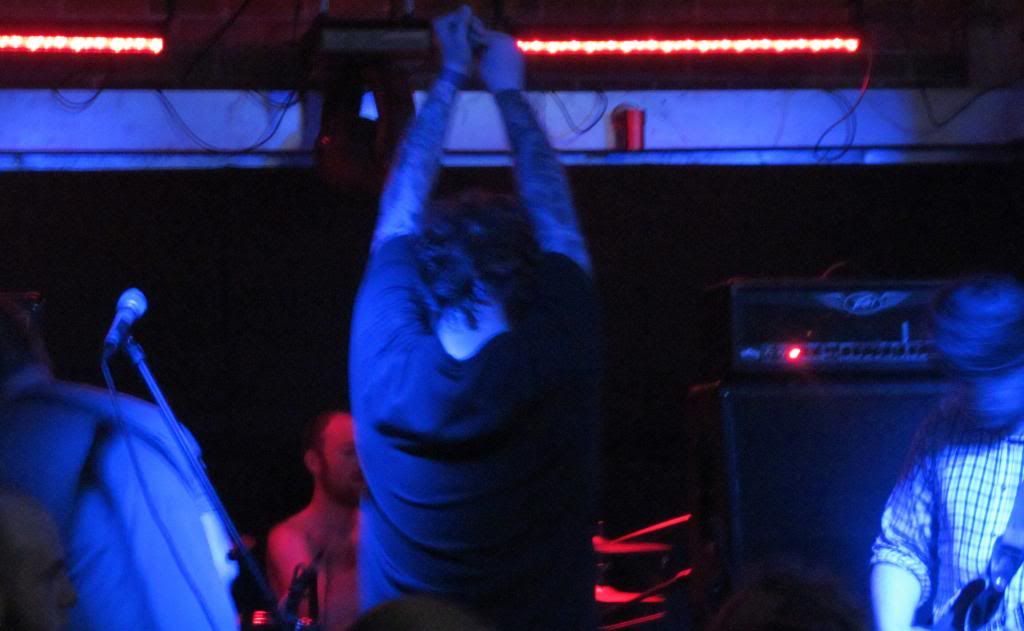 Earlier than expected, but probably because some well advanced jooging had already been  undertaken, legends of the local streets and back alleys The Afternoon Gentlemen (above) brought their blisteringly harsh mix of grind, power violence and good old fashioned pissed up crust party.  I'm sure the vast majority like me had already encountered the tramp-core before but far from crossing the street to avoid we all embraced like the best pals ever and got suitably messy.  Great stuff.
The nightshift is welcomed in by a ferocious invasion of death metal from North of the border, Scordatura (top).  To a bloody red back and fore ground they tear through a harsh set of tight riffs, stabbed changes and relentless energy that compares favourably with their compatriots Cancerous Womb.  Really do sound the finished article, testament to their ability to write punchy songs that keep the energy in the genre without becoming generic.
Always a highlight for me wherever I have seen them and the daytrippers from London, Palehorse (below, and bottom), again draw us into an outstanding a pretty unique performance of their experimental  alternative heaviness.  Of course I am massively biased to their two bass avalanche of filthy rhythms but part of their intrigue and captivation is their blend of the light and shade, largely conducted  through Nikolai's vocals (although when they have two marauding vocals it's even more intense).  To go from thrashing, screaming whirlwinds to placid introspection while we sit round on the floor in the pit for a while , before surfing back on the tide of fury once more is just beautiful chaos.  The band themselves consider Leeds their home from home and evidently love the reaction and interaction once again.
With time having slipped a bit there's a last minute switch to get the headliners Eagle Twin (above) on now.  The more I get to hear of this two-piece and their haunting, Neurosis/Country style, the more I am drawn into bleak world of baritone guitar dirges and loose drumming tribalisms, while absorbing the raw gospel of a story unfolding over one unbroken 40 odd minute set.  Excellent, hypnotic end to the evening.  And yet not, as that swap meant that death metal horror show Foetal Juice were left to wreck the joint.  As I had experienced myself recently, midnight sets after a long drink do not make for a consummate professionals, but though the singer fell over and destroyed the drums a couple of times, there was a careless abandon to their furious fun and the core brutal riffing of the songs carried us over the finishing line in a hilarious shambles.
All in all seemingly a great success, from the thought gone into the organisation to a cherry picked line up of quality bands.   I felt well and truly riffed and home from home in Yorkshire mayhem.