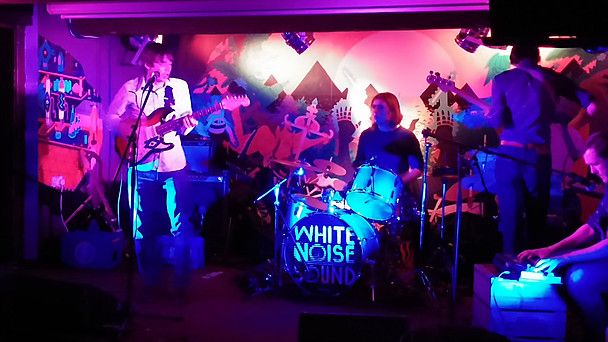 (review n pic by adam walton – orig posted on BBC blogsite )
If you listen to 'new' music, there are odd, discombobulating moments when it sounds exactly like you've tumbled through a wormhole back to 1968. Psychedelia is everywhere, so perhaps that should have been 'wyrmhole'. 
The Wytches, Temples, Hookworms, Toy, Tame Impala, Wooden Shjips…
This isn't, in itself, an entirely new phenomenon. We've vibrated along with a resurrected psychotropic drone before: Dukes of the Stratosphear, Spacemen 3, Loop, My Bloody Valentine and their lysergic brood. Some of Wales' greatest bands have more than an echo of Love, Soft Machine, Pink Floyd or 13th Floor Elevators about them… Gorky's Zygotic Mynci, Super Furry Animals, Cate Le Bon.
But this is more present, more now.
It's filtering through to the mainstream, too. I've seen tie dye t-shirts on the high street. Toy and Temples have been heard on daytime 6Music and before 10pm on Radio 1.
It's far out, man. And woman.
Hippy speak definitely needs to get with the modern agenda.
Soar Angelic is a new 'psych fest' at Telford's Warehouse in Chester, inspired by all this modern retro-activity, and similarly mind-warping events painted across the rest of the country in a paisley swirl.
Tonight, two Welsh exponents of different hues of the psychedelic spectrum are playing.
"We're not really a psych band, or a garage band. We're into loads of music: Bo Diddley, Kraftwerk, The Sonics…" says Huw, singer with Liverpool's The Wild Eyes, but originally from Wrexham.
He doesn't look very 'psychedelic'. Pretty normal haircut. Nothing obnoxious about the colouring of his shirt.
However, he's a different presence, entirely, on stage. Wired to the spirit of his band's sound, Huw is more Ian Curtis than Arthur Lee. When some bands mine from the past they forget to put enough of themselves into the equation, but not The Wild Eyes. You get the sense that they'd sound like this regardless of which era they happened to be making their noise in.
It's very telling that the 'Wild' in 'Wild Eyes' isn't spelt with a stylistic 'y'. This isn't about style, or revival, it's entirely about soul. They're a rhythm and blues, early Pink Floyd, Syd Barrett if he'd been on Chess, not Harvest.
They're great. Despite the swarm of bees that appear to be living in the bass amp.
White Noise Sound are intense young men from Swansea. They've been making wonderful, drone-laden music – somewhat in thrall to Spacemen 3 but with enough of their own dynamic for it to move people in its own right – for some years now.
Their excellent, eponymous debut album was released on Alive! Records, a U.S. label that was the original home for the world-conquering Black Keys. A couple of years ago, that was the only feasible outlet for a modern psychedelic band. At that time, British 'indie' music was all about flourishes of Soweto guitar, or 80s keyboards. White Noise Sound went where they would be more appreciated and made a great record.
They've been working hard on the follow-up to that album for the last couple of years. There are rumours that Pete Kember (Spacemen 3's Sonic Boom) is involved. Cian from Super Furry Animals has mixed the new album. It's a very exciting prospect.
However, watching them tonight, I get the sense that they're ring rusty. This might be the first time some of these new songs have been played live. They stutter into life with uncertainty. The main vocalist has sheets of paper with the lyrics scrawled on them, on stage.
It's all a little awkward and unsatisfactory. But it also sounds truly magnificent when the songs do manage to build momentum.
They should probably have never done this gig. It came too early for them. But even without enough rehearsal time, they sound luminous and intense on enough occasions for it to very much whet my appetite for their new album.
I look over into the audience and there's a man in a tie dye t-shirt. It's the guy who, back in the day, introduced me to the music of Love, The Turtles, The Zombies, Dukes of the Stratosphear, King Crimson, Pink Floyd, Bonzo Dog Doo Dah Band, The Byrds in the front room of a terraced house in Mold.
He has a big smile on his face. That'll do for me.
All in all, then, a thoroughly enjoyable celebration of the in sound from way out. Again. But more, much more, than the sound of imaginations withering on a revival psycle.