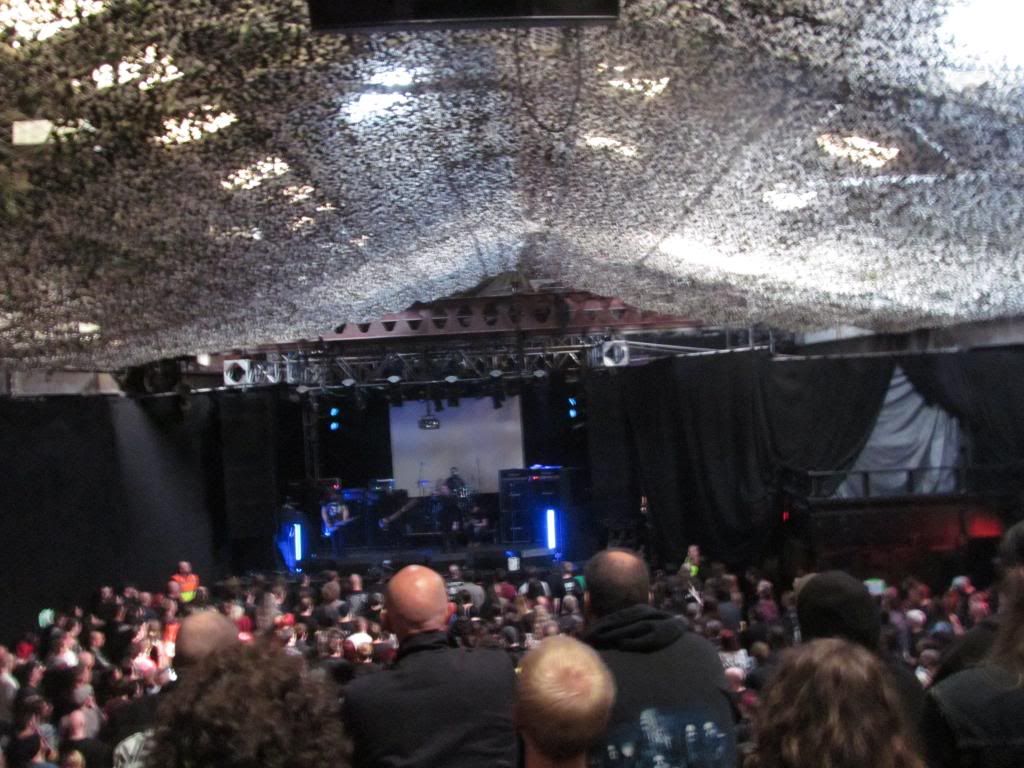 A new extreme metal festival in the UK?  As your tireless reporter (ahem, unpaid!) I felt duty bound to investigate its credentials.  Never mind the slightly more selfish reasoning that the organisers seemed to have cherry picked some of the stand out bands caught on my recent European jaunts (been reading my reviews? 😉 ) and stuck them all in a converted warehouse in Bristol. 
It wasn't just my interest peaked, there was a load of expectation and excitement over the line-up that was bringing in visitors from around the world, just like the bands.  A shame it had been announced later than certain Northern Festivals clashing this weekend, would there be enough interest to go around?  I was never going to be able to do the whole 3 day weekend  anywhere due to other commitments but despite  personal favourites Jucifer and The Secret falling on days either side, the Saturday led by Neurosis looked monstrous enough for a roadtrip in itself.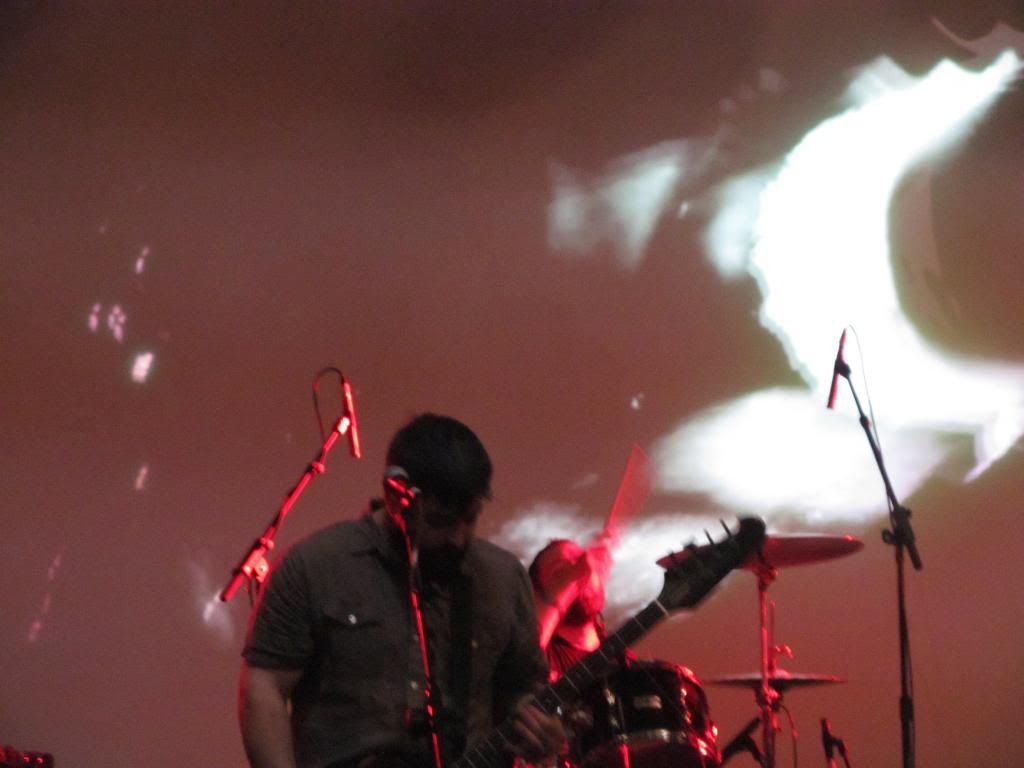 An early start disposing of kids in the wild up the valley freed me to fetch some other reprobates from Merseyside and head south.  It's a fair slog down but we are greeted by a lovely sunny day so are in good spirits (and superstrength lager) when we walk in from our B&B to the venue around lunchtime, very close in to the city centre and Temple Meads station itself.  A smooth enough entry and a chance to check out the huge main hall, catching the end of M.G.R. opening  the main stage  An American band of an ex member of Isis, and pretty much in a similar vein from what we saw, post metal riff work-out, instrumental fashion.
We were being surprisingly sensible and given that the vegan catering had fallen through and we had those requirements we headed out again to get sorted in the centre.  £10 gourmet burgers in a pub was not so appealing so we ended up with beer and Subway before returning to catch locals Sonance (above).  Having just picked up their recent "Like Ghosts" release I was looking forward to hearing their progressive and experimental blackened heaviness.  It certainly hit the spot physically with a huge reverberating sound system as they worked through their emotive dirges, occasionally thrashing into more violent life, all backed by atmospheric visual projections.
A further break in the sunshine and the quite pleasant outside zones, mooch the merch, before coming back to see a bit of Bossk (below, and top).    Initially from the small balcony area at the back, then spot other friends below and able to squeeze through to join up in what is already getting quite a packed crowd.  A long way in many ways from when I last saw these progressive post metallers from Kent in the basement of a kebab shop in Liverpool, but after a hiatus they now seem to have returned bigger and more determined than ever, and their impassioned show is well received.
A first check of the second stage for Mob Rules, the railings obscuring once side of the stage are a bit awkward/annoying and for now the couple of heavy stripped down punk numbers I see are a bit unremarkable, even if they've got a good rhythm to it.  So out for some fresh air by the river in preparation for the absolute sonic beating to be delivered by Conan.  The place is still rammed but even from my distant spot I am shaken and stirred by the wall of distorted noise relentlessly blasting us.  They don't rely on speed, just crushing doom rhythm and sludge groove, in my fragile state I do think I'm not going to last the distance but ride the tsunami and end up on some transcendental shore appreciating this being the best I have seen them yet.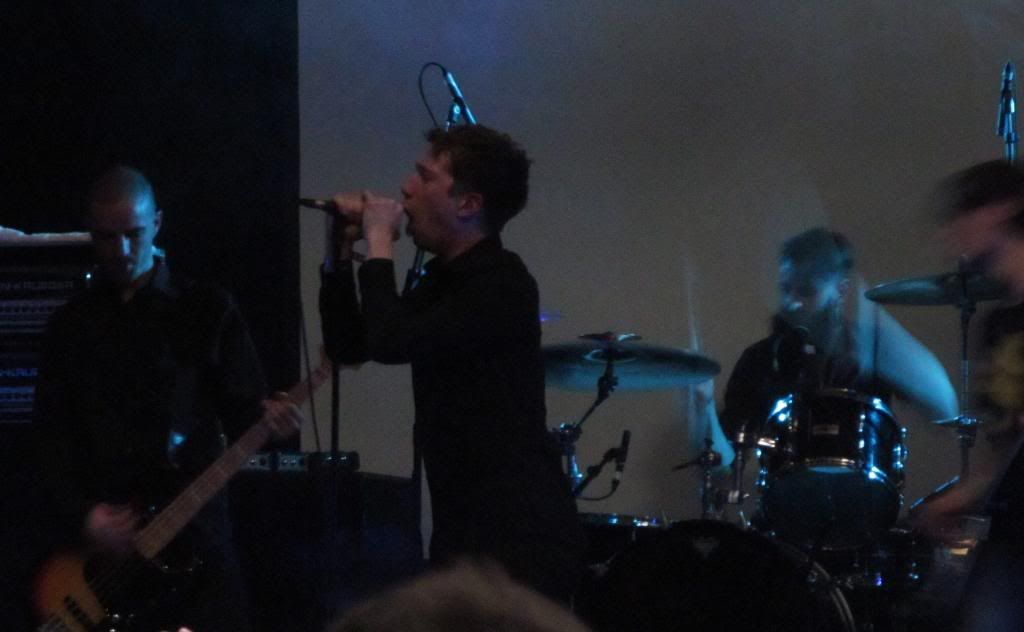 It could have been in contrast to the main stage power but Unkind (above) next on the second were simply not the best I have seen them, and this became a theme in here which was somewhat of a disappointment.  The Finnish melodic crust act had been a ferocious treat when seen in the upstairs of a pub in Leeds last year but here I felt they were robbed of their balls by a sound that was too top-end and they just didn't cut through as well.
A Storm Of Light (below) on the main soon restored faith, the industrial tinged heavy grooves multi layered with strong soaring vocals too.  Sadly they seem to have lost their Carcass fan girl guitarist since I last saw them supporting Sleep but the power of the performance remained, especially with tracks from my personal favourite album "as the valley of death…".  Josh Graham is also keeping up his visual skills honed in Neurosis with their own transfixing back projection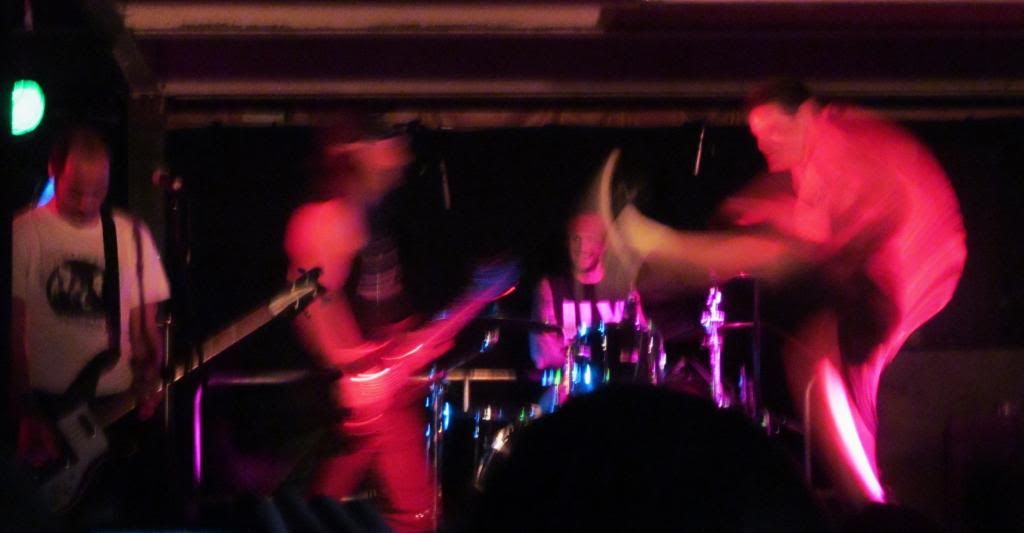 Vitamin X (above) had expressed a feeling of being odd man out in terms of their style on this day, though there was SSS too on the Sunday.  Don't know whether this led the German crossover hardcore team to not going quite as crazy beserk as I have seem at previous shows but while the short, sharp bounce and blast attacks were enjoyable again it seemed underpowered.  First time to see New York's Tombs (below) again since a devastating performance at Roadburn a couple of years back, and using my ninja skills was able to get a good deal closer to this performance.  A clearer cut but again incredibly powerful sound mix to savour, their mix of Unsane-like rolling hardcore riffing blended with black metal blasting is something pretty unique and very enjoyable.  The attention is definitely captured and dragged along through their shifts in mood and speed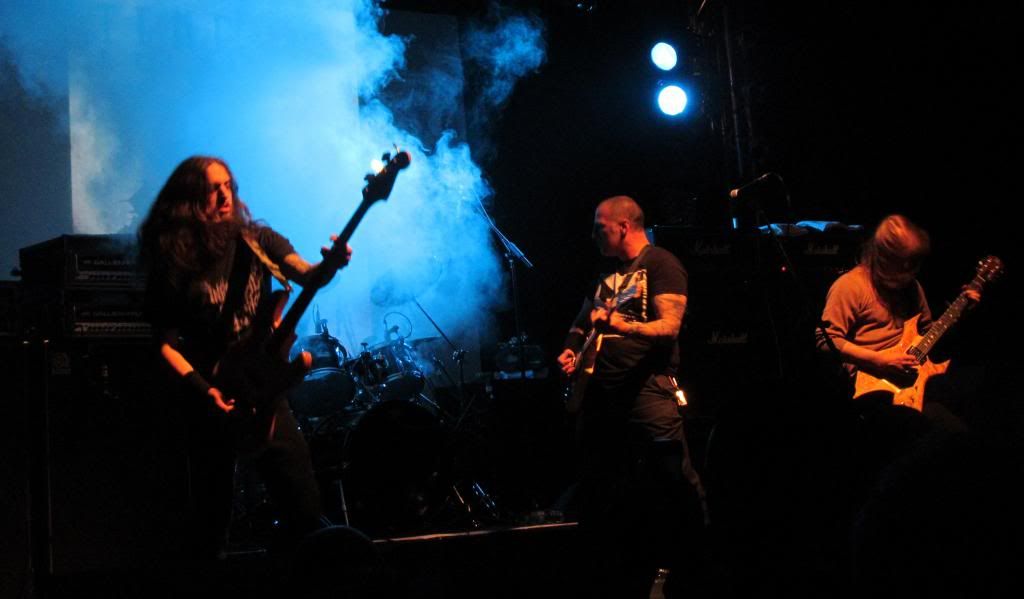 This was the apparently the first gig for legendary Swedish crust band Wolf Brigade (above) in two years, which may well have taken it back to the time I saw tearing the evening up in the mayhem at Obscene Extreme.  A shame then that initially I felt the sound on this second stage didn't do them justice, at least initially.  Of course it didn't stop me piling into the pit and enjoying their mix of melody and aggression, but if this was the particular draw for a lot of people here it could have been better.
I watched some of Belgian's Amenra who have always delivered when I've congregated at their self-styled post-metal Church before, and again this was darkly atmospheric and raw catharsis of thundering riffs, gloomy breakdowns and with the projected backdrop a hypnotising vision of hell and hope.  The scale of the main hall and it remaining oppressively black hole of Calcutta like meant I didn't last long too long and wrestled my way out of the constrained entrance/exits once more to chat and drink with friends old and new before summoning up the energies for the last killer one-two of the evening's headliners.  Home –grown crust attack from Doom first, with the sound finally seeming up to a decent level and while the majority of the set was familiar to a fanboy like me there was a sprinkling of tunes from their raging new "Corrupt Fucking System" album  that matched the level of un-righteous anger of their classics in the set too.  Great lively fun, before facing once again the exercise of getting into the main hall for Neurosis (below).  Inevitably for a rare UK appearance for the US behemoth of atmospheric metal people were here to see them, and whether all those people could actually get in to do that was a moot point.  Anyway, a spot could be achieved and the huge, arching, volume to these epic sonic constructions appreciated.  Still playing in near darkness since dropping their backdrops a while back, it meant the focus was on these intense musicians and again old favourites like "From the Hill" and "The Tide" hit the spot deep inside once again afresh.  These two alone made almost 20 minutes together and there was no rush to their set or curfew, but as my friends were less than happy about the conditions in there we left into the dark with the last tunes still ringing into the distance.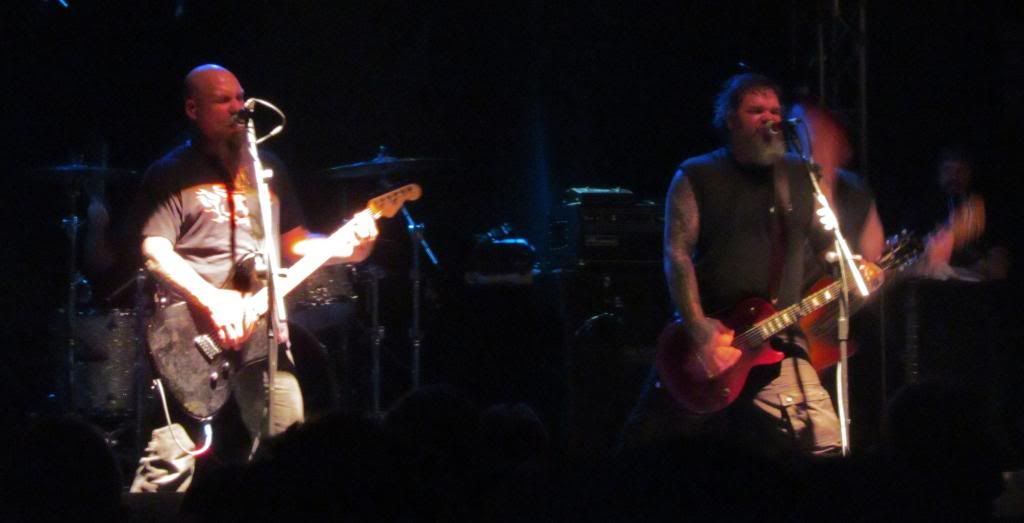 Not without its flaws then in its inception or delivery but for the collection of bands put together and those that did have the main stage sound to add a whole new level of visceral enjoyment to their performances it did add up to something special in terms of the event.  The attendance and majority response does seem to have ensured it will return next year, perhaps with a different setup, so I will be interested for sure to add this to the already hectic annual calendar.