After a very enjoyable visit last year was glad to make the trek to keep Subvert on the list of excellent underground punk mini-festivals that are scattered around the country.  With a trip on anyway was also able to bundle a couple of the Auralskit members in from Scouseland as well as some other regular reprobates and we were down at venue early evening on the Friday. 
The venue had been downscaled since last year at the Fleece but it still looked a decent setup so after abandoning band gear there and my car in a bomb crater we wandered into  the centre for a bit of nightlife boat action before getting back in time for the first bands.  First up was a late addition Volatile Idea, young band and a little awkward on stage but you could see the seed of something developing there, in their angular, Dead Kennedy's style energy.  Auralskit (below) were second on and delivered their raw crust in a pretty relentless fashion, Matt always an entertaining frontman as he seems surprised with their own competency while roaring like a beast.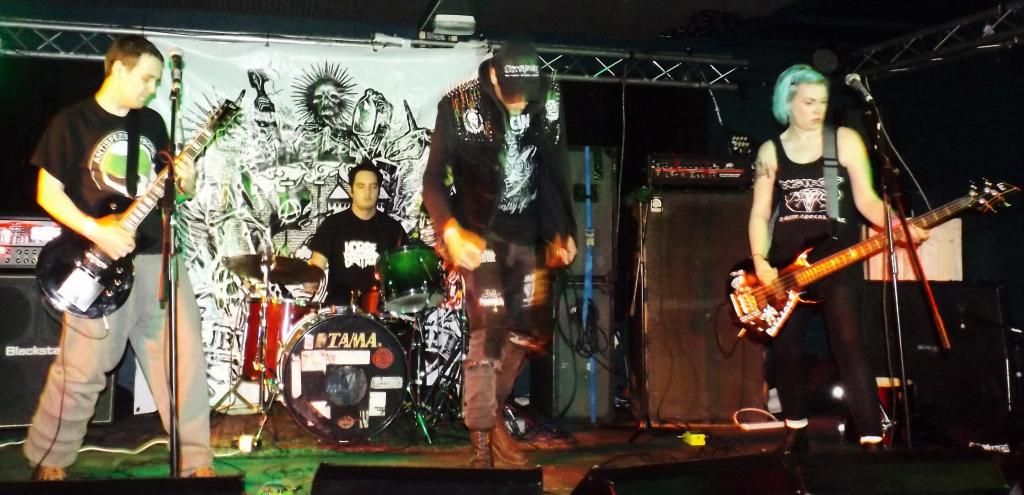 Seeing Split Veins for the second time/festival in a fortnight and was still very much enjoying their huge sound and hypnotic rhythms, hardcore with an interesting sonic twist.  Local legends Bullet Ridden were also a late fill-in for North Wales' own Global Parasite (whose future is uncertain) but were certainly welcomed, super heavy crust with singer Martin roaming round in the crowd to bring the fury into our faces.  Gift of Death is basically most of London's Agnosy with singer Katerina and did have a lot of the similar aggressive yet progressive mix of hardhitting crust and more brooding sections.  Lost Union (above) from Belgium were the revelation of the day for me, with a striking mix of cross-over style hardcore and epic post metal atmospherics.  SSS meets Amenra may sound ludicrous on paper but live it really worked.  To finish the day the two-piece of Active Minds summoning up some intensity with their impassioned but pretty clear cut punk, unfortunately by this stage my mind was getting less than active so time to retire
Saturday saw us a Saw man down so it was left to me and El to venture on a tour of Spoons, and records shops and stalls, catching up with more people later in the day and making our slow progress back to the venue.  Despite us giving them custom we were initially worrying to some publicans, but we won them over with our charm!  We'd missed the first band (but not much apparently) and then we had the two piece treat of Monolithian, from either further into the South West.  They still summon up the subterranean stench-core of rumbling doom with their distorted bass and drums combo but there's a lot of faster snarly material in there too, look forward to their forthcoming new album.  Slug (from London) I'd last seen at Dirty Weekend festival and it was pretty straight forward melodic yet raw hardcore, the singer doing himself a head injury Slapshot style but seemingly still enjoying himself.  picking this up to hyperspeed next our friends from the North The Day Man Lost (top) with their short blasts of grind efficiently delivered and as ever vocalist Ben not letting anyone rest easy on their morals.  Minor chuckles over the drum kit falling apart from Stu's pummelling but doesn't distract from the intensity.  Another interesting shift in style now with late addition Italians Alfatec, (above) driving hardcore very reminiscent of their home scene standard bearers Raw Power but with their own twist, and a very engaging and dynamic frontman.  I'd been hoping for the chance to catch locals Svalbard (below) in their home town earlier in the year at Temples Fest, but they ended up being on a different day to my attendance.  So the lengthened anticipation is ended all the more satisfyingly with their splendid ultra-dark post metal tinged hardcore.  Excellent impassioned shared vocals and progressive structures among the raging certainly left me wanting more.
They certainly provided a fine blend to Liverpool's We Came Out Like Tigers (above), who were somewhat of a surprise on the bill but having seen them supporting Unkind before maybe shouldn't be.  For all they have the challenging aspects of sung/screamo-ed sections and the singers occasional use of violin they retain a furious and blistering core of blackened hardcore, a transfixing concoction that reminds of the focus of Palehorse.  The Swedish guys from Crutches (below) had been around all weekend (with their crutch), and were thoroughly entertaining nice guys that made the pleasure of seeing them deliver some superbly fast and heavy crust all the greater.  Colossally fuzzed-up bass tone and an acrobatic vocalist some of the other pluses, plus the drummers metal work skills on the merch!
An old-school interlude next with Zounds, legendary anarcho band that started out back in the '70's.  A very colourful shirt from main man Ste certainly stood them apart from the black and white uniform and they were pretty much as expected in style, less about the aggression and more about the message, underpinned by some hypnotic almost dub heavy basslines.  Keeping it super heavy next with Visions of War (above), who (at this time of evening) we were a bit confused about whether we had actually seen before, but that didn't matter as were swept along with the steam roller of crust.  Somewhere between the middle ground of early Bolt Thrower and ENT, it was headbanging stuff indeed.  Finally to soothe us into the night, Saturnine (below) bringing their old school ultra-doom from Italy and Belgium.  To start with it was a mellow drawn out St Vitus style before the distortion and ground shaking reverberation kicks in, but it's a pleasure to hear/feel and enjoy the contribution that each of the members makes to the overall sound, they are so much more than the sum of their parts.
You could say the same of the festival, even though the Saturday especially was one of the most satisfying collection of bands I've seen in a while, there is so much unwritten value in just the gathering and atmosphere down here it will definitely remain a choice destination if hopefully they have further ones in the future.