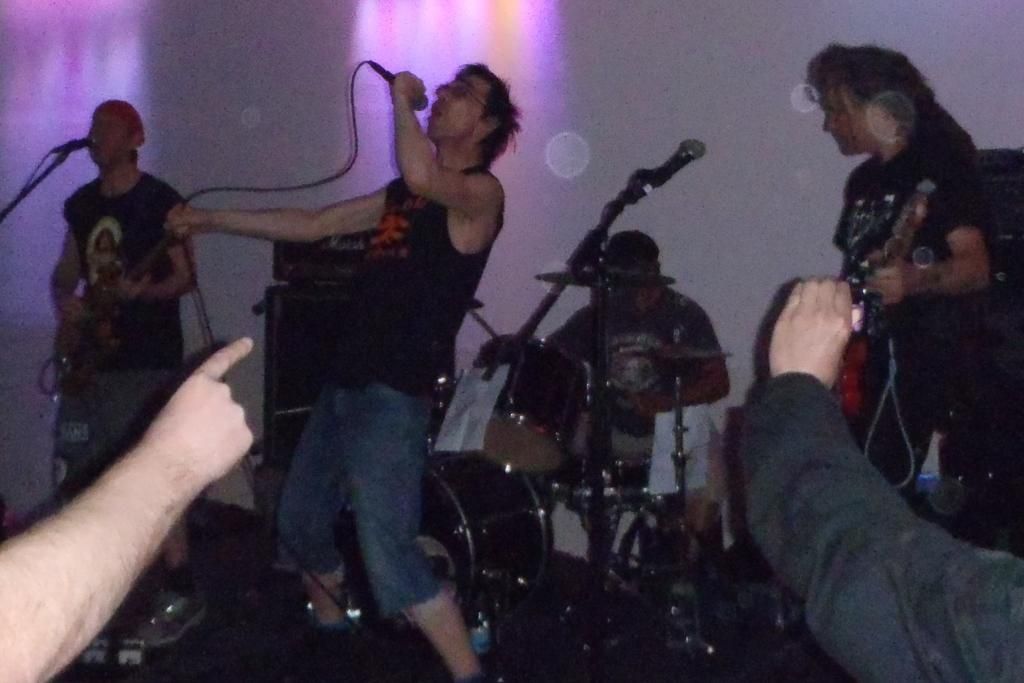 The legends of UK punk have been consistently delivering the goods since the 80's, the more recent times I'd seen them they'd been great, so with a fantastic selection of supports too this trip up to the 'pool was far too good to miss.  We were a bit concerned we would be missing some while stuck in traffic on the A55 while the road was being washed (got to keep the welcome mat clean for all the visitors) but when we arrived the first band were literally just starting so all worked out perfectly.
Had caught Two Sick Monkeys (above) at a previous Dirty Weekend Festival in Wrexham and was thoroughly entertained once again. Just a two-piece of bass and drums (only one musician too many then 😉 ), they still create a lot of power with lively rhythms  inevitably akin to the Nomeansno, although sometimes the lines get a bit blurry with the speed.  The excellent vocal trade-offs and melody adds a bit of old school Misfits to the mix, all round it's a confident performance.
Just a warm up for the bassist, as he returns for the even more raging Dead Subverts (above) next.  As they say, they haven't played since last summer and it's longer since I've seen them, but on the back of one practice they have definitely stored up a lot of anger/energy as they rip through some really heavy hardcore.  The three-way vocal attack is intense too, and they make no bones about taking the opportunity to share the socio-political context and content of their material.  Makes me want to go back and listen to their split with Global Parasite again.
Luvdump (above) retain a lot of bounce with their especially energetic singer, but they are a degree lighter in their hardcore in comparison, more melodic in their vocal harmonies.  What they do really well is shifts in tempo, building up the pressure but also dropping down to their ska/dub style breaks., which is enough to start getting people grooving.  They share the same motivations in their lyric content which is also good to hear.
It's certainly an excellent turnout for the gig too, young and old(er), and a great atmosphere but faced with wallet-raping prices here for supermarket beer we have a little interlude next door at the adjoining Camp and Furnace venue for a proper pint.  Except we don't cos after 20 minutes waiting we figure we maybe have to wave a £50 note to get served, or maybe they are just a bunch of fascists.  We also have a chat with Subhumans bass of the day Jay, also fresh from fellow Bristol adventures last weekend and encouraging us to the magical mystery tour of the B.O.B Festival.
We return to the fray having lost track of whose on next but then with the great revelation of Seven Crowns (above).  The hardcore punks from the South West swiftly become one of my new favourite bands, with a great driving bass sound (Peavy power!) charging their music along with almost a rocking tone, like Zeke.  Added to that a pretty impassioned singer they have a relentless vibe and catchy shouted chorus hooks that really do it for me.  Apparently they've been plagued with difficulties this last year so cool to see them fired up for action again, even if there's more chance of seeing them in Indonesia than over here!  They kindly offer free vinyl and a queue has formed at their merch before they have chance to get off stage.
Finally, Subhumans (top and below), with frontman Dick instantly engaging with his "Wednesday is the new Friday" banter before they throw themselves into their about 20 song set.  In contrast to the proceeding sonic aggression there seems hardly any distortion applied to their sound, but it removes none of the impact as their convoluted riffs and structures fly along.  There's proper happy mayhem inspired in the crowd, and great sing along familiarity with songs classic and newer.  Humourous, thought provoking chats/rants intersperse a lot of the songs, and also give the perspective of how much issues they've been addressing over their lengthy career.  Ultimately though, they seem to remain as vital as ever so all hail to them for bearing the standard still, having the energy themselves and to share with / inspire the rest of us.
A top collection of bands, and signs that the punk/alternative scene in Liverpool is really starting to get somewhere again.  Support it!  Enjoy it!