A good mix of the alternative extremes in the underground metal and punk scenes, gathered together for a fundraiser for people living in the day to day extreme of Palestine, that intangible place in danger of being wiped off the map indefinitely.  The original promoter having been otherwise occupied (like the territories) guys from the bands had taken up the reins to ensure this event went ahead and make some success of it seeing as it was already up against it, being on a Sunday. http://www.map-uk.org/donate/donate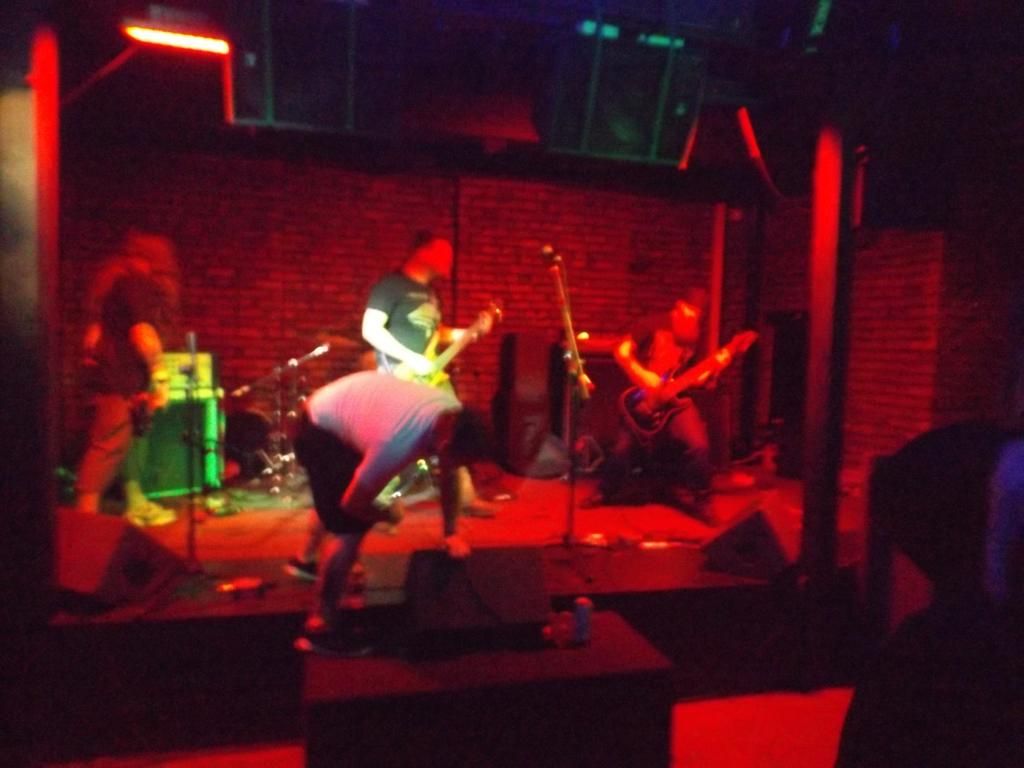 Other commitments meant I was also turning up late, missing a couple of bands, though I was pleased I was in time to catch some of local lads Dismal (top).  Their colossal, snail pace reverberating doom is to be savoured, as is seeing the debut of new drummer Joe playing at an nth of the speed he does in his usual grind bands.  A trip across the road to the cheap and cheerful boozer The Poste House for an interlude while Leeds' Masochist are on, I had seen these and their sharp modern death metal before over at a previous 'Kin Hell Fest.  Returned in time for things to slow right back down with Wizards Beard (above), who were new to me but I recognised singer Chris from his previous work with Agent of the Morai.  Two bass power in their filthy sludge dirges was always going to win me over as well, although they could have tried more variety between the two of them, really cathartic stuff.
Manchester's Pine Barrens (above) next, been a few years since I saw them supporting Black Breath over there.  I had picked up and thoroughly enjoyed their vinyl album (cheap!) in the meantime and the eclectic mix of blackened hardcore comes across well, swinging from blasting fury to anguished atmospherics easily.  Next time for me to do a shift as I play a last gig after 18months with Scouse noise punks Skitvarld (bottom).  The usual mayhem gets a good response and it's definitely / unfortunately leaving on a high, hopefully the crusty old onslaught will go from strength to strength.  Up from the West Midland's is Christgrinder (below), doing pretty much what you'd expect under that moniker.  Technical and progressive blackened death, all in suits bringing Akercocke to mind, but offsetting the dark and the harsh with banter and some amusing short songs thrown in.
The day ending for me with a pleasing return of the city's finest gore/death metal Neuroma (below), a few years since played on a bill with them with Merciless Savage and since they have had a bit of a hiatus.  Back with a vengeance now though, with tight, brutal death, possibly a hardhitting complement to Foetal Juice as they share the same twisted humour.  We are treated to new material in the shape of "Planet of the Gapes" (orang utan prostitute, anyone?) and they have a new album "A vile product of the welfare system" coming soon.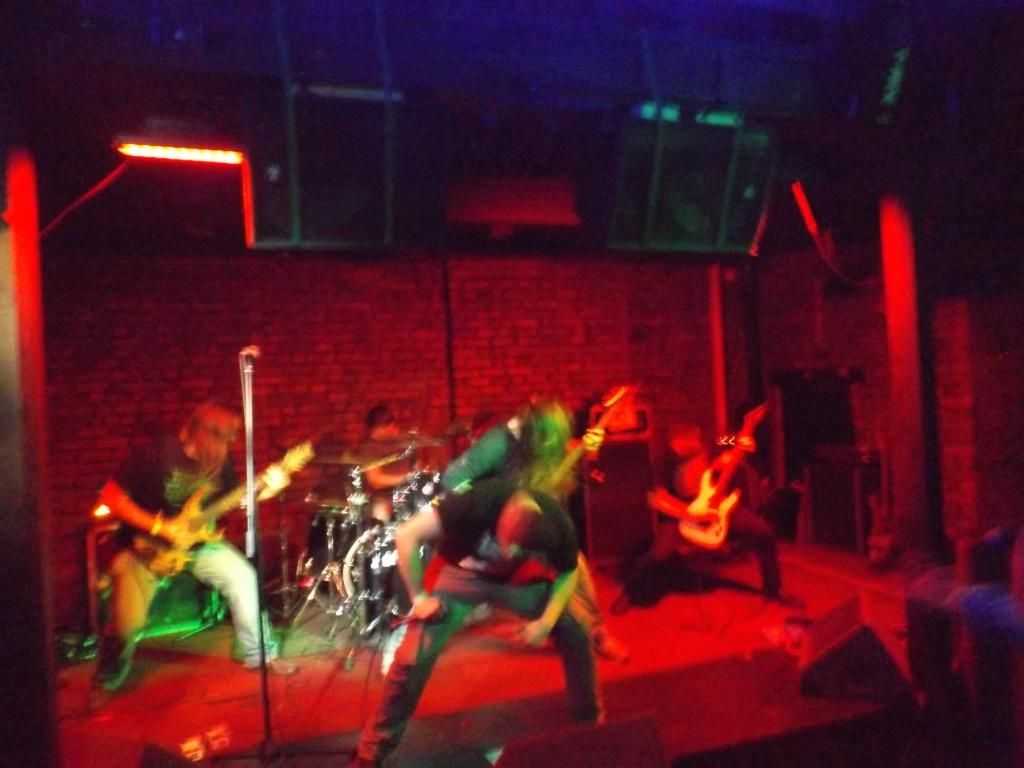 I make my escape with still a couple of bands to complete the successful evening, low on numbers but with the bands and venue all making it work hundreds of pounds raised for the charity.  Another good means to an end, and a fine way to spend the Sabbath.