gutalax bring the party
I think it was some time during the Thursday, maybe half way through my second expedition in three years to this crazy gathering of underground bands and lunatic fans, that I sat back and relaxed on one of the benches in the little "amphitheatre" and reflected on how wonderful it all was. 
Basking in the relentless sun, faced with wildly varying but always entertaining noise, and surrounded by all manner of international friends and freaks, in a beautiful setting.  Such a good festival, all the ingredients coming together.  Fast forward to Friday night and I stirred from a Bozkov induced coma on another nearby bench, wondering why the stage was sideways and I'd missed most of the headliner, fending off mocking photographers ("I AM NOT A CASUALTY!") before shambolically staggering back to my tent.  Still thinking/vaguely aware what a wonderful time was being had.
livstid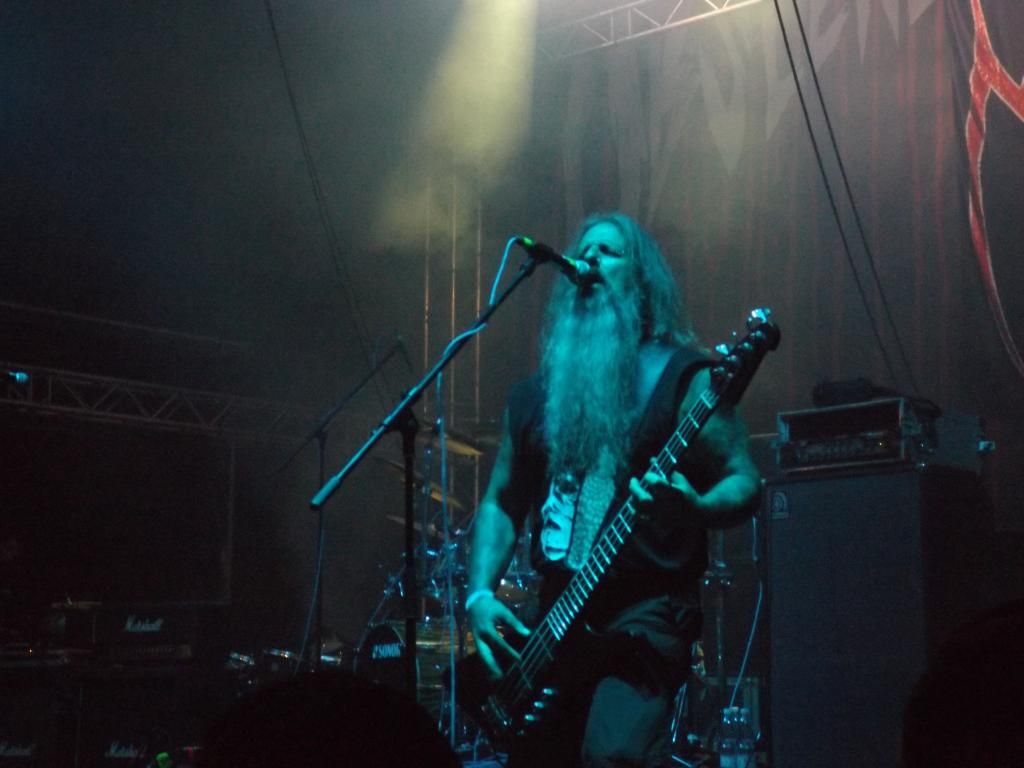 master
In the spirit of keeping this trip as cheap and cheerful as possible, I started by driving over from North Wales to abandon the car at a friends in South Manchester, then a train ride down to the airport.  Caught up with one friend there and it would have been rude not to commence the drinking.  The flight is only a couple of hours and we're in Prague for the evening and via a booze shopping trip, metros and buses (and an encounter with a Nazi Hecate Enthroned fan) we made the latter half of the warm-up warm-up show at the Blue Monkey Club, where there had been some six bands already well travelled and heading to the festival taking an extra opportunity to do a show.  The pick of the bunch for me were the Australian's Dark Horse, with some harsh and aggressive metal /punk.  Met up with lots more Northern types there and then it was a sensible 4am bedtime in preparation for the next stage tomorrow.
inhume
Kruger
Wednesday saw the 3 hour train trip out to Trutnov and a relaxed day settling in and stocking up, meeting my Austrian and Essex camping neighbours,  watching the Freak Olympics ("Vomit Combat", a (splattered) art form) before the evening saw the proper warm-up show.  The theme for this year was Italian hardcore and we got three quality bands, only one of which I'd encountered before.  First was Ed, who played snotty crossover punk, lots of energy, then my personal favourite E.U.'s Arse.  Dating back to the early '80's they didn't seem dated at all and delivered some really cutting speedy hardcore, vocals spat from a frontman more skeletal than me.  Closing the evening the scene standard bearers Raw Power who were solid and maybe with a bit more melody/less tempo  and added up to a great welcome to the event.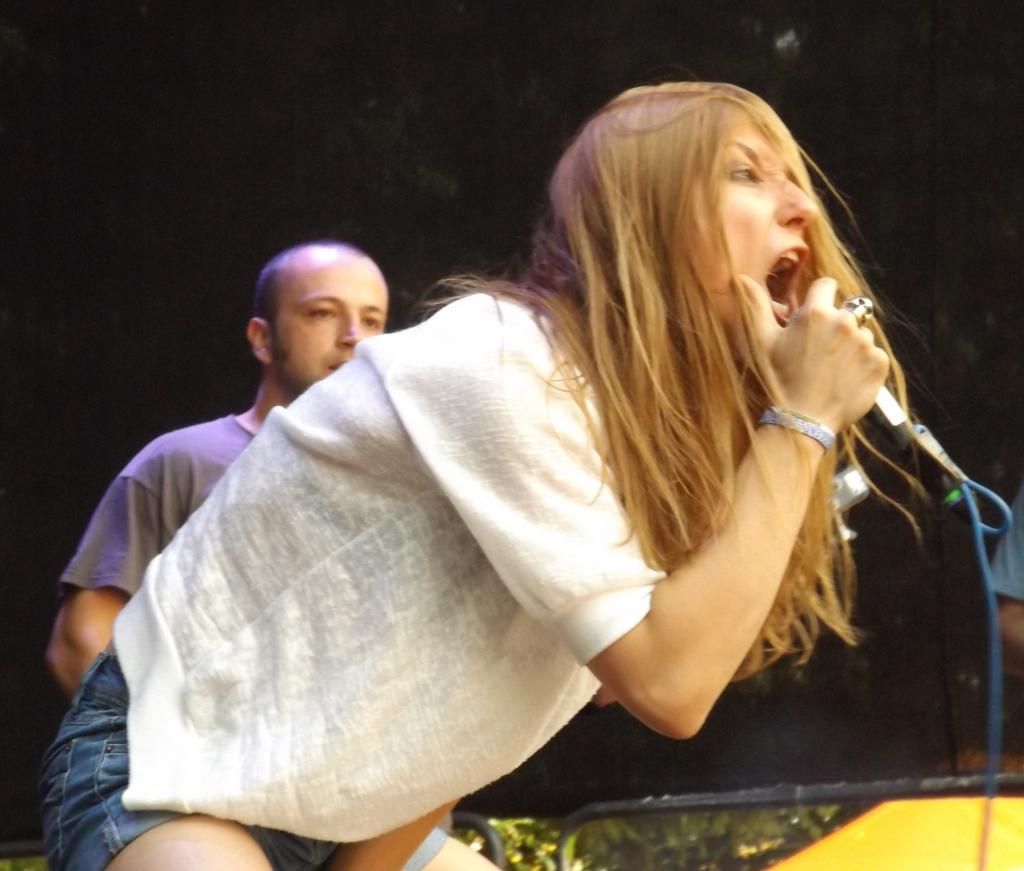 kaliyuga
nazareno el violento
Even the Thursday could be seen as being kind to us and changing up through the gears gradually as we had a mere 1pm start to the bands, early highlights being Suffer the Pain from Sweden, with some form of hardcore/death crossover and an entertaining cover of "Killed by Death", Romania's Clitgore bringing the first of the goregrind parties, with the added bonus of Haemorrhage's Lugubrious guesting on vocals, and Norway's Livstid with some really intense blackened crust, their vocalist a picture a unrestrained fury.  Early evening brought the Gutalax insanity, these goregrind mentalists greeted with beaming, bouncing happiness, beach balls, bog rolls, and confetti streaming everywhere, as were the stagedivers.  More serious but just as welcomed the U.S.'s ACxDC were a first time see for me, their reputation proceeded them and they definitely lived up to it with a really punchy and raging grind set, short, sharp and to the point.  The Russian's were coming next with Katalepsy, wasn't too sure on their brutal slam death metal on recordings but live they were really effective and punishing.  Final Exit from Japan were a bizarre little interlude, on their first expedition from their home land despite forming in the early '90's, the drums/guitar-vocals two-piece blasted random experimental noise grind in sub-one minute doses, didn't really catch me.  Zombie Inc. from Austria certainly looked the part and raised themselves above average with some pretty decent catchy/contagious death.  Things were taken to the limits next with Aussies The Kill, top notch blistering grind that passed by in a whirlwind before there was the return of some legends in the form of Master.  I say return but it was only  as I hadn't seen the seminal death metal band since the early '90's but they have been rolling on in the meantime and aired some of their more recent material before drifting back to the classics like Unknown Soldier and Pay to Die, as well as a couple of numbers from the previous outfit Death Strike.  The whole thing was a celebration of the relentless pummelling beat that is almost their trademark, great stuff.  Not allowed to flag at the finish though as Inhume proved to be a revelation to me with their chaotic raw grind, twin vocal onslaught weaving about on stage, really enjoyable.  Then it was time to sit back and relax and watch an on stage display of the state of corruption in the mediaeval church aka the Hell Show featuring some BDSM action and a naked lady with a sparkler up her backside, providing an appropriate point for me to hit the sack.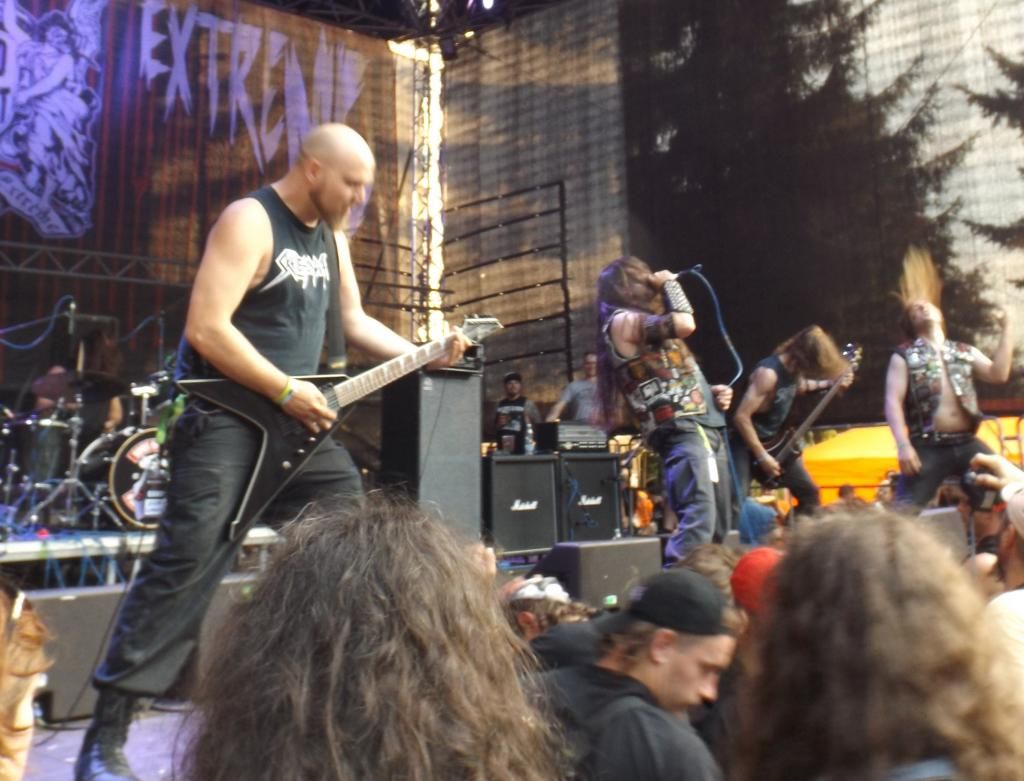 nunslaughter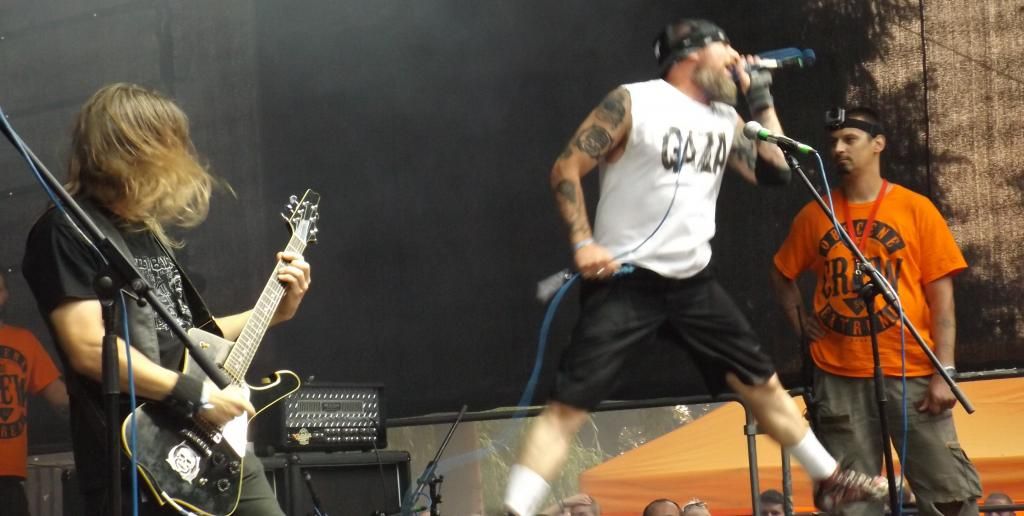 wehrmacht
Two full days now, with a 10am start for Prague based Kruger, who gave us some quality driving crust for breakfast, and featured one of the smilyest vocalists ever as part of their harsh twin roared onslaught.  Deaf Kids from Brazil provided some strikingly different style with their punk having an almost experimental edge, with rolling rhythms and loose breakdowns, with massively reverbed echoing vocals.  Intriguing stuff.  Kaliyuga (France/Tunisia) I was looking forward to but not prepared for just how intense their crust/grind was, with a captivating wholehearted performance from their absolute beast (in the best possible way) of a vocalist.  Idiot Ikon from Sweden provided an entertaining performance, groovy crust with their brightly dressed vocalist cartwheeling (badly) about the stage and some guest vocals from Livstid too.  Thailand's Masochist were definitely loving their trip, their blood soaked grind quite generic but having a line of punk melody run through it, and a version of "Ace of Spades" thrown in.  Still globally trekking we head to Mexico next with some really sharp old school Napalm style grind with Nazareno El Violento, a really charged performance.  I'm sure like many, despite my extensive travelling and gig going I haven't seen a Sikh bassist before but Gutslit from Mumbai, India ticked that off the list and gave us some really proficient technical, guttural death and seemed to be loving the opportunity of being here too.  Besta from Portugal also had a bass player who appealed to me, seeming lost in his own world of relentless rumbling riffs of their hyper hardcore, with a ferocious vocalist too.  A sitback next for the excellent(and excellently named)  Rectal Smegma from the Netherlands as the  battered us with some pounding goregrind that was of a more developed level than some.  Viewed from the benches also allowed hilarious enjoyment of the "Bloody Relax" film cut through with live shots streamed on the big screen alongside the stage, a highlight among all the other crazy visuals like x-rated Ren And Stimpy.  Again with the contrast as we had the hard hitting old school crust from the Swede's Warcollapse, who mixed in a big variety of tempo in their set that was excellent, would love to see them over in the UK again, and despite the singer looking like one of the hardest men alive they did turn out to be as nice as pie as usual
brutal truth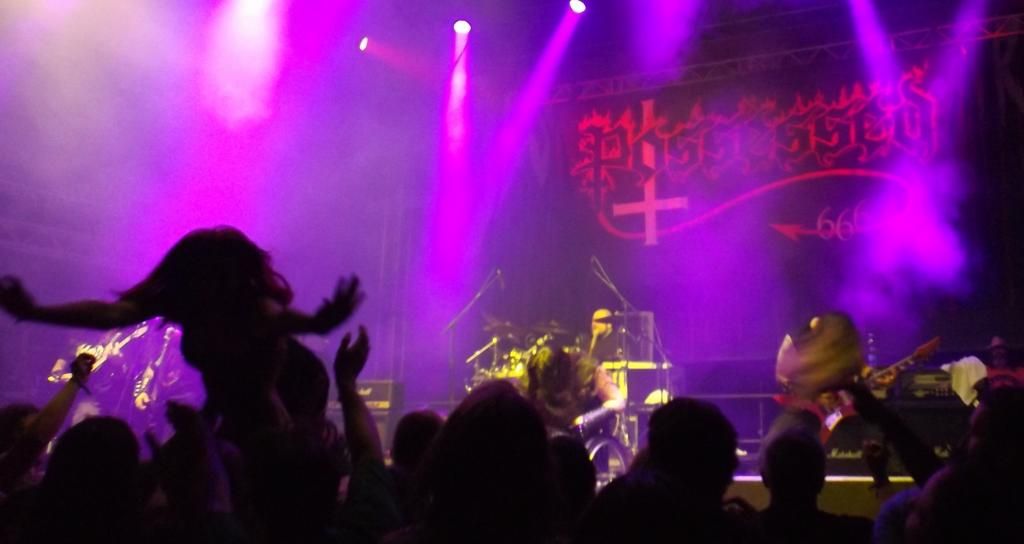 possessed
Not long since I'd seen a relatively subdued (in my opinion) performance from Vitamin X in Bristol but there was no holding back the Netherlands fast hardcore act here, the singer athletically airborne most of the time.  Nunslaughter from the States I only knew of a little of despite their phenomenal output of album and splits over the years so all the more pleasing to be carried along with their whiplashing blackened thrash, consistently good. With the late cancellation of Cattle Decapitation from the event we get a bonus next with an extra set from one of the earliest crossover thrash bands, Wehrmacht, bringing their celebration of beer and sharks.  Friends of mine from Liverpool were seeing these in the late 80's in basement gigs, along with fellow Yanks Cryptic Slaughter, so it's an added bonus to get Scott from the latter joining them to deliver some of his own speedcore anthems.  Massive stage invasion to finish, including crowd surfing on top of that, superb.   A different kind of party next, maybe a wake?  Farewell to Brutal Truth as Dan Lilker decides to reach his retirement and thus that of the band at this location and occasion that they regard as appropriate.  A big birthday banner is unveiled in the crowd and there's no sadness, only joy at being swept off in their whirlwind of seminal grind, as motivating in the its mad energy as it was when I first encountered them in the UK back in the early 90's.  Cheers for all the noise, boys.   The rewards keep coming as another renowned name is unveiled in the night, Possessed.   It might just be vocalist Jeff representing from their 80's origins but the class of his tones and of their dark speed thrash riffs strike deep in the heart, it's "My Belief" that's gets me on and off stage.   We're treated to a new song alongside the classics and all in all it's a completely satisfying performance.  Maybe my over excitement gets the better of me as a return to the tent for my battle jacket and copious rum finds me next waking up in a blurry fashion on the benches at the back with vague memories of Eyehategod and Demonical and thinking I should call it a night for my own survival.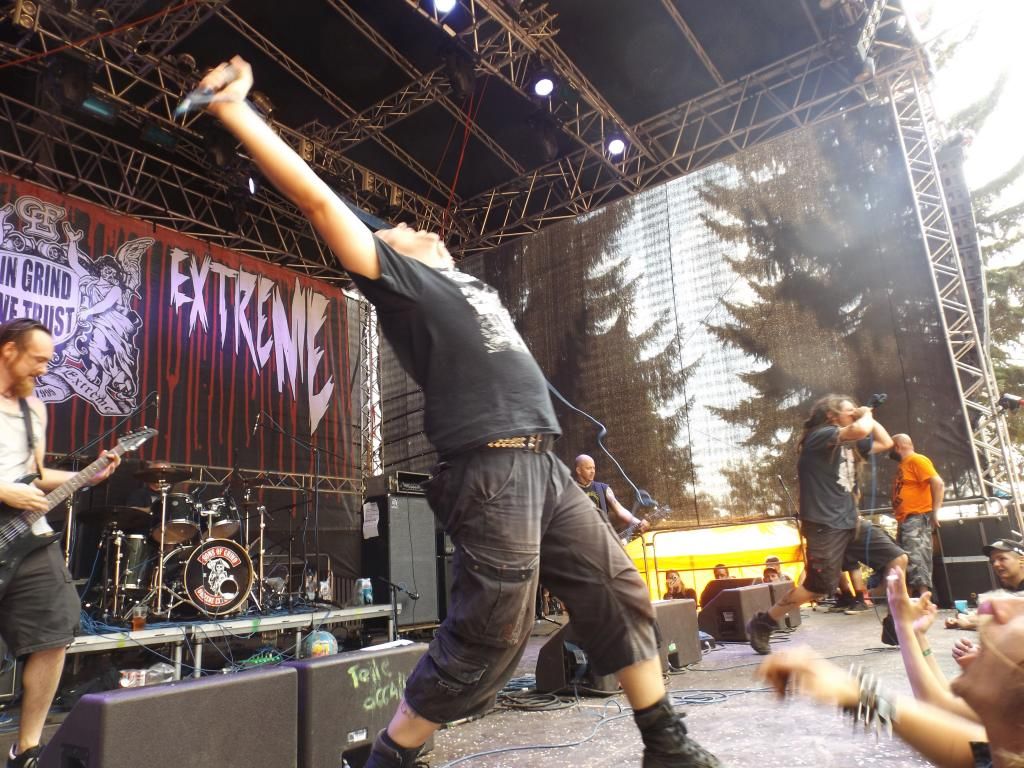 accion mutante
vallenfyre
Surprising myself, I manage to raise the dead for the start of the last day, although I am still cross with myself at missing the last bands of last night, including the UK's Human Cull.  But this is a tour of duty after all and even when all the bands are presented on one stage I guess you don't HAVE to see every last one.  The first that really catches the interest in this morning spell is Dehydrated all the way from Siberia.  Smartly attired, they have a nice synchronicity to their tech death windmilling and bouncing and are pretty engaging with the crowd.  I enjoy France's Filthy Charity as the recently reformed punks have some interesting use of dissonance in their harsh attack of raw tuneage before I am up front and in the face of the fast and aggressive crust of Germany's Accion Mutante, again two vocalists bringing the show right up to the crowd.  A special memory moment next as the goregrinders of Kadaverficker (including largely nude and bloodied bassist Admiral Aids) organise not a wall of death but a wall of penetration.  Handing out toilet brushes to one side and vibrators to the other fortunately the instruction comes to penetrate yourself rather the opposition in the coming onrush, it is still beyond belief, inspired.  Not that long before we are treated to yet another Gutalax party as they fill in for a band that couldn't make it at the last minute, this time they have guests galore, including vocalists from Spasm and Haemorrhage again.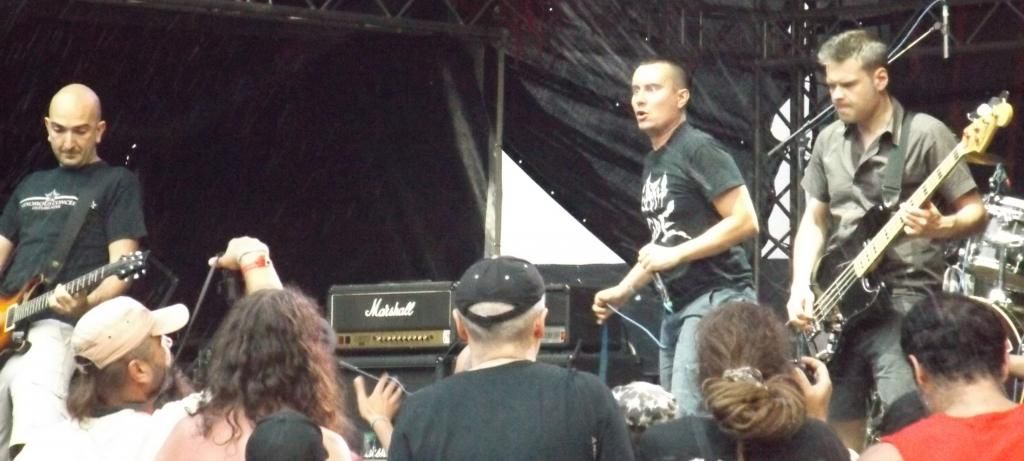 cripple bastards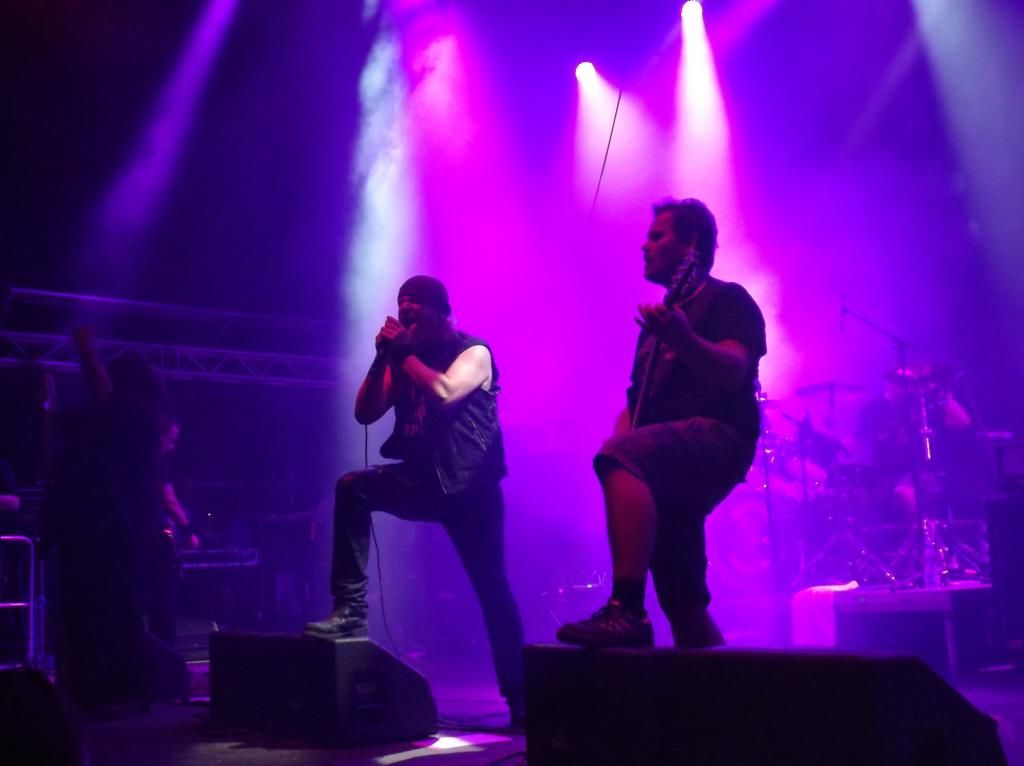 morgoth
The serious, even morose, doomy death of Vallenfyre, is a bit of a stark contrast next and I think vocalist Gregor is not sure how they are received, but personal I'm a big fan of their old-school HM-2 filthy riffing and it's spot on.  First chance for me to see Italy's veteran grinders Cripple Bastards and I am impressed with what a tight yet feral performance they put in, really impressive.  The darkness has descended now for Morgoth who demolish us with the straightforward, doublebass powered, death metal bulldozer that's been rolling for decades, right up my street and as good as they were at Hellfest a couple of years back.  Wehrmacht/Cryptic Slaughter return for their scheduled slot now, mixing in fresh songs into this set and even offering to do requests (needless to say "Shark Attack" wins), as much fun as the preceding night.  Back to the death with New Yorks (arguably) finest, Immolation, with their thundering heaviness even by the genre's standards.  Some great songs but not others I find a bit to techy and disjointed and think I have enjoyed them more at other shows.  No worries on satisfaction with crust (no) gods and (no) masters Doom next, who have refined their raw assault to a fine art of destruction.  It's certainly a case of "up the punks" as there's pit and stage mayhem, closing with the worldwide hit "Police Bastard" but quite abruptly and in the dark.  At least they leave this place on a high.  Quietening down in the early hours now (apart from a bit of boogieing to "No Limits") but we stay close for our UK friends from Corrupt Moral Altar, who demonstrate mixing a great deal of variety and style around their core of rabid sludge, really is a hook to their severe uproar.  We finish with some hardhitting grind from Killchain and Twisted Truth before making sure all the beer tokens are used up and that is that.
corrupt moral altar
The abiding memory of fun in the sun at this crazy gathering, and a top quality selection of bands old and new, means that I am completely convinced again that this is one of the best festivals in Europe for the underground, DIY, and uncompromising.  I recommend it far and wide, a centre of the extreme world that all should be drawn too.  See you next year!