The epic trekking continues, so I leave Wessex to head up to the West Ridings.  It's like some Game of Drones, especially with the all the beards.   Fortified by our B&B breakfast I return my friends to Merseyside and head over to Leeds.  Abandoning my car in Armley (don't think anyone noticed the difference) where I was due to stay, I got the bus into town then walked (largely relying on instinct and my geography A-level) back out to the venue I'd already attended for the warm up last week.
Arriving early afternoon, the atmosphere was distinctly Sunday hangover, people getting back into the swing of things after some heavy days/nights proceeding, I was glad to bring a second or third wind to proceedings (too many beans for breakfast).  It could be seen early on though that the numbers weren't here already and a Sunday may not be the best to encourage people out whatever the lineup or given the all-pervading apathy/austerity, so a bit gutting to see considering the other clashing festivals that might have impacted upon this and the fact that my friends were involved in setting this one up
The laid back / comatose feel outside was in contrast to entering the main venue space to the furious, dark and raw hardcore of Employed to Serve, the first of a handful of bands venturing up from the South East.  I only caught the end songs but the female singer was throwing a lot into stirring a crowd response, I hear they are coming to sunny North Wales too which is a bonus.  There's only the one stage here, so it's going to be constant back to back mayhem, this bigger room than last week having an even bigger PA system with an impressively meaty sound.  Not a big shift in style next with Palm Reader (above) from Woking, but I was pretty instantly won over with their incredibly raucous but punchy progressive hardcore, and jealous of the energy going into the flailing guitars and reeling around stage.  A great performance, invigorating!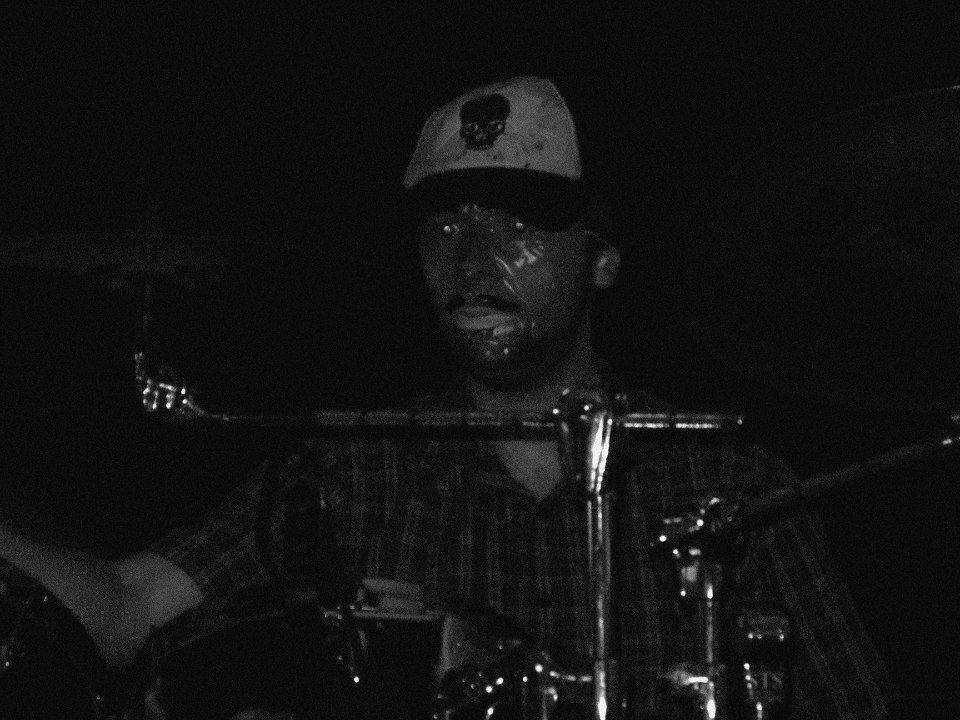 I was more familiar with the Basement Torture Killings (above) death metal horror show next, having seen them a few times in recent years.  Initially I thought I might be a little jaded by them but once their sound had hit the spot you can't beat a bit of Carcass-worship, plus the added theatrics, heavy breathing etc. can't help but raise a twisted smile (I wasn't smiling soon after when I dropped camera down the toilet in some bizarre juggling exercise).
To even deeper depths of death next with Unfathomable Ruination, whose ultra-guttural and down-tuned brutality is an impressive battering, a real sense of a destructive sonic machine.
Quite a contrast to return to the bleak Northlands (Bradford) then for Conquest of Steel (below), the long running "traditional" metal band.  They are very entertaining though in a classic Dio-esque way, full of Viking bombast and epic cliché while retaining tongue in cheek.  All the sword waving puts me in mind of butchery so I pop out to get some of the excellent vegan food from the Teatime Collective café set up outside.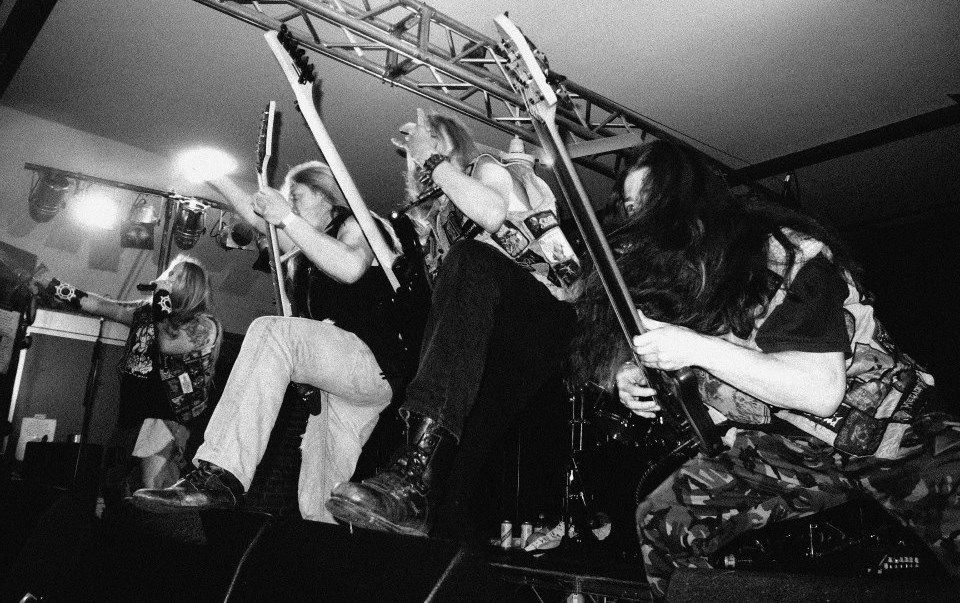 This break for socialising, cheap drinking, and generally having a laugh means the attention to the next few bands is a bit hit and miss/blurry, have a good chat with the thrashers Untimely Demise on the musical merits of their Canadian homeland, Holocaust Cannibale (above) from Portugal deliver some rumbling death not unlike their Iberian counterparts Haemorrhage, Crepitation remain fine NW slam death (now with added aroma of Neuroma), and US old school death Malignancy didn't encourage me back much after being a bit run of the mill last time.
Definitely drawing me back like poking a corpse with a stick are Desecration (below), who despite seeing them a hatfull of times remain spot on in delivering up-tempo death metal galloping riffs.  Add in the entertainment of the banter and the airing of new songs like "Coffin Smasher" and the sing-along classic "Cunt Full of Maggots" and it's win all round.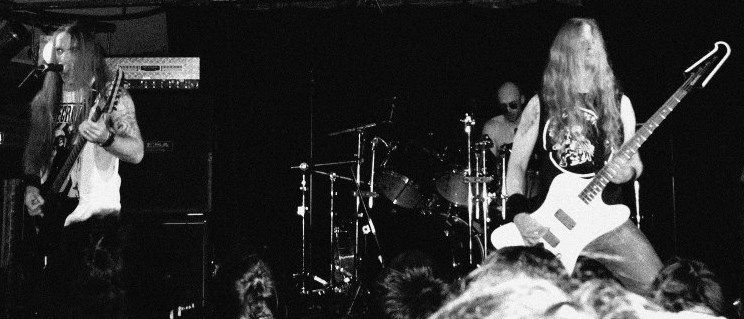 More seriousness next with the progressive blackened metal of Wodensthrone, who are a sombre delight in their hugely structured songs, shifting from brooding passages and layered build-ups to out and out harsh blasting with roars and shrieks too match.  Definitely giving a nod towards Neurosis and their seminal influence over gloom doom and crushing post metal riffs, they definitely have their own take that makes it very easy to be caught in the drift and hooks of their tunes.
First of our nominal headliners for the evening, with US legends Massacre (above) returning with a new singer and a new album to promote.  But never mind that for now as opening with "Chamber of Ages" and "Biohazard" of what I regard as the definitive death metal album, "From Beyond" they absolutely destroy with their double-picked frenzy of riffs and huge doomy breakdowns.  I love it, and the mix of old and new is all delivered on a level that makes for a really solid, if relatively short, show.  Maybe that's a good thing as I haven't had so much headbanging fun for a while, and closer "Corpsegrinder" seemed highly appropriate.
Many have fallen by the wayside after the witching hour now which is sad to see for the last headliners, UK thrashers Onslaught (below).  Those of us who do remain though are in a happy/silly enough moods to keep the party going though and to be fair the band put their best effort into charging along with their fast riffing and conveying that energy to the remaining crowd.  Can't fault the sharp, tightly structured music but the rocky stylings of the singer are still a bit over the top for me.  All remaining power is used up with epic old school vintage "Power from Hell" to finish and then it's time for us to gather up the casualties and clear out of the building.
Thoroughly enjoyable day (and weekend by all accounts) but tinged with sadness that it has to be wound up and won't happen again next year, they'll probably still be clearing the debts then.  Nothing but praise and respect for all the folks who set up whatever level of independent festival, and we will hopefully see more of the same where the formula does work.  I'm up for a road trip anyway.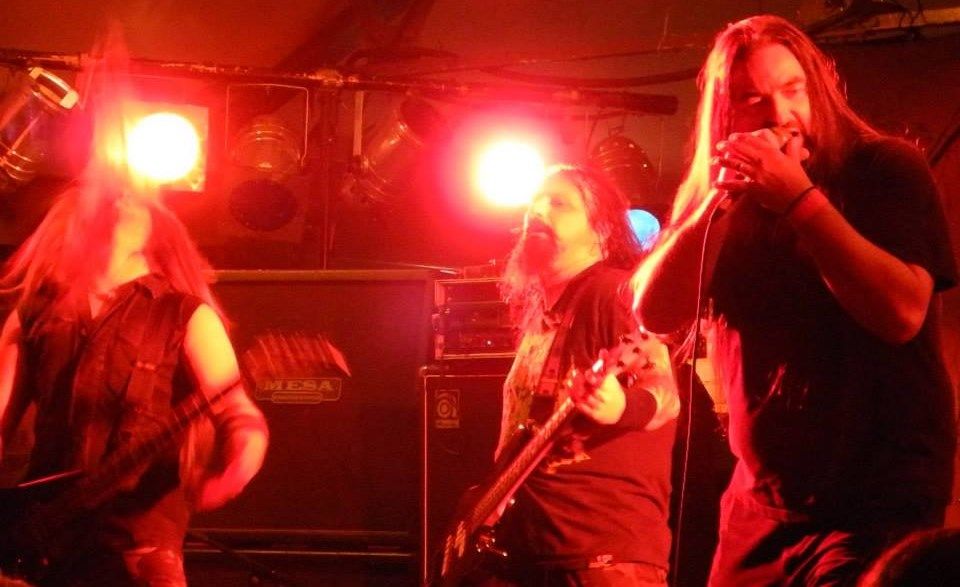 photos thanks to Emma Stuart