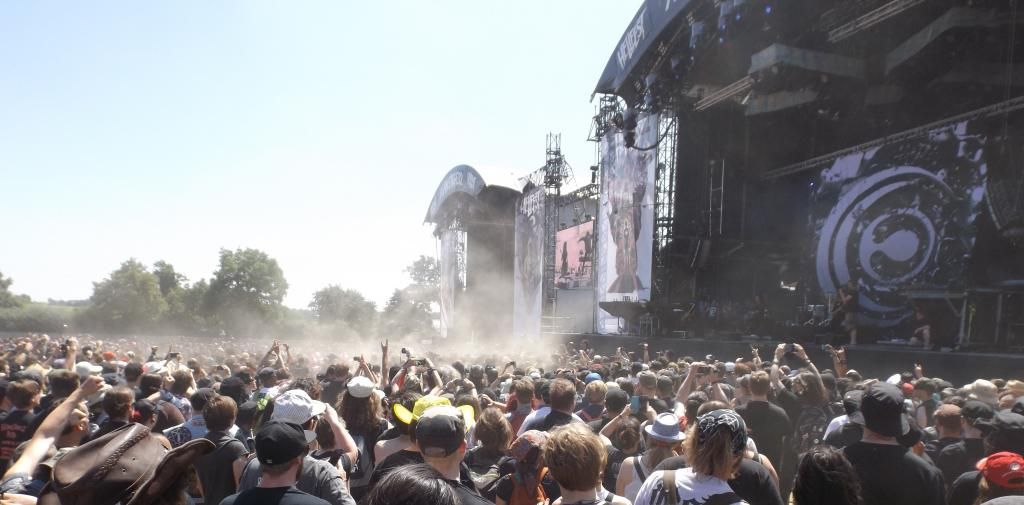 The seventh year for us, scratching that itch to traverse the circles of hell and celebrate arguably what has become one of the most renowned heavy festivals in Europe.  This year promised to be the biggest yet, with some headliners to actually look forward too after recent tamer/lamer offerings, whether it would be the best yet we would have to see.
There had certainly been a massive investment in the facilities with an actual "city square" having been constructed between the camping and arena with apparently permanent shops but didn't really give them much time as wanted to get straight in for the first bands on the Friday, 10.30 start.  This kind of failed as we were still queuing in the usual mass influx of the first day, in the blazing relentless sun that we were blessed/cursed with for the entire weekend, so missed the French filthy death metallers of Necroblood and instead opening the proceedings with the rabid grind violence of Chicago's Weekend Nachos.  To be fair it was more eclectic set than I'd seen before, with lots of sludgy breakdowns but great energy imparted to get us going at this early hour.  Next Liverpool represented with the fab three of Conan (above), who are really becoming an omnipresent and irresistible force.  I'd rated them as one of the bands of the day at the recent Temples fest in Bristol and yet again their ground-out, ultra-distorted doom was devastatingly heavy and LOUD.  Treating us to all of four songs in their half hour, any more would have probably levelled us at this early hour.  A simple celebration of noise, already a high point.  On recommendation had a wander to the mainstage to see the Japanese electro-rockers Crossfaith raising dust and a reaction from a good crowd already, coming across very Pendulum/Prodigy for me, ok but a bit mainstream for my tastes.  Staying in the far east with longstanding Singaporean blackened thrashers Impeity, only checked a couple of songs and it was pretty generic but in a satisfying way and fair play to them for representing the extremity within their culture.  Home grown talent next with the grind beasts of Blockheads (below), seen them here and Obscene Extreme before and they always deliver.  Short sharp blasts with a nice harsh sound and engaging front man ("un morceau…"), they are received with a suitably mad pit action that he joins on a regular basis.
Over to the second main stage for my first time checking Toxic Holocaust, from the U.S.  Joel Grind and his crew are unashamedly synthesising and celebrating raw and retro dark thrash and do a good job of getting the heads banging and reminding us that "War is Hell".  Hell(fest) is a war too, a tour of duty resembling the French Foreign Legion in this heat so all manner of fluids are required to be combined and consumed just to continue.  In a similar musical vein next we have M.O.D., legendary crossover thrash brought back as the continuing outlet for ever controversial obnoxious loudmouth Billy Milano.  They manage to be entertaining without annoying though, especially by including lots of the also venerated S.O.D. material in the set too.  First visit to the punk stage of the Warzone next for a band that I had never seen and was very much looking forward too, Boston hardcore from the legends Slapshot (above). I was sacking off simultaneous clashes with crushing death metal machine Hail of Bullets and alternative rock stalwarts Therapy? for this, but from the off it was obvious that this was going to satisfy.  No sign of aging from the old men, a hard hitting (including the singer Jack getting a regular bloody head beating himself with a stick) set of straight up punchy hardcore, I love the Boston Shuffle as he moves around the stage. "Old Time Hardcore" at its finest, crazy pit action too, including a wheelbarrow turning into a spit roast!  Off to see the Finn's Impaled Nazarene next, for the first time since I supported them once upon a time back in the mid 90's.  While they still had their fast and furious "Motorhead of black metal" approach the sound was not particularly good and my energies were flagging so I left them to it, next giving Nocturnus A.D. another chance some 25 years since they played in Wrexham supporting Bolt Thrower.  Then I hadn't been overly keen on their techy death with strong keyboard layer and while again the first couple of tracks they opened with from "The Key" were ok, still unspectacular to me.  Instead a relative relax in the open field to catch some Rob Zombie from a distance. The big, black and white old school horror film stage set was good visually for the daytime show but I'd previously decided I am more of a White Zombie fan than his newer stuff, and he seemed happier to be doing a cover set of the likes of Metallica.  Pretty average really.
Things are building up to the evening's climax now, so let's get our heads nodding and bodies into the groove with the two-drummer tribalism and progressive heavy doom of Kylesa. Just something that really stands out as unique in their sound, intricate and inventive, powered along by Laura's vocals, get the impression that any time you'd see them it would be a new experience.  At 9pm relatively early but welcomed whenever, Iron Maiden provide the day's headliners (above).  They headlined the first festival I ever went to at Donington in 1988 and it's a great flashback to that as they are in the process of completing a celebratory anniversary tour of those heydays, the same Seventh Son of a Seventh Son stage sets and an old school setlist.  As much energy and enthusiasm as they ever seem to have had, infectious and inspirational, Bruce jabbering on in his best French, heartfelt sing-alongs to the gems like "The Prisoner" and "Revelations".   Steve's relentless bass, Dave's happy face, all the ingredients are there.  Like the brave fool I am though I head from the might roar of the East End guns to the tune of "The Trooper" and go in search of God(flesh).  Having been destroyed by them in Leeds recently, topping all recent experiences of the reformed industrial titans, the search was initially fruitless as the news filtered through that they were late arriving.  Plans are in turmoil then so there's chance of a bit more Maiden with huge Eddies rising on stage, then the end of the spectacular stage show of the black metal overlords Watain, before experiencing Death for the first time.  Or at least the Death To All version of the seminal death metal band featuring some of their extensive and celebrated ex-members, but obviously minus their deceased main man Chuck Schuldiner.  Fair play they make a good fist of classics like "Leprosy" and "Spiritual healing" and I'm particularly impressed with Steve DiGiorgio's custom made 3-string bass, and the crowd reaction shows there's no concern over authenticity.  The same could be said when I take a short walk to watch Slayer from towards the back of tens of thousands of people.   7 years ago I was more excited to see them end the festival but now down to just 2 original members the pull is not as strong.  It is undoubted that the songs remain the same and remain powerful though.  A pleasing rarer outing for "Seasons in the Abyss" especially before the blood starts raining once more and I take shelter in a tent for "The" Electric Wizard.  After a meandering intro the huge stoner doom grooves roll out like lava but after 1 song/15 minutes my legs are giving up after a long day in these sapping conditions and I join the rest of the casualties "relaxing" on the ground outside and absorbing the vibes through the earth.  Eventually it's about half one before I return like Lazarus for Godflesh (below), final-ly.  Even in the brief sound check it's obvious the sound is going to be brutally immense and when they kick in to a couple of new song openers all fatigue is blasted away.  A "Streetcleaner" triple whammy is just an ecstasy of pummelling rhythms and percussive instrument violence, the backing visual films adding to the immersion.  After "Crush My Soul" is literally punched out by Benny on the bass, curfew is called, and they are cut short, he throws his bass, Justin apologies and that's that.  Mixed emotions of such quality but limited quantity, rest and remission is needed anyway.