FOAD Festival
Sound Control, Manchester
We usually come out of winter hibernation for the silly season of self-abuse that is the festivals when Hammerfest tempts us in mid-March. This year there was a new kid on the city block in the form of FOAD (make up your own acronym interpretation) to put a spring in our step now spring is kind of here.   Set up by a few of the promoters who deal with the more extreme musical end of things in the city, and homed in the decent and underused Sound Control venue, there is an excellent line up of the cream of the underground acts plus some special treats from abroad that demands attendance, especially with it relative proximity.
Things didn't exactly start well in sunny North Wales, Dewi Sant was not smiling on us for leaving the motherland.  Various catastrophes involving Oranjeboom bombs and vehicle prohibition orders meant we were seriously delayed, but at least still able to get there eventually under our own steam, mid-afternoon.  Missed a handful of bands but after getting in and marvelling at the merch on the middle level, mixing drinks and making merry with the good gathering of friends there, descended to the basement second stage in time to catch The Day Man Lost (above).  They had already played the festival warmup show the night before but as all round good (vegan) eggs were back again to cover a last minute drop out.  I'm a firm fan of their blistering grind , and thought it came across well, as did their good humoured banter as ever.  First time I'd been down to this part of the venue and I quite liked it with its different level stage that gave a good view of proceedings.  Next up to the main stage upstairs for Desecration, a mere week after catching a dose of them in Rhyl.  As usual they were taking no prisoners and the fearsome sound systems here really delivered a brutal battering of their sharp death metal.  Much fun, even when Dean from ENT tried to do some guest vocals and missed his cue.
Not so much fun was the extortionate beer prices in there so swift breaks to the much more reasonably priced fineale selection at the adjacent The Salisbury were the order of the weekend.  Made sure to return for one of the main draws for me, the Swedish death metal of Entrails.  They'd been proper old school but have been split for a long time, but have really come back strong now, lovely heavily distorted riffing but with good grasp of melody and hook too.  Was disappointed that they packed up their merch so soon after and wouldn't take my cash bribes to get it out again!
No bother, maybe those 7" would have been less than mint condition after the Extreme Noise Terror (above) chaos party next on the main stage.  Had the rug pulled out from under them with the smoky shenanigans at Dirty Weekend in Wrexham last year, so it was great to have a full set of their stripped down grind, even if it has been tidied up and made somewhat more efficient and metallic by the Desecration guys doing the music now.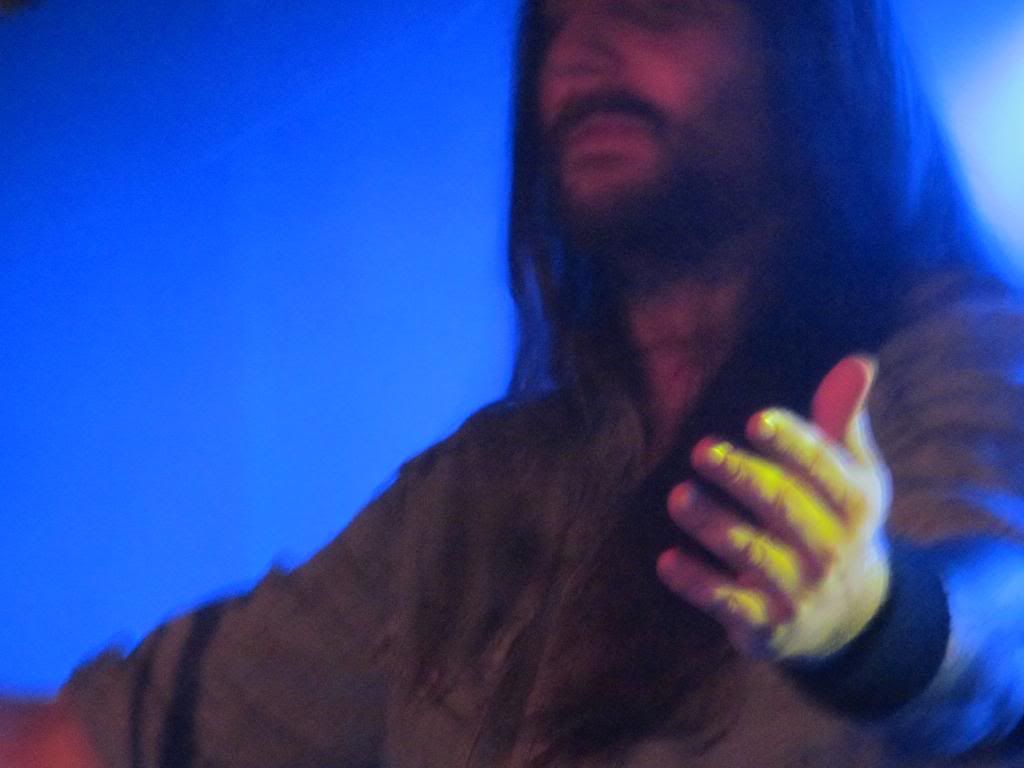 Despite my personal late start maybe that set and catching up on the beer front meant I was a little reeling for the relatively early final bands (10pm curfew tonight), alternating between the  burly grooves and doom riffing of Orange Goblin (above, Ben Ward – bigger than Jesus) on the main stage and the harsh and punishing death of Scotland's Cancerous Womb at the second.  With both of them I felt I may have seen stronger shows in the past but they were worthy respective headliners and topped of a great end to the day.  A little diversion to Satan's Hollow for a night cap before the night bus back to a sofa in Stockport.
A fine breakfast from our host (and a leftover beer) set us up nicely for the Sunday, as we got in in time for the first band soon after lunch.  Very glad I did too, despite not expecting some flute action at that time of day!  Local lads Molly Bloom (above) played an amazingly diverse mix of styles, from  gypsy punk to Sabbath-y doom but the sum total of the ingredients was a really captivating and motivating set, fully of strident energy.  Will be searching out some of their stuff for sure.   Down to catch another band from this fair city next in the form of Wode, their performance of epic, relentless, black metal seems a little subdued to me, maybe not the ferocity I've seen at some of their previous shows but still enjoyable.  Another prospective highlight next with Satanic Dystopia, who I'd heard a lot of good stuff on the grapevine about.  I thought I recognised the singer and sure  enough it was Al who I'd seen last with Ravens' Creed, and there was a lot of the celebration of retro pure metal in both of the bands. Self-described as "black thrashing metal" it certainly hit the spot with some great charged riffing, even if the sound could possibly have been fuller/louder.  There was certainly no doubt about the sound with Foetal Juice (below) next, with the hometown sick-boys (also partial organisers of the weekend) sounding amazing and suitably fired up for their performance too.  The blasting and bouncing death metal really lifts off and cuts through really well, great entertainment, almost as stimulating as the simultaneous shots of brandy…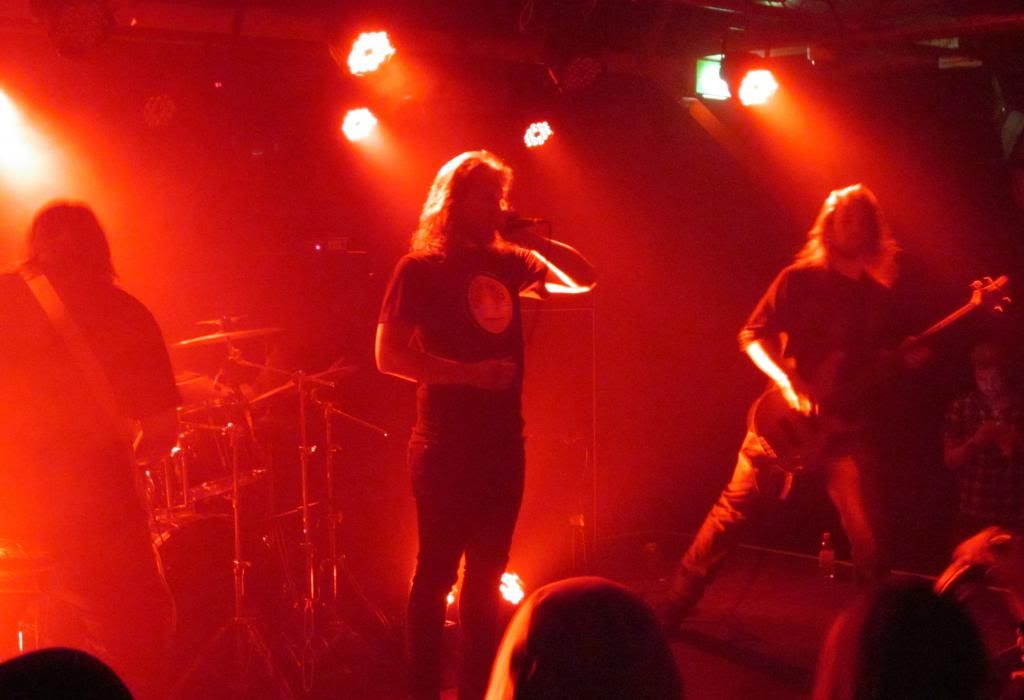 Things had gone a bit awry with the planned set timings so there was a bit of hanging around downstairs for Liverpool's Coltsblood (above).  I'd already picked up their vinyl on faith and as soon as the chronically distorted bass kicked in, I knew I'd made the right choice!  Hugely reverberating monolithic doom from the three-piece, with the same chest shaking impact as their neighbours Conan have achieved in recent years or Halo of old, interspersed with faster, blacker passages, definitely one of the highlights of the weekend for me.  Seems mad to say the tempo was picked with Serpent Venom next, and their own brand of crushing grooves but it did drive the weary legs and brain on to a new level.  Had been really impressed with them at Hammerfest previously and they were certainly a hypnotising experience again this evening.  Broke away from the gaze and the haze to see some more Scouse invaders, Ninkharsag (second below).  Also on Ulthar Records like Coltsblood, they tread a different path of crafted darkness though, precise, fast and atmospheric black metal.  As good slice of retro in their guitar tones, but with a modern progressiveness in structure and detail, as good to hear as they are visually, bathed in blue lit fog.  Really on top of their game.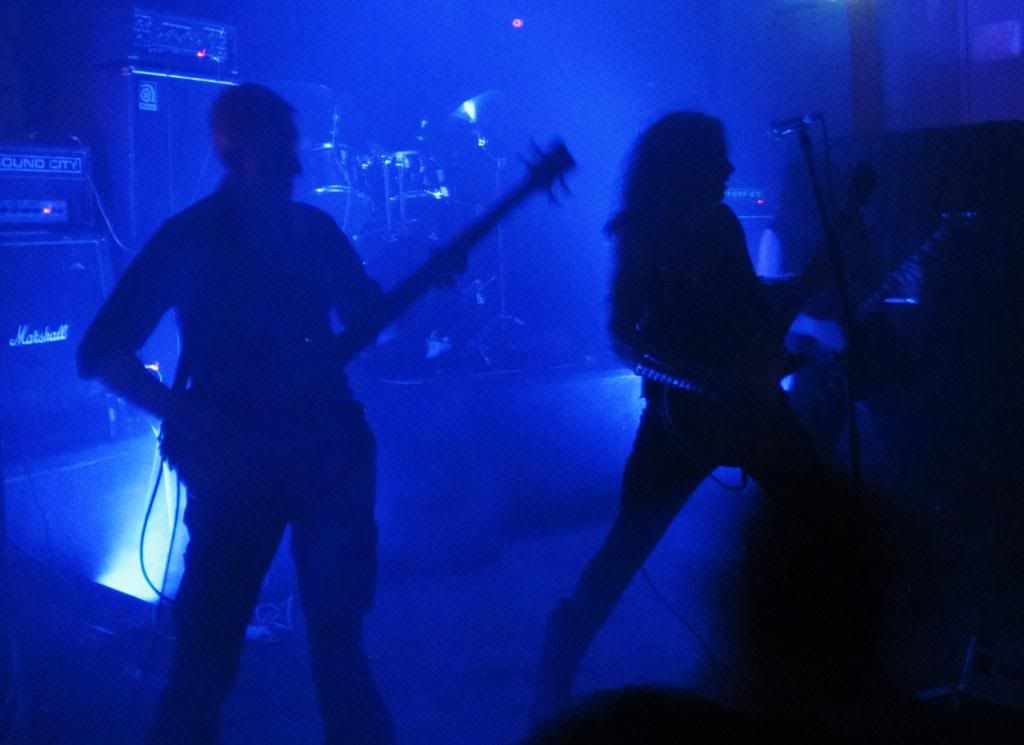 There's a good gathering for Winterfylleth (top) at the main stage, they are also local and held with regard as one of the UK's leading black metal bands.  Less of the harsher elements just seen downstairs, with interludes into almost folk-ish mellowness or cleaner accessibility at times.  However their great strength is summoning up relentless hurricanes of fast riffing that carry everyone along on the drawn out , epic melodies.  Even their cover of the notoriously dodgy Hate Forest's track is a treat to hear. A final break downstairs for some instrumental exercises with Latitudes, their convoluted riff and keyboard driven post-metal at times reminding me of some middle ground between Voivod and Cult of Luna, and pleasing enough while grabbing a sofa to eke out my last energies.  This was spent on headliners Necrophagia (below), a genuinely old-school American death metal band, that was a real coup for the organisers to get in.  Satisfyingly true to their roots, it was a stripped down and primitive riff assault, could easily have been "Slowly We Rot" at times, but with a more punky gruff vibe.  The singer was a good front man, especially with severed head in hand, and all in all it was a great celebratory party end to the proceedings.  Had a marginally easier going day and earlier night with things to do on the Monday but definitely felt the festival had been a great success all round, in terms of lineup (really highlighting the strength in depth in North West bands), location, and most importantly a likeminded audience.  Not sure if they covered their costs with this inaugural event but like 'Dirty Weekend" and "'Kin Hell Fest" a strongly built reputation is priceless and will surely stand them in good stead for the next editions.  I'm looking forward to it already!