I had missed last year's event and it was only courtesy of Gwyn's chauffeuring that I would be able attend this one.  Whether it was after having that break, or for the lineup that had been gathered for this year's 10th anniversary event, but there seemed to be an additional buzz of anticipation from the gathering metal heads from all over.  
It's always a great party as well as a solid line-up of heaviness, and quite convenient for us Northern types too.  Arriving around 12 we able to enter with not even a queue ahead of the 1pm start, took a moment to orientate ourselves at the bar, then headed to see Corrupt Moral Altar (below) down at the basement Mine stage.  Which wasn't where they were at all!  Back up to the new PHD stage in one of the halls on the main level it had only been introduced last year and while I liked the big stage and open aspect the sound was pretty atrocious to start with.  A lot of CMA's progressive and diverse sludge/grind was lost in a dull muddiness that only started getting rectified by the end of the set, at least Tom's precise drumming cut through to power things along.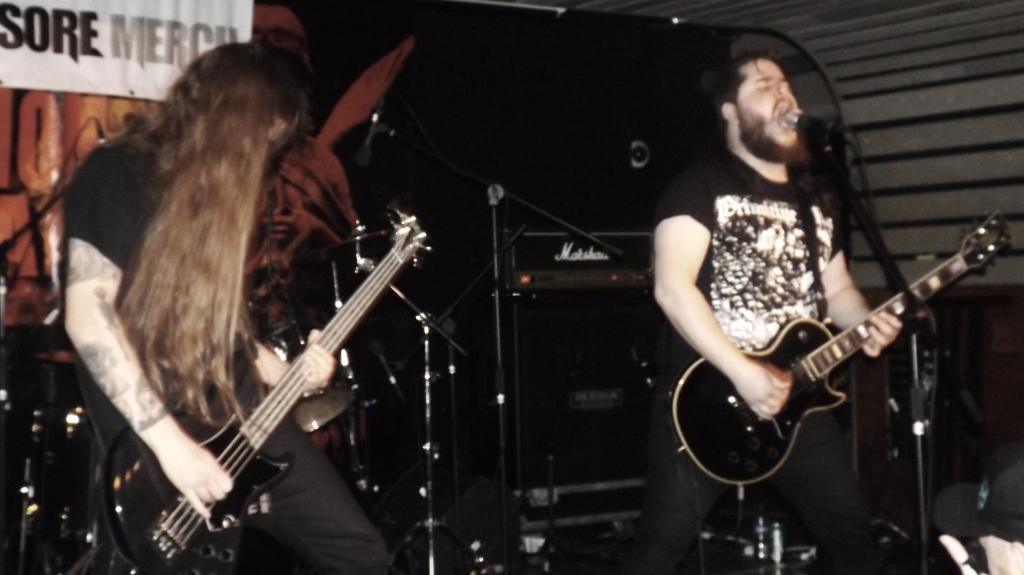 Back to the Mine (much busier now!) to see Bast (above) for the first time.  Some friends have raved about this blackened post-metal/doom outfit from London and they obviously know me well as the three-piece were right up my street.  Having filthy distorted bass is always a winner from the off but really got into their epically structured songs, and pounding riffs, I was keen to buy their "Spectres" vinyl after but could never catch them on their merch.  While the weather was pleasant enough we were taking social breaks on the terrace out the back, but were soon back down in the depths for Obsidian Kingdom (below).  Had recently been blown away by the Spanish band with their inventive mix of black metal and haunting prog and it was just as enjoyable here, perhaps even more intense in the claustrophobic environment. Didn't seem massively busy for them but I was happily carried along by their musical waves anyway.  They certainly seemed to genuinely enjoy the experience too, and had a great laugh with them at their merch after.
Socialising meant I'd missed the retro of Black Moth who I'd quite fancied, the next determined effort was to get to the main Jaegermeister stage to catch some of Stampin' Ground, who are only recently back in action.  The metallic hardcore act from the South West were certainly fired up and there was a lot of tough guys representing in the pits, hilarious wall of death action, but not much stuck in the mind really.  Better for me on their return from a similar hiatus were Raging Speedhorn (above) next, truly pummelling and raucous sludge with a devastating twin vocal attack.  To be honest they were even more impressive than I remembered them from back in the day so maybe that furious energy had been conserved and released to good effect.  Bit of a ninja like squeeze to get into the central Terrorizer stage where the Brummies of Anaal Nathrakh (below) were, quite rammed here (but apparently even worse for Cannibal Corpse next) but still able to get decent space down on the floor.  Don't think I've seen a bad show from these guys and at this one seemed like their unleashing of their furious yet melodic, technical, black metal apocalypse was done in an almost business-like approach.  Usual banter and encouragement from vocalist Dave brought some fierce pit action, but felt I had seen them better.
To the main stage for St. Vitus (above), as the legendary US doomsters were already summoning the congregation through their "Born to Late" album in its entirety.  Initially I wasn't feeling the vibe that has captured me at their previous shows but sure enough it was only a matter of tune in time before I am tuned in ans turned on.  Genius hypnotic grooves governed by the amazing guitar tones, I am still reeling at the end when the smokey voiced singer Wino comes over to speak to us!  At first I think he is speaking a foreign language but it could just be my head is still in bits but it was a pleasure to meet him in this genuinely friendly and open manner all the same.  Next back to the PHD for Germany's Ahab (below), who were one of the biggest draw's for me in advance.  A big fan of their colossal funeral doom slabs this was only their second visit to the UK and I hadn't seen them on any of my European travels either.  They started quite light and looked a bit unimposing on the stage but with the inevitability of the oceans wearing down the land (they are as nautically obsessed as their moniker suggests) this was merely the contrast before the oppressive blanket of heaviness is dropped to shroud us.  Immense sound, with inhumanly deep grave(l) vocals, and yet no aspect of dreary, it was a pleasure to experience the wall of heaviness.
This left us with only the much celebrated (and rare in UK festival terms) headliners, Bolt Thrower (top and bottom), to continue in the same vein.  Had almost anticipated problems of getting in to see them because of stage capacities in comparison to overall tickets sold, but there was no worries and was able to get to the heart of battle, going over the top a couple of times too.  Bathed in heavy smoke of war, the riffs were machine like in the constant battery and it was such a satisfying conclusion to the day, the perfect mix of pace and power.  I didn't make it to the bitter end, ending my tour of duty and chilling for a bit before finding my lift back.  The fact that a day so full still seemed too short summed up the quality of the experience as it flew by, personally I had no issues with the setup and raise yet another glass to the organisers for building this to the success it is today.