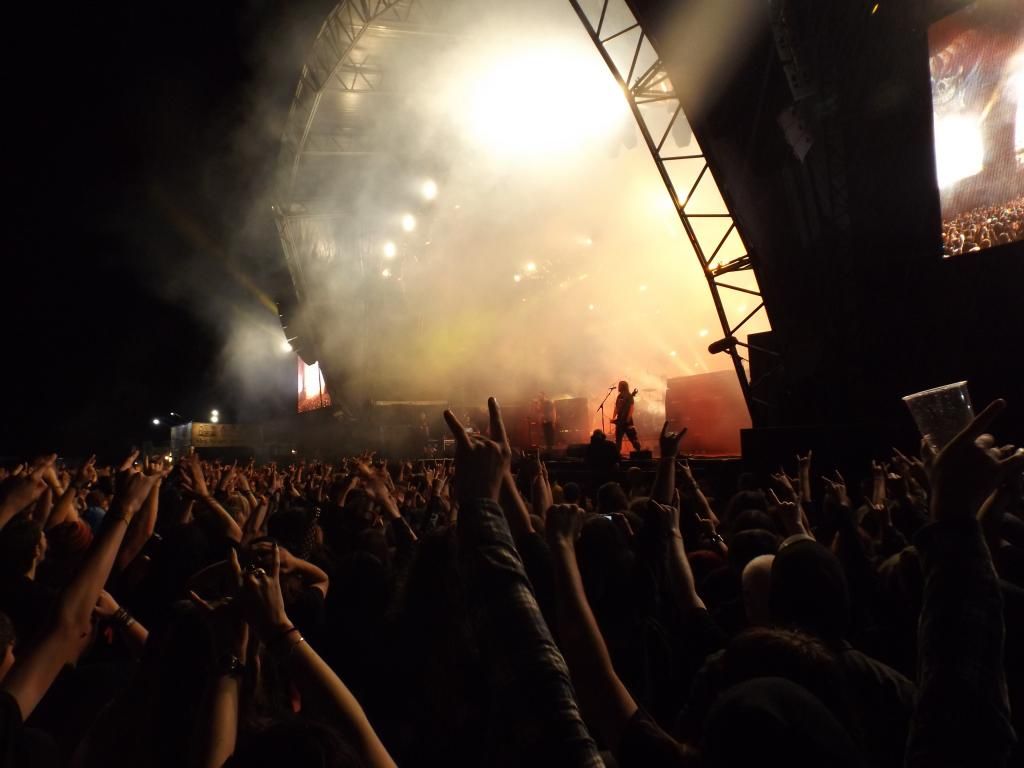 Having already spoilt myself with expeditions to the dark heart of Europe over the summer I hadn't much considered this the UK's biggest little metal festival in competition to those foreign delicacies.  But some friends having a combined stag and hen do here, plus a review of the lineup showing there was a good deal of stuff on of interest, led me first to consider a day ticket then the week before the event pick up a weekend one for the price of a day.  At that rate the whole thing starts looking rosier and even though other commitments limit my overall attendance I'm excited enough to wake up at dawn on the Friday and head over.
After setting up and having an appropriate liquid brunch the entertainment on the main Dio Stage opens for us with Entombed A.D.  The pretty sad state of affairs of musical disharmony that has seen this version of the Swe-death legends attach the suffix and subtly/amusingly alter their classic logo with no doubt potential court cases in mind had made me pretty cynical about what to expect.  I was not into their recent single release, or indeed a lot of their latter back catalogue but also as expected playing one of my all-time top ten songs in "Living Dead" was just full of win for me, as was the stirring outro from "Left Hand Path".  Stayed at the main stage for the Republic of Ireland's Primordial next, giving the traditional second chance to any band who had not particularly impressed me last time (at Hellfest).  Still occasionally veering to the overblown I did enjoy them more this time, the frontman exudes theatrical confidence and there is a good degree of emotional epicness in the structures.  A first time experience for some thrash legends, Flotsam and Jetsam.  Kind of second wave from the States, they were perhaps best renowned  for providing Jason Newsted to Metallica but decades on demonstrate a new purpose,  with some great chugging riffing and quite melodic vocals that reminded me of "…Disease" era Anthrax.  More consistent delivery appreciated next from Prong (below).  Not long since I'd seen them in Manchester promoting their new album, there's a touch of that but lots of classics too, and the three piece have a good balance between the instruments, great inventive metal with a groove.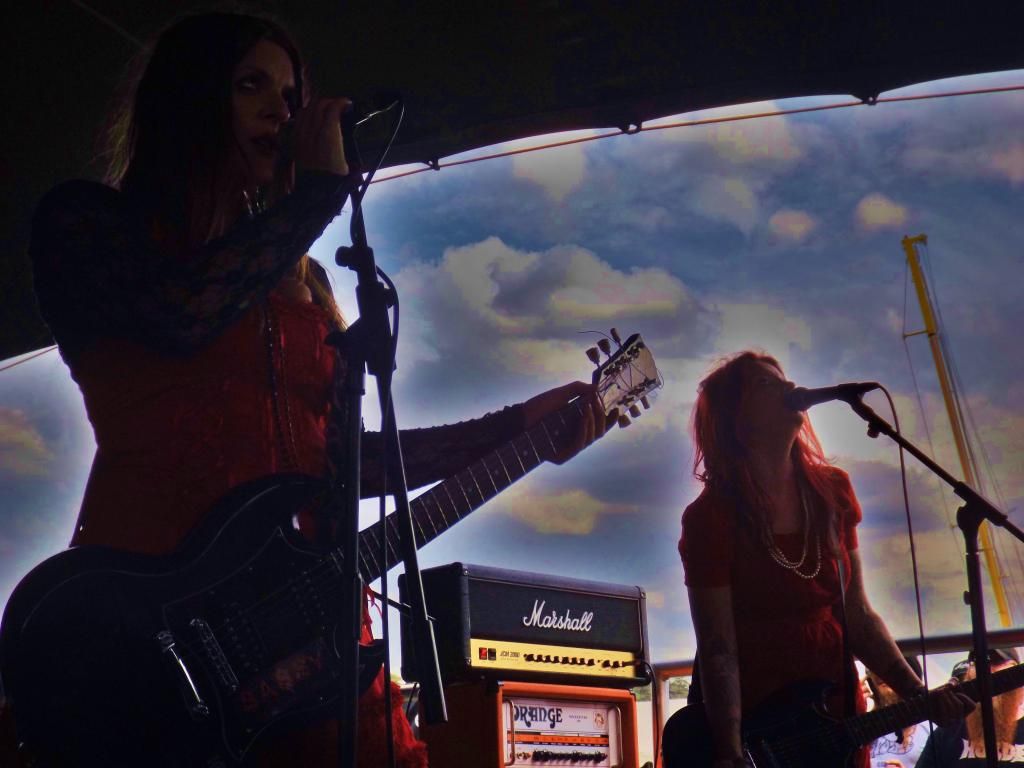 Some personal favourites of mine, Undersmile (above) from deepest Oxfordshire, bring us to the tiny Jagermeister stage plonked in the middle of the field. Previously this had been the reserve of acoustic acts but their haunting, crushing doom is at full volume, the singers with their thousand yard stare or intimately sharing the reverberations.  Something special for sure.  The perfect warm up for more monstrous, brooding heaviness from Triptykon (below) on the main stage.  Tom Warrior's band has just released their second album of humungous riffs, and stomping distorted rhythms, so there's no need to rely on Celtic Frost songs this time round (though it still would have been nice 😉 ).  Again, the bassists pounding playing technique is a thing of wonder to watch, and magically like their last appearance here they summon the rains like the dismal gods they are.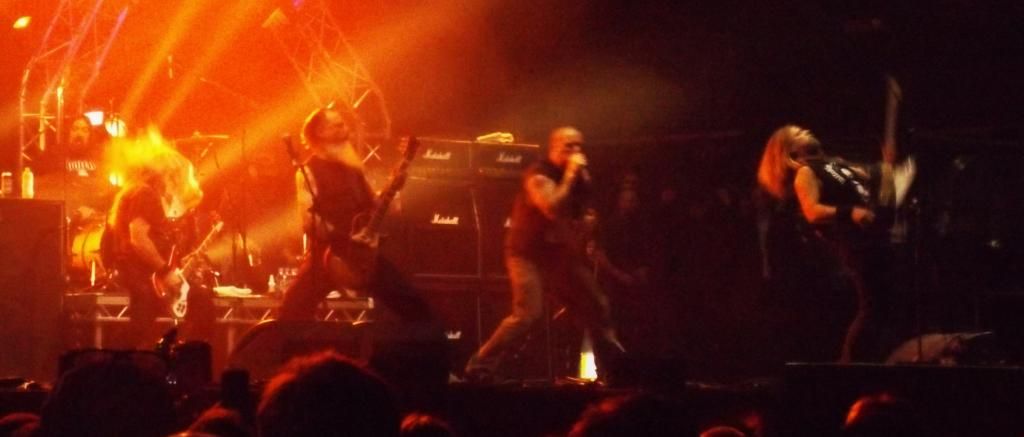 First trip to the Sophie (Lancaster) Tent for Manchester's Winterfylleth,  the opposite end of the velocity spectrum.  It is the usually impressive epic black metal with occasional folk vibes, what is striking on closer analysis is how few notes they use, drawing out the songs with the relentless speed and the drum rhythms picking up and dropping out to drive things along.  To finish tonight we have the punky sludge of Down (above), from the U.S.  I have found them hit and miss in the past, judgement also coloured by how much Phil Anselmo runs his mouth off, but he seemed on good form tonight and even poked fun at himself.  The music can seem a bit random at times but when they hit some heavy grooves it goes well, a pretty epic set from them too.  Nice to see Discharge and Doom referenced on their shirts as well.  Finishing before 11 there's still plenty of time for partying on at the camp site, which is more entertaining than the aftershow DJ's.
Bright and early morning for Saturday, with Evil Scarecrow bringing a smile to most people's faces with a big turnout for them.  Sometimes I wonder if the jokes of their completely over the top metal show is going to wear thin for me, but not today as the seeing thousands of people synchronised scuttling for "Crabulon" is hilarious.  Plenty of props on stage add to the display, and they seem to be loving the interaction themselves.  Knowing that The King is Blind (from Essex) are coming to Hammerfest in North Wales next year I thought I'd check them out at the Sophie, and was pleased I had.  Very dark and aggressive death metal, but with a punchy hardcore mix to them as well, reminded me of The Secret a bit.  Out again for more death with Decapitated, the Pole's providing a good mix of groove and more melodic elements into their sound, lightening the sound somewhat to match the bright sun. Old Corpse Road I'd last seen over at the New Blood/unsigned Stage here but in the intervening years they've been working hard and have evidently progressed their game.  Rooted in black metal but showing progressive or folk flourishes the constant shift in the song structures keeps the interest, and the way they have a five way mix of vocals is excellent/unique.  More straightforward and literal heaviness with Crowbar (above) on the main stage next, they are expert practitioners of taking their sludge down to the most subterranean levels, at times almost a repetitive industrial dirge.  Lovely and satisfying if you are that way inclined, I am.  On a recommendation next went to see Obsidian Kingdom (below), who turned out to be a real revelation.  The guys from Barcelona produced a captivating mix of Cult of Luna style post metal ambience interspersed with explosions of black metal harshness, and included a remix version of their own material from the U.K.'s Necro Deathmort.  "Progressive" can sometimes be an offputting tag to a Luddite like me but I was completely won over by these and will be picking up some of their material for sure.
   Sped right up again with Norway's Blood Red Throne (above) who I last saw with Suffocation in Liverpool.  Super guttural and brutal death metal, delivered with a precision, added to by the deadpan banter of the front man.  Very entertaining all round and consistent over a tight, furious set. My only trip to the New Blood stage of the weekend, I like its new improved set up, and also much enjoy the pounding, bouncing mix of old school Autopsy-ish death with a more modern bite to it that is provided by Preston's All Consumed.   Fair play, they still get a modicum support in the face of their clash with the Carcass (below) on the main stage, but I get my fill here before heading out with perfect timing to "Reek Of Putrefaction".  As I concluded after seeing them at Hellfest, it's only the old school I'm really interested in these days, but I did enjoy their melodic death metal here tonight, and front man Jeff seemed on better/less annoying form than that previous show.  An interesting dig at people who murder people in parks too, given the ex-convict Faust is drumming for Emperor (top) headlining next tonight.  We watch in the dark and the rain, with occasional flames and copious alcohol shared around to ward of the demons.  The returning black metal overlords are again airing their debut "In the Nightside Eclipse" twenty years on, with this being the last gig of their summer round.  What I appreciate more this time is just how well formed and advanced this was for an opening gambit, these were no stumbling rehearsal room enthusiasts but they came straight out with a wildly diverse and technically intense sonic experience that has stood the test of time.  Which we have done too, as it's another night complete.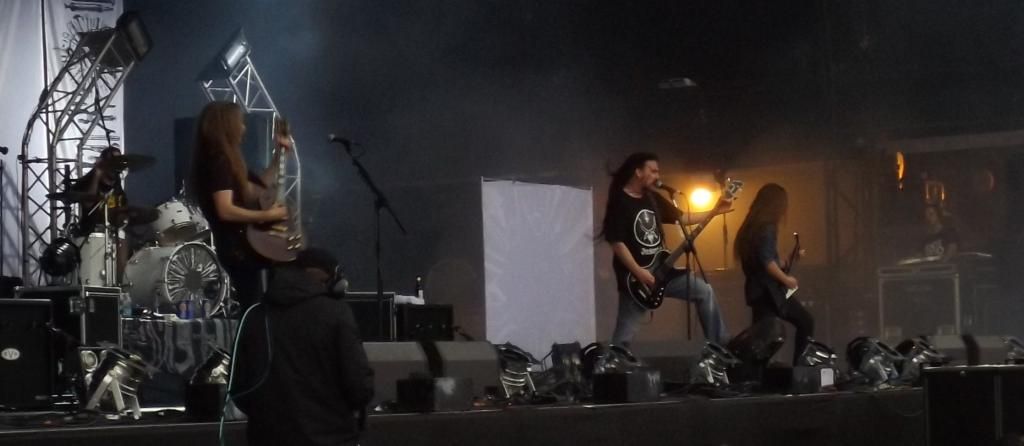 A truncated Sunday for me, with an early exit planned.  Not really fussed about eventual headliners Megadeth, pretty gutted about missing Obituary, happily consoled by an excellent opening to the day.  First we get there for Aborted (above), who really deliver a pretty stunning exercise in pummelling death/grind.  I had seen the Belgians before but keep need to be reminded just how impressive they are in sharp and engaging brutal riffing.  Added to which founder Sven's deadpan delivery is just hilarious.  After Brief interlude sheltering from almighty downpours we get more cover in the Sophie tent for Birmingham's Morgue Orgy.  And also fantastic entertainment, as they not only deliver energetic extreme metal with a catchy groove to it, but there is more relentless piss-taking, of themselves and in general.  Just watch out for the flying sausages.  As planned my day ends on the main stage in the sun with Biohazard (below) bringing an old school set of metallic hardcore crossover.  There's been a lot of the more traditional metalheads dismissing them but having seen them in their reformed and revitalised form at Hellfest a couple of years back I knew they'd stripped away a lot of the bull and tough guy posturing and just play straight up and hard hitting, all the better for it.  Climaxing with a big stage invasion for "Punishment" it's a fitting moment to accept mine and make my exit, slipping and sliding out of the mudbath carpark.
All in all a lot to enjoy in my spell here, I'd still debate annually whether it was worth full price compared to other events elsewhere I might attend, but the fact is there was a lot of strength in this year's line-up plus the pleasing discovery of some excellent new bands.  As always add in the pleasure of the great gathering of friends old and new and the usual madness and it adds up to one to remember.  Vaguely.