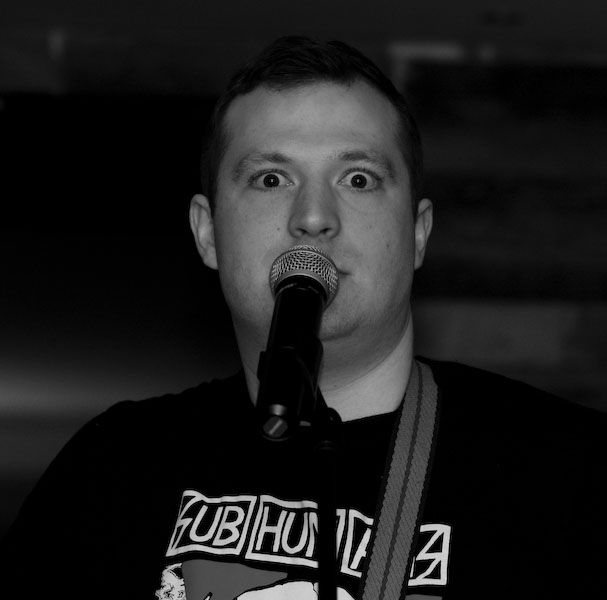 Ha! Browsing the menu at Bangor University I discovered the Welsh word for Burgers is Byrgyrs… I'm not sure what I expected it to be, nor have I ever had the need to order a byrgyr in the Welsh tongue. Anyway, Joe opted for sgoldion a byrgyr and I took advantage of these cut student prices and tucked into a burrito, vowing to someday soon give up meat altogether. John Lydon once said cows are stupid and deserve to be eaten, but it turns out they're cleverer than we gave them credit for, nudging their horse cousins into the abattoir and ultimately the UK food chain.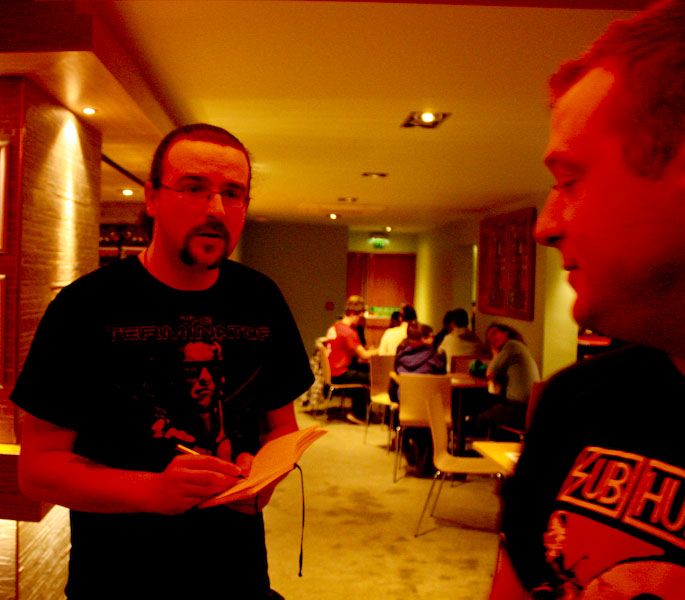 Apart from being a veggie when it was trendy, and being too thick to substitute the lost protein properly I've started leaning toward giving up meat on the principle of all the mass produced shit the war mongering supermarkets and food industry shove into our bodies. Organic? Fuck off, that's just an excuse to put the price up so middle earth mother will buy it thinking she's doing well for her kids. Succulent chicken breast? Only if succulent means you like steroids. We get pumped full of so much shit it's hard to know what we're eating and what it's doing to us. Yes, I know we're not immortal, but we could at least live our lives a bit more healthily and free of all this sugar filled, additive filled, profit driven, ketamine laced shite.
So, guilt ridden at tucking into a burrito; more for abusing my body rather than for the ill fated cow/horse, I pondered the forthcoming evening here at Bar Uno. Joe ravaged his death byrgyr and we contemplated breaking the news to Gwion that I had told all the other bands it was ok to use his kit!

We took advantage of lots of bands milling about waiting to be told what to do and decided to take the lead and set up our own stuff and sound-checked a couple of songs I Don't Wanna Be You and Macho Man – I guess if you look like you know what you're doing, people will assume you do know what you're doing! Ha! Looks can be so deceptive!

The waiting game is the hardest, I think this is only our seventh or eighth gig, so the boredom hasn't quite set in yet! Culture Shock would take a good book on tour, UK Subs would be fiddling on their phones. The Alarm were all eyes down on their Apple Mac laptops and when I was in 4Q it was quite often a game of 5-a-side footy with the other bands. I must admit I had exhausted the facebook, twitter, instagram and BBC newsfeeds in those two hours, and, god forbid, even engaged in conversation with the rest of the band and played a shit game of pool.
Tonight's gig was being recorded by Bangor University's Storm FM and in particular the tireless Alec de Sausmarez who organised the whole shebang. Nice to have a PA with foldback monitors for a change, not that I could hear fuckall through them anyway. We've got so used to playing through ramshackled PA's that to actually hear ourselves onstage, we'd probably run a mile and quit!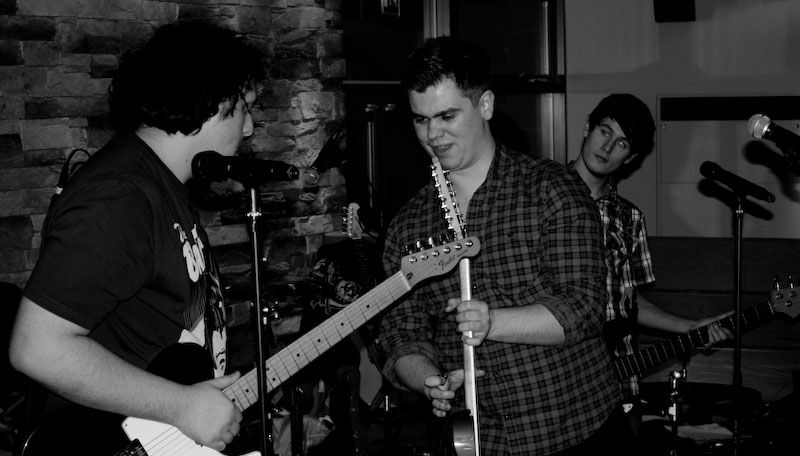 What The Dickens were the first band up, making their live debut as a full band, having fettled around the acoustic and open mic nights previous to this. Nice enough lads who had got together at Bangor Uni and seemed to focus their indie-go-lucky sounds around Uni life, Preston and exams. They went down ok, with polite applause from a decent size crowd.

It turns out that the Bangor Uni Christian Union also have a meeting/evening here at Bar Uno tonight; a nest of Christians were doing Hail Marys in the corner. And one sure thing is, you know if you're sat with a Christian because they'll fucking tell you!
I love students, they have so many causes; Save the Urdu Whale, Bangor Action Group Against Eating Children in The Tongan Islands and many more. Maybe they should get serious and Save Live Music, real music, not tribute bands, not cover bands – REAL BANDS WHO PLAY ORIGINAL MUSIC, and playing a shit load of Sex is On Fire wank and then chucking two of your own tunes into the set does not get you out of jail, you cunts.
Anyway, enough whining… We played our set, we dripped our sweat. We got a good response, hell, some even knew the words! Which ain't bad, as the songs will be alien to the vast majority and not a cover to be heard; more so because we lack the talent to master anyone else's tunes! Our 28 minutes of making a racket consisted of Macho Man / I Don't Wanna Be You / Depression / Get Outta My Head / Poison By Rancid / Gone Fishin' / Government To Be / This Song Was Never Written / Never Kill Yourself.
We missed His Finest Hour as we were being interviewed for Storm FM, please God tell me I didn't hear 'Wooaaahh, you're sex is on fiiiire,' from the stage.. ha ha!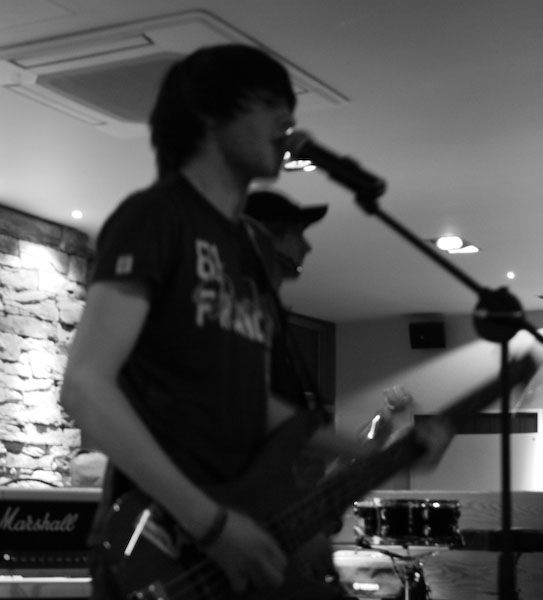 It became apparent that Decidian had not, for whatever reason made the trek up from Dolgellau, and to be honest it would have been a band too many as even 4 bands is a band too many. I finally got to see Arcade Avenue, who have not shown up on two previous occasions. They were popular, the singer was very charismatic, looking like the unwanted child after a one-night-stand between Erasure and Darius!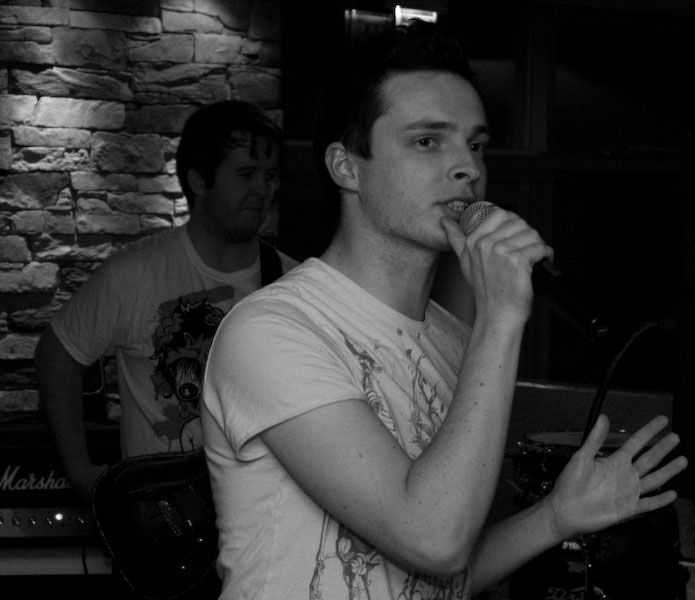 Hopefully this event, which is going to run monthly, becomes a mainstay on the calendar, encouraging bands to play in Bangor and encouraging people to venture out from the comfort of their soaps and social networks. Real networking! Actually talking to people face to face (like the christians tonight!!). March 7th is already booked with Zebedy, Bad Excuses and others ready to play (no Sex is On Fire please!… you have been warned.. heh heh..!!)