(review n pix by neil crud)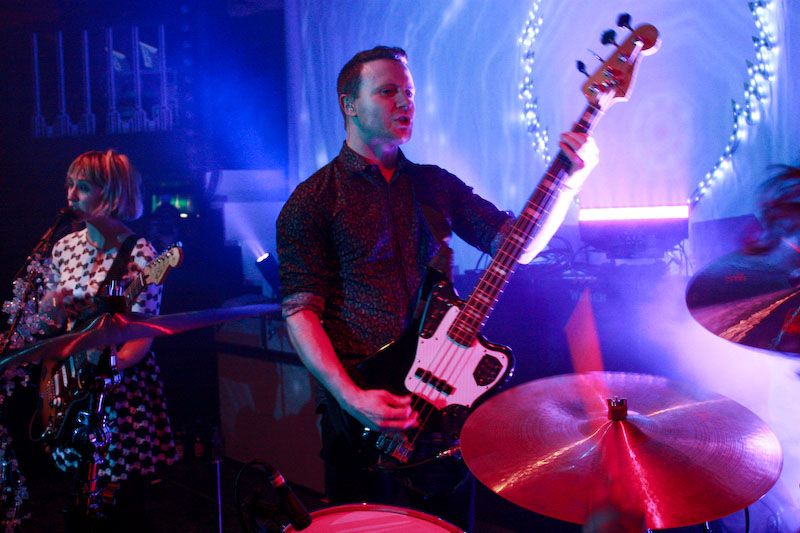 I can't see he says what he means, I can't say he means what he says that I'll pretend, I'll pretty pretend, when all I want to see is the end of this.
I haven't got a fucking clue what they're on about, but I love that song (Cradle) anyway… and as it was played I had a premonition of Joy Formidable thrashing the living daylights out of their instruments (as they do), headlining some amazing festival (as they will), making an indecipherable unholy racket, until Ritzy (Rhiannon to her family) stops the noise and sings those 'I can't see…' words and is drowned by the big roar of the crowd before the band slam into Cradle.

There's a new album out (Wolf's Law) yesterday, 'The bastards won't give us any stock to sell at gigs.' Ritzy apologises. It's getting ok-ish reviews, but if you wanna check out Joy Formidable, then the medium you need is LIVE… Yeah, the recorded stuff is good, but on stage, in the flesh is where it's at. It's where you get the real deal, tonight was one of those nights that you are so thankful to say that you were there… It was one of those gig moments that come around maybe once a year – well, they do in my life, and when you consider I see a stupid amount of bands, these moments may only happen once or twice in the life of an average gig goer.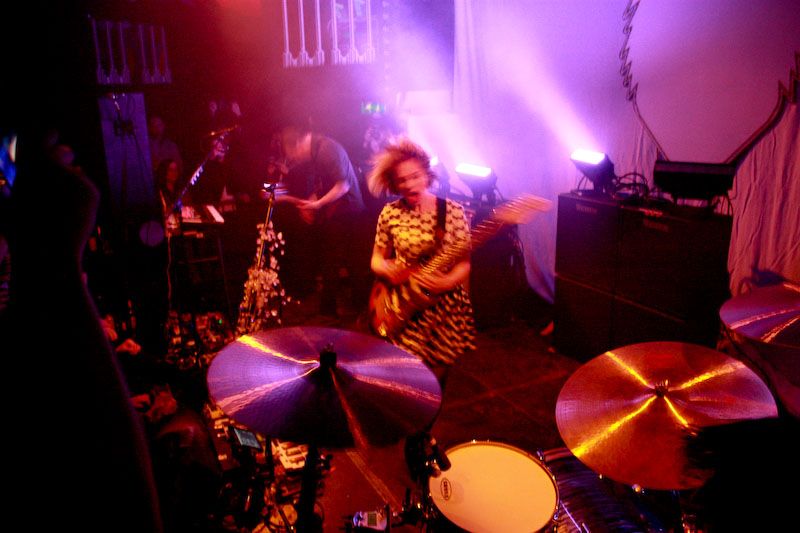 Yeah, it was the encore that actually did it for me, it was like skimming a stone across a lake, like skateboarding on air (hoverboarding), it was tripping the light fantastic, it was feeling a rush through the veins, it was going twice the speed limit on a motorway with a smouldering sawn-off shotgun on your lap and the police in hot pursuit, it was kicking the living shit out of a ballboy then scoring  the winning goal in injury time after being 4-0 down, it was like finding the original copy of the Bible (which was nice), it was like writing the script for Pulp Fiction, it was like finding your Dad's jazz mags aged nine. Those ten minutes were incredible and the picture below encapsulates that moment when the 500 people who are crammed into this ace venue revel in the beautiful noise as well as being awestruck by the Joy Formidable.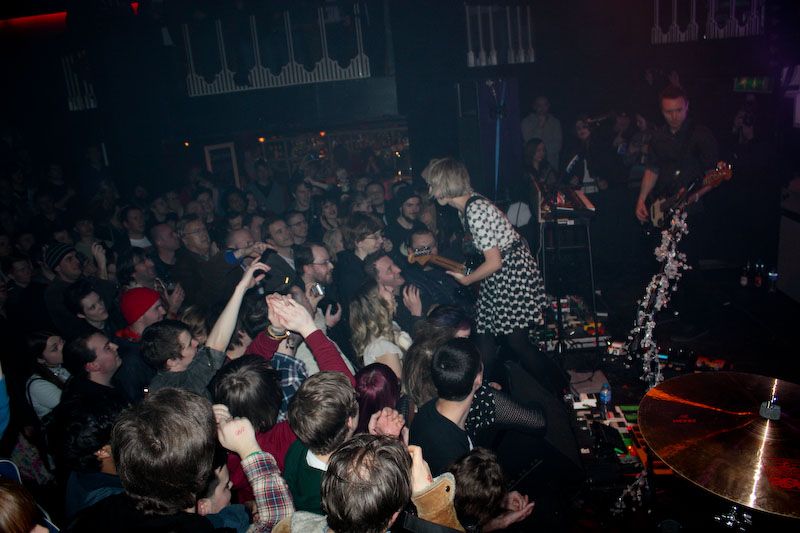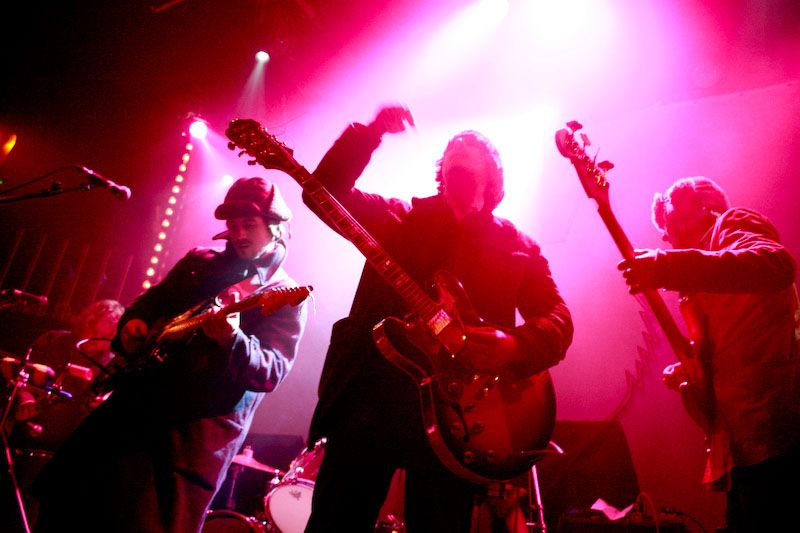 What's with all this wolf business going on in North Wales? Have I missed something? Is everyone howling at the moon while I've been asleep? Joy Formidable bring out an album called Wolf's Law, we have Wolves brandishing their delightful hardcore along the border, I Am Austin have changed their name to Beard of Wolves, and Royal Wolf on January 28th will be the next single by We Are Animal… This Caernarfon-ish band are a strange breed; off stage they are hicks from the sticks, uncouth, not very street wise and more comfortable siarad cymraeging with their Cofi Caernarfon mates in the Medi Cafe Bar rather than playing cat and mouse with the NME.
And yet… stick them on a stage and they transform into a mesmerising psychedelic band of great proportion, with sublime overtones, undertones, straight through your midriff tones. We Are Animal are always going places, they have good backing, and despite there being plenty of bands with good backing; the pretenders; the shit ones get caught out pretty soon once me and you see through the hype. We Are Animal are not pretenders, they are the real deal when it comes to making music. Although it was evident tonight that their latest in a succession of new drummers had only been with them TWO days; not that there was anything wrong with the playing, only their set started slowly and ended slowly – the bit inbetween really did take off, and those of you who'll catch them later on in this tour will for sure get them better (providing they don't eat this drummer).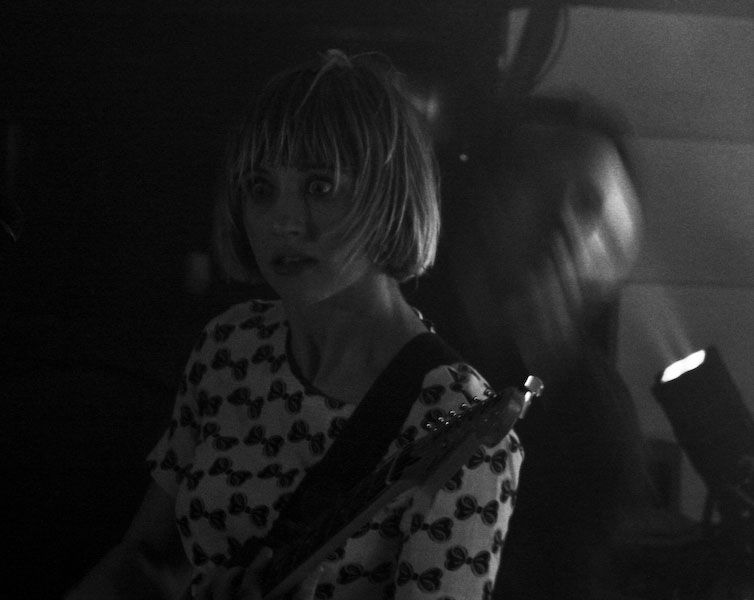 I saw Joy Formidable at Hendre Hall late last year, it was a deliberate opportunity to catch a band on a sharp ascendency at a very intimate venue, close up and personal. Ritzy's voice was broken that night thanks to the lurgee, but the show went ahead and we all left happy. The next week saw them (looking as big as ants on stage) at the MEN in Manc Land supporting Muse. I had passed them on, I had done my bit, supported them as a local band (as I do) and they were on their merry way to bigger and better things. Ace.
So when this tour was announced, I did the usual 'add the info to my website' bit, listened to Adam Walton have the usual party in his pants over the whole thing, looked forward to the new album and thought nothing more of it. Then I opened a christmas card off Marc and Andrea to find a ticket for this gig in it. Brilliant, I thought. Yes, I would not have gone otherwise, for those reasons above, but how thankful am I for this opportunity to have been at this crammed venue, to have shared the sweat and the days of fizzing ears, to have seen, once again this band strike a chord with an entire audience, a chord of blitzkrieg proportions and leave everyone breathless and senseless; knocked for six by a sonic wall of tsunamic devastation, leaving us overwhelmed, staggered, cut to pieces and savaged… This is Wolf's Law, that was the Joy Formidable.


more on link2wales