It may be a Welsh-thing, but for many of us who have worked within Welsh Culture and certainly within the Welsh Language sector it does seem that many of our creative endeavours are met with at best a wall of silence, a huge stonking 20ft brick wall, too high to scale with a ladder. Add to that the barbed wire on top, we are not getting in, that's for sure. By Welsh-thing I mean that the wall of silence appears greater from within Wales than from anywhere else.

Sometimes I think it's apathy, but at other times the Welsh just shrug their shoulders in a very "I don't get this and I'm not even going to try and get it" kind of way, they don't even argue back, don't even give us the pleasure of their considered opinion, not even a "fuck off this is shit".  It's just good old fashioned Welsh Non-Conformist silence. Deathly, still as night, dark as night, a silence of the mountain wilderness, weird but very, very silent sshhhhhhhhh ……….
Back in the Dark Ages (that is circa 1985) I came across a character called Huw Prestatyn. Now Huw, operated on the fringes of the Clwyd branch (Cell) of Cymdeithas yr Iaith. He was their poster guy, the guy who designed the posters for gigs at Corwen etc. Not the fly-posting guy.
It was a Saturday afternoon, I had gone over to Oriel Mostyn in Llandudno to see an exhibition of photographs from The Face magazine. I was reviewing this for Y Faner. The previous evening, local Bethesda boys Offspring had performed at the opening. Offspring included members of Maffia Mr Huws (moonlighting in an English Language Welsh Band just to put them in the correct pigeonhole).
My own punk band at the time, Anhrefn,  were still very underground, unknown and usually gigging to around a dozen or so people who had picked up on what we were doing. I thought we were much more suitable than Offspring for the launch party, "bastards" I thought, but then Hefin Huws their vocalist was also our drummer so what could I say…..
I can't remember many of the photographs, only the nude of Pamela Stephenson, but I guess that Weller, Siouxsie, Spandau's, Boy George must have been there somewhere. It was dead cool tho', Saturday afternoon in Llandudno, here in North Wales and having this exhibition. I was the only person there that afternoon.
I knew Huw worked at Oriel Mostyn so I asked the lady at the shop counter if she could send word that I was at the exhibition. Huw came down from the offices and we ended up having a long conversation, probably about all sort of things, but again one of the few things that I can remember is that we eventually got round to talking about Attila The Stockbroker.
This was a pivotal moment in the History of the Welsh Underground Scene. Here was someone who spoke Welsh who had heard of Attila. To add to the shock-horror, Huw listened to John Peel, here indeed was a fellow traveller. Huw became our record sleeves guy as Anhrefn Records started to release 7" singles and 7" EPs following the "success" of the two compilation albums 'Cam o'r Tywyllwch' and 'Gadael yr Ugeinfed Ganrif'.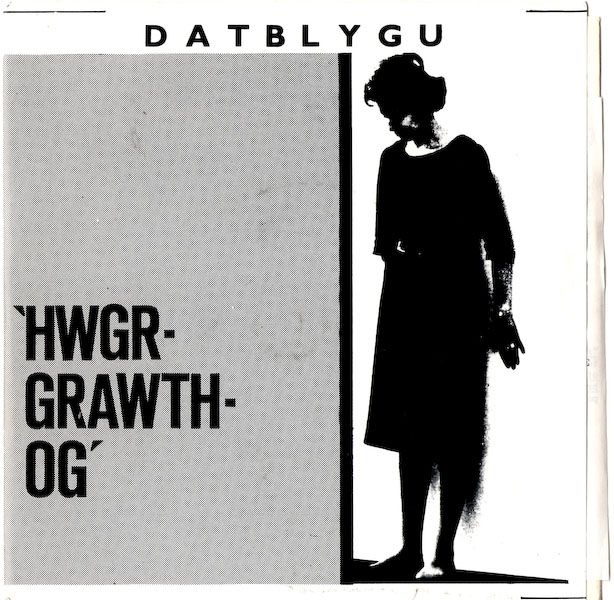 By success I mean John Peel airplay for bands such as Datblygu and Elfyn Presli,  zero airplay for bands such as Datblygu and Elfyn Presli on BBC Radio Cymru, limited sales and that wall of silence by the Welsh Culturati. Cheap vinyl, photocopied sleeves, Peel got the spirit and fell in love with Datblygu, we got better reviews in the NME than we got in the Welsh Press. Not hard as we got no reviews in Wales as far as I can remember.
We were on a mission, so what did we care, we were hell bent on instigating the Welsh Underground Revolution – but it was Huw who was the first to articulate this activity. Huw used to say "here's another futile gesture" as we cut and glued a thousand photocopied sleeves with Pritstik and stuck the vinyl into them and filled up a box of 25 at a time. Took all night.
Slowly the "futile gestures" joke kind of took hold. Everything we did became the next futile gesture. I hoped for more but it pays to have a dark humour in the Welsh Rock'n Roll Business. Huw also came up with the "File Under" idea. In those days every record had its place or section  in the racks at Record Shops. Maybe we were all destined to be "File under Welsh". Or not.
Maybe we were Situationists who did not really know we were Situationists. The first album by Anhrefn, 'Defaid, Skateboards a Wellies' was given a label on the back sleeve  "File Under The Bad Boys of Welsh Rock'n Roll". This quote was lifted from a Local Newspaper article about Elfyn Presli, more than likely a headline in the Cambrian News. Plagiarism was an art form advocated by Jamie Reid – so we plagiarised and used…


The next file under was "File under Non-hick" a pure genius quote by David R Edwards. Where else would you, could you, file Datblygu records ? Of course in most record shops we were probably filed under W as in Welsh and in the more sussed shops we might have got in to the Punk or Experimental Section. Or of course Datblygu could have been in D next to Devo (acceptable), The Damned (not so good) and worse still The Dickies.
The futile gestures concept ran it's course. Peel Sessions and European Tours beckoned, as did The Tube and Whistle Test. Audiences grew (for a while), we reached a new audience but in all probability the Welsh Culturati still steered a wide berth, it's just that it didn't matter when we could fill clubs in Berlin, or we stopped caring – one thing is certain – gradually we stopped the fultile gestures joke, it was gone by 1988.
That is until a few years back. I had worked off and on over the years with the artist Brian Jones, a fellow Jamie Reid-ite, a cultural agent provocateur, a Scouser, a fellow traveller. Jones was an artist. I was not. I called Jones to see if he would articulate and visualise some new futile gestures. My creative mind was once again encouraged to poke fun at the Welsh World, to poke fun is to provoke it's collapse, in order to create we have to destroy or rather we have to create in order to destroy. Destroy old orders, non-conformist conservative old orders. Or do we create to entertain and educate ? It's not all destruction surely ? It is however, most certainly a futile gesture.
We set up futilegestures.com and decided that the revolution would be internet based. No gallery would have us. I am not an artist. At least we can get stuff up there.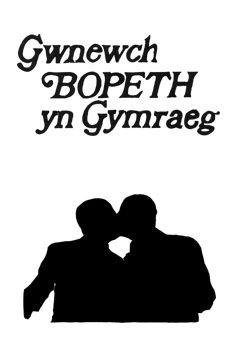 Our first work / piece / futile gesture was a remake of the 'Popeth yn Gymraeg' poster used by Cymdeithas yr Iaith in the 60s with a young hetrosexual couple sharing a kiss. We "queered" it up a bit. Silence. I sent a few prints to gay mates, they loved it but had no idea who Cymdeithas yr Iaith were so they only half got it.
I half heartedly mentioned to a few people that we could do a whole series of these posters and maybe have an exhibition somewhere. Silence. I came up with variations to the theme, Brian came up with even more hilarious variations to the theme being a Scouser and we now have several posters, unseen, unheard but on-line. Every now and again I post a link to Facebook. No one ever looks.
We certainly achieve what it say's on the tin. Each piece / artwork is a futile gesture. I think the only actual art happening / event that we have been a part of as Futile Gestures was the launch of Culture Colony at Aberystwyth Art centre thanks to the visionary and fellow traveller Pete Telfer. Telfer invited me to read a 10 Point Manifesto at the event. A new art manifesto for Wales. People smiled, no one looked at the Popeth yn Gymraeg prints scattered, discarded, leaning on walls in the foyer of the Arts Centre.
Another good friend and fellow traveller Dewi Llwyd of Byd Mawr, who promoted shows at Hendre Hall almost got the Futile Gestures to do a live event, or at least DJ with an exhibition of our prints. Although extremely grateful that Dewi had made the offer I worried that this might actually destroy the whole point of Futile Gestures in the sense that the art would no longer be futile gestures, people might turn up, dance, look, talk, discuss, enjoy. That could destroy us as an art movement.
It was decided to turn down his kind offer. In the event, the event did not happen. We did not have to turn down his kind offer. Sometimes I wonder what might have been but at least we remain true to the original vision – these are futile gestures, to actually promote, to perform, to engage an audience without them having to actually make an effort would surely de-futile the pieces.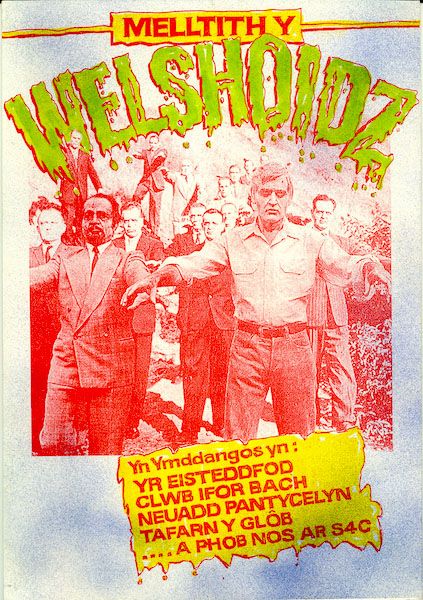 Trawling through the archives I found a Huw Prestatyn poster for a planned film "Melltith y Welshoidz". The film of course never happened, another futile gesture but great poster. It now exists on line.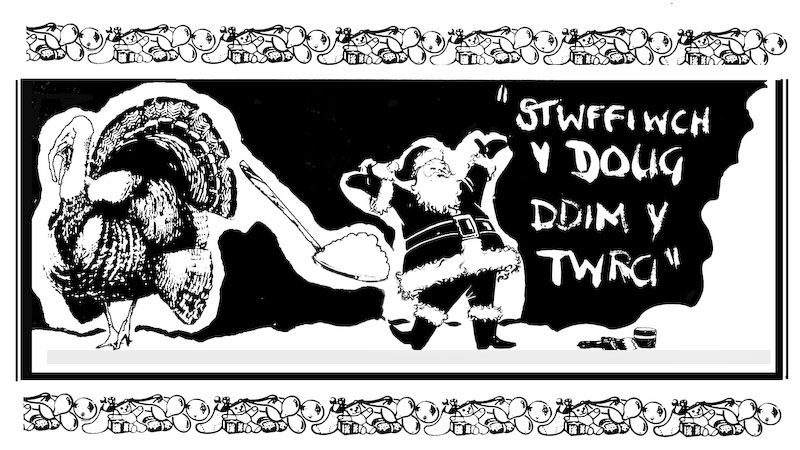 Another archive piece was "Stwffiwch y Dolig Ddim y Twrci" a cassette cover for Anhrefn's anti-Santa, pro Turkey Liberation Front, Christmas anthem (as covered by Gruff Rhys). A couple of years ago I printed up 1000 Christmas Cards with the 'Stwffiwch y Dolig' image. Not a single one sold. The response from most people was "Why ?". I could not give them away.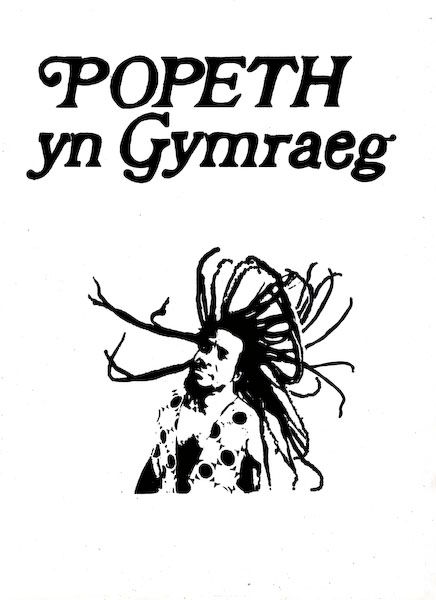 Gone are the days where we were all Animal Rights, every other gig in the Jazz Room [Bangor Uni] in the late 80's was an Animal Rights gig, gone are the days when people see the humour. To be faced with "Why ?". No more veggies obviously. This piece was definitely a futile gesture. I considered doing a KLF, climbing Mynydd Mawr and burning a 1000 Christmas Cards. I'm sure Telfer would have filmed this !
These days I'm on a mission to photograph FWA graffiti, I have no idea if this is art or archaeological archiving ? Whether these pieces are original 1960's graffiti or more recent activities by fans of Glyndwr. Who knows ? Who cares ? They remain enigmatic pieces of art on walls and slate as we traverse this Hen Wlad. The graffiti at Bala Lake Railway Station deserve an Interpretation Board for the visitors. Cayo should have a statue on a horse in Llanbedr Pont Steffan town square. Maybe someone could commission the Futile Gestures to make a piece ?
As we give thanks to Huw Prestatyn for his original articulation I suggest you search for a track (cassette only) by Malcolm Neon a great slab of monotone electronica "Pwy sy'n gwybod beth yw Art ?" That would have to be on a loop for our Retrospective Show.