(review n pix by mwj)
Swinelord, Stuck in a Rut, Dr Aids, Vitriolic Response, The Jeffrey Uppercut, Prosykynesis, What Lies Within, Neod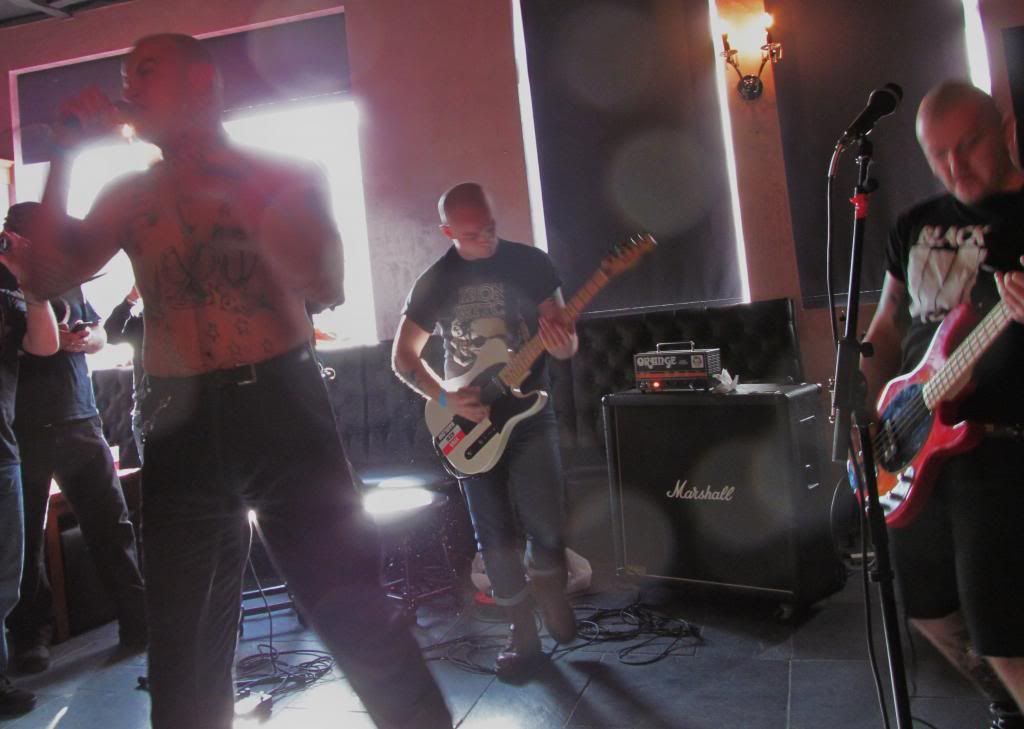 After getting spaced with Hawkwind, then Blitzed at some club after to 4 in the morning, getting blasted all day in Liverpool to finish couldn't possibly be a good idea, could it? Originally I'd only planned to stop off for a couple of hours to offer support to the worthy cause of this fundraiser for P.D.S.A., never mind to the organisers and bands in general. However, a last minute change in plans meant I had to man up / drink up and face to prospect of the full session.
The day started brightly enough, with a lift from Preston back to Chester then trains up through the 'pool. Emerging from the underground on the North side though couldn't help a wry smile at the industrial wasteland scenery I found myself in, the organisers having to rely on this venue out in the docklands when all others fell through. Still, the sun was positively blazing so all felt good when we got into the pub 5 minutes before first band started. No stage to play on, just the corner of the floor in the streaming sun through the window. Obviously early days for the youngsters in NEOD, the impression of conflicting influences being held loosely together, but they were ok in their gruff and ready way. They threw in Reagan Youth and GG Allin covers, and I chuckled when El told us they were Dr Aids protégées – the poor lads! The music improved considerably with What Lies Within, pretty strong and chuggy melodic death, although the main raw vocal struggled in the mix compared to the sung backing. Killswitch Engage cover maybe showed where they were coming from and though a bit awkward in delivery if they keep at it they've got a good footing to build on.

Turning up and playing in an unnaturally efficient manner, Proskynesis from Leeds ("and shit") were an evolution again, their brutally heavy, precise, and inventive death metal having been refined for a long time under their previous moniker of Revokation. All the members throw themselves into the fray and it's a quality performance. Much anticipation/fear for Widnes's The Jeffrey Uppercut (main pic) in their first gig next, for the uninitiated some scary skinhead trouble ahead. However, seeing as we knew of them from mutual friends from their home town, plus the fact that organiser Agz wouldn't involve or tolerate any nazi bullshit in any of his events meant you could limit your fear to violence of the pit soon kicking off. Experienced musicians provided a solid core of street hardcore but the beast of a vocalist they have in Azzy got over his nerves and was a star presence.

There were no doubts in advance what you were getting with Vitriolic Response next even before they played, crust punk as fuck in their style and while chatting to them about their forthcoming 7" release they were rejecting having it on any computer friendly format! They delivered the goods live as well, d beats galore and fiercely fronted by the ubiquitous Myke (Bailbond etc). I was so pleased I signed up for another crust band myself!

The organisers took their break and started getting more chaotic with their band Dr Aids. One of the better shows of theirs I've seen, even with Spinal Tap-esque bass player problems, they brought the party and the pit among their friends here, with the usual hilarious onslaught of song titles and rabid lo-fi old school grind. Stuck in a Rut next and while it takes them a little while to get into their harsh metallic hardcore groove it is soon evident they've come on a lot since I last saw them at the Dirty Weekend festival in Wrexham, really tightened up with strong vocals and a pretty wild guitarist.

Finally, after giving us some fear of not turning up at all, Manchester's Swinelord brave enemy territory, again having changed from the jaw dropping DW performance I caught through having a new singer. In relative terms maybe not quite as good on this showing, with a more relentless death style and the sound is less powerful but its still a splendidly filthy crust of a hardcore end. There's some raffle chaos shenanigans then I pretend to be an ever so helpful roadie to get a lift back with El. A success all round in terms of fundraising and entertainment, plus the landlady was keen to have it back every month, so look forward to the next one.