(review n pix by mwj)

With a knowing nod to the similarly monikered French event with its eclectic mix and vibe, with added Yorkshire twang, this was another mouth-watering and ear-battering independent metal festival that demanded attendance. A little European spice of a couple of bands brought over added to the base of the cream of UK underground extremity that was mixed together here. The larger Damnation Festival over here has a similar mix in its one day but whereas there has been limited space or competition for slots, here Mr Priest the organiser's own quality taste and appreciation of the scene meant that we were spoiled with the selection drawn together over the 3 day weekend. This was a significant step up from the last years 1 dayer, maybe encouraged by the success of the Blastonbury weekend over here as well.
Starting on Friday afternoon with WJ Coaches picking up and dropping off various folks as there was a general movement to the east, we got to Leeds in good time, parking up to abandon the car at the venue for the duration. This was quite a spectacle in itself, the frontage based on an Egyptian temple, but the function rooms for us housed in basements round the back. After a break to book in and lower the tone of the Hilton by warming up with some Oranjedoom, we headed back in for the opening act, Rectal Implosion. The name itself surely summed up the no limits approach to what was going on in here, and the tight technical goregrind from the local two piece definitely got things up and running in a fine style. Next Acolyte from Manchester, I'd been impressed with their progressive take on black metal when I'd seen them previously and while I still enjoyed their shifting structures the sound seemed a bit lacking. I had worries that the PA was not going to be enough for the task of the weekend's mayhem but this was soon dispelled by the North West grind monster that is Magpyes next. With a set that flew by at an incredible rate, blast mayhem punctuated by occasional filthy breakdowns, I was happily transported to "From Enslavement…" era Napalm. A sharp contrast and relief with Ravenage and their power /pagan metal next. In full mediaeval regalia and with a bit of sword action, they had their tongue in cheek a bit but the music was well done too, more in the vein of the heaviness of Ensiferum than some of the folky cheese in the genre. Blasting from the past next was some raging death metal from the North West with Kastrated. Been some years since I'd seen these but they are back with a vengeance and really tight and energetic in their delivery of some fine harsh tunes, with "You've been Maimed (Fisted by Beadle)" making an early entry into the more hilarious song title of the weekend. All set up for the headline slot for Manchester's Winterfylleth (main pic), and as expected from their recent revelation of their quality to me at Hammerfest, they once again produced an epic and engaging black metal onslaught, the shade and light of the double picking and blasting with atmospheric passages really expressing the quality in their writing that has them signed to Candlelight Records. There's a comedown in the seriousness with Gore next, with their rough and ready raw death metal pretty stripped down in technique but with a big dose of humour thrown in to bring the party vibe towards a climax. This is ultimately provided by locals Diascorium in what was sadly yet gloriously their last gig. Insane blackened jazz grind, it's initally almost a spectacle for musical appreciation of the flying fingers and convoluted compositions rather than something to get down to, but they have some plenty brutal riffing sections topped with harsh vocals amidst the chaos. Their penultimate song "Triptych" provides an amazing highlight with the ever slowing final riff extended in an adlib on the spur fashion to be a thing of wonder, amazing, with the whole emotion of the event and the farewell I'm almost welling up. Or maybe I've just reached capacity of beer and its sloshing out of my eye sockets. Ah well, return from the pit to the pit of the Hilton.
After surviving a haunting and fending off Cancerous Womb's attempt to steal our breakfast in the café we stumbled back to the venue on a bright and breezy day in just about enough time to catch Masochist getting the day going soon after midday, with the prospect of an over 12 hour day. Pretty solid death metal from the local youngsters, what a great opportunity to represent themselves well at an event like this. The feral punk ladies of Nu Pogodi next, who I'd been very impressed with at last years Dirty Weekend in a similar "shouting wake up call" slot. A new guy drumming had added power but sound issues meant they were drifting a bit randomly at times, didn't detract from the fierce delivery of their thoughtful messages.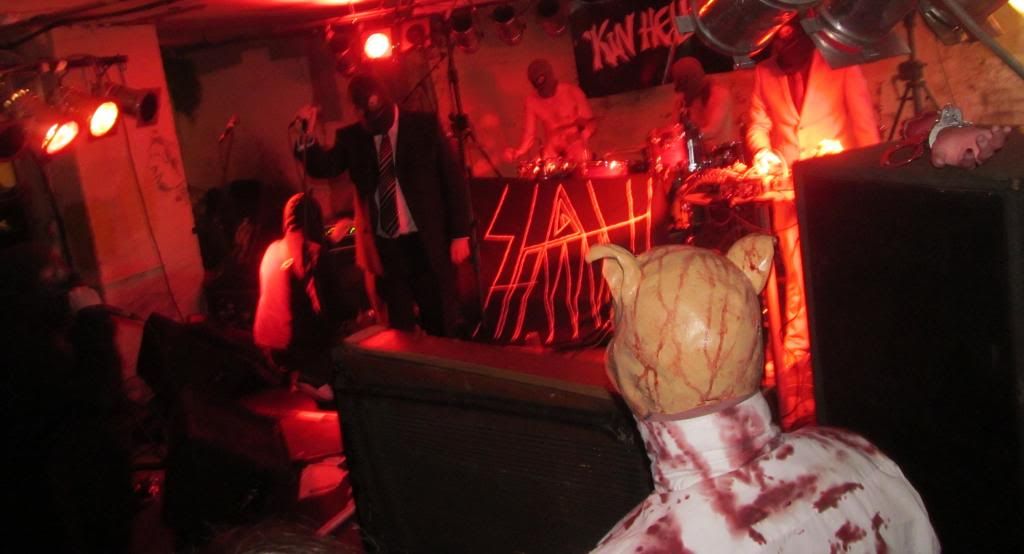 Not sure of the message underlying Sloth Hammer but it might have well been the monstrous revelation of impending inevitable doom at the hands of Chthulu. I'd had the twisted pleasure of seeing them perform a couple of times before and knew of the random and adlibbed nature of the sonic abuse based around reverberating slow bass, hammered rhythms, screamed vocals and bizarre electronics. This time the mind reels from two naked drummers, a wandering pighead cymbal, the remnants of a grand piano being murdered, sartorial elegance and balaclavas. Gobsmacking and slightly frightening, a treat all the same. We take a bit of time to enjoy the sun in the open yard outside, this is an added blessing adding to the festival feel, giving people the chance to mingle and share the craic and the atmosphere is great. The bar selection is constantly changing with supermarket restocking trips, there is some food of varying quality, and assorted merch to drool over too. Good job there is a cash machine close to hand.
Next some more conventional yet still very satisfying vibes and grooves from some more locals BongCauldron, a late but welcome addition to the bill. Great Yob-bish slabs of raw stoner doom, really powerful sound from the three-piece. Back to punk action with Newcastle's Prolefeed, proper ferocious biting hardcore, really tight delivery, but with a good sense of melody among the angst, I pick up their demo cd "Murder Rob For Cult Status" too. Would hope to see them down at the Dirty Weekend some time in the future. A set from the one man army in the shape of Regurgitate Life, but the guitarist/vocalist puts on an extremely impressive show with the backing track coming across well heavy through the PA. Top notch technical death in the vein of Nile or Hate Eternal, not only does it have the balls of a full band but he's actually written some interesting songs, grab the download on my return. Seamlessly slips into Cancerous Womb, with more death metal from the Scots, this time Suffocation comes to mind especially with the Frank Mullin-esque infectious genuine enthusiasm of the singer that gets the craziest pit action so far going even if it is only early evening. They come across far better live than the tracks I'd heard on a previous split, but were off immediately to record an album so hopefully that will capture the chaos well. Dragging the tempo back down to the depths were Ishmael, female fronted crushing doom all the way from Plymouth. A real ear-opener of a performance, fantastic, almost sub-Neurosis dirge tones from the instrumentation while the vocals were an incredibly harsh eruption. I do love a strong, shouty lady, as long as its not directed at me personally, and with them and Undersmile enjoyed recently the more the merrier I say. Back up a few gears with the death/thrash of Flayed Disciple, who I'd missed at both Bloodstock and Hammerfest in the last year due to clashes (admittedly, with drinking priorities one time) but had heard good things about them. Worthily so it turns out, as though I was a bit enfeebled myself at this stage they had a real drive to the music in their fierce riffing that really kept the place bouncing. A curve ball from the organisers with Asomvel, mixing large parts Motorhead and Venom in their cocktail of rocking metal. All good fun from the three piece with their tongues knowingly in their own cheeks, I had made plans to steal their left handed Rickenbacker bass but sensibly forgot in the subsequent mess. Two anticipated personal highlights for me back to back next, and both of them delivered massively so.

First, London's Palehorse (above) with their twin bass-ed attack providing more of a hypnotic groove to the shift of the vocals from spoken work to roaring rants. Now with an added element of white noise electronics into the live mix, it was a wonderfully captivating and unhinged performance, something unique I think, and very much look forward to a mooted new album release on Candlelight. Soon followed, stripped down to strip lights, by Belgium's Alkerdeel who'd drawn me to them with a spellbinding performance at last years Roadburn. Yet again they put in a stunner, initially with a black metal onslaught like the relentless ice cold blast of Wolves in the Throne Room, before shifting to some of their more melodic, haunting post metal only to explode once more into shrieking oblivion. Wonderful stuff, worth cracking out the black absinthe for! Even though they were obviously having fun on their travels things got down to serious party times next with the final duo of bands. Leeds own The Afternoon Gentlemen have garnered a fine international reputation over recent years with their sharp yet stupid grind/power violence, obsessing on the importance of drink in day to day life that we can all empathise with. And on home turf this is a great chaotic celebration, harsh blasting contrasted with bouncing choruses and almost crusty break downs and outs. Thoroughly enjoyed and they'll be in Wrexham in September too. To top that would take something but there were no doubts Holland's party gore grind atrocities Rompeprop were capable, despite having lots of last minute hassle losing gear in transportation. It had been a hilarious party to their rough and ready grind riffing and subterranean vocals at Hellfest last year and here with even more friends gathered to laugh and mosh together it made it all the more so. Helped by the fact that the frontman is most amusing in his banter, plus a general days drinking, it's a culmination of a day that leaves broad smiles all round. As well as various bodily injuries. Time for a chuckle (shhh, quiet!) at Acoustic Womb's wind down session in the chillout room that was a regular source of respite over the weekend before crashing once again
A naturally quieter day initially on the Sabbath, even time before the lunchtime start to visit the excellent Cross Foxes pub down the road, there's a hungover feel in the air and the cloudier sky. Still, Envoys works well to ease us into the musical headspace, with diversely structured post metal, often lulling, occasionally firing on all cylinders. At first I'd thought the bass players mass of pedals was over the top but soon enjoyed some of the phat tones they produced. Things ramped up a bit harsher next with DSDNT, some aggressive metallic hardcore that put me in mind of some of the U.S. crust like Tragedy or From Ashes Rise. Perhaps still to capture their own sound entirely but some nice swe-death distortion always wins me over. There's a bit of a re-jig on the order that sees Preston's The Day Man Lost come in earlier but it certainly doesn't seem to take them long to warm up to intense grinding speed. Their short blasts of songs fly by but again are really satisfying in meeting that grind ethic, especially the vocal interplay between frontman and drummer. Their drummer had eventually made it but they were still minus a guitarist so Horsebastard were an unusual prospect of D & B grindcore. It still worked though, allowing appreciation of the drummers mad blast skill with some nice distorted bass filling out the sound, all topped off with vocalist Reese's lung bursting harshness.

And all over in 20 minutes, which he probably appreciated as he was now set to front Corrupt Moral Altar (above) next. I'd loved the Eye Hate God style sludge of their recent "Luciferian Deathcult" release, but this was the first time catching them live and great to hear it battered out with such gusto. Even though there's an element of jam band for guys involved in other bands they've captured an excellent sound here and look forward to more of it. Back to the black next, with a holocaust of relentless hyper speed riffing from Manchester's Wode. They may not particularly look the clichéd part but there seems to be a genuine focus to their churning out of the blastbeat backed, epicly structured doublepicked riffs that reflects some of the best of their forebears. Impressive.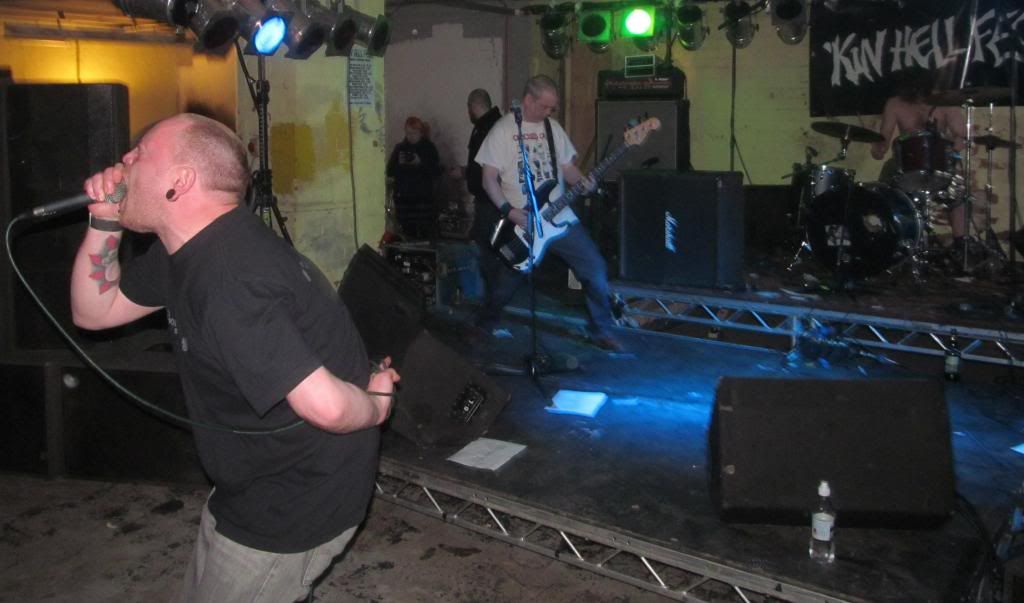 Had seen the Scots of Sufferinfuck (above) bring their ENT-ish furious crust/grind to Leeds before and although maybe the intimidation levels were slightly less through familiarity it was till a explosively sharp set, and look forward to their visit to sunny Rhyl before long. A clever shift down in speed styles next with first Liverpool's Iron Witch, sharing members and some semblance of style with CMA, but with more of a ultra heavy stoner groove, that occasionally broke out in some fierce punkish riffing, again a really solid set. A nice bonus then that their "Hangover Suicide" 7" had been given away free to early attendees. Then things hit rock bottom tempo wise with not so much rocks as concrete boots and Newcastle's Bong. A rare live outing for them apparently, probably through public safety concerns as their monolithic first song of a massively chorused guitar note wall of sound, occasional bass and the most lethargic drummer I think I've seen was such a sophorrrific (sic) avalanche I had to take temporary refuge on my ass. They actually went from this Earth "2" like slumber to a more Hawkwind style spaced out riff but before long returned to crushing all hope. Kings of no speed. Mesmeric.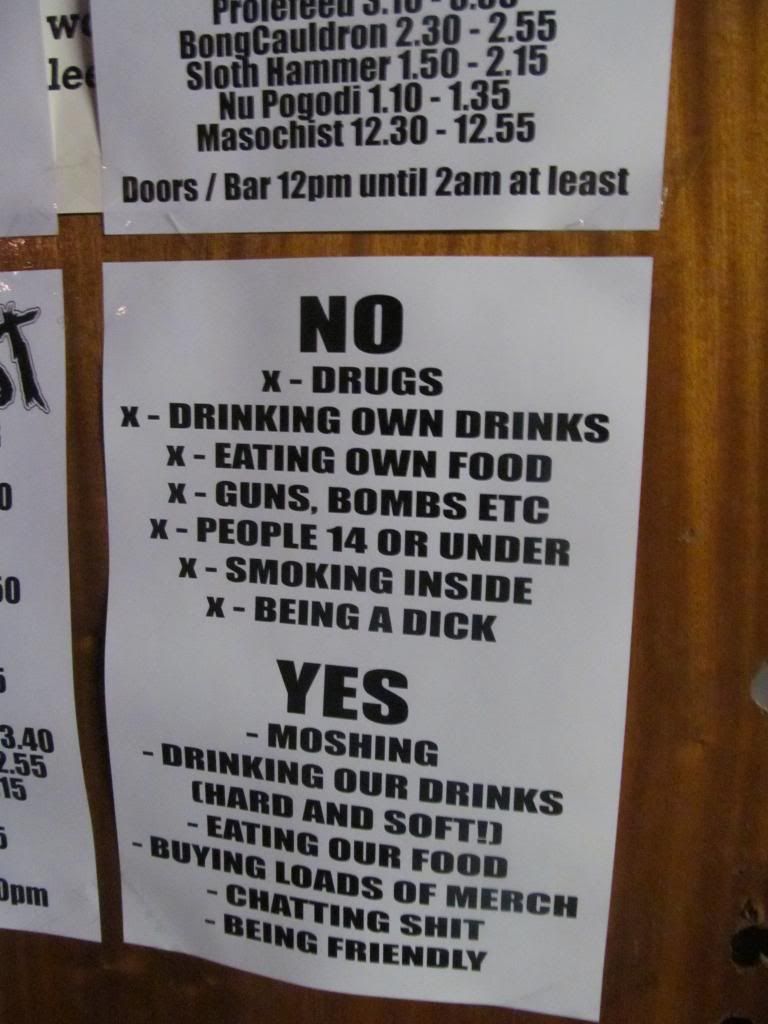 From the quark to the quirk, and A Forest Of Stars. Not quite as full of theatrics as some of their shows I've witnessed but still in their Victoriania regalia, they take the epic sorrow and deathly doom of My Dying Bride and fly in many tangents from carnival to folk whilst keeping a heavy core. I'm still dubious about the main vocals but the last drum driven song (with not much vocals) builds things to a great climax. Heading towards the messy end of things now first we have London's Gout, who were a treat at Blastonbury last year and are similarly wildly entertaining here. Bedecked Hawaiian style their heavy gore grind gets the party pit spinning and the hilarious banter complemented by the astute thanks that were given (as had all bands) to the organiser Paul, that it wasn't just about this event but all the years of head banging (against wall) band and club night promotion that had gone into building a scene and network that results in this success and current enjoyment. This continued in a similar gloriously bloody vein with Foetal Juice and their sick and slick gore/death, probably the best I had seen them when all the added ingredients of a big PA sound and the general happy atmosphere were added in.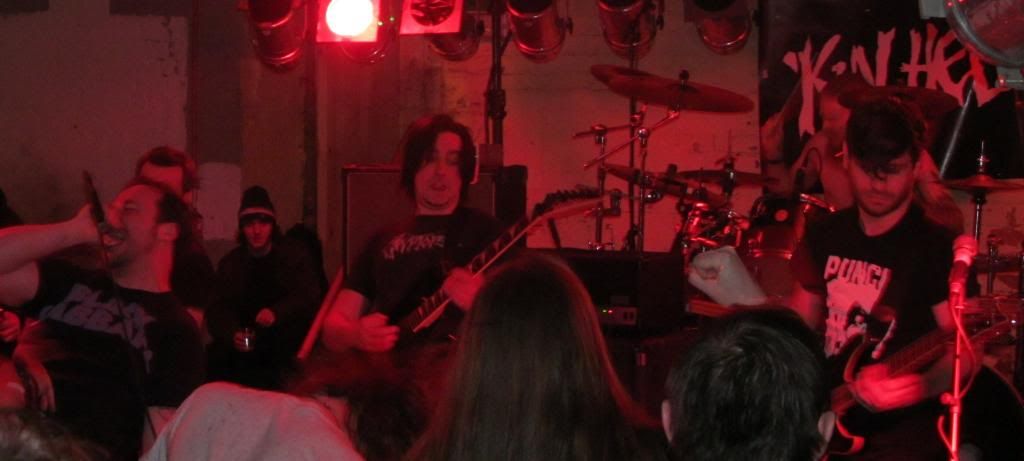 To close, Scotland's Man Must Die (above) to headline, although late start/curfew reduced set, thinning crowd and perhaps just a relative lessening of their popularity since their peak of being signed to Relapse meant that there could have been an element of anticlimax. In no way detracted from their performance though, as they tore through their tech/death numbers with a rabid energy and eked out the rest of the moshers energy reserves.
Tumble out into the night and the rains fall to wash away the blood, sweat and beers, although it won't remove the memories of a great weekend held in universal acclaim. As with all DIY festivals not everything went smoothly and lessons were there to be learnt but ultimately the effort that goes in and the resulting communal enjoyment transcends price. Next year is already plotted and on reflection all you can say is "'Kin Hell!"