Hellfest 2013, Day 1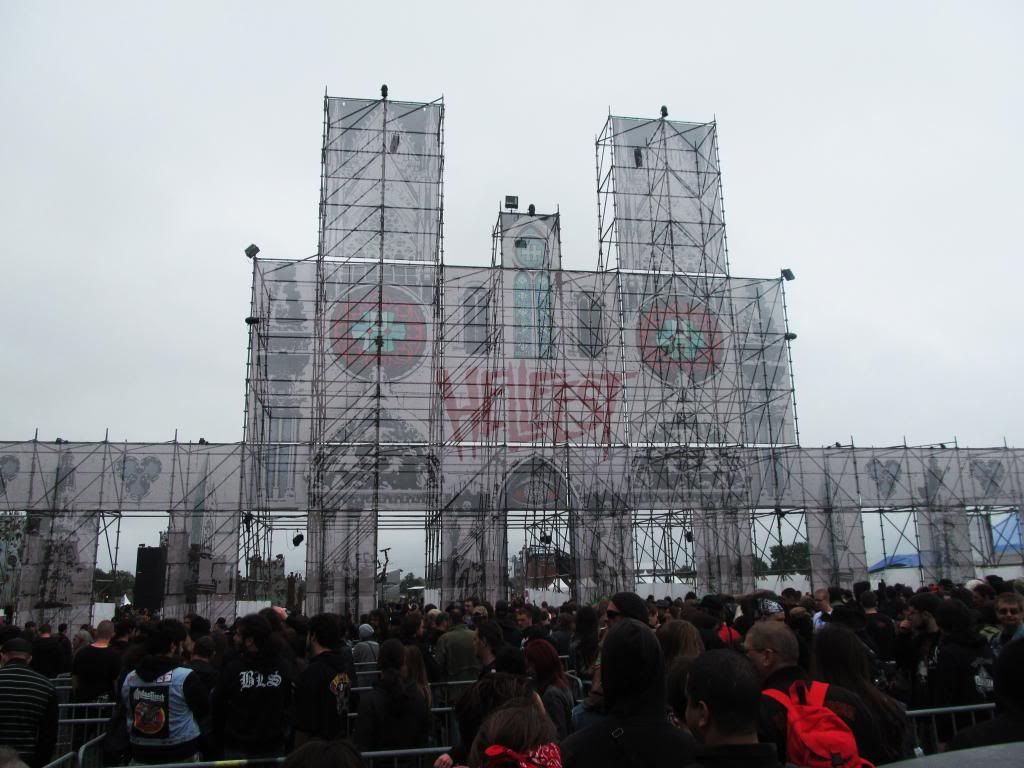 Clisson, France
If you are planning a trip abroad effective acclimatisation can't be underestimated.  So for our annual expedition to the eclectically extreme French festival we started on the Wednesday in Rhyl with some excellent punk bands and a general innoculation of scumminess.  Then a trip to the nefarious Capper Arms in Wrexham to ramp up the strength of drinking, followed by the tricky hurdling of a 2 hour delay at the airport Thursday morning with breaking into the emergency rations at the airport bar.  Things were well warmed up by the time we landed in the lands of our Breton brethren, and went subsequently went even more wrong with the discovery of the legendary Maximator (11.6% beer) at the local supermarket.  Caught a couple of warm up bands in the camping entertainment tent but when all the black absinthe had been flamethrowered away it was time to settle in for the proper fun ahead.
We were extra motivated to get into the arena early doors on Friday for the start proper by supremely annoying Australian space-cadet hassling us at the campsite, but there was the music too after all.  so much on this first day it was always going to be hectic, and bad clashes to tug at the heart strings.  Straight to the second main stage for Dr Living Dead! who were new to most of us but the bouncy fast and furious crossover thrash from the Swedes was just what the mortician ordered. Very much early Suicidal in style and substance, enjoyable all the same. Next to the death/grind stage of The Altar, with some far more amenable Aussies in Captain Cleanoff. Last seen in Liverpool some years back they seemed to be going as strong in their early Napalm-ish grind as ever, although with an easy going approach all the more endearing. Back over to main stage 2 for another Scouse connection with our friends from SSS bringing their skate thrash energy to the place. Fair play, it's great to see them in this environment largely through their own efforts of promoting in the North West, and hopefully some new fans won over. A little break gives us chance to check out the remodelled Warzone area for the punk and hardcore bands, now open air instead of tented and a good move given the scale of some of the bands they've got here. We're not particularly impressed with the poppish punk of Berri Txarrak so return to the main stage 2 for Vektor. These Canadian tech thrashers have been gaining a good deal of interest and respect for their progressive material, but while the riffing is quality the twiddling and shrieky vocal sometimes take the edge of it for me. Quality 80's thrash perms though. Taking it down a few notches in tempo with the brooding doom/death beast that is Hooded Menace from Sweden back over at The Altar. Lovely filthy tones and a nodding pace that occasionally breaks into speedier riffs, not far from early Paradise Lost, raises a smile also to see their mock serious grimaces. Oof. Off to the stoner/doom orientated The Valley stage next for Black Cobra, two-piece sludgy riff work outs from the U.S. Had seen them here before in 2010 and its still good stuff, power comes across well. Go via ultra funeral doomsters Evoken at the Altar, where the vibes are certainly reverberating but I either don't have the time or inclination at this point to tune in to the sounds of hell. What a Negative Approach I hear you say! Well that's what I elected to check out instead back at the Warzone, where the legendary Detroit hardcore band were tearing through their set, but again it did feel a little unremarkable to me. Maybe all was fading relative to the expectation of one of the days highlights next back at the Valley, with Black Breath (below). The U.S. death/thrashers have been one of my favourite bands of recent years, loving the "Swedish" distorted guitar tones and the fierce vocals. Yet again they delivered a storming set, which I indulged in in and over the pit to my own cost.
A bit of a breather back at campsite means the wearing thin joke of Europe doesn't have to be endured before a return via The Temple (home of all black/folk, if that doesn't sound to dodgy) for Absu. Had been looking to see the American old school black metallers for a while, and once their sound had settled the relentless harsh battery was pretty impressive. It did culminate for me in a classic festival moment when the drummer/vocalist ends a song laughing maniacally and continues doing this while coming out to the front of the stage for a minute, before running back to start the next one. Madness. I reel away from it to catch up with people and see thrash legends Testament (picture below) on the main stage 2.  In a similar fashion to recent times when I have seen them, I'm not so much into all their newer material but had timed it well with this visit to see them in their glory with "Into the Pit" and other classics. Up close and personal (as you can be on a main stage, all members were on fine form (especially lead guitarist Chuck Billy 😉 ) and I had good flashback memories to renewing acquaintance here with them back in 2008, the sun setting, the dust rising. Crank things up a bit more with Asphyx over at the Altar, the Dutch doom/deathsters also a band that always seems to deliver for my particularly warped tastes. Such a solid steamrolling sound, a treat for all us death metal bstards for sure, and Martin remains a charismatic frontman. Back to a our favoured spot left of centre for more thrash on the second stage, with arguably Germany's leading proponents in Kreator. Gracing us with their (oh wow…) 3D stage set (think a few demon heads possibly sculpted from expanding foam…) their riffing remains a fierce onslaught, though they have generally cleaned up their act from their rawer origins. Flag of Hate to finish as usual, always ending on a high.
Time has flown and we're heading into the night. Hadn't initially been bothered about Agnostic Front but went with the flow and found them as consistent as ever (well, not suffering from missing members like last time they were here) with their arguably definitive New York hardcore. Even though I had seen them recently I was keen to enjoy the somnambulance of Sleep at the Valley, rammed as it was, illuminated by the full moon of Matt Pike's belly. The cosmic drift of their stoner jams is just lulling, even repetitive, and yet never lets you waver from the end in sight. If we needed slapping awake with seminal melodic death,  At the Gates are up for the task. Although I am perturbed to hear star front man Tomos say at one point "We don't like death metal". …?!? "We love it" Ahhh. True, and even though its their greatest hits set they've been outing since their 2008 reformation here it still a consistently good treat, invigorated by a cover of Slayer's "Captor of Sin" dedicated to the recently departed Jeff Hanneman. Back to the Valley for more sonic hypnosis with Neurosis. Though I've seen them recently I had hoped for special set for their first return to Hellfest in a long while but it was pretty standard, book-ending the brooding, gargantuan and progressive heavy and mellow shades of their more recent material with a couple of older classics, ending with their "hit", "Locust Star". It's all about the music with no banter and there is an undeniable, tangible density to it. To eke the last of the day/night take the opportunity to see Six Feet Under for the first time. The old school US death metallers I hadn't been overly impressed with on recording, but at this time of night, the battering ram of their stripped down and brutal approach works a treat. Finishing with a version of their entwined band Cannibal Corpse's "Hammer Smashed Face" does what it says on the tin and after a brief savouring of the fire pits of Hell we return satisfied for the night.