The roving North Wales punk festival returned with much anticipation to its haunt of last year.  Improvements and alterations made, but the successful vibe of last year had spread on the grapevine and with another excellent line-up all was set to be bigger and better than ever.
Unlike last year's balmy Indian summer weekend, setting up at the out of town campsite was a more of a damp and "bracing" experience.  It would have been useful to have a St Bernard on a string but there were lots of other crusty dogs milling about and we'd brought enough supplies to keep us warmed.  The camp site looked twice as busy as last year and in spite of the conditions there was a good gathering atmosphere.
We were transported in the unmarked blacked out van in good time for things kicking off on the Friday evening.  There had been an element of last minute drop-outs/fill-ins to the line-up and the first band on the mainstage ended up being Biteback.  Hockey formerly of Instant Agony playing a bit more of a traditional stripped down, old school punk, it's an easygoing enough entry point.  Somewhat flustered from a hectic last minute arrival from all parts of the country, Nu Pogodi (above) released that tension with a howling punk-grind fury on the opposite Pumpkin Records stage.  They really seem to get more ferocious every time I see them, but this is just welcomed by the throng in front.  Vitriolic Response are also a disparate crew, but have history in the scene and collectively deliver a strong crust punk battering.  A lovely bunch of guys, but serious in their intent, pick up their new 7" release.  Place is filling up nicely now as we get Declaration of War from the East Midlands.  This is another band gathered from previous projects of renown and their heavy crust with a metallic edge drives things along well, bit of early Bolt Thrower power striking me.  The Pumpkin stage is providing a bit of lighter variety with the more skanking ska mix of bands like Bad Transmission and Spanner and it does go down a storm with those who like a bit of a bob.
There's also the start of proceedings at the downstairs acoustic stage, which is a new addition for this year.  It provides an interesting mix of stuff, although some stretches the acoustic remit, and some actually leave the stage and go and play in the street outside where there is as big a crowd getting some "fresh air", and dancing/negotiating with the filth in a jolly carnival way.  Not.  Harsher times appeal to me though, and to a projected backdrop of films of the usual subjects of socio-political strife Cress (above) harangue the world from their anarcho-punk standpoint.  Excellent, intense enjoyment of the passion, old-time band still going as strong as ever, another  split 7" to the collection.  Things get to their craziest extent next with Leeds' The Afternoon Gentlemen  (below), mashed up themselves and happy to drag everyone down to their level.  I'd pondered whether their brand of chaotically brutal power violence/grind that I've been assaulted by multiple times before would have offended the sensibilities of some of the more traditionalists here, but no worries.  They have obviously won over many previously and it's a great messy party vibe, bodies everywhere.  There's still some fierce and energetic hardcore from Hated till Proven before the North East's AOS3 bring the tempo down with some dub but I'm already reeling out into the night like the consummate professional I am with a job to do tomorrow.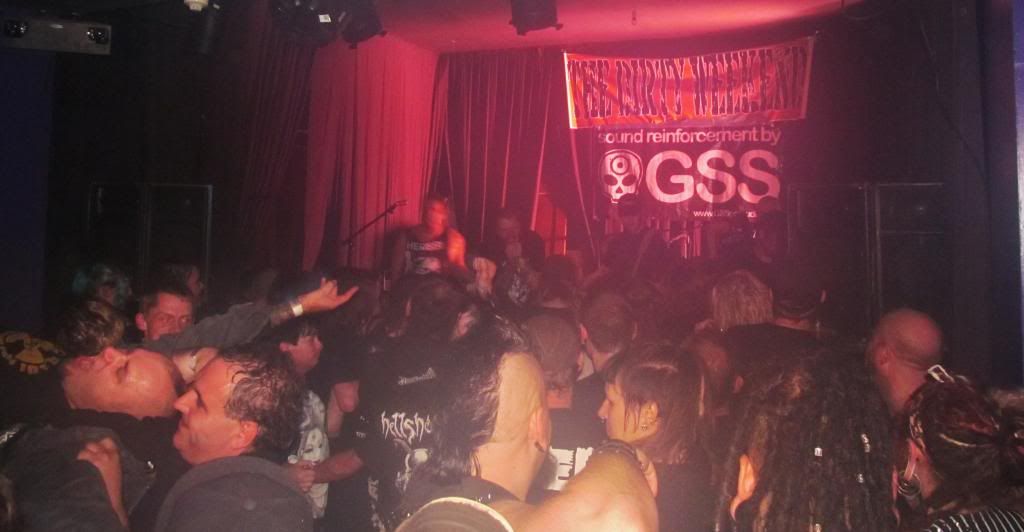 The main part of which was actually raising from the dead, but then we had the debut gig of North Wales's own Emissaries of Syn, was pleasantly surprised anyone had turned up at the early hour of the afternoon for our crust grind n roll but was a real treat to share that stage and a phat PA with the rest of bands.  Demobilising and rehydrating meant I was only back to see some of Andy T later, his strident punk poetry familiar from recent times seeing him with Doom and at the 1 in 12, and his clear messages warmly received.  Still daylight streaming in the windows at the main stage, it's a bit incongruous to the seething darkness of Monolithian (below), the two piece bass and drums trekked up from Cornwall.  Another pleasing stretching of festival genre envelopes as a fair portion of their sound is massively distorted doom dirges but does kick into more raging sludgey punk vibes at times.  Right up my street though, 12" transparent vinyl don't mind if I do.  The descent to madness continues with the discovery of the bar delivery service to the smoking area so every hour becomes shots o'clock.   A return in for an return visit to the fest for Derby's Ephemeral Foetus, on to the main stage this time instead of opening the other last.  And it's obvious they have upped their game in the mean time, with some real diversity in the structures of their ultra-heavy punk that keeps the interest, and a great roving frontman who stirs it up in the crowd.
Downstairs is also packed for the hilarity of Captain Hotknives acoustic but having seen him before I spend random time and place enjoying the craic with friends new and old from near and far.  A real testament to the sense to community in the DIY punk scene, it's great that this location has become included in the people's destinations of choice, not something us locals should take for granted.  I catch a bit of Sheffield's Dry Heaves but  while it's pretty fired up and lively hardcore it doesn't really hook me in, unlike the following Endless Grinning Skulls (below), from Nottingham.  Been looking forward to seeing these for a while and it was my skull that was broadly grinning as they launched into some blisteringly fast harsh punk, so intense and with a real fury to the vocals.  They seemed to alternate shifting down into slower thumpier numbers to give them and us a breather before exploding into jawdrop, non-stop speed again.  Plenty of melody retained amidst the chaos, wasn't aware of their connection to the long departed Army of Flying Robots (http://www.link2wales.co.uk/tbg/CultofLuna.htm)  but can see that there's been no mellowing, rather refining, with time.
Further laying waste next with Hellkrusher, their Geordie crusty take on thrash coming across even better and more solidly than when I recently saw them down at one of the Scumfests in London.  Power is their middle name, and they hit us with riff after riff while the roared vocals are enthusiastically chanted along with.  It's certainly raising a sweat in there as people are dripping wet and the concept of air conditioning that works hasn't caught on since it didn't last year either.  Take a deep breath and head back in for one of the multitude of nominal headliners tonight, with the grindcore legend that is Extreme Noise Terror.  Perhaps alongside Napalm Death the only ones from this deep end of extremity to have crashed the mainstream's dulled conscious, a real coup and ambition achieved to get them here, even if only vocalist Dean remains from their long history.  The feedback wails, the chords ring out for "Deceived", then pop, we are transported to the acoustic stage as the PA gives out.  Confusion reigns, chaos laughs, and the sweat still drips.  Hurrah, power again.  Then déjà vu, at the same point of the song we end up with nothing.  Except this time there is sound – of a wailing fire alarm and a cloud of acrid burning metal scented smoke coming from the opposite corner of the room. And a complete blackout.  Now might be a good time to exit in a disorderly fashion.  Hundreds of punks mill on the streets and unlike the Propagandhi show in Sheffield that ended similarly but in rather more acrimonious and riotous circumstances this one is good humoured and ultimately resigned, the riot vans drive through but wisely don't stop.  There was no way the electrics that were dodgy in the first place could be bodged back into shape and so the rug is pulled from under the handful of remaining bands, including Oi Polloi and Citizen Fish. Disappointment obviously but also such a universally great time has been had already that there's no bitterness, and the prospect of getting these back again next year (although potentially at a different venue) gives everyone something to look forward to.  Bottles are raised at that prospect at the campsite for hours to come.