19+20/7/13
I still remember the shiver that ran up my spine that fateful night, as a chain of events were set in motion spelling my inevitable doom.  Rumours of an approaching supreme evil, cryptic writings telling of the imminent unleashing of unimaginable horrors from beyond. I could not sleep, I was compelled, drawn to join other cultists in the dark forests of Thuringia, there to bow down and worship, accepting a descent into madness upon an altar that a humble human mind could not comprehend.  For those of a non-Lovecraftian nature, at the last minute I'd heard that the Australian band Portal (above) were making their first visit to Europe, and I was there!
I thought I was doing relatively well in my self-control after the insanity of last years festival going, sacking off Roadburn, Obscene and Bloodstock this year.  But when this rare and tantalizing opportunity arose to see one of the most interesting extreme bands of recent years to assault my senses and sensitivities, the stars were aligned and combined with another fresh festival adventure I jumped right in.  It did mean a midnight drive down to Stansted, arriving in the bloodstained dawn, to take advantage of a dirt cheap flight to Nuremberg, where I was able to meet up with my German friends and rally our strength for the trip ahead.  A beautiful mediaeval city in its own right (well, largely recreated after being carpet bombed to shit), I was able to compare its castle to Conwy and bizarrely pick up Jailcell Recipes and Police Bastard 7"s from a great little record shop. Resisted the temptation to visit the parade grounds, but did point to it repeatedly, with the right arm, slightly over the horizon.  It's a complete lie that the Germans have no sense of humour.  Speaking of Nazis, my local friend was initially highly dubious about attending this festival with me having heard that there was a lot of unchallenged National Socialist Black Metal bullshit going on there last year, hinted at by the organizers this year iterating on their website that this was a non-political festival and to leave it outside.  I was given greater understanding the next day, as we picked up our hire car (from a local supplier who wasn't too concerned about my dubious driving history), stocked up with "essentials" and headed North East on the old "transit highway" towards Berlin.
Possneck is located in old East Germany about 2 hours drive away, and even 20 years on the divisions are evident, down to the deterioration in the road conditions on the autobahn when you pass the previous border, and the fact that there are very few exits as previously the authorities wouldn't have wanted you turning off and "exploring" the area.  And as employment opportunities are still few and there is no money in agriculture there is still an element of deprivation, perfect conditions to ferment the rise of desperate politics in spite of the lessons of history.  As it turned out there were none of these problems this year, merely fun in the baking sun, probably up a few degrees more than the UK heatwave left behind.
Arriving around midday on the Friday for the early afternoon start, things ground to a halt gaining entry with cars and tickets simultaneously at the one entrance, and though we camped out on a spacious open field among the woods it became rapidly obvious what a TINY festival this was.  One stage, one beer tent, 1000+ people, it made the quality and economics of having this line-up here all the more jawdropping. Speaking of dropping, the heat and the fact there had been a warm-up party the night before meant there was a (un) healthy toll of casualties already scattered around the place by the time the first band were up and running.  Bolzer from Switzerland were only a two-piece but still summoned up some decent death riffing vibes.  May have been contrasting to the weather conditions but still managed to create some heavy and dark atmosphere, with a good diversity of styles and structures.  We were still orientating ourselves to some extent, so with the set up of some ritual altar and tambourine on stage next we were half expecting some retro psychedelic rock from Sweden's Irkallion Oracle next.  This thought rapidly changed though as the band entered cowled and masked in monk and priests outfits, and launched into an unholy onslaught of brutally distorted heaviness that had me contemplating "Are you Portal in disguise?"  It was really impressive stuff though, epically structured churning progressive death metal, breaking down to ritual rhythms at times, that also made me consider whether the NWOADM (New Wave of Australian Death Metal TM) heralded by Portal is actually returning to the old countries in the same way that the Swedish sound ripped through the extreme world from the late 80-s/early 90's.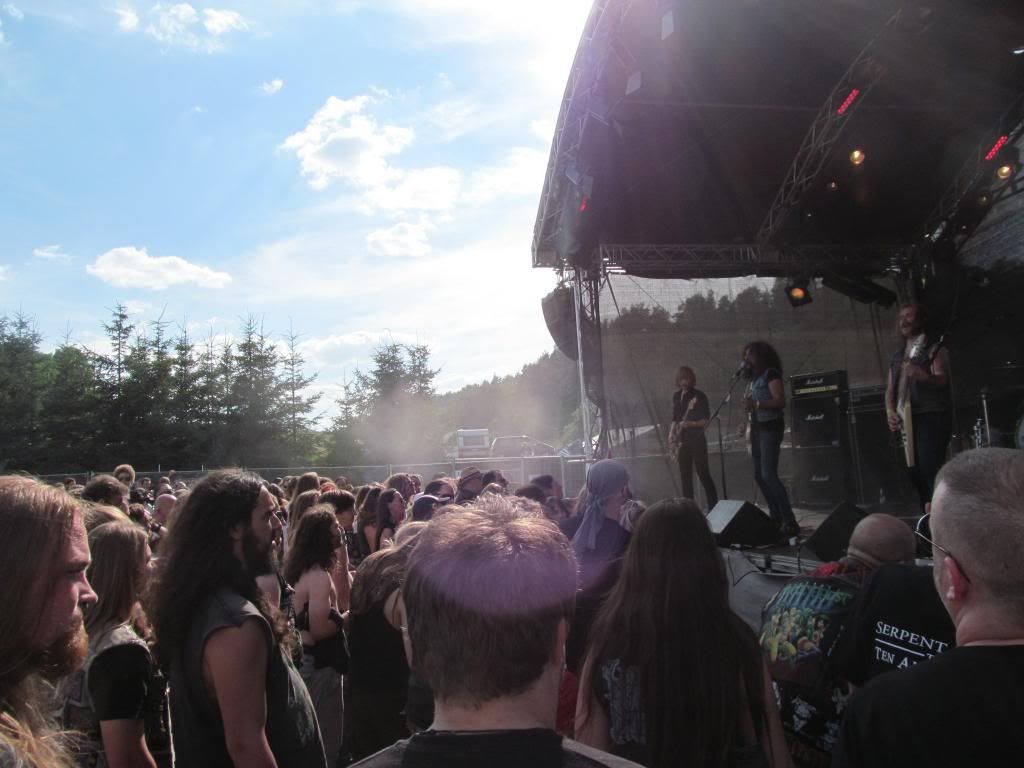 More Swedes demonstrated their mastery in another genre next with Dead Lord (above) bringing a kind of exuberant Thin Lizzy-style hard rocking to the eclectic party.  Not something I'd often have a lot of time for in the cold light of day but on a blazing afternoon with beer it was great, as was seeing them have fun on stage too.  And to top a triumvirate of their countrymen, Verminous (below), delivering some pretty much definitive old school Swe-death, thundering and fierce, harsh riffing with the inherent violence of early Entombed/Morbid Angel.  Yet another new find to go searching out upon return.  To even the international balance we now entered Antipodean territory with the equally old school Vomitor.  A big thrashy element to their death metal that barrels along with the venom of early Kreator, for all its rawness they are still punchy in their delivery.  Time for an evening breather back at the camp site while the more traditional and a little uninspiring doomy heavy metal of In Solitude rings out, also indulging in the food (deep fried blumenkohl in hollandaise sauce) and merch (Superchrist "Black Metal Circle Of Witches" 7", for the hilarity).  Back again for more Aussies with Hobbs' Angel of Death, who genuinely must have been one of the first down under thrash bands, looking at the white haired and moustached frontman especially.  Had the impression they'd heard 80's Slayer then and pretty much stuck to a similar formula since.  Good if unspectacular.
U.S. representation next, with the doom behemoth that is Acid King (above).  They'd blown me away at Hellfest a year or two back and this was equally absorbing, in the even more intimate setting here.  Hypnotic, massive, stoner vibes, with the strong yet drifting vocal of frontwoman/guitarist Lori really transfixing the attention even if the mind is wandering through a days refreshments.  Now its dark the sound and lights are adding to the effects and things are battered back into shape by the U.S death/grind legends Repulsion.  Again it was Hellfest who had given me a chance to see these old timers again but appreciated them all the more here, with the 3-piece almost coming across as the Motorhead of grind, with the rough and ready delivery having a real catchy, bouncy punk vibe to it.  Needless to say, an early airing of "Radiation Sickness" pleased me no end. And so to the much anticipated finale.  Seeing some jeans and t-shirted guys sound-checking before hand there's a frisson of worry that this is a new Portal, stripped of their theatre, but no, dead on the stroke of midnight (surely by no coincidence), we step into another world.  Bathed in smoke and lit like the fires of hell, there's a line of guitarists in executioners hood and in central focus The Curator, veiled, gowned, like some cross between the Predator and a mediaeval queen with tentacled fingers raising to claw the air in exultation of a dark power channelled from parallel place.  And that power is the "music", that already on release and now here in the crawling flesh, they have taken to a new level of abstract extremity and distortion that is shocking and compelling.  It occurred to me that this could actually be non-Euclidian composition, as even musicians like us could make little sense of the dense, oppressive, avalanche of sound that pummelled us. A core of experimental death metal, where riffs and structures could be grasped at times, before being swept away again in the cosmic dissonance.  The echoing, hoarse vocals have an insistent terror that seeps into your head.  In combination with the spectacle, the whole is a transcendental experience, (I am seeing flashing lights and colours with eyes open or closed!), an EXPERIENCE, how often is that achieved live these days?  Maybe they will be become worshipped by hipsters for their obscure novelty, or trigger a pale wave of imitations, but the 50min or so view into the abyss tonight I saw, heard, and savoured.
After such a climax to the first day it was a somewhat low-key start to the Saturday afternoon.  That in itself was odd, unlike the zombified morning starts at other festivals, trying to find something to do till 3pm.  It largely involved beer.  The bands started easy enough on the ear to with Amulet from the UK.  Never heard of them, fair play to them for getting out here.  It was very traditionally heavy metal, with a sung rock vocal, indifferent to my taste.    Far more up to speed were the blackened and bloody Finns, Vorum.  Wonderfully furious and dark death metal, delivered with a rasping snarl and a predominately relentless pace, occasionally breaking down into threatening doom interludes.  The non-appearance of the two French bands scheduled today led us to speculate that the old enmity and war may have broken out unbeknownst to us stuck out in the middle of nowhere, but I did also have to admit to my friend that there may well have been some Welsh agitation in the matter after my recent trip to France and our grand plan to move into the devastated remains and christen it "New Wales" is just the type of thing you come up with whilst under the influence. Anyway, trop tard, we bask in the sun with more Arctic bands and the revelation that is Svartidaudi from Iceland (below).  Again, hoodied and masked, with a seemingly deadly serious attitude in inflicting their punishing blackened post metal upon us.  It really was a great combination retaining the harshness and blasting but unafraid to draw us into expansive building and layering structures of light into shade.  Another to search out at a later date.
Prompted that Attic were Germany's version of King Diamond meant that I was not very fussed and happy to chill out, eat, mooch merch and meet the generally welcoming group of people gathered here.  Another local band were given a great opportunity to fill as a last minute replacement for the French, more stoner style if I recall, before another UK representative in the form of Cruciamentum.  Again, while I might have the heard the name and not much else of these death metal guys originating from the Potteries, the leap to inclusion amongst this fine collection of bands was impressive.  Musically, too, they struck home hard with some tight and technical brutality that touched upon Nile or Behemoth's hallowed ground.  Held in high regard here in their homeland, but I had been a bit non-plussed by Necros Christos when seen at Roadburn previously, as had my friend here.  And though they cast a good presence on stage and there was a solidity to their mid-tempo, stripped down death, again, it wasn't really for us, unremarkable.  Heading to the end with the British invasion though now, firstly with (allegedly) legendary NWOBHM band Satan.  It must have taken an early start (1979) to grab such a pre-clichéd moniker but they had passed me by in the mean time.  It was as you'd expect, riffing and rocking, strong singing, and interesting to find that their intermittent career had maybe come back with added pedigree as a couple of members had played with Skyklad for a bit in the meantime.  They were well received anyway, but then we moved up to be lulled/steamrollered by the Electric Wizard (below).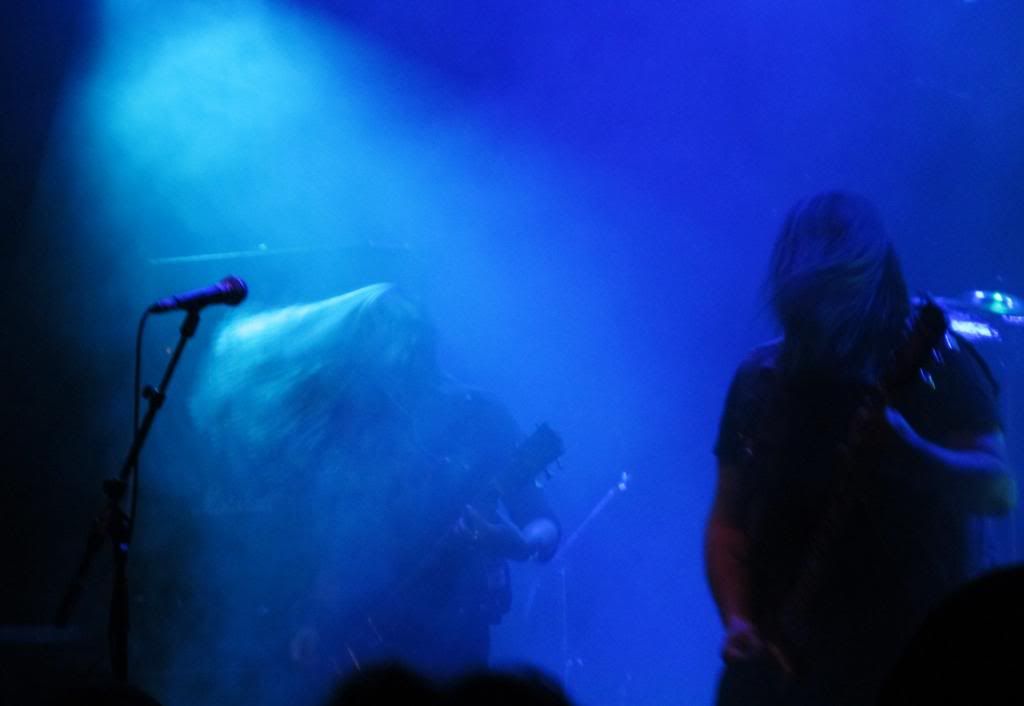 4 out of 5 times that I have seen this doom monster from the South West it has been a masterful exercise in musical tripping out with no drugs required.  Huge, swaying riffs, rising to collapse upon us with the buried earworms of the vocals powering through, it inspires the nod, it brings the bang.  Despite having a fair bit of their stuff I am too lost in the riff workouts to distinguish individual pieces but it all adds up to a soothing and cathartic end to a great weekend.  A marvellous collection of bands in the middle of nowhere, how many more of these obscure events are still to be uncovered?  I can only highly recommend this one. A couple more days back in Nuremberg hiding from the heat in the literally miles of bier kellers/bomb shelters under the city among other fun, then a return home to rumbling thunder… as though some elder god was stirring… it's all gone a bit unnameable!