(review n pix by dan read)

So the day I was dreading had arrived. The last live music event at Brookers Rock Bar in Hoole, Chester. Not just that though, it was the last day the venue was to trade. Once those doors closed that was it….forever!
The fact I had 12 bands playing throughout the day meant there was no time to look on the negatives of the day. I was going to be busy….very busy!
As doors opened we already had people waiting to come into the venue. More I think for the nostalgia of it being the venue's final day, but to behonest as long as there were people in early on watching the bands things were all good.

First on were I Fight Lions from Llanberis. Now it's never easy being the first band on an all dayer but these guys muddled by and did themselves proud against a small crowd who weren't that interested in what they were doing. Impressive with their driving rhythms they clearly had a 'hook' which was a little wasted on the crowd that was there.
By the time The Origin went on stage more people had arrived. After a few technical difficulties the band literally launched into their set. Musically wise these guys are very impressive and you can't help but think 'Muse' as they blaze through each electronically soaked track. However they have a failing which over shadows their performance, and that's their vocal abilities. If they can nail this down they will be a band to watch out for.
Indigo Sky were up next with their impressive university following and added member. I say this as every time I've seen these guys play they seem to add another band member. That  should not distract from the ability of this very young band. Considering the band upheavals these guys have had since forming, they are so very impressive. Sean Davis' vocals are at times stunning. Certainly one of my favourite bands of 2013 so far.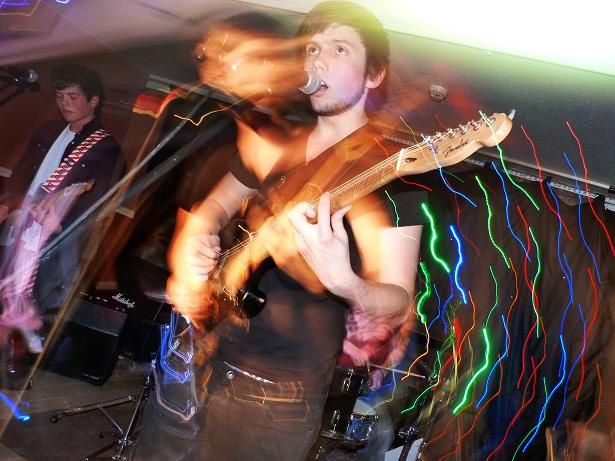 By this point the main band room is full with people also watching from the bar area. Standing room only? Oh yes! Obviously then a great time for The Rifts (pic above) to take to the stage. Now I'd never seen The Rifts live before but I'd heard a lot of impressive feedback from across the border in Wrexham.  Live they are an impressive indie/rock band powered along by the vocals of Matt Thomas. As a young band they still have a long way to go, but they already have an impressive set to build from.
Now it was time for a change of genre in a big way. One for the metal heads, who'd sat patiently throughout the first 4 bands. This is what they came for right?. Locally there aren't many top quality metal bands, but In Depths are the true shining light in a genre that does seem to have faded away in Chester. Aggressive and powerful, vocalist Liam Ruddock growls his way through the set whilst pacing the floor like he was seeking his first kill of the day. The fact at the time of this event some of the band weren't even 18 years old makes their set that even more impressive. They are one to watch. The Core's New Band of The Year 2012 and rightly bloody so! Scarily they will get better.
Going in a different direction Real 7 hit the stage with a large family following in the audience. One of the fantastic things about this day was that families were able to come and watch their husbands/brothers/sisters/Dads playing in their band. Real 7 are an old school, stripped down rock and metal band. They get better every time I see them and are the nicest of guys. Genuine musicians with a love for music and a great supporter of all the local live music scene.
Defy All Reason should have been up next but they were unable to make it on the day. So in their place we had Chester's own rock and roll party animals Black Years. The guys are Core gig regulars and smashed through their set in true Black Years style.  Really grateful these guys could fill in a short notice. Chester's most righteous dudes did very well and were well supported.
Deeside indie favourites Babylon Leaf were up next with family in tow and their usual quality following. Totally different to most bands out there locally, their mix of indie rock and electronica is nothing short of amazing. It's high energy, high quality and bloody brilliant. And who wouldn't love a band with bongos?
The Core's Band of The Year 2012 in the guise of The Bluebottle Veins (main pic) then hit the stage. There aren't enough words out there to describe how good these guys are, but if you get the chance to go and see them live….DO IT!! Tighter than a ducks' you know what these guys are just so impressive from start to finish. They're getting a lot of attention locally and nationally at present and it's all well deserved.
New alternative folk band Sparrowhawks brought a more soothing set to the day. With fantastic harmonies across all four band members it was clear why these guys have been getting some fantastic write ups in the press recently. I'm not a massive folk music fan but these guys were really good.

The Secateurs (pic above) were next on stage in Gareth Jones'  first performance of the night, this time on the drums. This indie 3 piece are all about the rock and roll, bouncing through their catchy tunes with aplomb. These guys are extremely well polished and one of many brilliant bands coming out of the Deeside area at present.

Finally it was the turn of Silver/Back/Club (pic above) )who themselves were having their own 'end of an era' celebration with this being Tom Williams' last ever gig on the drums with the band. And celebrate they did. In 2012 I was privileged enough to witness these guys in the studio recording their debut EP.  From the first time I heard 'Pail Face', 'Lewey' and 'It's a Wolf….' I was hooked! Every time I've seen them since they've just got better and better. Adding new songs to their repertoire with more Gareth Jones (now on synths) and Adam Hughes (bass) has just added to the already incredible vocals of David Thomas. By the time the bands plays the haunting 'Lewey' the whole emotions of the day hit me and I have to take a sneaky 5 minutes hiding away in the kitchen area of Brookers. S/B/C finish their set with a pounding version of 'It's a Wolf….' culminating in the band diving on top of Tom Williams in a goodbye 'pile on'. Good times.
And that was it. All over. 12 bands came, played and truly had an amazing day. Officially the busiest Brookers has EVER been on a Sunday. Incredible.
For those of us left behind as people left and the doors were closed it was time to reflect on what we'd achieved since September 2012 and the fact that this was the end of Brookers Rock Bar.
The venue maybe gone but the spirit lives on.
For The Core now it's onto The Compass, Chester. We'll see you there!