(review by CombiChris Markwell. pix by neil crud / philip milton)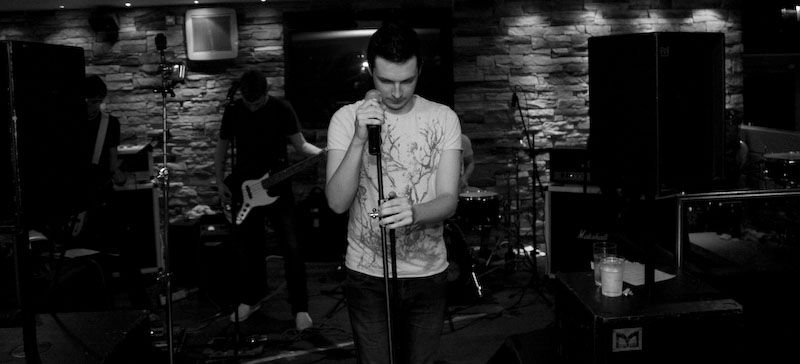 Bar Uno is a student bar located directly inside the Ffriddoedd campus, and tonight the weekly Christian Union meeting have some special guests: four bands, in fact. Lucky them, I say: Bangor needs a place where the local music scene can ply their trade, and this should be the perfect place. Hallelujah!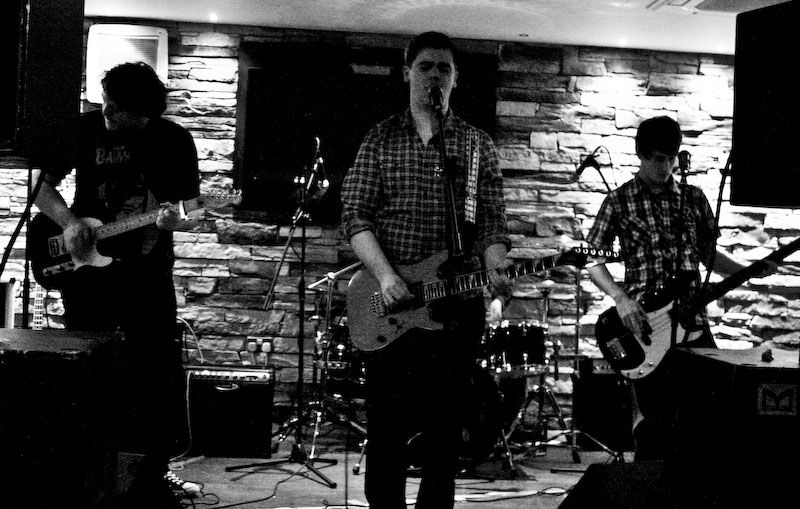 First up on tonight's bill are What the Dickens? (pic above), and they let us lovely people know that it's their first proper gig tonight. Maybe it's to ease their nerves, maybe to use as an excuse if they mess up… in any case, they play their set very well, loosening up as they get further into the set and deeper into their musical groove. There's certainly a potential present here: although these guys have been together only a short time, they work well together and are clearly having fun too. The combination of James's vocals and Ben's haunting little riffs played over the rhythm are reminiscent of Interpol, Morrissey and New Order, yet are refreshingly original. The surprise introduction of a harmonica during one of their songs was like finding two prizes in one box of cereal: nicely played, gents.
Naturally, being such a newly-formed band means that there are some tweaks and tightening of the musical screws to do, but this was a competent and enjoyable set from some really cool guys. What the Dickens? are definitely one to watch, and I look forward to seeing them again soon.

With all the subtlety of a shotgun blast to a nun, Braxton Hicks (pic above) are next up, and are a spitting, swaggering salute to the classic days of punk. The Christian Union meeting must've seemed like catnip to guitarist/vocalist Joe, who decided to address them directly: "If you're Christian, give us a shout!" A meek, terrified response followed, but hey! it's the meek that'll inherit the Earth, right? Well played, Christians. Well played.
These punks are really fast: Joe's strumming skills are a lesbian's wet dream, Neil Crud becomes a Tourette's sufferer when he straps on his bass, whirling, twitching and capering his way everywhere, yet somehow not managing to miss a single note. Getting flipped off by him mid-song was just lovely – cheers, mate! Haha! As for Gwion, the drummer? An angry, pale, technically-proficient musician, his battering of his poor drumkit can only be truly described as musical spousal abuse.
Their set was a roaring, frenzied statement of musical intent, punctuated by their amazing closing song, 'Never Kill Yourself'. I have to admit, I did sing and bang my head to this tune: it's just too catchy not to. Punk's not dead, people: it's still as weird as ever.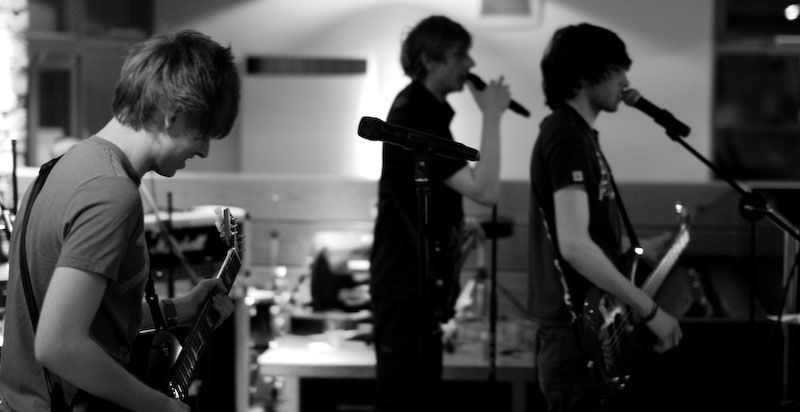 His Finest Hour (pic above) are up next, and while the two guitarists are setting up their tasty rigs, bass/vox Dan and drummer Rich decide it's the perfect opportunity to have an impromptu jam session – hell, you gotta get the practice in when you can, eh? When they introduce themselves, there's an hilarious panto moment from the crowd: "Hi, we're His Finest Hour-" "oh no you're not!" Brilliant.
The pop-punk gents owe a very big musical nod to Fall Out Boy, their chest-pounding riffs and emotion-laden lyrics a testament for the young folks of today. Fair play to the vocalist, his voice has some flair to it, almost like a sonic switchblade that cuts through to the crowd's core. People were taking notice and really getting down to these guys, only goes to show that live music and flowing beer is one of the best combinations known to man, and that more people should participate in it when the local bands are in a nearby venue… oops, sorry, didn't notice I was standing on that soapbox, I'll hop off now… there's also a smattering of Creed's balladry present with His Finest Hour, so if you catch these guys live (and I hope you do), you're sure to get a very full spectrum of heavy music styles. Good work, lads!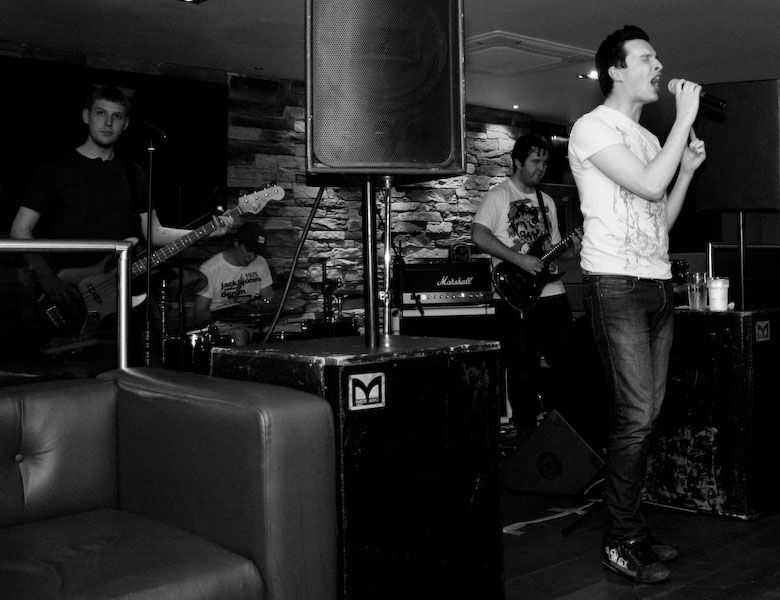 Last (but by no means least) are Arcade Avenue (pic above & main pic), a five-piece punk band with dual – and even triple – voxed harmonies used in their songs. I bet they have tutelage or something, because being that good naturally just isn't fair to us mere mortals… Also, their red hat-wearing drummer Sion may remind me somewhat of Fred Durst, but, damn, he can certainly hammer down on that kit with the best of them. To the left of me a few of his well-wishers shout some choice comments at him: a popular boy, it seems.
Their set is tight and quirky, with some very unique cover choices. 'Payphone' by Maroon 5 makes the student crowd cheer and sing along gleefully. The longer they play, the more the party grows, yet it's only the drummer wearing an amusing hat… These guys have a great vibe, look like they're having the best time ever in front of an audience, and, although their encore song ('Call Me Maybe') did not go down well with me, they certainly get the people around them up and dancing and singing and loving the night. And, after all, that's all that matters.
Well done to Storm FM for putting this shindig on: I look forward to seeing many more of these live nights in the future, as watching bands play live is one of life's real pleasures. Sadly, not enough people go to local events like this, and it's a real shame. So, next time you see a band night going on in your local pub, venue, wherever, do me a favour: go to it. Even if it's for a few minutes, or the entire night. Show your face, get involved. Surprise yourself.
Necessary links:
What the Dickens? Facebook page: www.facebook.com/wtdband
Braxton Hicks Facebook page: www.facebook.com/braxtonhicksnwpunk
His Finest Hour Facebook page: www.facebook.com/HisFinestHour
Arcade Avenue Facebook page: www.facebook.com/arcadeavenue123
Cheers for reading,
CombiChris Markwell