Rotten Sound, Martyrdod, Enabler
The Library, Leeds
Limb, Black Mass, Barricades
Santiagos, Leeds
(review n pix by mwj)


St David's day got messy so I felt it best to leave the country for a while and provide one of my frequent link2leeds reports. It is after all a mere hour on from the usual bright lights, shitty cities appeal of Liverpool and Manchester and there is much happening in terms of gigs and festivals at the moment that makes it well worth the trip. I wasn't quite feeling so enthusiastic when raised from the dead by Gwyn at an unnaturally early hour to go over, but at least it was a sunny day to ease the rigor mortis.



We couldn't be hanging about either as we had the delights of a double header of gigs starting with a matinee show. The sad demise of The Well where they had been originally booked meant Rotten Sound had to scratch around for another venue last minute and this was the best that could be sorted. It could have seemed a poor compromise for the veteran Finnish grinders but them by themselves would probably still have been enough to get me over here (seeing as I had missed them at Hellfest before due to my legs temporarily not being in working order to get me to them), never mind the bonus of another gig elsewhere in the evening. Evidently there were no worries all round as after a brief pogger punx picnic in the park while waiting for the venue to open when we were in soon after 1pm the place had a really healthy turnout. First band were already on, Enabler (pic above), from the States. Knew next to nothing about them but was instantly won over, superb raging punk/metal crossover. Great sharp distorted mix and tons of heartfelt venom roared into the lyrics, lady bass bonus points.

Sweden's Martyrdod (pic above) took a little longer to get in their groove and their sound which left a bit more of their rock undercurrent to come through. Once sorted though, and when sticking to their more relentlessly up tempo blackened crust than their more progressive atmospheric output, they were a joy to behold.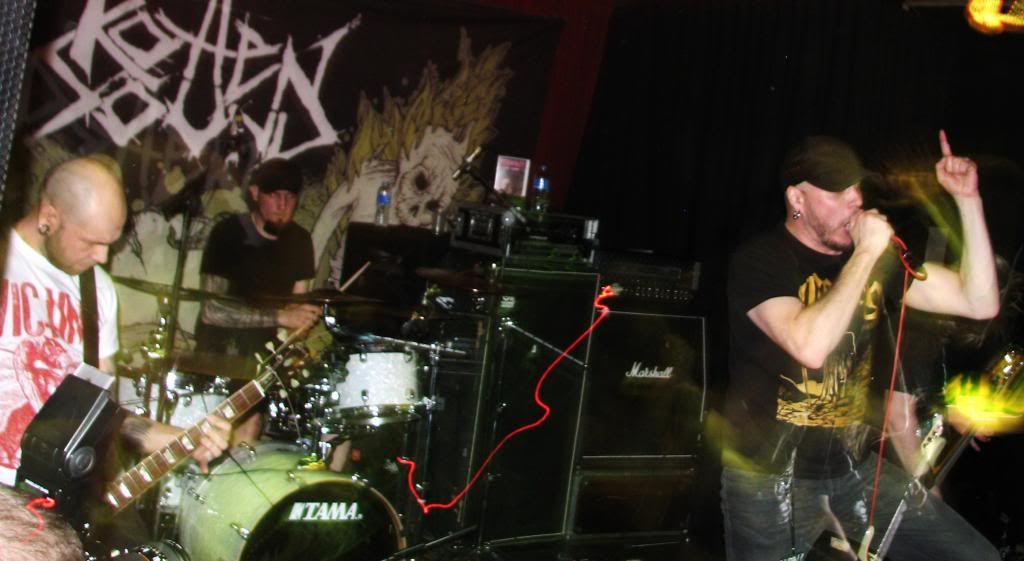 Finally, Rotten Sound (pic above) let rip and top everything off in fine style. I was a bit blown away to hear they are in the 20th year as they seem fresh and ferocious as daisy with razor blades but that time has obviously held them in good stead in developing ultra-precise surgical grind onslaught. The guitar is low in the mix but still has that characteristic filthy HM2 distortion (wonderfully paid tribute to in their merch design), the drummer might be slightly newer to the party but the tiny subtleties he throws into the intensity are spot on. They shift down in gear sometimes to a more pummelling groove, their latest "Species at War" release capturing this mix excellently, and here are more reminiscent of the old school that they give props to saying how pleased to visit their spiritual home in the UK, as without the likes of Napalm, ENT, and Doom they wouldn't exist. Something this enjoyable will only serve to inspire others to "Hail to Finland".
More fun in the sun in the park, then a walk down to the centre for more culture-ale visits and some hot tea. And then next thing you know its time for the next gig. I hadn't been to this venue before but know it was right across the shopping arcade from the now defunct Leeds Rios. Nice enough it was anyway, with stepped levels that gave you a reasonable view of the small stage area at the bottom end, with palm trees framing the scene. Evidently a lot of casualties had fallen by the wayside from the earlier, higher profile show, whether financial or otherwise suffering, but there was still a good atmosphere here.


First up of two local bands was Barricades (pic above). They certainly came across as putting their all into the post metal mix of slower building passages contrasting with thrashing heaviness, flailing guitars and rolling singer and definitely recalled the best of early Cult of Luna and that ilk. Further glorious sounds heralded the non-spectacle of Black Mass (pic below) next.

This in the sense that they were constantly backs to the crowd relying on the immensely heavy cathartic music to carry the impact, which it certainly did. A bit unashamedly referencing Dragged into Sunlight but this is no bad thing when done right, as they definitely did. Finally, up from London, Limb (main pic) were a degree relatively lighter by still provided some satisfyingly heavy doom. Very much in the loose Sabbath jam style, but with a far rawer singer whose stylings reminded me a bit of Dripback for some reason. Anyway another excellent collection of bands that proved the adventures in the east still turn up lots of treasure.