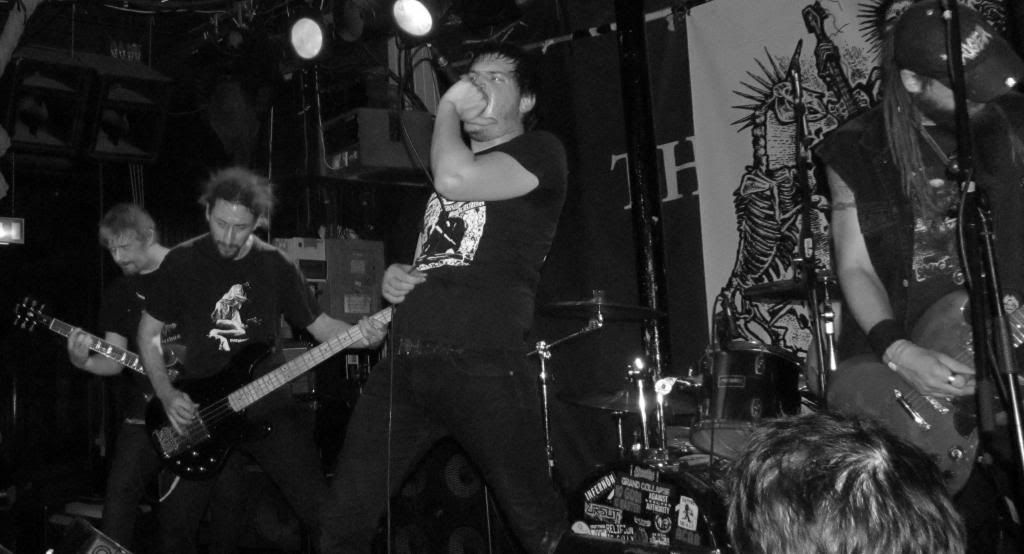 A cultural visit from the Dirty Weekend festival-twinning committee down to not so sunny Bristol for this weekend, with some similarities in line up and a not to be looked in the mouth ticket exchange deal between the promoters of the North Wales punk festival and its South West cousin, though with a distinct lack of the ska malarkey.  A fair trek though, initially the wheels were greased with Orangeboom 8.5% but then came off when the navigator went to sleep at the vital arrival point. Then after locating our hostel ("terrifying and deafening" as one review said, before we arrived I might add) I managed to get completely lost for another half hour trying to park the car, before ending up 50 yards from where I started.  Our walk to the south side of the river and the venue was also… indirect, but we got there eventually.   Start as you mean to go on, dazed and confused…
The party had started without us and we had missed the openers Negative Standards, from the U.S., though presumably not just over for the festival by itself.  We were in time for Bring to Ruin (above), also from over the water – South Wales. They'd been at DW before but were a little trimmed down here with the vocalist now also covering bass duties didn't take anything away from their show, hard and to the point hardcore, with good banter to the pretty thin early crowd (lots were still socialising outside).  Next, Downfall of Gaia (below), from Germany, who I'd been looking forward to seeing for the first time.  As progressive and serious as their crust punk was it didn't hit my expectations unfortunately, as the lengths of meandering build-up seemed disproportionate to the times when it did kick into some blasting rage or relentless d-beatings.  I will still check them out again next year at Hellfest to reserve final judgement.
More satisfying were the Italians Nihildum (above), a three piece who also weren't afraid to have some slow atmospheric intros, before unleashing the filthy dirges of their stenchcore.  Crust punk mixed with the proto-doom/death guttural horrors of the likes of Autopsy, bah their CD had sold out by the time I got to the merch! But it is available online.  Back to German representation with Instinct of Survival (below), very much in a similar style to the last band, except with a bit more of a general pace about them, proper pummelling.  Obviously not helped by our general inebriation, but the evenings band list is thinned out further with the apparent loss of Cress (along with previous dropouts The Afternoon Gentlemen), so we are left with just The Mishits (bottom pic).  They'd been prevented from delivering the party at DW due to "the big smoke" but here their raucous trawl through the old and new Misfits back catalogue was a treat.  Like a fanboy I was called up to sing "I turned into a Martian" and all in all it made for a good end to the first half.
You know how the Finn's might have a refreshing sauna on a crisp autumn morning, and give themselves a gentle whipping with twigs to stimulate the blood?  Well, it was just like that, except with giant parsnips.  Then we had a brief tour of the marvellous street art and best pubs (on this street) before returning to the fray for an even fuller day.  Missing an opener again but in time to find Andrea the vocalist for Cydernide (above) rolling round on the floor as she is want to do.   Evidently a late add-in for the show, not that long since we had seen a similar blast through their stripped down, bouncy old school punk at Scumfest in London.   Another flashback to DW with Ephemeral Foetus, the Derby bruisers playing to a lot less here though.  Again, a really interesting mix of structure in their heavy hardcore and vocalist Dean taking the show to the sparse, hungover, crowd.  A good wakeup call.
Always consistent in delivering the goods the three-piece of Meinhof (above) (though I lose the distinction with their other, identical, incarnation Unfixed).  Rosa's diminutive form belies the fury she erupts, while Jarek's trance-like guitaring is in contrast to the speed of their crust attack.  The sound mix wasn't the best for them in my opinion, lacking a bit of power, but certainly seemed right for Absolutist (below) next.  The Irish band were a pleasing revelation to me in that they seemed to hit the spot with their progressive crust much more that Downfall of Gaia yesterday.  A whole lot more intensity from this three-piece, sharing the raw vocals and with some excellent brooding passages before unleashing mayhem.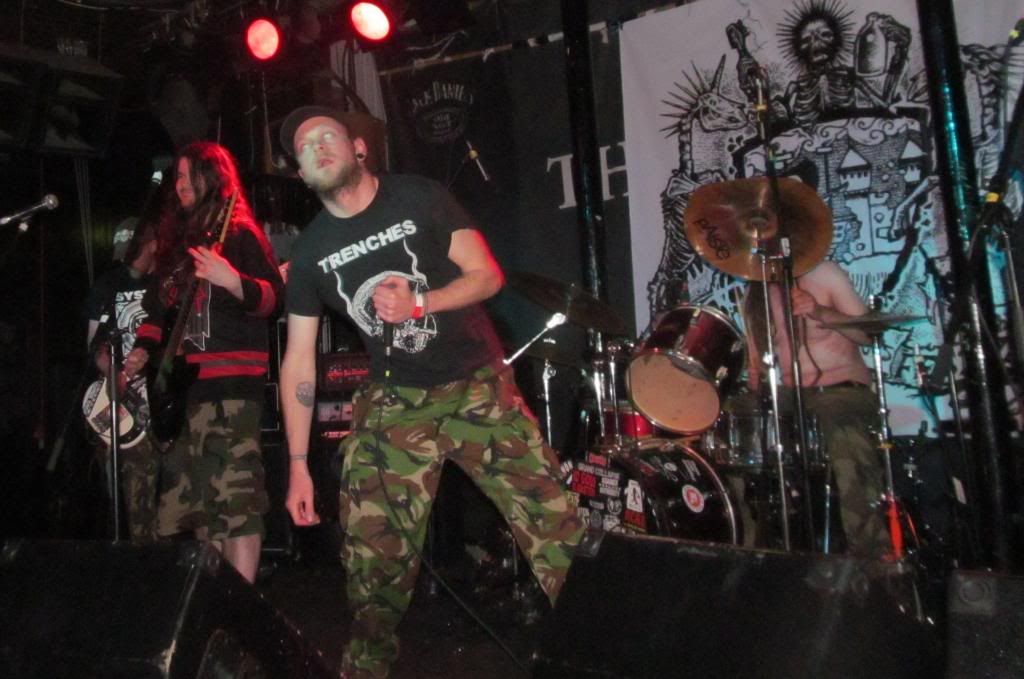 Scotland's Filthpact (above) thundered through their set of more straightforward but hardhitting crust, a good deal of energy from the front man and some solid riffing to back it up.  Link, from Belgium, again demonstrated the power a focused three piece can have.  A real darkness to their approach, deep, gruff vocals, reminded me a bit of the likes of recent Tragedy, but storming along still with melody when they got into gear.  With the rain pretty steady outside as we headed into the later evening it was at least gathering people inside and the turnout was about as good as it was going to get for France's Black Code (top).  Coming to the end of their week in the country but showing no signs of letting up the metallic crust onslaught, they really are an engaging band and lose none of their impact for me on their third time of seeing recently.  To finish we had the veritable crust punk pioneers Hellbastard (below) down from the North East.  Some five years since I saw them down in London but with a drastically different line up that again remains centred on only original Scruff on guitar/vocals.  And it was himself that maintained a focus of energy and passion for their set whereas some of the other guys just seemed to come across as session musicians.  At times it hooked you but after a while drifted out of interest. Energies were probably running low but with a 10pm curfew there was still time to visit an aftershow party at another pub with some quite entertaining Skunk Anansie-type band before calling it a night.
While it was an excellent blow-out for us reprobates the festival itself had seemed to struggle a bit, with many line-up changes and a poor turnout (more people from afar than Bristol itself was commented on) resulting in a loss this year.  The vibe itself was excellent so would highly recommend supporting it in the future if you get the opportunity.