(review n pix mwj)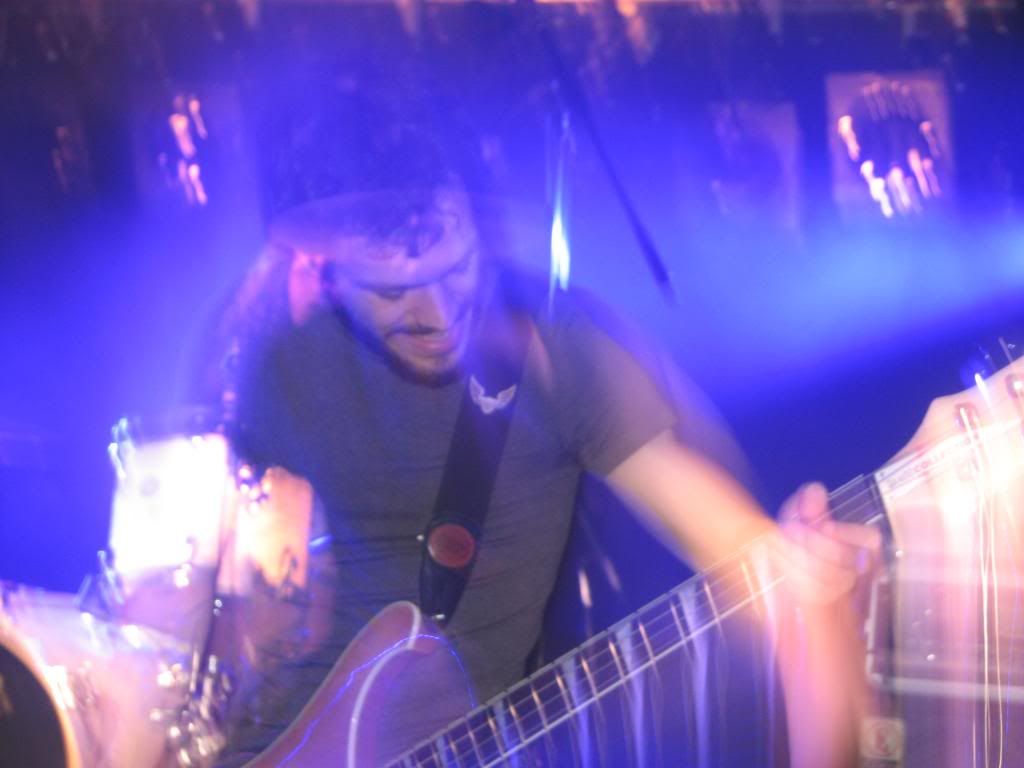 Another salubrious holiday destination for us to enjoy/abuse as our local international metal festival shifts from its previous home in Pontin's, Prestatyn further out to the wild west. Slightly more inconvenient for us never mind the rest of the travellers from around the country but we're not looking the gift horses of the usual free tickets in the mouth so saddle up in El's stagecoach motorhome and head for the hillbilly hills. To be fair the organisers really seem to have upped their game in terms of the acts booked too, some real name bands from the States and Europe, so bringing them to this little corner of North Wales is to be appreciated
Of course this relatively early festival marks a kick off to the general silly season so there's a great gathering of locals and metalhead mates from around the country and we are partying on our campsite for some time before realising we are going to have to trek in via the handy short cut path that leads to the holiday camp, a hand car would have been useful. Anyway, successfully avoiding the 18:24, we arrived to a place already bustling, an open air bar set between the two closely located venues. With the craic in free flow it was again a while before actually got into to see any band, warming up nicely from the chilly outside with some fierce thrash from Bloodshot Dawn on the smaller second stage. One of the main headliners next over in other venue, which had a pretty good set up in terms of visibility and plenty of bars, packed for the American's Hatebreed and their metallic hardcore crossover. I had been pleasantly surprised by their pretty powerful show after eventually getting round to seeing them at Bloodstock last year but here when they eventually took to the stage after a seemingly interminable wait and then had a really muddy sound my good will rapidly dissipated and I left them to it. This gave me plenty of time to see all of Winterfylleth, a leading UK progressive black metal band opposite. Again though, I'd skipped previous opportunities to see them through clashes elsewhere but knew they were one of the headliners for the forth coming 'Kin Hell Fest in Leeds. And on the strength of this performance they are worthily so, pretty unremarkable stage presence but the dynamically shifting epic song structures from atmospheric ambience to out and out blasting intensity did the work for them.

The main stage again for post-punk legends Killing Joke, who I've seen pretty consistently recently given the opportunity with varying results. This was one of the better ones though, especially the latter section I saw where they seemed to have got into their stride, or stomp/march in Jas's case. I may have timed it well, as with their more aggressive and heavy ending of "Asteroid", "The Wait", and "Pandemonium" was a treat. I had a little time to have my opinions reconfirmed with old school German thrashers Destruction, the main stage sound was still poor and there was far too much of a Kaese rock flavour to their style for me.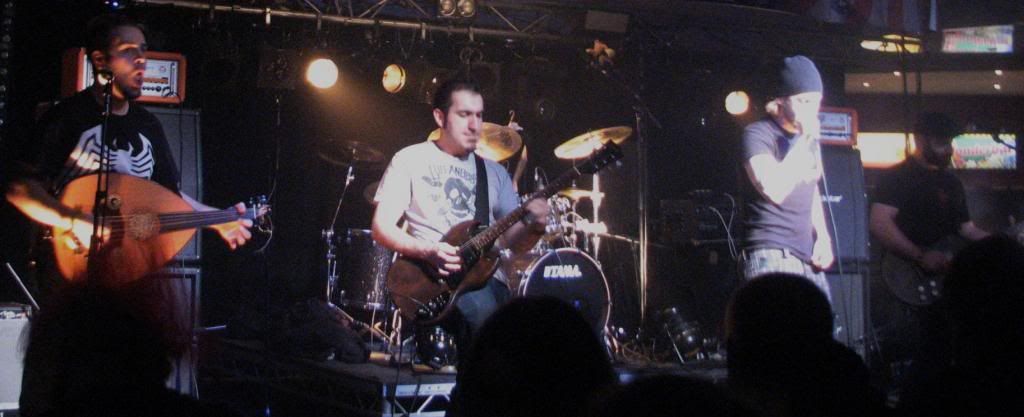 Far more interesting for me were Viza (pic above), all the way from L.A, over on the middle stage. Inevitably drawing comparisons to System of a Down with their ethnic heritage drawn into a mad mix of gypsy punk and quirky speed metal more akin to Mr Bungle, they were a revelation and a joy. Full of energy and fast dynamics while being able to hold a tune too, I now know what an Oud is. Closing the day/nights party for me were Evil Scarecrow who initially I thought might have lost a bit of their gloss from their epic joke metal having seen the somewhat struggle of a show in Bangor recently, but no, back in their natural environment with a pissed up crowd their piss take songs and theatrics went down a storm and enabled us to leave with a broad smile.

After a night time tour of the chalet and caravan facilities at the camp, followed by an epic trek in the direction of the sun long set, it didn't seem long at all again before we had to rev up for the second round. Sense and insensibility meant we aimed for a more realistic return in the mid afternoon, via taxi thankfully this time to save our weary legs for more important purposes. Like standing up drinking. After again having some cobwebs blown away by the decent heavy thrash of Bull Riff Stampede we faced the cultural dilemma of an exodus to the onsite pub for the inevitable glory of a Wales triumph in the rugby or the unstoppable party that Senser on the main stage. The latter won for us (although everyone was a winner in the end), and their eclectic rap/metal crossover was even more bouncing and bobbing than their show at the last years Hammerfest. More new material aired but a great finish with the (Slayer/) Public Enemy spectacular "Channel Zero". Look forward to seeing them again at Hellfest.

Speaking of festivals, things on the second stage took a surprising and satisfying Roadburn-ish turn with a veritable doom avalanche. Starting with the most crushing and intriguing of the bunch, Oxfordshire's Undersmile (pic above) were really tapping into something primal, with ultra-drawn out reverberating riffs topped with haunting wails from the pair of attractive frontwomen, I, for one, was capitavated. I often am! Probably far too much of a challenge for "conventional" rock/metal fans, but who cares.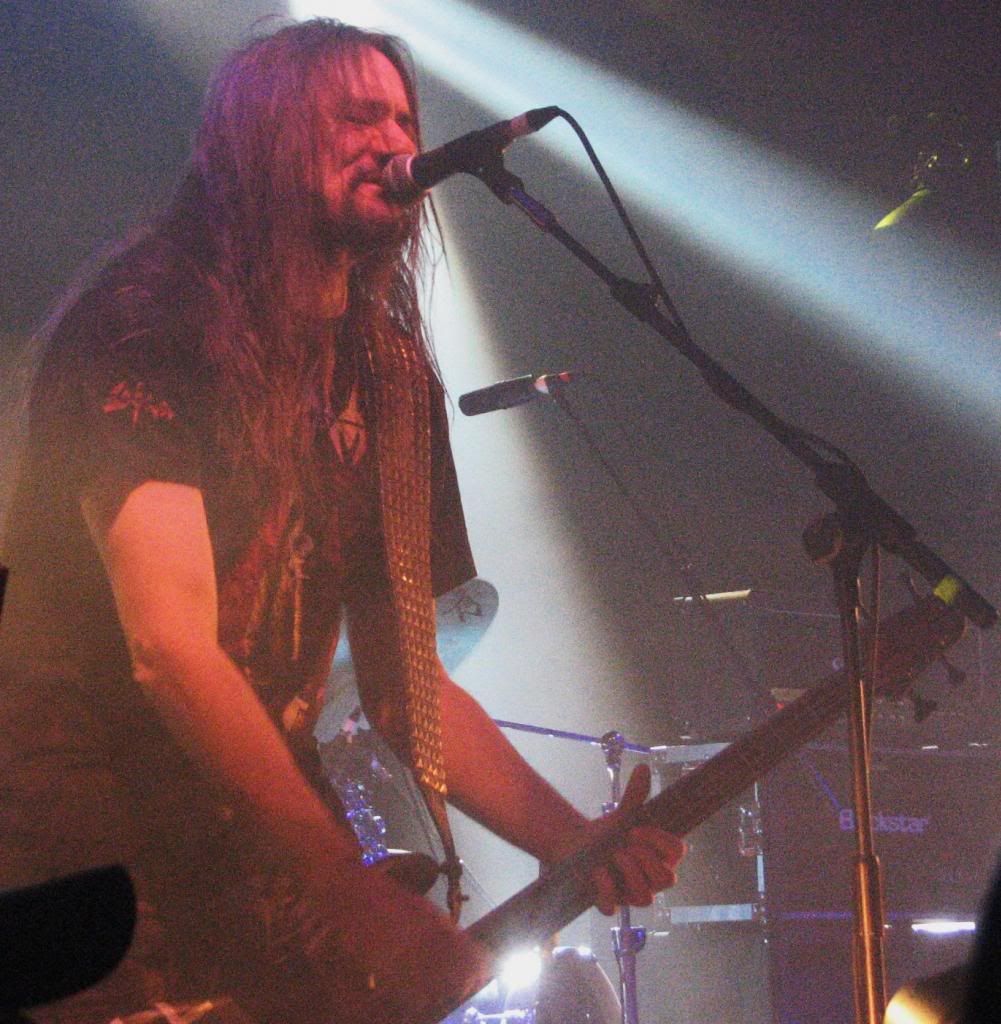 A quick trip over for Sodom (pic above) who I felt did a better job in terms of a harder, faster, more serious approach to their thrashing that their German compatriots of last night, but then another gobsmacking doom pummelling from Serpent Venom. More in the contrasting vein of the likes of Yob with their fast grooves set against churning breakdowns, again they won me over instantly and would gladly keep eyes peeled and eardrums popped for them again.
Had a little time to chill and chat to the old school proto-metal of Angel Witch before South Wales's Hark (risen from the ashes of Taint) (main pic) provided a further driving stoner groove set on the second. They put a lot of energy into the performance and a Voivod "Killing Technology" shirt always wins bonus points.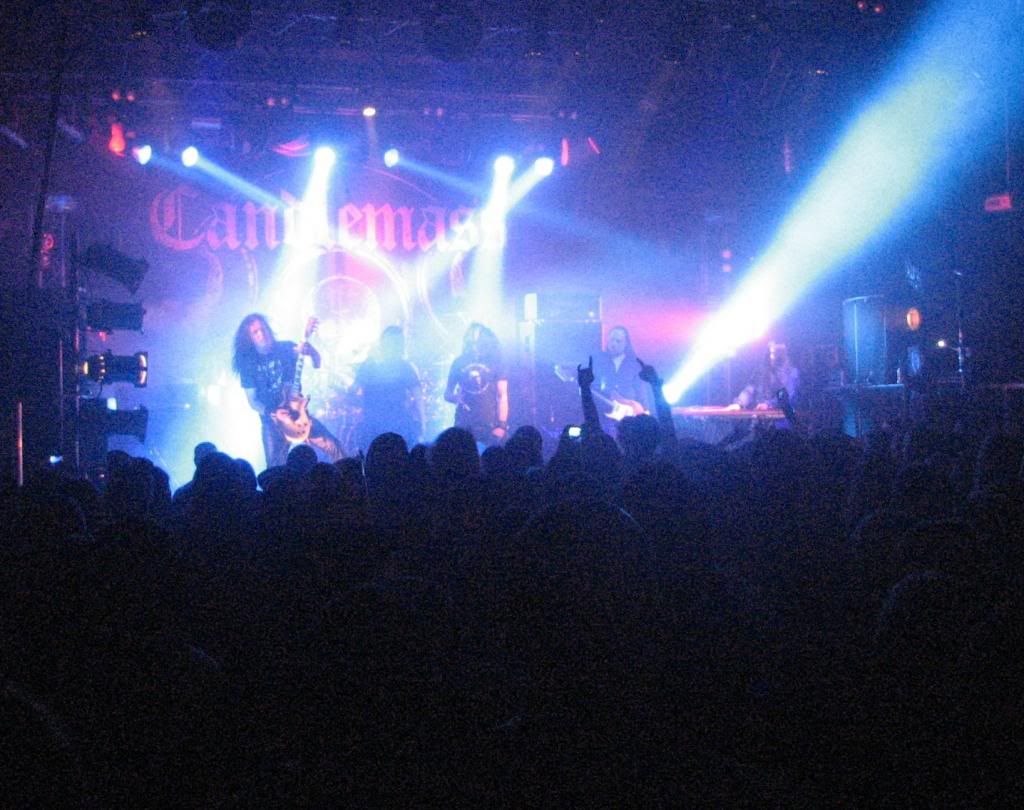 The doom was elevated to the main stage now, initially with Candlemass (pic above). Now I had missed these on more than one occasion previously with festival clashes where as I hadn't been into this long standing epic doom metal from the start I had never felt a great urge to focus back in time. With little distractions here my first attempt to tune in left me largely unimpressed so I socialised off outside. That said, a later visit in to the bar did find me slightly more capturing the vibe so who knows what vagaries of timing, position, and condition are factors.

Without a doubt hitting the nail squarely and repeatedly on the head for me as far as vibe goes were the American doomlords St. Vitus next. Yes, I was certainly in an acceptable frame of mind and in close proximity to the speakers but the monolithic riff progressions and Wino's smoked out vocals were the perfect lull for some incredible guitar work that was so head melting and almost into experimental territories that at times it was hard to believe it wasn't some artistically constructed sample. Marvellous. From one extreme to the other, or to a degree, within the ever tangential metal umbrella, with Napalm Death. Losing track of how many times I've seen them now but the death/grind legends power on dragging me in their wake like some water-skier dragged by vicious sharks/badgers. Speaking of surf action, needless to say it was up as there was a great party atmosphere in the pit which overrode my initial observations that they were perhaps playing a more "accessible" set (by their standards) given their surroundings by a wider audience, but there was more than enough of the old school to satisfy. This and the prospect of actually escaping the site by taxi instead of the Bridge on the River Erch Death March seemed a good high point to leave it out. Definitely one of the strongest Hammerfests to date and well worth a trip. If you can avoid paying.