(blog by neil crud – pics and vid courtesy of paul hammond)
OK – it's pretty hard to review your own gig and a bit shit to do so and use my own website link2wales as a platform for my new band – but what I can do is give you a blog account of the evening.
Not been to Rhyl for a couple of years (apart from visiting family), faces/people change – except Steve Rastin, that labourer of love who seems to live for live music. Unfortunately Arcade Avenue had to pull out and Aire (from Prestatyn) simply didn't show up. Having played over 120 gigs over the years and been to thousands, I anticipated this situation and made sure we brought the whole kit rather than just the breakables, as I envisaged scooting around town looking for drum parts, spare microphones and hard drugs.
We had to contend with the football and Gareth Bale was gracious enough to stick two past the Scots to keep the Welsh fraternity happy, while the Pommies enjoyed England's mammoth task over overturning the mighty San Marino – I can see the back page of The Scum right now praising 'the nation's' footballing heroes and how 'we're' gonna win the Euro/World cup etc yawn etc.
With ourselves anticipated to be on at 11pm, it was obvious with no other bands playing that we'd be on earlier. And we certainly were not going to do two sets! After all, this is our debut gig and a tooth cutter to see how shit we really are…!
We started most songs and finished most songs at the same time and sometimes held them together in the middle! But it was good fun to be back onstage after 13 years of abstinence, and quite funny to think Joe on guitar and vocals and Gwion on drums weren't quite teenagers last time I played a note in anger!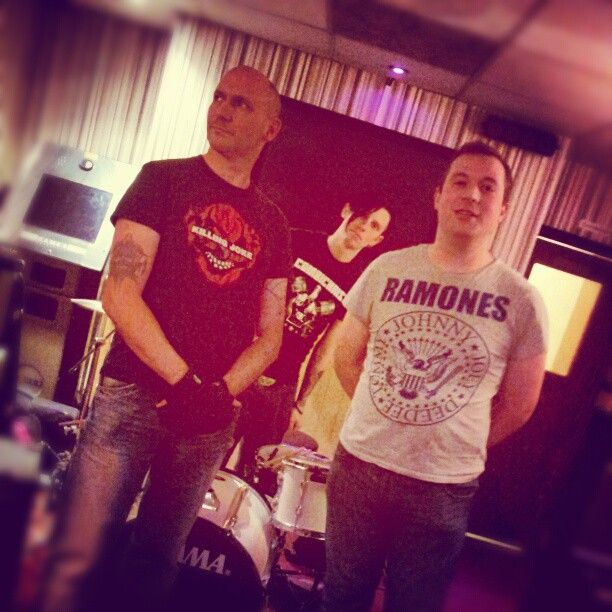 There was a running joke that our set would only be 16 minutes long – but we played (and fucked up) Another Song About The Police and Joe did an acoustic to pad it out a wee bit.
Reaction seemed to be positive, apart from the abuse from some of the older elements in the audience who shouted 'You're not famous anymore' at me… ha ha..! Although the same perpetrator did write 'Well the gig in Rhyl, Vegas was well worth staying up past my bedtime for. Raw, pure energy, in your face punk, with 3 guys who enjoyed what they where doing. Kinky heavy bass riffs, followed by Wedding Present style guitars and a Keith Moon style drummer. Enjoyed the gig. Hope Chester goes ok.'
That'll do for me…
The set was Macho Man / Never Kill Yourself / Get Outta My Head / Antennas (acoustic) / Gone Fishin' / Government To Be / Another Song About The Police / Crack The Safe.