(review n pix by neil crud)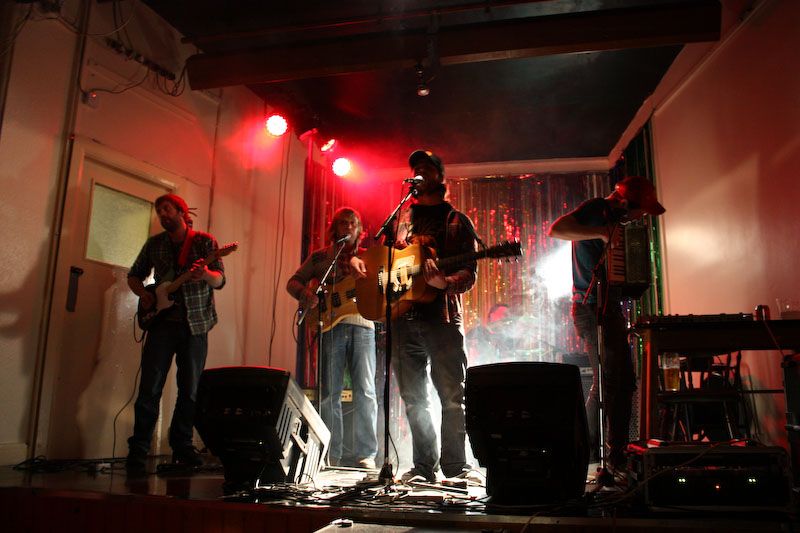 The Railway Institute shouldn't be on Euston Road in Bangor, it should be on Quality Street, for that is what we were presented with here. The North By North Wales organisers were kind enough to take the hard toffee ones out of the tin first, to leave us with a delicious selection of individually wrapped sensations.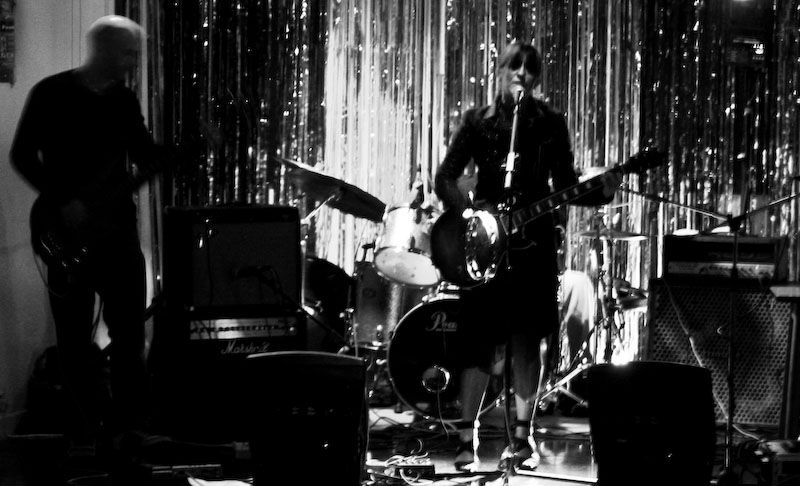 Heldinky (pic above) and myself are ships that pass in the night. I think this is the fourth time I've been at a gig when they're on the bill and the fourth time I've missed them! (Fifth time lucky eh..!) – but I was fortunate enough to catch their last two songs, and witnessed / heard a PJ Harvey approach from lead girl Helena Palombo who is ably backed by the much travelled Mike McMahon on drums and Dave Taylor on bass. It was a smooth and mellow lo-fi song, almost canticle with its delivery before they turned their backs on the audience for an instrumental that oozed sweetness and light. Look forward to seeing them properly and an album would be good as I'm totally chilled listening to them right now on soundcloud.
I've just been asked to list my top five favourite albums of all time and put forward The Damned, Clash, Anti-Nowhere League, Crass and Dead Kennedys. So when you consider those bands (and their ilk) shaped my youth, it's a wonderment why I'd rave over an ensemble such as Wobbly Hearts. And yet, should they do an album then it would probably jockey for position with those punk grand daddies.
Their pedigree is drawn from Gintis, Carpet and Junebug, with a heavy leaning to Carl and Rob's Gintis roots. And I can safely say Wobbly Hearts are better than those three bands put together. They are so fucking good there's shivers tingling up and down my spine. The song Boom (With God on My Side) is nothing short of a masterpiece, from its country and western twang with harmonies to die for, to the screaming 'I keep it bottled up inside' ending that makes you wanna cry – fucking brilliant, I mean FUCKING BRILLIANT. But hey! Don't take my word for it listen to it here.
This psycho-folk band need to be on the road so much that they have bald tyres… Oh dear, I've just gushed…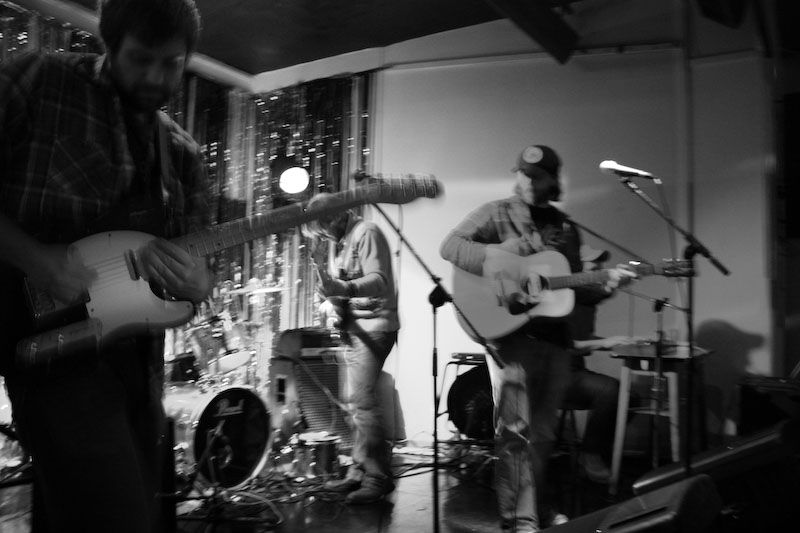 With the Rhyl drift to Bangor well and truly under way, another exile is Kyle Lee. The man behind North By North Wales and another product of Gintis (and Jives Room and Sona). Not content with Carl hogging all the limelight, Kyle has been keen to also display his undoubted talents in the shape of Kyle Lee & The Mexican Walking Fish, who tonight took their first bow as a proper band.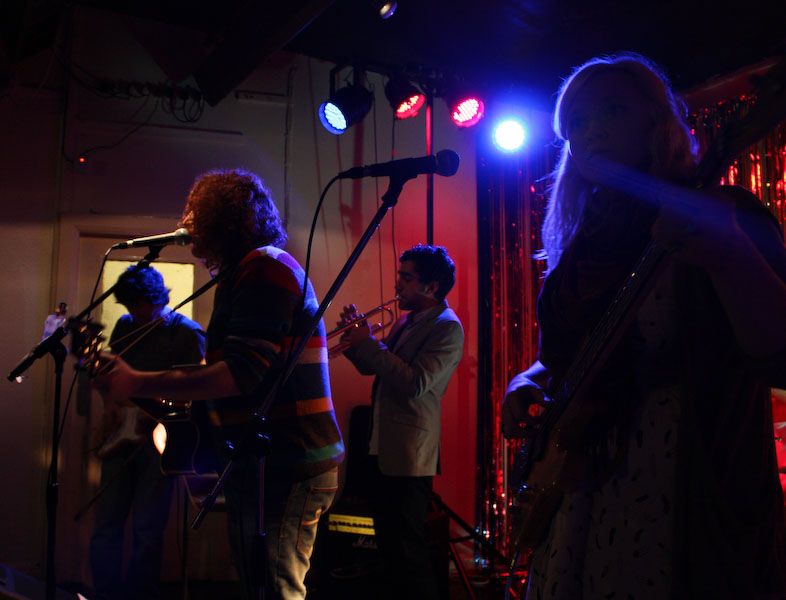 Coming from the farm of Gintis where the livestock is all thoroughbred there will be inevitable similarities to Wobbly Hearts as both Kyle and Carl bounced off each others' influences. The Mexican Walking Fish do have their own identity, with some spaghetti western trumpet to go with Kyle's Good, Bad and Ugly style. I thought I recognised the guitarist, and on being introduced we both realised it's been 25 years since we last met. He is Huw, who cut his trade in the awful Anakonda, while I was in the even worse 4Q.
Despite looking like a twat, Kyle possesses a liquid gold voice and a talent for melancholy songwriting that stands him ginger head and freckled shoulders above his peers. Check them out here.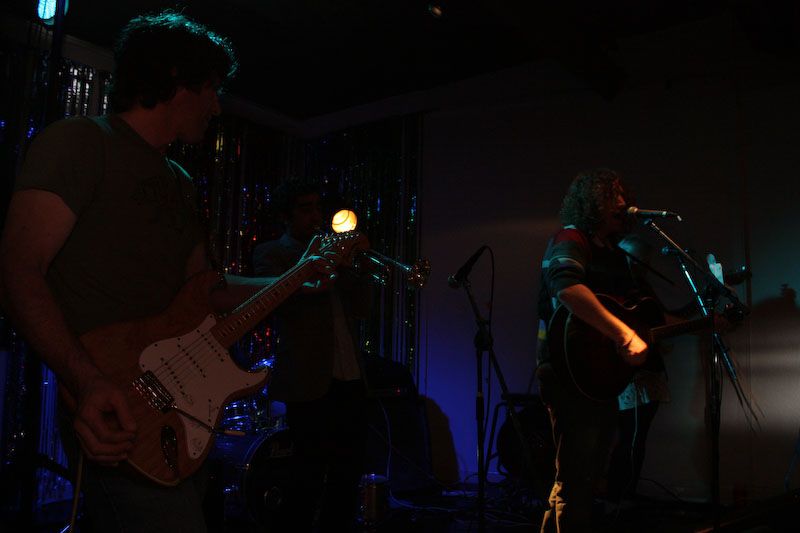 After all this gushing, I could be excused for trickling away down the convivial drain, but there was still another band to come in the shape and form of We Are Animal, or, more correctly WE // ARE // ANIMAL


Now, with what went on before, these beasts are a different kettle of (Mexican) fish altogether. And have a prowess for the indie-psychedelic and despite only having two of their songs on the crudPod, I recognised a lot of their stuff from the last time I saw them, which is a tip of the hat in their direction.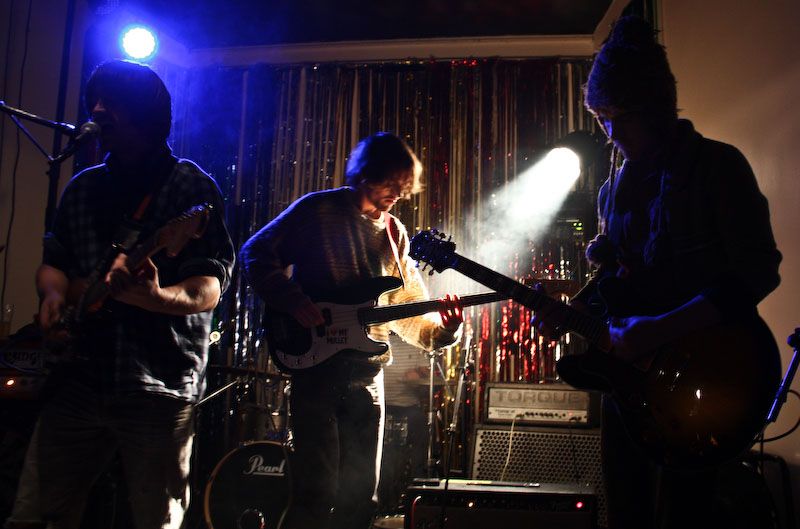 Not content with being local heroes, We Are Animal trek the country and Europe (and Texas) spreading their evil Black Magic to unsuspecting innocents. Writing a killer hook, and a killer chord change is simply not enough for this band as songs are layered, painted and produced on stage, and that gives them that extra edge. They stood up and they got counted.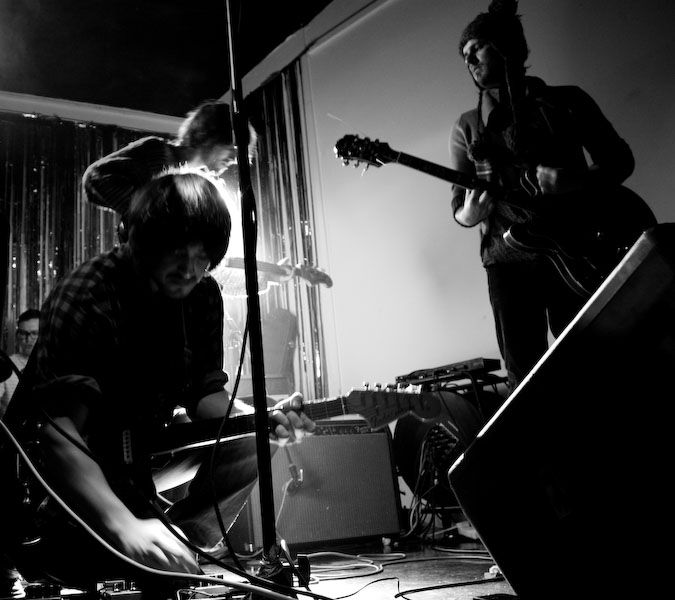 A late night tonight and a long drive to play with Houdini Dax in Cardiff tomorrow did not prevent them putting on an intense kaleidoscopic show of distinct sounds to round off an epic evening. Great stuff…
Get their latest EP 'Tacla' here

| | |
| --- | --- |
| | B.R.I (RAILWAY INSTITUE) BANGOR – FRI 9TH NOVEMBER |
WE//ARE//ANIMAL , HELDINKY, THE WOBBLY HEARTS, AND INTRODUCING KYLE LEE AND THE MEXICAN WALKING FISH
£4.00 TICKETS ON DOOR